The first meme created by celebrities violates the number one unspoken rule of TikTok: be relatable.

The "That's Not My Name" TikTok trend, in which actors share the different names of characters they've played over the years to the tune of a 2008 song by the Ting Tings, has been dominated by celebrity accounts. That's because they created it — and normies can't join in.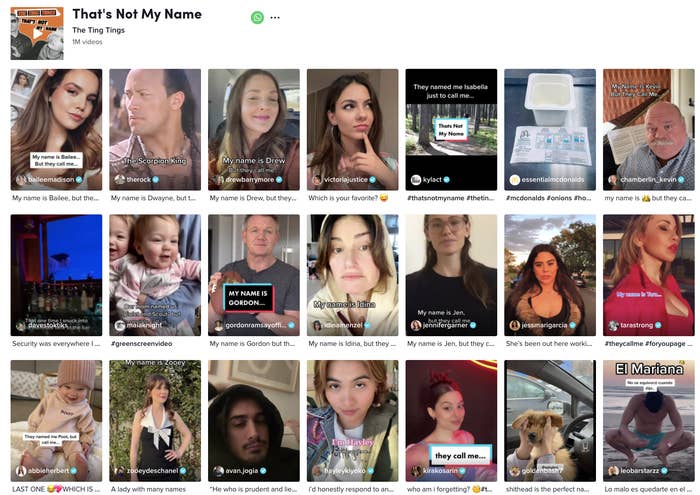 The sound started gaining traction on Jan. 15 among famous pet accounts, before making the jump four days later to celebrity TikTok with Alicia Silverstone — which makes sense, considering that, as a huge animal rights activist, she probably follows those accounts.
"My name is Alicia but they call me Crush girl, Aerosmith video chick, Cher, Batgirl, Braceface, Scooby Doo villain, Wimpy kid's mother, Kristy's mom," the text reads as shots of her iconic and not-so-iconic roles fill the screen.
The next day, Victoria Justice joined in. Four days later, Drew Barrymore shared hers. With that, the deluge started. Eva Longoria posted the next day. Then it spread to Bailee Madison. Then Jennifer Garner. Idina Menzel, Tara Strong, and Avan Jogia all posted the next day. The day after, we got posts from Gordon Ramsay and Jessica Marie Garcia. Jessica Alba's had a girlboss twist! The day after that, Zooey Deschanel, Hayley Kiyoko, Elizabeth Banks, and Gal Gadot all chimed in.
Over the next four days, so many celebrities posted that I lost track, but who cares because they all look the same. The videos are just IMDb credits set to a slideshow of their most popular clips, clearly not edited by these famous people themselves.
To fully participate in the "That's Not My Name" trend, you have to have at least five aliases to match the beat of the song. A nonfamous person might have a handful of nicknames, but who cares about what people call you unless you're an actor (or a cat).
Being relatable on TikTok has catapulted a number of unsuspecting noncelebrities to viral fame, propelled by an algorithm that sorts users into imaginary buckets based on what it predicts you'll relate to. The feeling of being known is what makes TikTok so compelling. But the massive audience that comes with being a celebrity earned these initial posts tons of views, even when relatability was impossible.
The hold this trend has had over social media for the past few weeks is enough to make us wonder if the presence of celebrities is dulling the charm of TikTok as a platform where any kind of person can go viral, or if the relatability of a post has just never mattered as much as its entertainment value.
In the internet culture newsletter Embedded, journalist Kate Lindsay joked that the trend was a "one-in-a-million opportunity for celebrities to find community on social media." But it's unlikely these celebrities organically saw these posts and wanted to participate in them themselves. They definitely didn't do all of that video editing.
I suspect the trend originated from one of the few agencies that provide celebrities with social media managers, and then it bounced from account manager to account manager until enough actors trying to build their online presence suffocated the entire trend.