An author has mysteriously reappeared more than two years after news of her death — and details about what happened have been surfacing on the internet like clues in a whodunit novel.

Fans and friends of "perfectly flawed romances" writer Susan Meachen grieved after someone claiming to be her daughter posted in her Facebook fan group in September 2020 that Meachen had died by suicide after being bullied.
Then this week, the author, who self-publishes her books on Amazon, announced that she was still alive.
"I debated on how to do this a million times and still not sure if it's right or not," reads Meachen's post from Jan. 2. "There's going to be tons of questions and a lot of people leaving the group I'd guess. But my family did what they thought was best for me and I can't fault them for it."
The 2020 post announcing Meachen's death is no longer publicly available, but two members of "The Ward" Facebook group confirmed its existence to BuzzFeed News. The post didn't mention specific bullies, so after the announcement of her death, Meachen's online friends and fans tried to fill in the blanks themselves. Accusations flew.
Samantha A. Cole, a fellow indie author of "suspenseful seduction" and retired police officer, told BuzzFeed News that Meachen was her friend and she was devastated after hearing about her death. But this week she was fuming.
"I was horrified, stunned, livid, and felt like I'd been kicked in the gut and the chest at the same time. I'm still sick to my stomach and it's gotten worse," Cole wrote in her viral Facebook post about Meachen's alleged death hoax.
Meachen did not respond to multiple requests for comment from BuzzFeed News, but she told Cole via Facebook messenger, "I simply want my life back."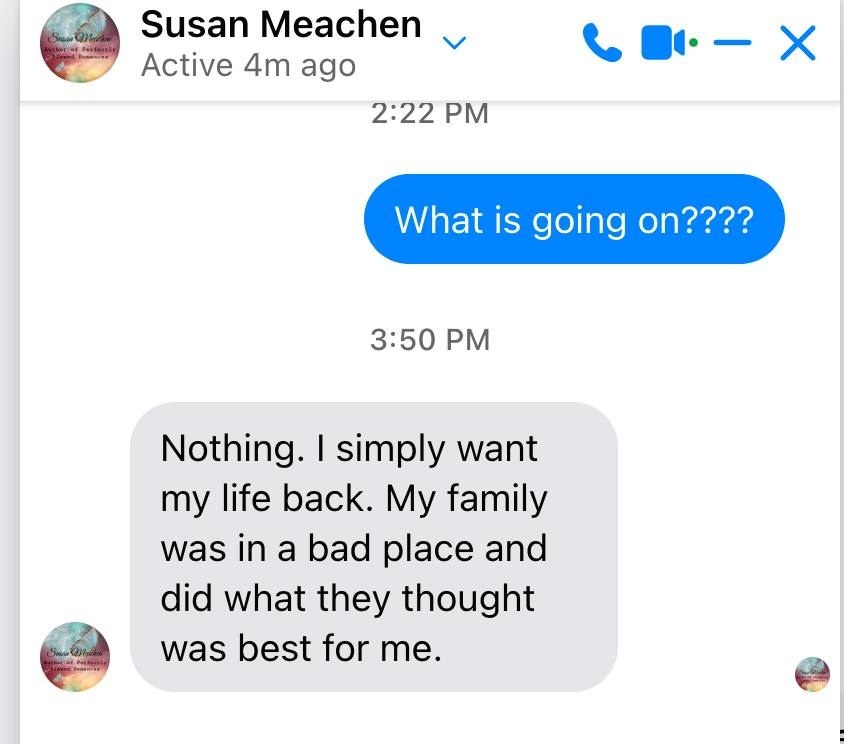 But some aren't willing to forgive.
"There's no way to come back from this," Cole told BuzzFeed News. "She has betrayed the trust of everybody who considered her friends, and she betrayed the trust of her readers."
Indie authors often face the stigma that they aren't as talented as traditionally published authors because their books don't go through the same rigorous pitching and editing processes. Indie authors support and affirm each other relentlessly in online spaces — be it through cover design feedback, chatter about their personal lives, and actual sales come publication time.
This binds them close together. The community rallied to remember Meachen, donating in support of her family's expenses and keeping her memory alive by purchasing her work.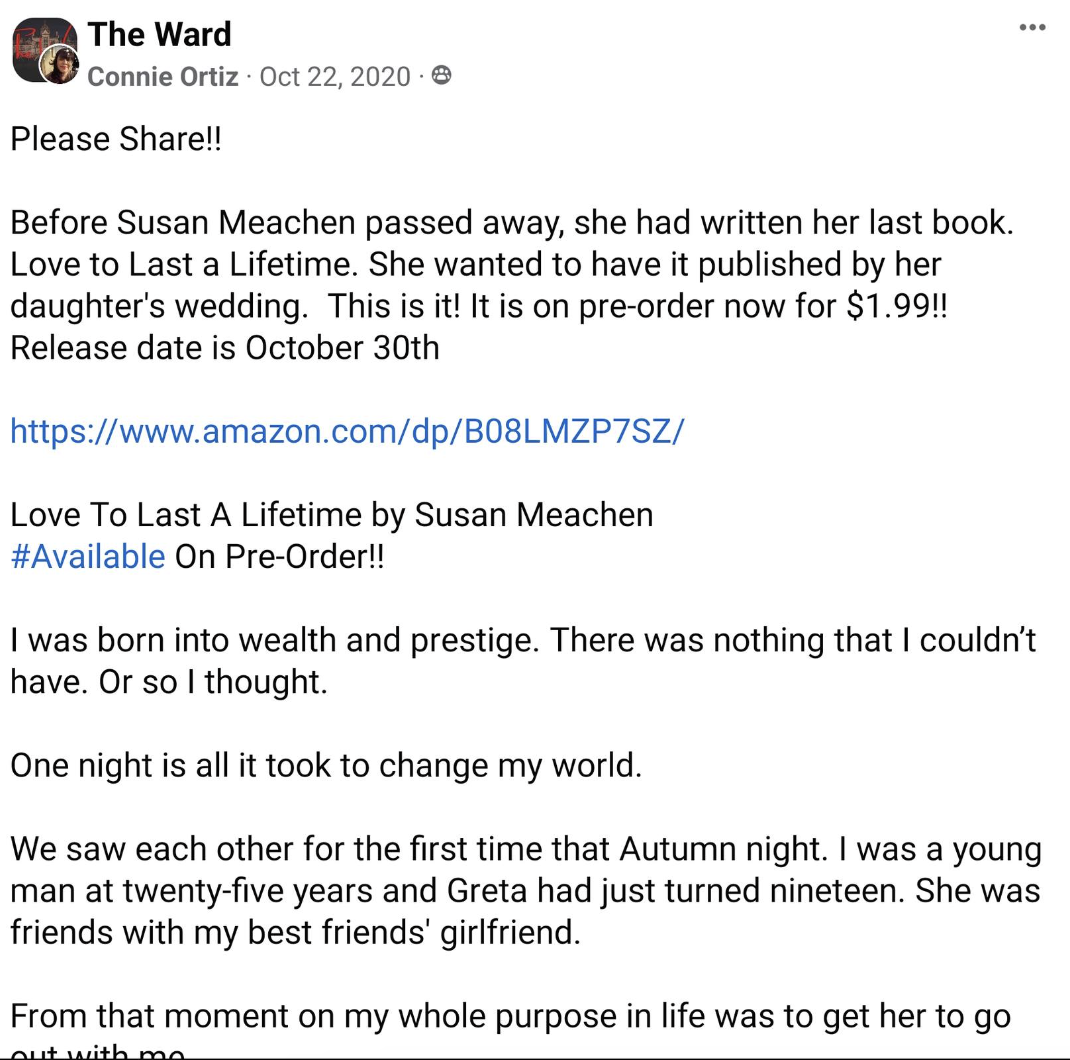 A month after Meachen's "death," the author's assistant Connie Ortiz wrote that her final work, Love to Last a Lifetime, was available for purchase for $2.99 on Amazon. The book, which BuzzFeed News obtained a copy of, tells the story of a rich man who falls in love with a poor woman.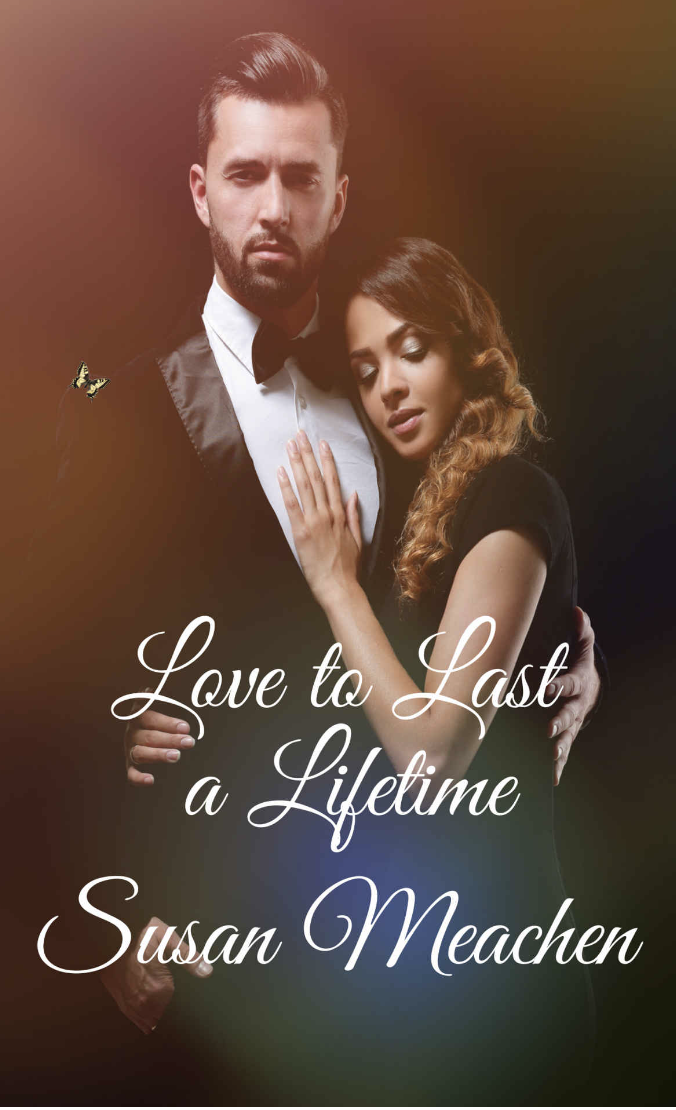 Here's a passage from the first chapter:
We were from two different worlds my family was filthy rich and Greta's family was dirt poor. It didn't bother me any. Chasing her that Autumn became my favorite hobby. The more I chased her the more she ran but nothing was going to change my mind she would be mine.
In February 2021, someone claiming to be Meachen's daughter wrote on Facebook under Meachen's account that her books hadn't sold any copies for a few months and would soon be unavailable for purchase. Audio copies would remain available due to a licensing agreement.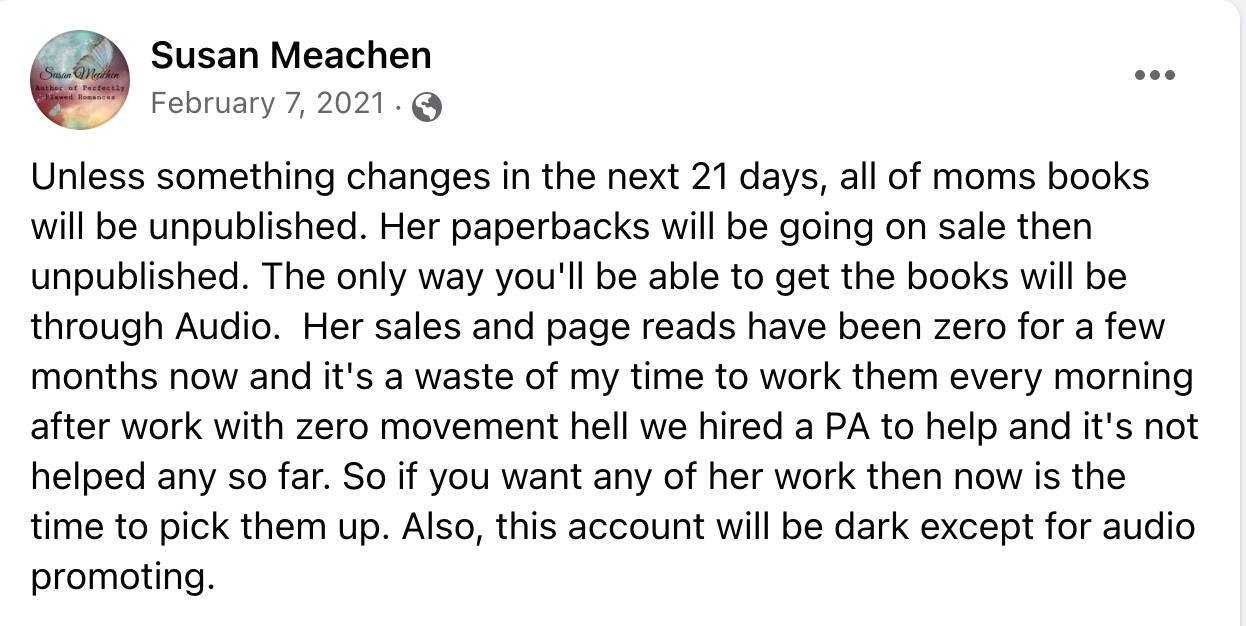 When Meachen came back from the "dead" in January 2023, she used her original Facebook account to announce on her fan page that she is still alive and plans to write again. Meachen wrote that her family "did what they thought was best" after she attempted suicide by telling her followers that she was dead.
She concluded the post with a declaration: "Let the fun begin."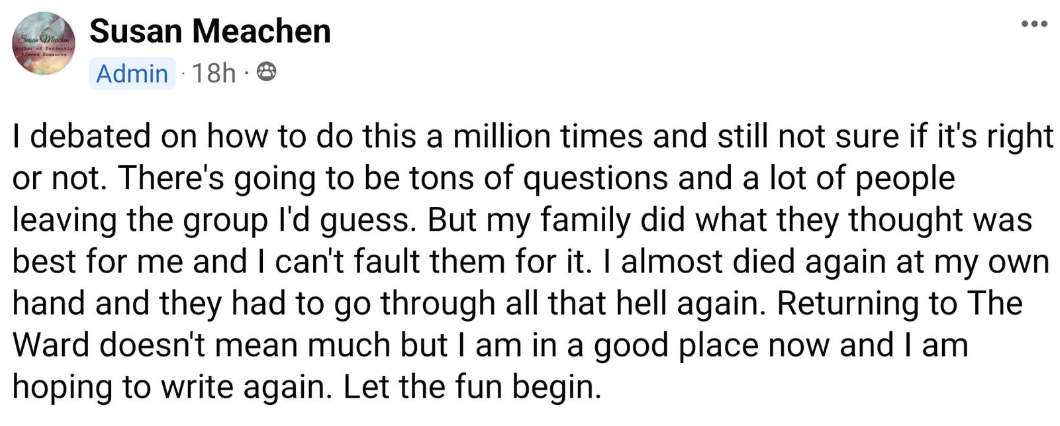 Some members of the community had their suspicions about Meachen's "death" at the time, but kept their mouths shut for fear of being "torn apart," Cole said. They'd rather be correct in silence than harassed for being skeptical about a purported suicide. Not anymore, though. Cole said the death hoax has rattled who the community is willing to trust.
Every once in a while, drama surfaces among indie writers, but nothing has ever compared to the schism created by the announcement of Meachen's death — until her return. Savannah McCann, an indie author of "horse and ranch-based" novels, told BuzzFeed News that hearing about Meachen's death hoax made her feel like her friend died all over again.
"She used all of us emotionally and financially for this elaborate scheme," McCann said. "I think her actions are despicable and a slap in the face to every indie author who helped during this time of grief when we thought she committed suicide."
In contrast with Cole, McCann said that the incident has drawn their online network closer than ever. There's no arguing that things will be different now, but she insisted that Meachen's actions don't reflect the community as a whole. Together, they'll write the next chapter.