This is an excerpt from Please Like Me, BuzzFeed News' newsletter about influencers and internet culture. You can sign up here. In our column, Niche Drama, we discuss online community micro dramas.
When the administrators of a 10-year-old Christian meme Instagram page, @memesforjesus, stepped down abruptly but the page continued to be updated, hyper-online Christians ignited a meme war in anger. The announcement came in the form of a cryptic video saying that the men behind the account were leaving for a "new direction" — but the post was deleted from Instagram just two weeks later.

Critics said that since the Aug. 1 announcement, they noticed a decline in original, relatable content that demonstrated an understanding of Christian culture, and the page's nine most recent posts are reshared from other accounts. In months past, almost all of the content had been original.
"This page is only reposting TikToks now," one commenter said.
"Does your channel still create original memes? I always enjoy those," another asked.
When other Christian meme pages queried who was now running the account, they found themselves blocked.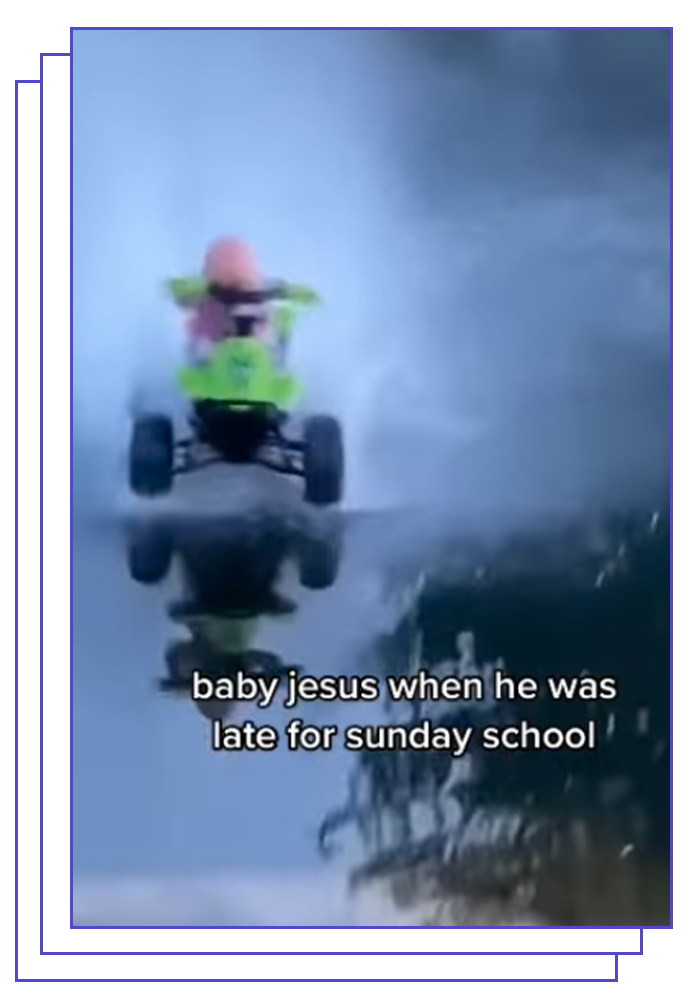 Tim Whitaker, the creator and facilitator of a religious nonprofit called The New Evangelicals, challenged his Instagram followers to unfollow the "total sham corporate greed nonsense account," also calling on people to spam @memesforjesus' comments with "respectful and non-dehumanizing" questions and follow the former admins' personal pages. Whitaker and the owners of other influential pages like @epicchristianmemes and @pettychristianmemes made memes questioning the new @memesforjesus.

Whitaker told BuzzFeed News he sensed the "megachurch branding machine" mentality seemed to be at play here, and as a former evangelical (or exvangelical), he said he has a lot of experience sniffing out disingenuous actors. One of his main concerns was that the @memesforjesus account no longer seems to be trying to make personal connections with its followers, so it seemed like it might have been taken over by a corporation hoping to make money off the audience. But monetizing content is not an unusual thing for meme pages to do.
The men behind the account declined to go into detail of exactly what happened when they left. Michael Schaffer, who created @memesforjesus when he was 18 years old, told BuzzFeed News that running the account has been fun, but it was "time to move on" and focus on his personal projects. Matt Matias, who joined the admin team in 2017, told BuzzFeed News he was grateful to his audience and the members of a "Christian meme illuminati group chat" who supported them through the transition.
And the person who took it over, Ramzey Nassar, said he's not just a corporation. He told BuzzFeed News he started working with Schaffer to develop @memesforjesus into a brand in 2015, helping him create a website and sell branded T-shirts. He, and the company he works for, Phantom Management, has maintained a partnership with Schaffer and Matias for years. Nassar helped monetize the brand, but never created memes. He claimed that the original account administrators are still creating content for the page until the end of the month.

"There is no corporate takeover," Nassar said. "We've been here for years. We support creators and want them to continue creating. People just didn't know we existed behind the scenes. That's what started the meme war."
Whitaker said that the monetization of a page once dedicated to fostering community among devout Christians is exactly the kind of unsettling behavior that drives a lot of people away from the faith in the first place.
"Our antennas just go up when we notice something has been corporatized, and we sense people trying to make money off of us," he told BuzzFeed News. "But the meme war has been quite the unifier for Christian accounts that don't always agree with each other's ideology."