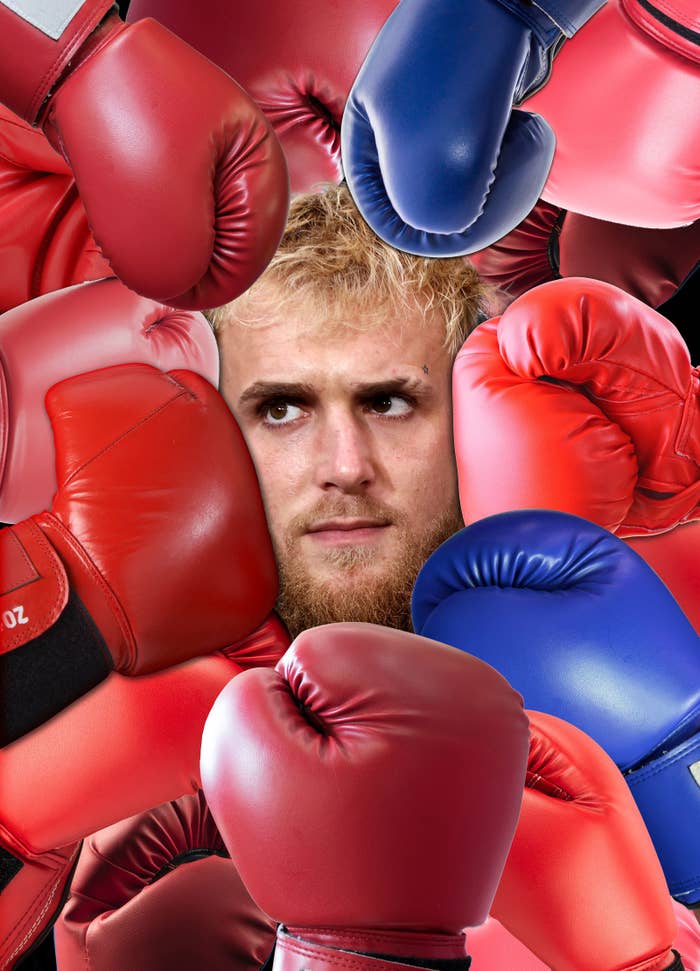 In July, on one of Madison Square Garden's more unassuming stages, Jake Paul gently sang "Empire State of Mind" beneath an enormous poster of his own visage. The promotional materials showed a steely-eyed boxer ready to fight, but the man in front of me was hamming it up for the crowd.
Cameras were trained on him, just as they had been for the past nine years: first by his older brother Logan, who filmed him wreaking havoc on the world as an absurdly exaggerated 16-year-old, and now, by TV reporters eager to broadcast interviews from a news conference about his first match against a professional boxer. Paul was set to fight Hasim Rahman Jr., the son of a two-time world heavyweight champion, on Aug. 6.
During the news conference, one of Paul's best-known skills — trash-talking, or what the announcer dubbed "tremendous theater" — was on display. Paul challenged Rahman to make his Instagram display name "I let my dad down" if he lost the fight. Rahman retorted resentfully, calling Paul a "content creator." A longtime boxing reporter later told me the scuffle was "pretty standard," but there's nothing quite like watching two muscular men whose enormous egos are an occupational hazard lob verbal jabs back and forth.
And though Jake Paul the prank vlogger has supposedly been succeeded by Jake Paul the serious fighter since his January 2020 shift to professional boxing, it's clear he's intent on editing his public image like he might have done with a YouTube video: curating fights, creating drama, and angling unerringly for attention.
Paul seems eager for a new era. "Boxing changed my life and saved me in a lot of ways," he told me later. "When you grow up in the spotlight and you're dealt so much power and responsibility at a young age, it's easy to fumble. And that's what I did."
Now 25, Paul doesn't have to get fake married to his chaotic YouTuber ex-girlfriend Tana Mongeau, urge his friend to jump off a roof into a pool, or cover a car in peanut butter to maintain his fame. He's already done that. A master of the internet's outrage cycle, he still has 67.4 million followers across social media platforms, though his posting schedule has decreased dramatically over the past few years in favor of a rigorous gym routine. Few influencers from his era of fame have been able to successfully pivot away from YouTube to a different career, but he has kept the public's interest as he's shifted from creating content online to the boxing ring.
Using his influencer earnings, Paul formed his own promotions company, Most Valuable Promotions (MVP), in 2021 and personally picked his opponents: mixed martial artists, a fellow YouTuber, and a former NBA player. But two and a half years after the change, Paul has yet to fight a professional boxer. That was supposed to change at Madison Square Garden on Aug. 6. Rahman Jr. was filling in for Paul's original opponent, Tommy Fury, former Love Island UK contestant and professional boxer, who dropped out citing travel issues.
No one will take Paul seriously as a boxer until he fights a professional, but the matches keep getting scrapped. In a June YouTube video titled "The Biggest Risk of My Career," Paul performs a skit about all the pressure he's getting. "You're not a real boxer yet," a girl tells him. "When are you going to fight a real boxer?" someone else yells. An experienced clown, Paul knows the best jokes have a grain of truth in them.
At the news conference, Stephen Espinoza, the head of Showtime Sports (which was co-producing the fight with MVP), called Paul "unprecedented," adding that no boxer has ever headlined at the Garden after just five professional fights.
"Strip away the celebrity status and success as a content creator, what he's doing is no different than any other professional boxer," Espinoza said. But Paul's fame and money has made him unlike most professional boxers. From the start, he was able to immediately attract an audience from his years of notoriety as an influencer and tremendous wealth available to pay the best available trainers and buy the time to chase his dreams.
His supporters and detractors keep tuning in to see what he does with the rare combination of cash, infamy, and talent, and it's paying the bills — Forbes reported he made $40 million in 2021. No longer having to subject himself to the daily grind of content creation, he's still making money off his personality, making us watch his every move, just like an influencer would.
The pageantry of the news conference came to nothing in the end; a week before the fight, MVP and Showtime called it off, claiming "deceiving and calculated" behavior on Rahman's part after he failed to meet contractually stipulated weight loss that would put the two fighters in the same weight class. At a staged weigh-in one day before the fight was set to take place, Rahman still didn't make weight. Rahman, who said his body would not let him lose any more weight, accused Paul of wanting to "drain" him down to a "shell" of himself so he could win.
The fight was off, and so was Paul's chance to prove he was the real deal. "These boxers are the most difficult people to work with and continually lack professionalism and confidence to fight me," Paul tweeted on July 30.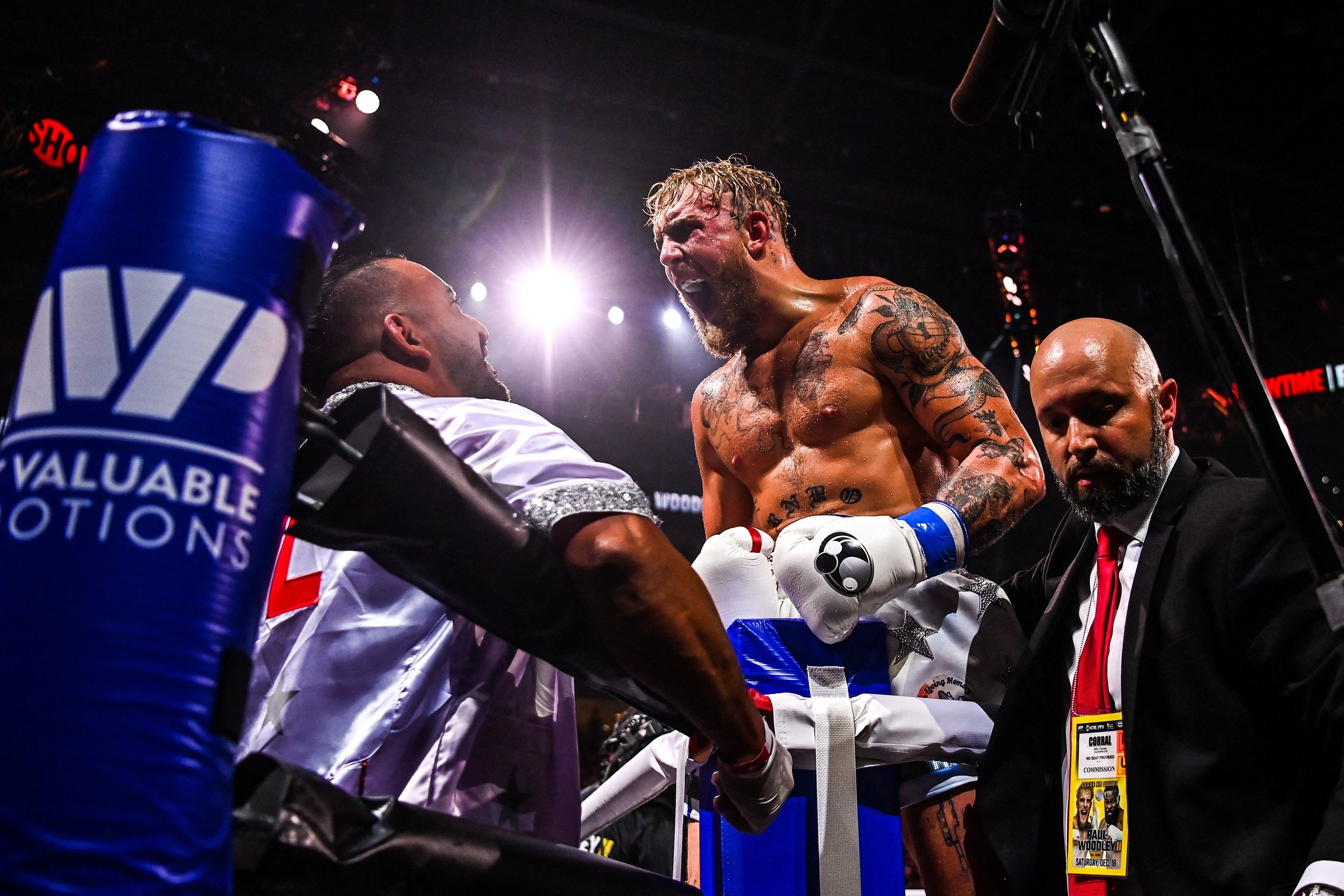 The internet is still full of questions and theories about why the fight was canceled. Paul's promotion company has the power to handpick his opponents — had Rahman deliberately thrown it? Was a choice made to protect Paul's winning streak? Was the fight canceled because ticket sales were low?
"I think they sold under a million dollars in tickets, and it costs $500,000 to turn the fucking lights on at MSG," Dana White, president of the Ultimate Fighting Championship, said at an unrelated UFC news conference. Paul's business partner, Nakisa Bidarian (who used to work for White), said in a private Instagram story that it had "zero to do with ticket sales" and that Paul's fight had been on track to be one of the 10 biggest boxing events at MSG since 2005.
MVP did not respond to a request for proof of sales. But the ticket sales theory doesn't quite add up: Madison Square Garden seats just over 20,000, and Paul's last fight in Florida in December against MMA fighter Tyron Woodley sold 18,865 tickets.
It's worth noting that Amanda Serrano, the only fighter signed to Paul's promotions company, did what Paul himself hasn't been able to do yet: She sold out Madison Square Garden in what some consider to be the most momentous women's boxing match of all time, a traditionally underpaid and underappreciated sport.
"Love him or hate him, he still made it possible for Serrano to get paid for this fight," Christy Martin, a welterweight champion in 2009, told the New York Times. "Probably without Jake Paul, the fight wouldn't have happened."
After the news conference, I had spoken with Paul in a makeshift green room. He stood out against the beige decor like a tropical fish in a tank at the dentist's office.
"I've always been a loudmouth and a shit talker," he told me. "In ninth-grade wrestling, I tweeted the kid from the local school, 'I'm gonna fuck you up.'" When I pressed him about the outcome of that match, he started laughing.
"Oh, he literally beat my ass," he said. "My first taste of the real thing was that I immediately got screwed over and learned the consequences of it."
But Paul declared himself to now be one of the few fighters in "centuries" to come out of the woodwork.
"You have Floyd Mayweather. Then there was Conor McGregor. And guess who's next? Me," he said. "Everyone has to pay attention to the fact that no one has done what I've done in just five fights. I'm the new kid on the block and I'm the money fight."
With all the training he has to do — boxing, yoga, stretching, recovery, ice baths, red light therapy, and a hyperbaric chamber, to name a few things on his weekly schedule — he said he's doing something to his body "all the way around the clock." In large part, that's why his YouTube upload schedule is now "nonexistent," aside from the sketches in the promotional videos for his fights.
Rebranding to boxing, a sport stacked with polarizing characters, seems a work of strategic genius. Not that Paul's moves have always appeared so smart. His first taste of offline fame started in 2017, when Paul and other members of Team 10 turned LA's quiet Beverly Grove neighborhood into a "living hell" and a "war zone," according to his neighbors.
Controversies mounted from there. Paul has been accused of scamming his fans and exposing his young audience to sexual content. He was seen using racial slurs in a video that emerged in 2018. His former collaborator Alissa Violet claimed Paul physically assaulted her "a few times" and that she suffered "mental abuse." He was charged with trespassing in connection with an Arizona mall looting in 2020, but the charges were dropped. He threw a massive party at the height of the COVID-19 pandemic and called the virus a "hoax."
In 2021, content creator Justine Paradise said Paul had sexually assaulted her, an allegation that he called "100% false" in a statement. She did not respond to multiple requests for comment.
Over a video call from Puerto Rico, where he moved with his brother Logan for the tax breaks, Paul told me that all of the "allegations" he has faced have been "just allegations," and that living in isolation has helped him stay focused and out of trouble.
"Nothing ever came of any of those situations. I never did any of those things," he said. "The accusations have helped me mature, and I don't want to be associated with any of that stuff anymore."
Paul raised the side of his hand to the camera and showed me a tattoo that said "no regrets."
"I look at it every single day. That's truly how I live my life — with no regrets," he said. "It's all part of my story."
Departing from the platform that earned him fame and notoriety puts distance between him and past allegations in a way his predecessors and peers haven't been able to pull off. David Dobrik's attempts at hosting have earned him small gigs, Shane Dawson's documentary aspirations were overshadowed by controversy, Gabbie Hanna's music career never really took off, and even beauty mogul–turned–yak farmer Jeffree Star still posts consistently to YouTube. Many have attempted revenue diversification through podcasts, clothing lines, acting jobs, and music careers but remain tied to platforms.
Paul's professional boxing opponents bring up his influencer past as if it's his weakness, but he's not ashamed of it. Boxing might be a new revenue stream for him, but his brain still seems wired to seek clout. At the news conference, Paul said his mom had more Instagram followers than Rahman, which is true; Rahman said followers had nothing to do with being good at boxing, but Paul countered that having followers is how you make money.
When we spoke, Paul was in the middle of a rollicking Twitter feud with KSI, the British YouTuber credited with kicking off the influencer boxing trend. Paul had just dealt him a digital blow: "I made $45 million last year and you are making weekly youtube videos," he wrote. Days later, Paul agreed to fight KSI in a "winner takes all" match, on the condition KSI admits that Paul is the better influencer-boxer — which he quickly did. Days later, Paul called out professional kickboxer–turned–misogynist dating influencer Andrew Tate on brother Logan's podcast for exposing young fans to sexist ideas (both Jake and Logan said they wanted to fight him, and Tate — who posted this week about meeting with Paul's business partner, Bidarian — has invited Paul to box him in the past, because all of them know the views it would get).
Matthew Andrews, a historian who studies the intersection of American history and sports, told me that Paul picked the "perfect sport" for a controversial influencer: It's centered on personality, popularity, and money.
"Whether you win or lose doesn't matter as long as people will pay money to see someone put your foot in their butt," Andrews said.
Some of boxing's biggest names — like Muhammad Ali, Mike Tyson, and Floyd Mayweather — were villains who audiences wanted to see fail. Andrews said it's difficult to compare someone like Paul (who listed a FaceTime call with Donald Trump as one of his greatest achievements) to revered activist Ali, but they were similarly hated at first — fellow fighters wanted to knock Ali out and the crowd wanted to see it happen.
People want to feel like the fighters who are getting the most attention are the ones that have earned it, said Adam Gallenberg, a sports psychologist who specializes in boxing. Previously, boxers had to be good at fighting to get a shot at being famous. In the case of Paul, fame begat the resources necessary to become a professional.
Analysts are still reluctant to declare whether Paul is actually good. Three different boxing experts told me that boxing could use a superstar right now, but Paul will have to fight another boxer for anyone to know if he really has the potential.
"From what I've seen, he takes his craft seriously. The most flattering adjective I can throw out there is that he's competent," boxing commentator and podcast host Richard Solomon said. "Logan and him are like the Kardashians. They made themselves business moguls."
Other content creators like Austin McBroom and Bryce Hall — and notably the infamous 2021 YouTubers vs. TikTokers event — have tried to step into the ring, but only a few of them are still fighting today. Even Logan Paul, who fought Mayweather in an exhibition match, has turned his attention to the WWE (where his exuberant body slams and backflips left critics reluctantly impressed).
Joe Bloom, a combat sport expert who writes for MMAHive.com, told me the decentralization of professional boxing makes exhibition matches accessible for influencers. MMA and UFC fighters are usually locked into contracts, but in boxing, a bigger audience means bigger deals — especially for Paul, who owns the promotion company that sets up his fights.
"Boxing matchups are often made on media buzz and callouts between fighters because it immediately generates excitement," Bloom said. "At the end of the day, you just have to convince someone to buy a product."
Getting people to buy stuff is what influencers do best. Paul went from selling himself as a YouTuber whose chaos you don't want to miss out on to a headstrong boxer whose downfall you want to witness.
Paul is trying to make boxing his redemption after years of being a pest, in both trivial and serious ways, but putting yourself in constantly dangerous situations does have its downsides.
In a December 2021 TV appearance, he said he has been experiencing memory loss, mood swings, and slurred speech since launching his boxing career. He estimated he has experienced between 20 and 30 concussions, many of which he sustained as a child playing football. He said doctors have advised him to stop boxing.
"I'm fine, honestly. As you get better at the sport, you get hit less," he said to me. "I mean, my nose is crooked, I have a scar from my last fight, and my teeth are messed up, but I love this sport so much. It's part of me and I don't care if it takes a toll on my body."
Gabriel Zada, a board-certified neurosurgeon, told me that Paul choosing to continue to fight after receiving warnings from his doctors is definitely not advisable and increases the "potential for future or cumulative brain damage." But Paul will do what he wants, as he always has.
That might be because Paul can see a lot of value in the sporting arena. He announced Aug. 8 that he's launching a sports microbetting platform that will allow users to gamble on "every single play, score, drive, and player." Being able to bet on boxing is a huge part of the reason Mayweather is one of the highest-paid athletes of all time. Americans wagered $57.22 billion on sports-related bets in 2021, though it's only legal in 30 states. According to Vox, there's a land grab going on within the online sports betting realm right now, and Paul will be up against stiff competition to break through with his new company. But maybe it doesn't matter whether he succeeds — as long as people are talking about him, he wins.
Muhammad Ali credited a professional wrestler from the 1940s named Gorgeous George for saying that it didn't matter why people were coming to see him fight just as long as long as they came to see him. In the influencer age, we might say that all views are good views if they're generating revenue. Paul isn't yet experiencing the boxing success he seems to want so desperately. Maybe he never will — and it doesn't matter, because his real currency is attention, and he's figured out a new avenue for it.
The self-mythologizing builds with every news conference and tweet, producing nonstop content that he controls. Paul told me he is reluctant to play the villain he has been "made to be," as if his reputation isn't the sum of his own decisions and exactly how he's made his millions.
But of course, that's exactly what a villain would say. ●