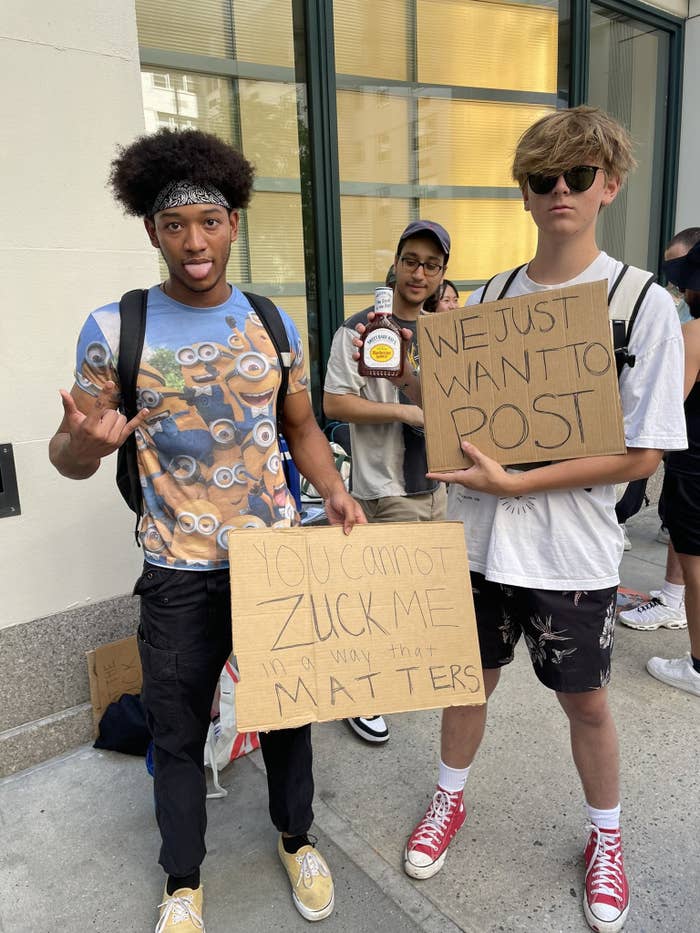 With predictably meme-heavy cardboard signs in hand, dozens of creators and their followers gathered outside Instagram's New York City headquarters on Saturday to protest the platform's content moderation policies in a rally they dubbed the "Instarrection."
There were at least three references to the Sweet Baby Ray's BBQ sauce Meta CEO Mark Zuckerberg repeatedly talked about in a now-infamous 2018 Facebook livestream. Rallying cries included "You cannot Zuck me in a way that matters," "We just want to post," and "Solidarity with my fallen oomfs." But even as the jokes rolled, the protesters voiced their concerns about the unfair treatment of creators who rely on Instagram for income and who use it to raise awareness for political issues.
The protest's two lead organizers, who asked that their last names be withheld for privacy reasons, organized much of the demonstration through Instagram where they say they have been "deplatformed" several times, losing their content, messages, and their audience.
"People ask why I don't just leave Instagram and it's because at the moment there's no alternative place to post what I do," co-organizer Ana, a 24-year-old from Massachusetts,​ told BuzzFeed News in a call before the event. "But the second there is, I'm absolutely going to leave the stupid app. They better start making the platform better for creators because we're the ones who keep it alive."
Since creating the esoteric leftist meme account @neoliberalhell while studying abroad in Paris in 2021, Ana said Instagram placed several restrictions on her account for posting selfies, referencing the song "Work Bitch" by Britney Spears, saying "I hate you" to a friend, and making fun of the Taliban. She said she's "on such a tight blacklist," that she struggles to communicate on the platform where she has 34,000 followers.
"We want to survive as creators and influencers," Ana said. "Our livelihoods really do depend on it. Having the income that I make through having my platform is what keeps me afloat and gives me the potential to be an autonomous artist who isn't stuck in corporate hell."
Instarrection's co-organizer Anjelica, a 32-year-old from Connecticut, told BuzzFeed News in a call that she and Ana bonded over the struggle to remain on the platform. She has created 10 different accounts over the years, but is best known as @hornymermaid, where she posts selfies and absurdist memes for her 20,000 followers.
In 2021, she shared a clothed selfie with the caption "link in bio" where there were links to her other social media profiles and her OnlyFans page. She said Instagram removed her account for sexual solicitation. Her followers then began encouraging her to leave Instagram for Twitter and Reddit, where nudity guidelines are less strict.
"I don't even post nudity. I have an OnlyFans and I post memes because that's how I want to run my business," she said. "I think people see the memes and gravitate toward my personality, and eventually check out my other link because they think I'm funny. That attraction is part of why I'm so successful, and I have to be able to do both."
Anjelica regained access to the account after having a meeting with Instagram in early July. She said that was a "nice starting point" but her goal is to have constant dialogue with the platform.
"Revealing your face as a woman online will get you so much hate. Angry incels will mass report all our stuff, then it gets taken down or suppressed by the algorithm," Anjelica said. "Why is it so hard for marginalized voices and women to express themselves? We're not hurting anybody."
Ahead of the protest, a Meta spokesperson told BuzzFeed News that "meme creators have become a pivotal part of emerging culture and are vital to the Instagram community."
"We appreciate the concerns being raised and have begun a direct dialogue with the organizers to address their complaints," the spokesperson said. "Our goal is to make it easy to understand our policies, have fair and transparent ways to know what is going on with their accounts and allow them to appeal when they think something's not right. We are grateful for their feedback as we continue to explore ways to best support creators of all types on Instagram."
In response to a June tweet about Saturday's protest from Washington Post journalist Taylor Lorenz, head of Instagram Adam Mosseri tweeted, "We love memes, so I'm curious to know more." The company has a "head of memes" and in May hosted its second "MemeCon" — a gathering of meme creators with varying audience sizes. But Ana said it seems like Instagram is only demonstrating its support for "big, mainstream" creators.
Citing a Wall Street Journal investigation that found Meta applies different content moderation standards to high-profile accounts, Ana said she knew things had to change. An internal Facebook report said a "select few members" of the community can violate their standards "without any consequences." Ana and Anjelica said they found this unacceptable, and in response, made a list of demands to ensure that smaller creators have the same opportunities to be successful.
They want a comprehensive list of what can or cannot be said on the platform, real-person moderation with nuance over algorithm control, a thorough content review process for reported content that doesn't "automatically deplatform" users, an end to shadowbanning, account deletion as a last resort in extreme cases, consistent standards applied to all creators, an end to the censorship of political content, and increased support for monetized creators.
"Social media is a part of the public sphere now — we all exist online nearly as much as we do in tangible life," Ana told BuzzFeed News. "What they do to us is such a crucial part of our existence that creators deserve to have more say in what happens to our accounts."
Without major changes to Instagram's moderation guidelines, Anjelica said she feared newer accounts wouldn't be able to be successful, or that creators wouldn't even try to grow their community in the first place.
At Saturday's protest, Miriam (@whatifwe_kissed_) told BuzzFeed News that Instagram had put restrictions on her account for saying things like "nasty woman" and "men suck" in her captions, but that she was just going to keep posting and "let Instagram figure it out."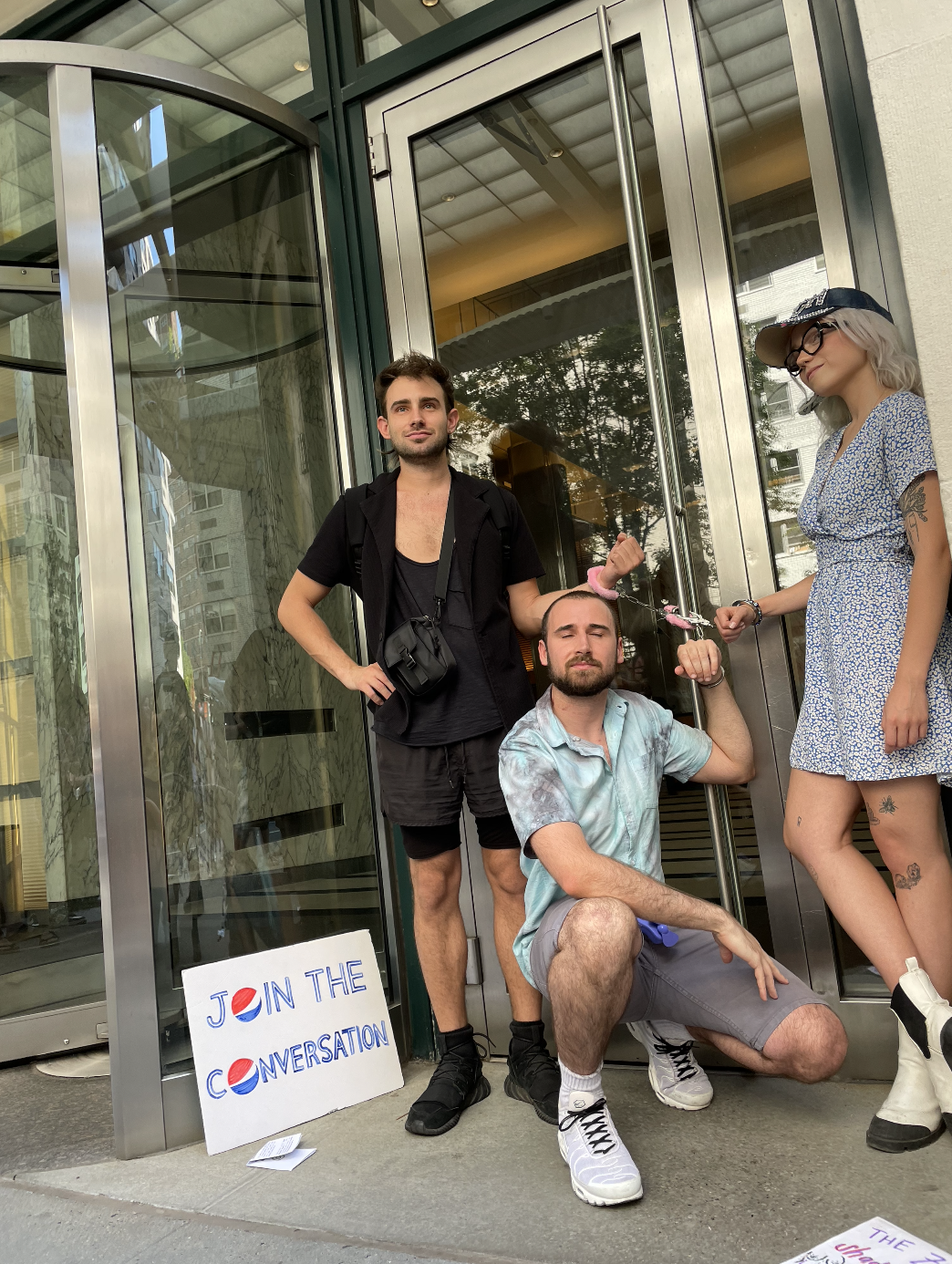 Abby, who has been running the meme account @cliffordthebigredscare for a few months and asked that their last name not be used for privacy reasons, told BuzzFeed News that they woke up on Saturday morning to find their account had been limited for sharing misinformation. The culprit? A satirical Nintendo tweet shared on their story a few weeks ago.
"I've watched so many of my mutuals and friends have their posts deleted for arbitrary reasons, and there's no redress," Abby said. "There's a lot of censorship targeting humorous, left-wing, sex worker content, and the Instagram guidelines are so unclear. What scares me is how easily my account could be deleted. If someone has a vendetta against me, they could mass report my posts, and then I'm at the mercy of a moderation system that gets to decide if I can stay."
Attendees at the protest told BuzzFeed News they're aware things aren't going to change overnight, but they have to start somewhere.
"Creators need to keep being open about their issues with the platform and cultivate solidarity," Abby said. "If this works, it will benefit everyone — creators and users. Our audiences can help us put pressure on Instagram, too, because there is power in numbers."