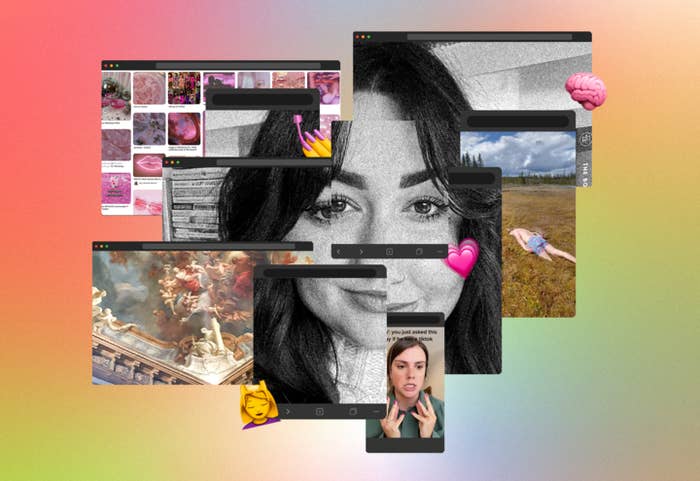 The girlies from the internet culture team give their picks for the best things they've found on Al Gore's internet this year. Sign up for our Please Like Me newsletter here.

Of the 15 years I've been obsessed with the internet, this one has stood out to me as the most unusual. That's because I'm now getting paid to detangle online nonsense in my job as an internet culture reporter instead of feeding a compulsive desire to know all things at all times for free.
Something strange happens when you monetize your leisure activities, instead of the adage "if you love what you do, you won't work a day in your life," I found that you're actually just working all the time.
It's not a complaint, just an admission that I had to find things that interest me more than poking around to uncover online drama. I will never log off, but I needed to be able to set a metaphorical away message for my usual haunts. My greatest joy has always been in knowing everything, but that's not sustainable. This has been my year of figuring out what I actually like and letting other people create that for me.
I turned the traditionally offline act of reading into something my extremely online brain can handle.
You might think that the internet has fried your attention span so badly that you can't read anymore, but it actually made me obsessed with it. I use BookTok to discover books, Bookstagram to share what I read, and BookTube to zone out.
I'm especially fond of creators like allisonpaiges, a YouTuber whose extremely well-edited videos are relentlessly upbeat and wholesome, even when the subject matter is dead serious. Though that might seem illogical, it's a nice reminder that being able to imagine, learn, and consume new things is a privilege and a celebration of what your mind can do.
Other faves include BooksandLala, Jack Edwards, withcindy, and Bowties & Books.
I carefully logged all the content I consumed.
One of my favorite things to do is complete a task. Luckily, apps like Goodreads and Letterboxd have turned activities like reading books and watching movies into transcendent experiences. You mean I can do something fun AND experience the joy of logging it as complete with a punchy little review for all my friends to see? Perfect.
I recommend following @InsaneLetterbox and @goodreads_reviews for the best of the most chaotic logs.
I spent time on TikTok but didn't follow any influencers.
Last year, I was clocking in at about four hours on TikTok every day. This year, I'm down to an hour — enough time to poke around and see a few things that entertain me, but not enough to know everything. I didn't follow any new creators, and though I know who many of them are, I couldn't tell you who my favorites are. Without those one-sided relationships, I found it a lot easier to log off. TikTok became more like a TV channel than a social media app.
Some of my favorite posts of the year were this impression of a guy being asked if he has a TikTok and a dude sinking into swamp water.
I checked weird little subreddits like they were the morning paper.
I love the gossipy, receipt-keeping nature of so many subreddits these days. I compulsively keep up with Christian influencers and the stars of Teen Mom this way. I love to lose myself in weird little content buckets like r/TikTokCringe and r/HobbyDrama.
I avoided algorithms to get my news.
One of my boomerest qualities is that I use an RSS feed to keep up with the news, which I save to Pocket to read later. I don't like missing out on things because an algorithm thinks it knows my life!
That's why I've always loved newsletters — I'm getting news filtered through someone else's personality based on what they like, not what they think I might like. Some of my favorite newsletters were After School, Hung Up, and The Unpublishable.
Twitter is still my home base.
If Twitter sinks next year, I'll be going down with the ship. The mass panic over the site's new ownership helped me realize how important it is to me to be able to hang out and laugh at jokes online. Ultimately, I am only here to laugh.
Some must-follows: Juniper (for trolling), Jorts the Cat (to keep up with discourse), and Caleb Hearon (for jokes).
My whole Instagram feed is meme accounts.
I followed a bunch of weird little Instagram meme accounts for a story, and now they're the first thing I see at the top of my feed every time I open the app. I love it. I feel like sharing memes to your story is a great way to satiate the urge to share more about yourself without actually divulging personal information.
Among my favorites are @cliffordthebigredscare, @bimbofairy, and @cgi_paul_walker_2.

I have to be doing two things at once at all times, but the second thing can be mindless.
If I'm working, I have the most embarrassing YouTube ambiance music on in the background. If I'm trying to fall asleep, I have the most embarrassing ASMR content on in the background.
I moved this year, and I didn't do any decorating of the new apartment without first consulting Pinterest and Tumblr, two sites I also use while I'm doing other things. If I've got an audiobook on in the background, I'm mindlessly curating meaningless boards on Pinterest called "avant-basic picnic" or just "pink." If I'm watching TV, I'm also scrolling through the more aesthetic parts of Tumblr.
Unfortunately, I love all those random made-up aesthetics from TikTok and spend a good deal of time curating them elsewhere. I am probably the top user of the Aesthetics Wiki.
I don't want to repeat any of this next year.
In 2022, I got the ick for creating my own content after work hours and dedicated my life to constant online consumption. I'm ready to break the cycle next year and declare 2023 the year of posting.