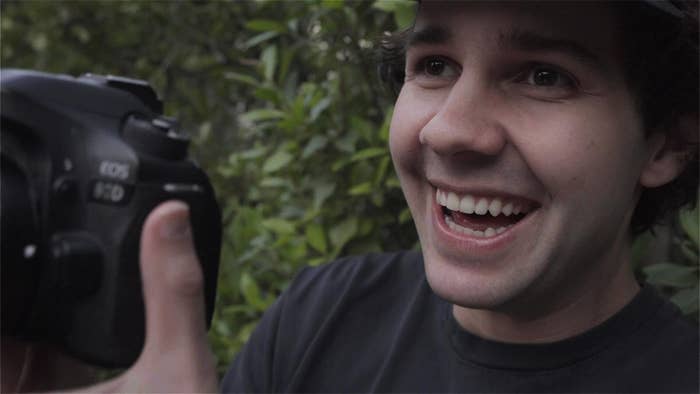 David Dobrik loves fun. He is always beaming in videos, his big brown eyes crinkling at the corners, his tongue pressed against the back of his bright white teeth. On his YouTube channel, where he has 18.3 million followers, he is partial to capital letters and exclamation points in the titles of his videos.
The 25-year-old's original claim to fame was his leadership of a ragtag bunch of social media chaos agents known as the Vlog Squad, which he formed in 2015 after leaving Vine. He held the camera as his counterparts pulled off their collectively planned pranks and dangerous stunts. Watching their videos — every one of them was edited down to four minutes and 20 seconds — felt like snorting an episode of Jackass. Dobrik made millions.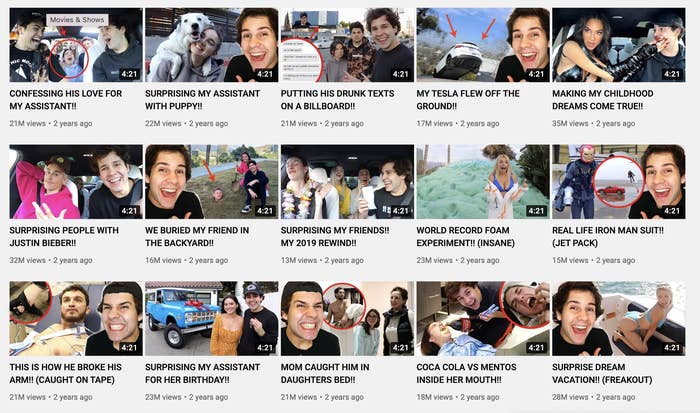 By all accounts, Dobrik was YouTube's popular kid. He's been outspoken about the fact that he does not drink alcohol or participate in most of the dangerous stunts his crew does. He has confessed that he's not always having as much fun as it seems in videos, but to his rapt audience, Dobrik gives no reason to doubt that he is by nature an upbeat, approachable person. He's just a kid with a camera — a persona that has both earned him millions of followers (and the money that comes with that platform) and shielded him from taking full responsibility for mishaps that happen on his watch, as the new documentary about Dobrik, Under the Influence, captures.
Casey Neistat, a documentarian who was once best known for his prolific vlogging run, began filming Dobrik in 2018 to capture the "stratospheric explosion" of Dobrik's social media fame. "I saw him on a trajectory that was eclipsing anything that I experienced, and because I knew him and he knew me, I saw an opportunity to sort of capture some of that," he told BuzzFeed News.
When Neistat and his team first started filming Dobrik, they hoped to provide an inside look at what it's like to be the biggest star on YouTube. They ended up with a profound case study on the complexities of online fame.
Under the Influence, which premieres on March 12 at SXSW, captures roughly three years of Dobrik's career, first as an agent of pandemonium, then his subtle metamorphosis into a brand-friendly conduit of stunt charity. It also follows his pandemic-induced break from vlogging and his backlash-induced break from social media.

Dobrik's "popular kid" reputation took a hit in March 2021 when Insider's Kat Tenbarge reported that a woman said she was raped by Vlog Squad member Dom Zeglaitis in 2018 after filming a video. (Zeglaitis has denied the allegation.) Dobrik was outside the room during the alleged rape, though the documentary shows that he jokingly tried to break into the room throughout and filmed their interaction extensively beforehand.
The woman, who goes by the pseudonym Hannah, told Insider that she had been drinking alcohol that the Vlog Squad provided to her even though she was under 21. She told Insider that she blacked out, which made her incapable of consenting to sexual activity with Zeglaitis.
Neistat's documentary follows Dobrik as the allegations break, and how he, as the leader of the Vlog Squad, handles its fallout. (The documentary does not address all the allegations that have plagued the Vlog Squad, including racism and sexual assault.) Dobrik did not respond to multiple requests for comment from BuzzFeed News about the documentary.
Zeglaitis — who also did not respond to repeated requests for comment from BuzzFeed News — had previously been accused of sexual impropriety by multiple women during his stint with Dobrik's group, Tenbarge says in the documentary. Many members of the Vlog Squad, including Zeglaitis, say in the documentary that they play "characters" that are exaggerated versions of themselves. Zeglaitis's "character" was often sexually aggressive with women, and following Hannah's allegations, the public began to question the character he claimed he was playing onscreen.
Dobrik tells Neistat in the documentary that he believes he "amplified" Zeglaitis's persona as "a guy who preyed on girls." He says he stopped filming with Zeglaitis at some point before Hannah's allegations were made public but does not say what prompted it.
Tenbarge, the Insider reporter who broke Hannah's story, told BuzzFeed News that during her reporting, there was a lot of discussion among her and her colleagues about whether they should focus on Dobrik's involvement in the situation at all. But ultimately they decided to highlight the working conditions Dobrik created as the owner of the business that is the Vlog Squad, given that the alleged assault took place in an environment in which he created.
"This is what it's really like going into a situation involving an incredibly famous YouTuber ... Hannah was uncomfortable, and from the moment she walked in the door there were cameras in her face," Tenbarge told BuzzFeed News. "There were no consent forms, no professionalism, no structure. It wasn't operating like a business, even though that's what it was. It was operating like a frat house, but bringing in millions of dollars."
Dobrik posted two videos in response to the Insider story on YouTube. The first — shared to his smallest channel with the comments turned off — was criticized for failing to address his own involvement. A week later, he shared the second video, in which he broke down in tears and apologized to Hannah and her friends for the "environment [he] enabled that made them feel like their safety and values were compromised." That marked the start of his three-month hiatus from social media.
At that moment, it seemed as though Dobrik was taking ownership of his failure to consider the nuances of consent and power dynamics when filming his wildly popular videos, which is what a lot of his fans really wanted to hear from him.
When the rape allegations against Zeglaitis broke, Dobrik was in the process of shedding his frat boy persona. Much of his audience saw him as a nice guy who paid tuition for his fans, shot T-shirt cannons filled with money at random bystanders, and gave out free Teslas. Along with this apparent admission of responsibility, it seemed like Dobrik was finally leaving the Vlog Squad era behind.
Then more allegations broke.
In April 2021, Vlog Squad member Jeff Wittek uploaded the first part of a documentary titled Don't Try This at Home to YouTube. In it, he says that in June 2020, while filming a "comeback" video for the Vlog Squad, he nearly died while swinging from an excavator operated by an unlicensed Dobrik. Wittek sustained permanent injuries to his eye and face, but decided not to press charges against his then-friend.
The 32-year-old admits that during his recovery, he grew to resent Dobrik and claims Dobrik didn't visit him in the hospital when he was having surgery related to his injuries. Dobrik appeared in the fourth part of Wittek's documentary, where both men say that they aren't sure how to handle the dynamic between them anymore. Dobrik says he wanted to help, but he didn't want his presence to make it worse.
Things between the two were tense after that. But it escalated to online callouts in February 2022, when Wittek revealed on an episode of his podcast that he caught wind that while filming Under the Influence, Dobrik shared that the excavator stunt was Wittek's idea, which Dobrik had previously promised he would never reveal. On his own podcast, Dobrik admitted he broke that promise.
Dobrik tells Neistat in Under the Influence that he didn't ask Wittek to do a crazy stunt to make the vlog more interesting because he was happy with the footage they already had. Wittek, however, says that even though Dobrik didn't ask him to put himself in danger, he still felt the pressure to perform.
"People are gonna say, 'You're a fucking idiot for getting on that rope and allowing somebody to control your life like that.' I wasn't thinking about it like that. I was thinking, Let's do what we got to do to make this video great," Wittek says in the documentary.
On March 8, four days before Under the Influence premiered, Dobrik uploaded a video to his smallest YouTube channel called "Discussing What Happened," in which he talks about Wittek's accident and the resulting tension between them. Dobrik reveals that he still feels guilt over the incident because he could not undo the injuries that Wittek suffered.
"No one can even fucking tell that I fucking want to blow my fucking brains out [...] This weighs on me every fucking minute of every day of my life," he says. Then he doubles down, saying it was not his decision alone, neglecting to acknowledge his own influence as he had done in his apology to Hannah.
As these allegations against Dobrik surfaced between March and April 2021, Dobrik lost 600,000 YouTube subscribers. That's a big number — but it's still only 3% of Dobrik's audience.

Though Dobrik has repeatedly complained that he's been "canceled," he still has 70 million combined followers on social media (according to Influencer Intelligence, which tracks influencers' follow count and engagement), a Discovery+ show, and just shy of 7 billion total views on his YouTube channel. He might have lost friendships, been dropped by more than a dozen sponsors, and stepped away from some business ventures, but Dobrik's "cancellation" has not made him any less influential than he was before the backlash.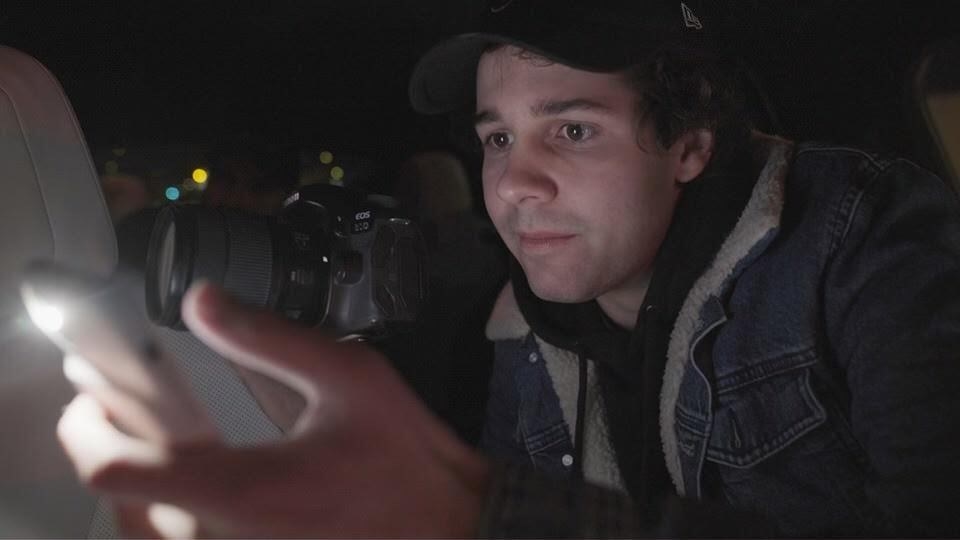 When Dobrik halted vlog production in March 2020 due to the COVID-19 pandemic, he ramped up his pursuit of offline ventures (including a perfume, a puzzle, and a pizza restaurant). But it was a rude awakening for members of the Vlog Squad who scrambled to find their own identity without him, some of whom acknowledge in Under the Influence that they have a platform today because of Dobrik.
In a segment filmed after allegations against the Vlog Squad surfaced, Neistat pushes Dobrik to explain why he ignored Neistat's advice to stop relying on sensationalism to get views. Dobrik shrugs it off.
Christine Vachon, a producer for Under the Influence with an extensive career in traditional film, told BuzzFeed News that when her daughter discovered early YouTube — before monetization and high production value took over — it reminded her of punk rock. But that's not what YouTube is like anymore.
It's easy to dismiss what happens on the set of Vlog Squad videos as an occupational hazard that comes with user-generated content, but Vachon stressed the fact that bad things still happen on traditional film sets too. They have the same power imbalance.
"With YouTube videos, you have these very young people with a tremendous amount of money," she said. "When you're paying for everything, the balance of power in the room shifts."
When Dobrik is asked to describe his job, he tells Neitstat: "I post videos. I have fun. I convince people I'm having fun." It's the kind of humility people often crave in celebrities, but Dobrik is not just a celebrity. He's a business owner, a director, and an influencer with a massive platform.
And more than anything else, the documentary shows that Dobrik is not "just a kid with a camera." He has made hundreds of videos for millions of fans and garnered billions of views, and his recent ventures into family-friendly content has only grown his sphere of influence. He might be one of the most cutting-edge stars of emerging media, but how he has addressed the scandals around the empire he has built suggests he may not fully understand the responsibility of his power.