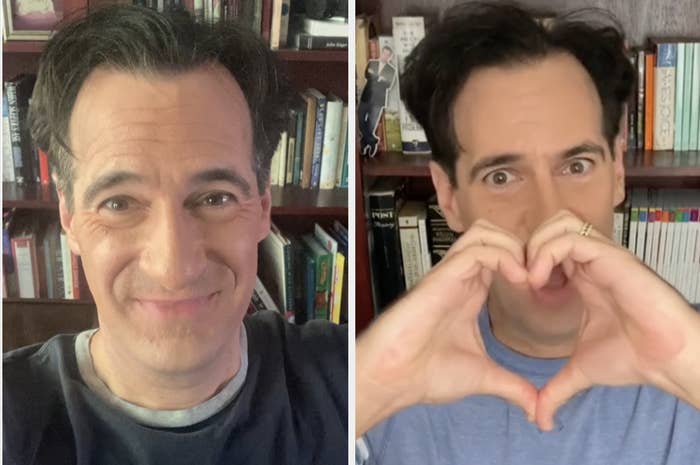 For the past 14 years, Carl Azuz, the host of CNN 10, has been a bright spot in the school day for millions of students and teachers. Known for his enthusiasm and penchant for puns, he educated teens with the news program streamed daily on YouTube. But this school year, a new host appeared, and people panicked.
"IS CARL AZUZ DEAD??????????" one user tweeted last month. "Carl Azuz not being on CNN10 is worse than the queen dying," another wrote. Fans have posted about how "shattered" and "devastated" they are.
The 10-minute news show is traditionally one that middle and high school teachers gather the class around a screen to watch, usually during history class.
CherylAnne Amendola, a history teacher from New Jersey, told BuzzFeed News that Azuz is a "classroom staple" for her students.
"It's like having a dad in your classroom. Or Mister Rogers," she said. "They were really unhappy about his leaving … and we actually worried that something had happened to him."
Azuz last filmed a CNN 10 episode in May, before the show's summer break. CNN announced his departure in a statement published in the show's newsletter on Sept. 18. A spokesperson for the network told BuzzFeed News that Azuz left due to a "personal decision."

Azuz declined to comment to BuzzFeed News on the circumstances surrounding his departure but said that the outpouring of support from young viewers has surprised him.
"I've been floored by the response," he said. "It blew my mind."
Azuz was replaced by anchor and former NFL player Coy Wire, to the disdain of fans on TikTok, who talked about the new host as if they were disgruntled exes. Tributes to Azuz are all over social media, such as a light-up hat that displayed his "Fridays are awesome" catchphrase, a plant with a cutout of his face taped to it, and punny messages. TikTokers have even posted Azuz fancams like he's a pop star.

Dallas Bender, a 17-year-old from Pennsylvania, told BuzzFeed News that watching Azuz's show in middle school was one of the best parts of his day.

"Carl was always an inspiration to me," he said. "I started looking up to Carl because he was funny and made every day a blast. Even in high school, I still watched CNN 10 just to see what he would talk about."
Azuz started at CNN two days after he graduated from college 23 years ago. After a few years of writing and production gigs, he took over as the anchor of CNN 10 (which was then known as CNN Student News) in 2008.
Over the years, as the show went online and grew in reach, he became so popular during tours of the Atlanta building that his colleagues jokingly called him "Justin Bieber."
History teacher Jonathan Burdick told BuzzFeed News that Azuz has consistently been a highlight of the day for students, "like LeVar Burton … but with news. Unmatchable."
Azuz didn't just make news relatable and fun for young people; he has become an icon, the "undisputed GOAT," and a "legend," as fans of his have said online. In a world of brands failing to appeal to young people, how does he do it?
He told BuzzFeed News his greatest charm is his authenticity.
"Young people are so good at spotting when someone is trying to be cool. I don't do that," he said. "When I go on air, I'm dorky. I make puns. I'm not trying to be some fancy newscaster guy. They get that."
Samantha Olson, a 23-year-old editorial assistant at Seventeen magazine, told BuzzFeed News that Azuz has impacted the way she thinks about journalism.
"Carl's approach has inspired me to break down key details while staying true to the Gen Z voice," she said. "Plus, the puns were so bad they were good."
"They're pun-offensive," Azuz told BuzzFeed News. "Pun intended. Pun always intended."
Azuz said he's committed to reporting unbiased news and that he never wants to "influence" anyone, which is ironic given just his growing presence as a TikTok influencer.
In the last month, he has gained more than 250,000 followers, according to social media data tracker Social Blade.
And he plans to keep making content for the fans.
"I miss them too," he said. "I never want them to think that I abandoned them."