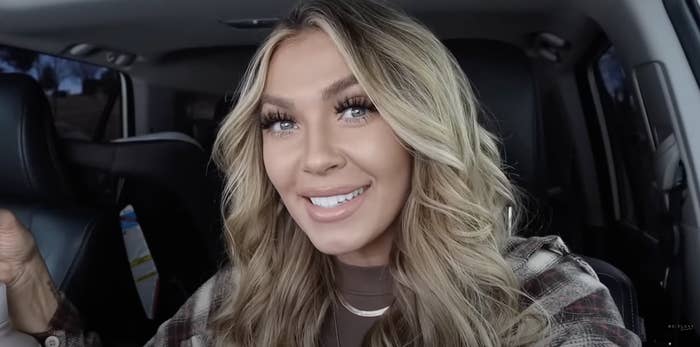 DALLAS — The trial over influencer Brittany Dawn Davis's alleged deceptive business practices has been delayed indefinitely, court officials say.
Court documents originally stated that the trial would begin on Monday, March 6, but an official at the Dallas County courthouse told BuzzFeed News that there were several trials on the docket ahead of the state of Texas' case against Davis's company, Brittany Dawn Fitness. He also said he was surprised that the case had attracted the media's spotlight.
The trial has drawn widespread attention online as one of the biggest public reckonings regarding influencer accountability so far. The delays seem to be tied to over $1.3 million in transactions made to Davis's PayPal that have not been accounted for in court filings.
Davis, a 31-year-old former fitness creator, has millions of followers on TikTok, Instagram, and YouTube. She began selling online health and fitness plans in 2014 for $92 to $300, but according to a lawsuit filed by the Texas attorney general in 2022, she failed to provide individualized plans and coaching to all customers as promised. The lawsuit also claims that this negatively impacted people with eating disorders.
Half an hour before court was set to begin for the day on Monday, BuzzFeed News was the only media outlet in attendance. The small room for the 95th District Court had three empty rows of seats available to the public. Shortly afterward, we were informed that the trial would not start until at least Tuesday. On Tuesday, a different court official said that she wasn't sure what day the trial would start.
On Wednesday, the same court official told BuzzFeed News it was going to be "reset," but she did not know when it would happen or what time it might begin. She added that she has "about 400" other cases to reset as well. She declined to provide any further information.
Davis, her attorney, Calvin McLean, and Assistant Texas Attorney General James Holian did not respond to requests for comment from BuzzFeed News.
The state, however, is deeply interested in figuring out exactly what happened with Davis's fitness plans. According to the lawsuit, the attorney general's office is seeking civil penalties and court fees of between $250,000 and $1 million.
In a March 1 hearing for the case, Holian asked Judge Monica Purdy to sanction the defense, claiming they had "attempted to obscure the truth." Holian argued that David had not provided enough information about Davis's finances, had failed to properly identify her customers, and did not provide enough information about the products she sold.
Though the defense submitted more than 52,000 pages of documents during discovery for the case, the documents were disorganized and many of them were duplicated, which required "time intensive" interpretation by the state, Holian said.
The state argued the documents it did receive don't account for 90% of the payments made to the PayPal attached to Davis's fitness company's website, bdawnfit.com. The account has received at least $1.5 million since it was opened, the state claims, which is significantly more than the $169,736 the defense accounted for in discovery.
Davis's defense attorney, McLean, claimed during the hearing that the defense had handed over everything they have access to. He said two witnesses told the state in their depositions that a web hosting company lost the server containing the information the state is seeking. He added that many emails were deleted or not preserved, and that Davis lost access to her PayPal account. He asserted the defense had given the state all of the necessary login information to check for themselves.
"They have everything that our client has at this point," McLean said during Friday's hearing. "We believe this is maybe a stunt to receive a continuance."
As a result of all this missing information, Holian asked the judge to bar Davis from testifying that she had provided personalized coaching to most clients. But Purdy wouldn't go that far: She only restricted the defense from producing documents during the trial that have not yet been disclosed.
In response, the state asked on March 3 to delay the trial by at least three months, claiming that its case will "suffer substantial prejudice" if it can't spend more time seeking information about Davis's business transactions. When the state previously requested a continuance in January, the judge denied it, saying the two parties failed to mediate in time.
The judge has not yet addressed this new motion to push back the trial date — although the fact that the trial did not begin on Monday does seem to indicate the motion is being considered.
Back in February 2019 after posting an apology video, Davis appeared on Good Morning America to say she had taken "full responsibility" for her "mistake" and that she did "whatever it took to make things right." In an April 2022 court filing, Davis denied "generally every allegation" made by the Texas attorney general's office.
Not only is it uncommon for an influencer to have her social media empire probed by the state, but Davis has remained the topic of online conversation after she rebranded as a Christianity influencer, growing her audience beyond the followers she lost after being accused of deceptive business practices. She has tapped into a forgiving audience that is uninterested in considering her past.
Davis's critics say they're looking forward to seeing the influencer held accountable for her alleged actions.