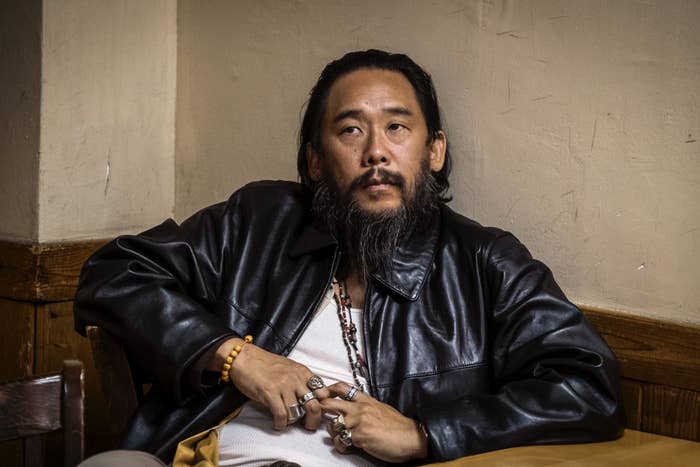 After a video of David Choe seemingly describing raping a woman went viral on Twitter last week, the Beef actor filed a copyright claim and got the podcast footage taken down over the weekend.
Choe, a graffiti artist who is prominently featured in the popular series from Netflix and A24, faced online backlash after journalist Aura Bogado posted a video from a 2014 podcast in which he appeared to explicitly describe sexually assaulting a massage therapist.
On DVDASA, a podcast he cohosted with Asa Akira, he called himself a "successful rapist." He told a graphic story about masturbating during a massage and forcing the massage therapist to perform oral sex on him.
In a 2014 statement, Choe declared that he was "not a rapist" and that his comments were "bad storytelling" and a "fabrication" that wasn't reflective of reality.
"I am not a rapist. I hate rapists, I think rapists should be raped and murdered," Choe wrote.
His outrageous statements are often attributed to his persona as an artist, for which he says he portrays himself as an "unrealiable narrator" and a liar. Still, the resurfaced video has drawn ire from people online, who've called his comments "vile" and "horrific."
On Monday, Bogado tweeted that Choe himself filed a Digital Millennium Copyright Act (DMCA) takedown notice requesting that Twitter remove the video due to a copyright violation, and the platform did.
Over on TikTok, it's not evident if Choe requested the removal of Bogado's TikTok, but the video is still available — although the sound has been removed, apparently because of the graphic language.
Bogado declined to comment on the situation. Choe has not responded to BuzzFeed News' request for comment.
Freedom of the Press Foundation, a nonprofit that protects the rights of journalists and whistleblowers, quote-tweeted Bogado and wrote that the "abuse of copyright takedown procedures to censor journalists is a serious and growing problem." Twitter users defended Bogado, saying her video was "fair use" and "newsworthy."
Though the original upload of the 2014 podcast video was taken down, users on Twitter and TikTok have been continuing to share it and putting pressure on Netflix and A24, as well as Beef producers and costars, to speak out about the allegations against Choe.
Ali Wong, who starred in Beef and served as an executive producer alongside Steven Yeun, set her Twitter account to private after the allegations recently resurfaced. Yeun is not active on Twitter. They both appear to be friends with Choe, and neither has addressed his comments, much to the dismay of critics.
"Steven Yuen and Ali Wong tanking their reputations and fandom to avoid saying something bad about one unfunny dude who is not instrumental to their success is embarrassing," writer Juwan Holmes tweeted. "(For them, and us as a society with such low standards for the people we worship.)"
Some people said the fallout from Choe's comments has discouraged them from watching Beef, which premiered on April 6 and currently has a 100% rating on Rotten Tomatoes. It's the No. 2 most-watched show on the platform two weeks after its debut.