Here's Our First Close-Up Photo Of Pluto's Surface
The New Horizons spacecraft flew by Pluto on Tuesday. Here's what it has sent back so far.
NASA's New Horizons probe flew past Pluto early Tuesday, providing the clearest images yet of the dwarf planet.
New Horizons launched in 2006 and has traveled 3 billion miles in the past nine years. It's not stopping at Pluto, but it flew past the dwarf planet at 7:49 a.m. ET Tuesday.
At its closest approach, the spacecraft will have been just 12,500 kilometers (about 7,750 miles) from the surface, traveling at 14 kilometers per second (31,000 miles per hour). The pass was the closest scientists have ever been able to get to Pluto.
NASA released the first close-up photo of Pluto on Instagram Tuesday morning, taken before the spacecraft reached its closest approach.
It was later released on their website, too.
This stunning image of the dwarf planet was captured from New Horizons at about 4 p.m. EDT on July 13, about 16 hours before the moment of closest approach. The spacecraft was 476,000 miles (766,000 kilometers) from the surface.
The image took four and a half hours to reach Earth.
Former astronaut John Grunsfeld, NASA's associate administrator for science missions, said in a press conference: "Pluto has turned out to be an extraordinarily complex and interesting world. For the first time, we know that."
It all got a bit emotional.
Later on Tuesday, NASA released a color composite of Pluto meant to highlight the dwarf planet's "compositional diversity."
Per NASA.gov:
New Horizons has obtained impressive new images of Pluto and its large moon Charon that highlight their compositional diversity.

These are not actual color images of Pluto and Charon — they are shown here in exaggerated colors that make it easy to note the differences in surface material and features on each planetary body.
New Horizons has been snapping photos of Pluto and its moons along its journey.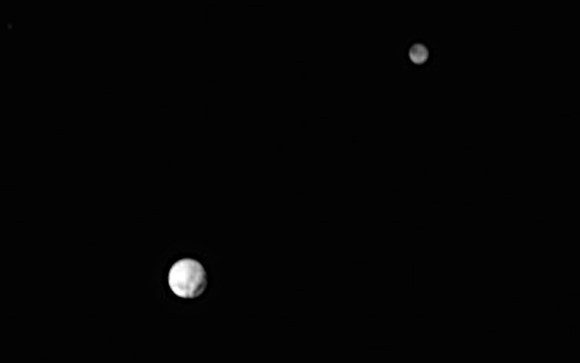 The probe has given scientists a better view of the dwarf planet than they've ever had before.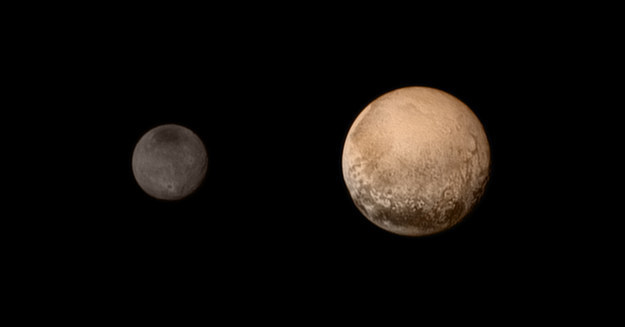 Until Tuesday, the best photograph of Pluto was taken by the Hubble Space Telescope.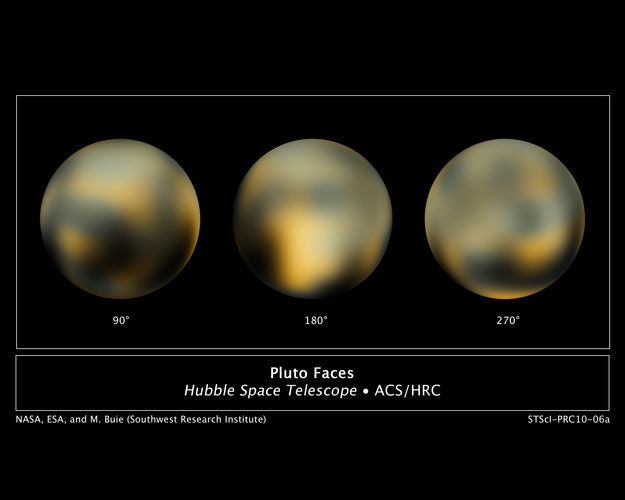 Tuesday night, NASA received a signal from New Horizons confirming that the spacecraft had successfully passed by Pluto.
"We have a healthy spacecraft we recorded data on the Pluto System and we are outbound from Pluto," Alice Bowman, New Horizons mission operations manager, said.
Mission Control was obviously very excited:
"With this visit we have visited every single planet in our solar system," NASA Administrator Charlie Bolden said after getting the "phone home" from New Horizons.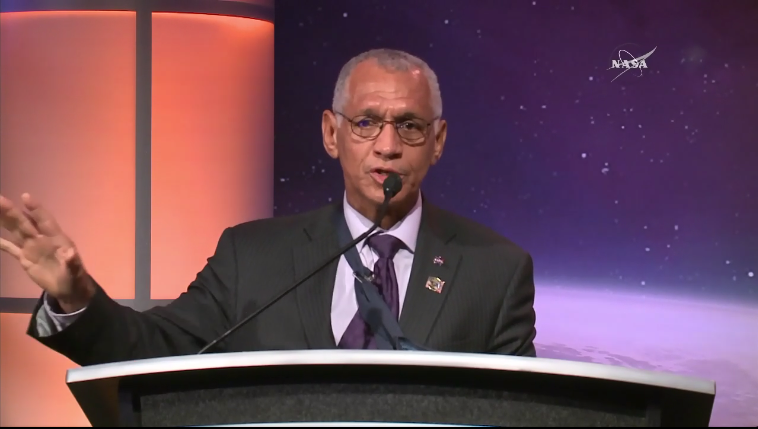 You can follow the flyby on NASA TV and check back here for updates as we get new pictures of Pluto.
Photos from the flyby aren't expected until Wednesday.