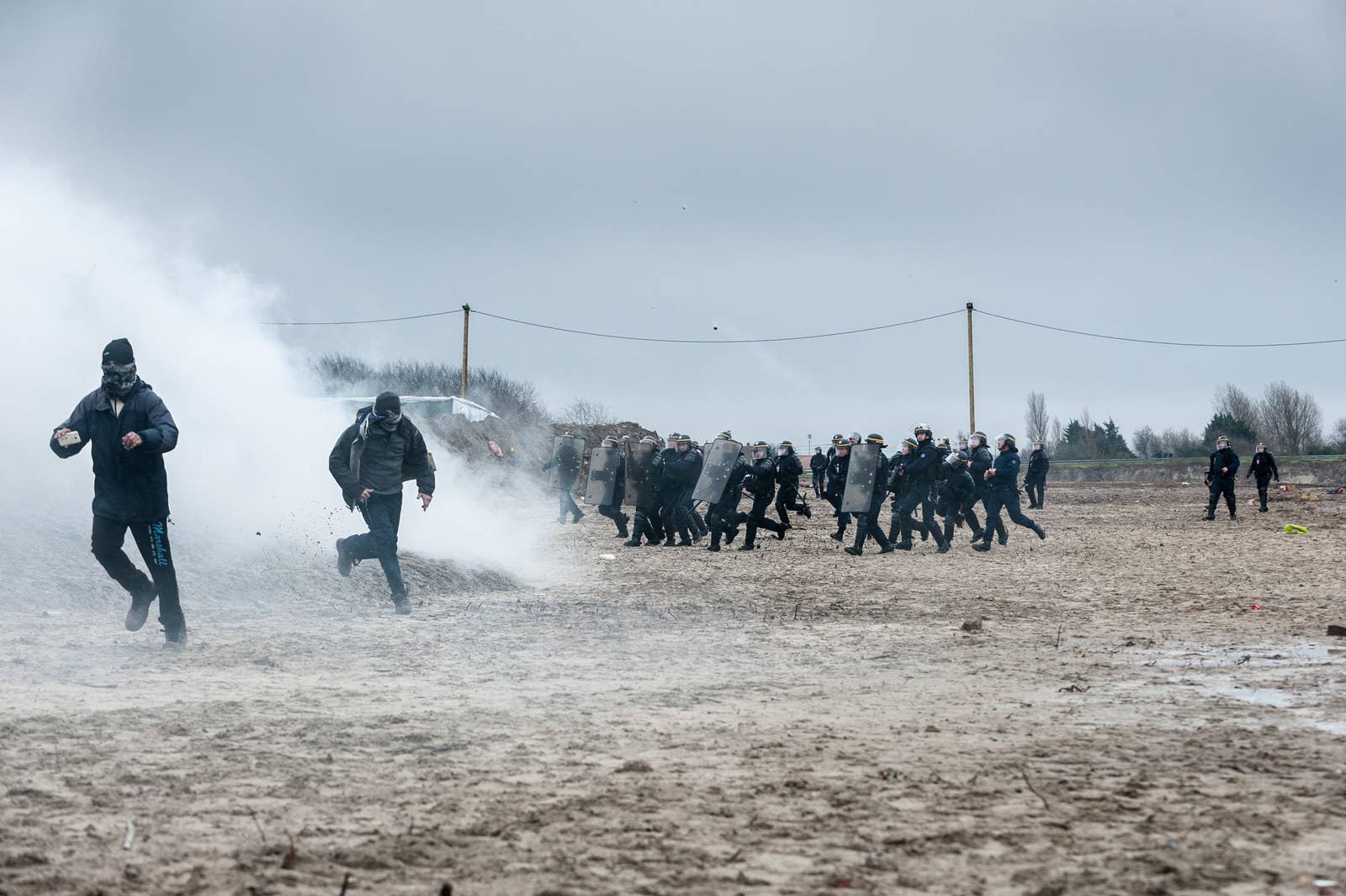 CALAIS, France — For the approximately 4,000 refugees who live here, life in the Jungle, an unrecognized camp in the port city of Calais, is a constant state of uncertainty at the mercy of French authorities. On February 25, a local court approved the eviction of those living in the southern section of the camp. On Monday, hundreds of riot police moved in and the forced eviction of about two-thirds of the population of the camp's current expanse began.

Aided by tear gas and water cannons, demolition teams dismantled tents and permanent structures: If the eviction happens in entirety, over 3,000 people will lose their homes in the camp. Authorities say they plan to house those displaced in a nearby collection of containers as well as refugee centers elsewhere in France, but most refugees do not want to leave — many seem reluctant to exchange their freedom of movement and hopes of one day crossing into the U.K., where some of them have families, for a bed and a record with the French government.
The British government is also spending some of the $19 million it pledged to help fortify the border at various points, subsidizing double-layered fences topped with razor wire, increased surveillance, and extra rotations of French police personnel deployed throughout the city. It's these police who refugees claim are engaging in systematic violence towards those trying to cross and excessive force while on patrol at the camp.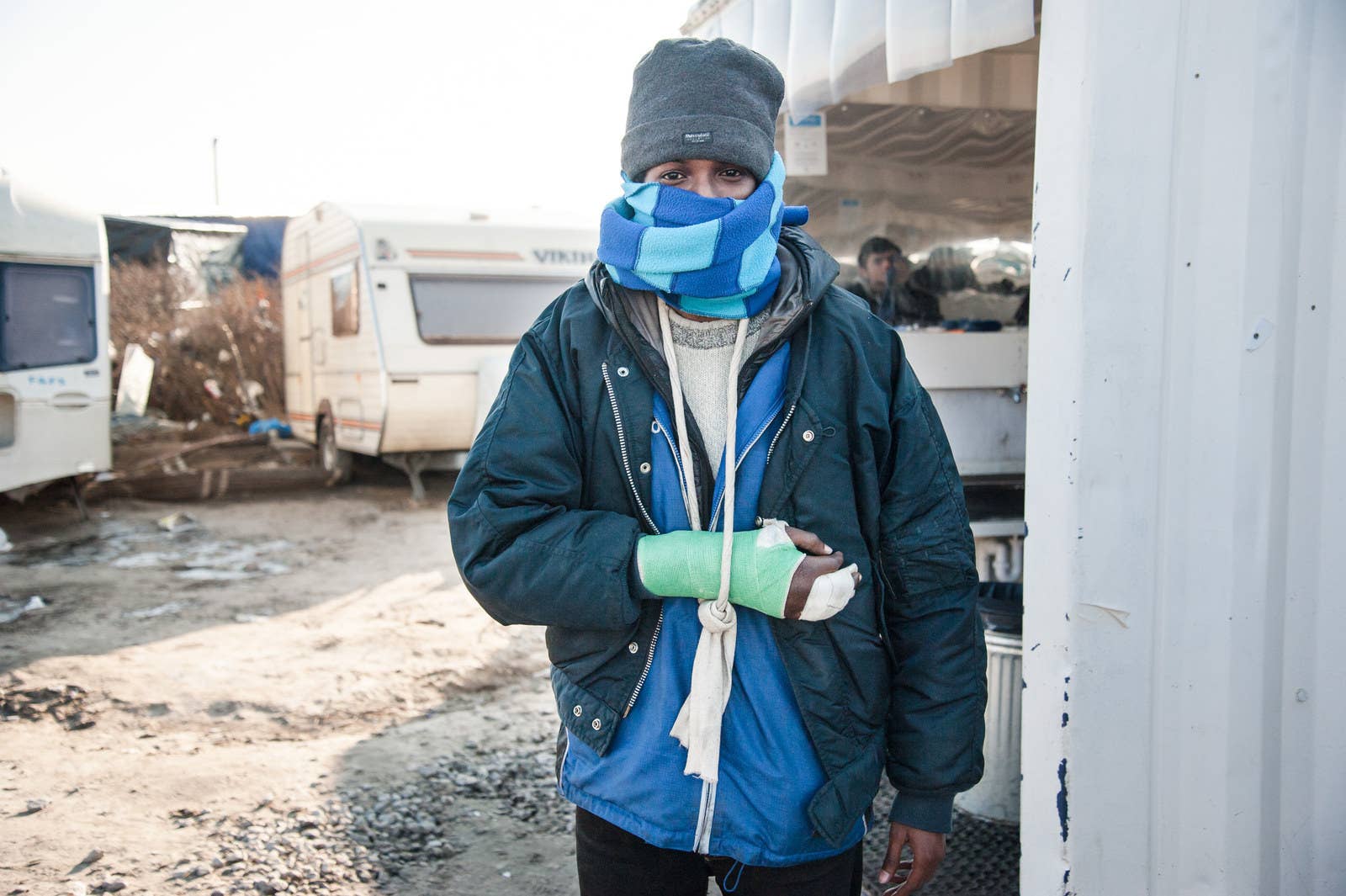 Ahmad Ibrahim, 26, tried to sneak into a container attached to a truck before police assaulted him and his friends, breaking several bones in his hand with a baton and threatening to pepper-spray him if he didn't get out. "The police here are just like in Africa," he said. "I lived in Sudan, Egypt, Djbouti, Ethiopia, and the police there are very tough. If they catch you, without any reason, they hit you. I didn't think the French [police] would be like this."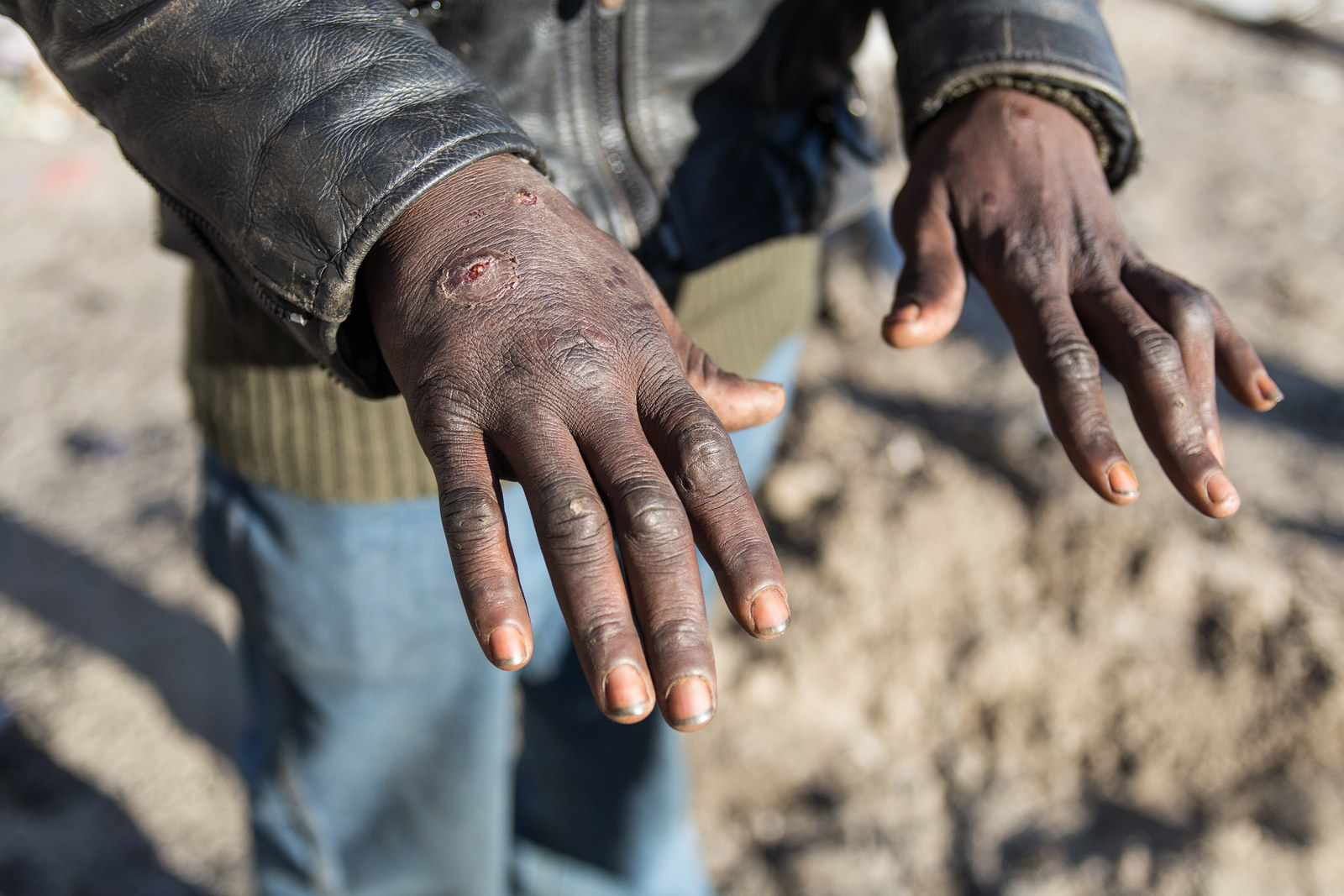 "Europe is good. But this is scheisse ['shit' in German]," says Mohammed, a 27-year-old Sudanese refugee toeing trash and tear gas canisters where his tented home once stood. Born in a refugee camp in Darfur, his hands bear the marks of the cost of crossing attempts for those who don't have the excessive cash it takes to pay a smuggler. "Police hate refugees."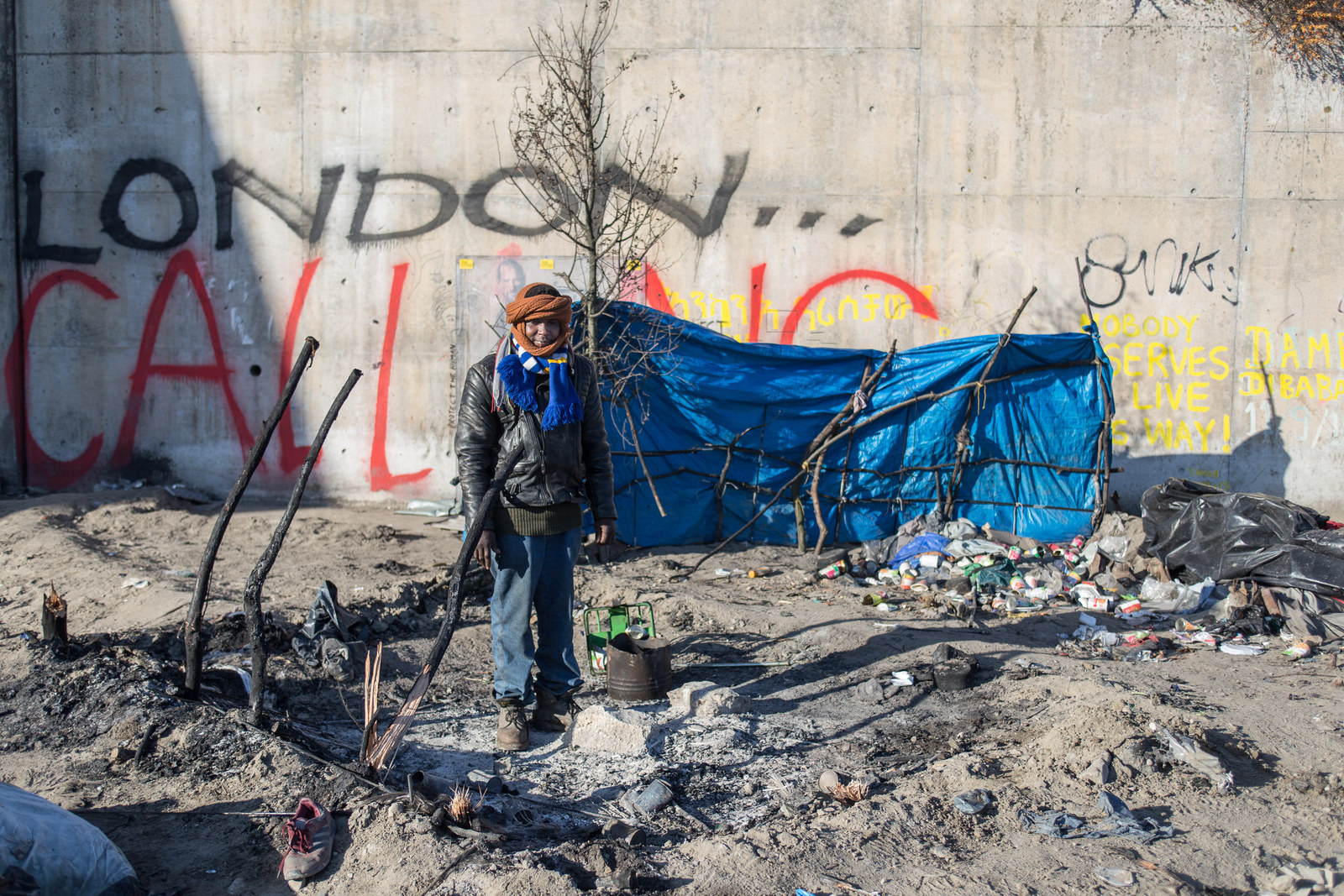 Two out of the 11 months Mohammed has been living as a refugee in Calais have been spent in prison. He was arrested with five others after trying to sneak onto a Eurotunnel train and recalls his time incarcerated with a grimace. "The police there, they don't talk to you, they just hit you," he says. Mohammed, 27, lived in Germany for one year but could not manage to secure papers. He regularly tries to sneak onto lorries bound for U.K. ferries and trains but has not managed to make it past police, who consistently beat him, leaving his hands injured.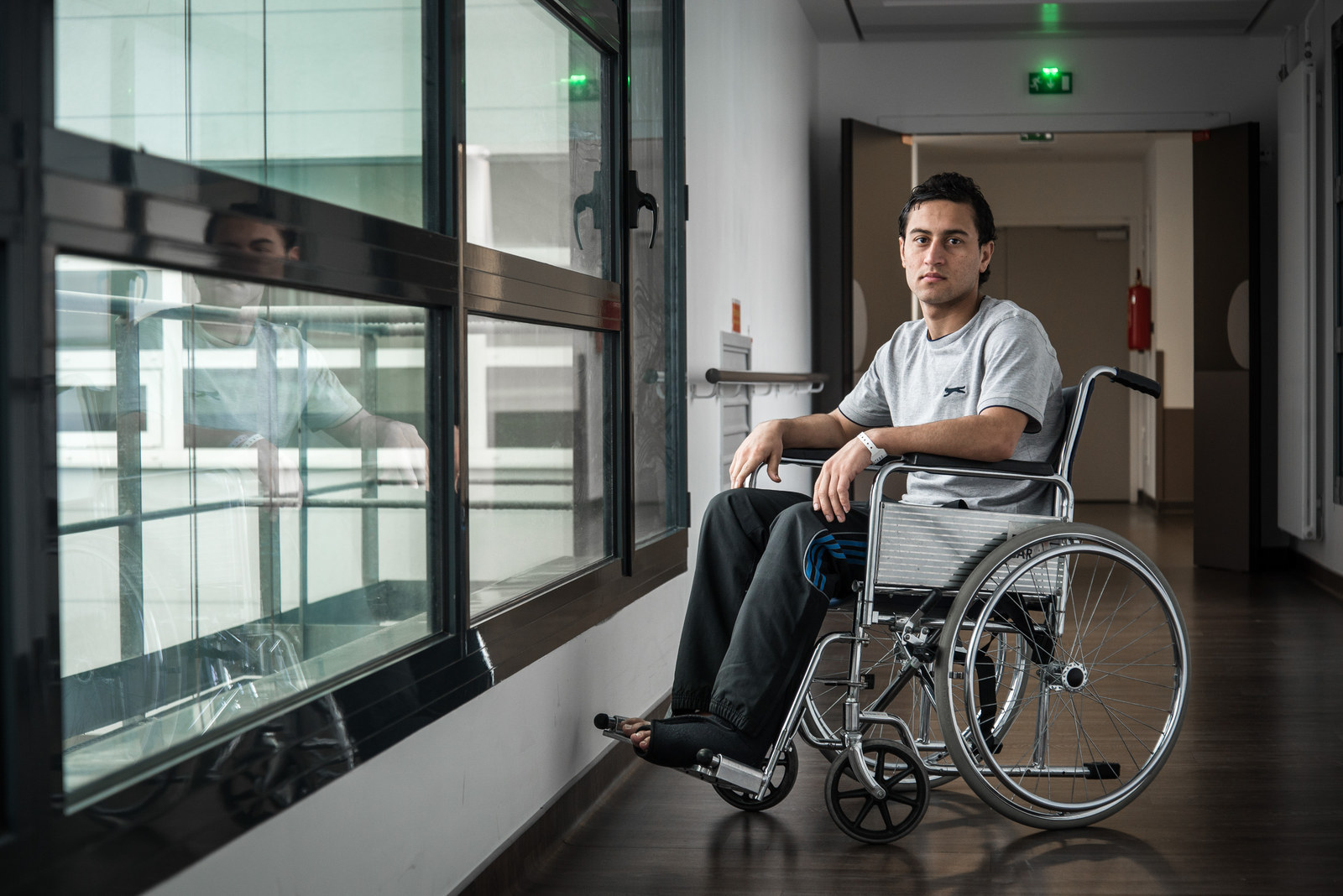 Before fleeing recruitment from ISIS and the Taliban, 18-year-old Javeed Ahmedzai was a professional cricket player in Afghanistan, where he played in two junior World Cups. After only a few days in the Jungle, while climbing a fence at the port, police beat and pepper-sprayed him, causing him to fall and suffer an open fracture to his left leg. They left him bleeding on the ground until a young local found him and called an ambulance, which took him to the Central Hospital in Calais, where he has been recovering after several surgeries. "Police, ISIS – they are the same," he said. "Everybody kills. If people aren't looking, police beat people. Really. Just because my country has a problem, I have no future. I cannot go anywhere. If you are an American citizen, then no problem." Ahmedzai wants to pursue a career in professional cricket once in the U.K. but is not certain he will regain the full use of his leg.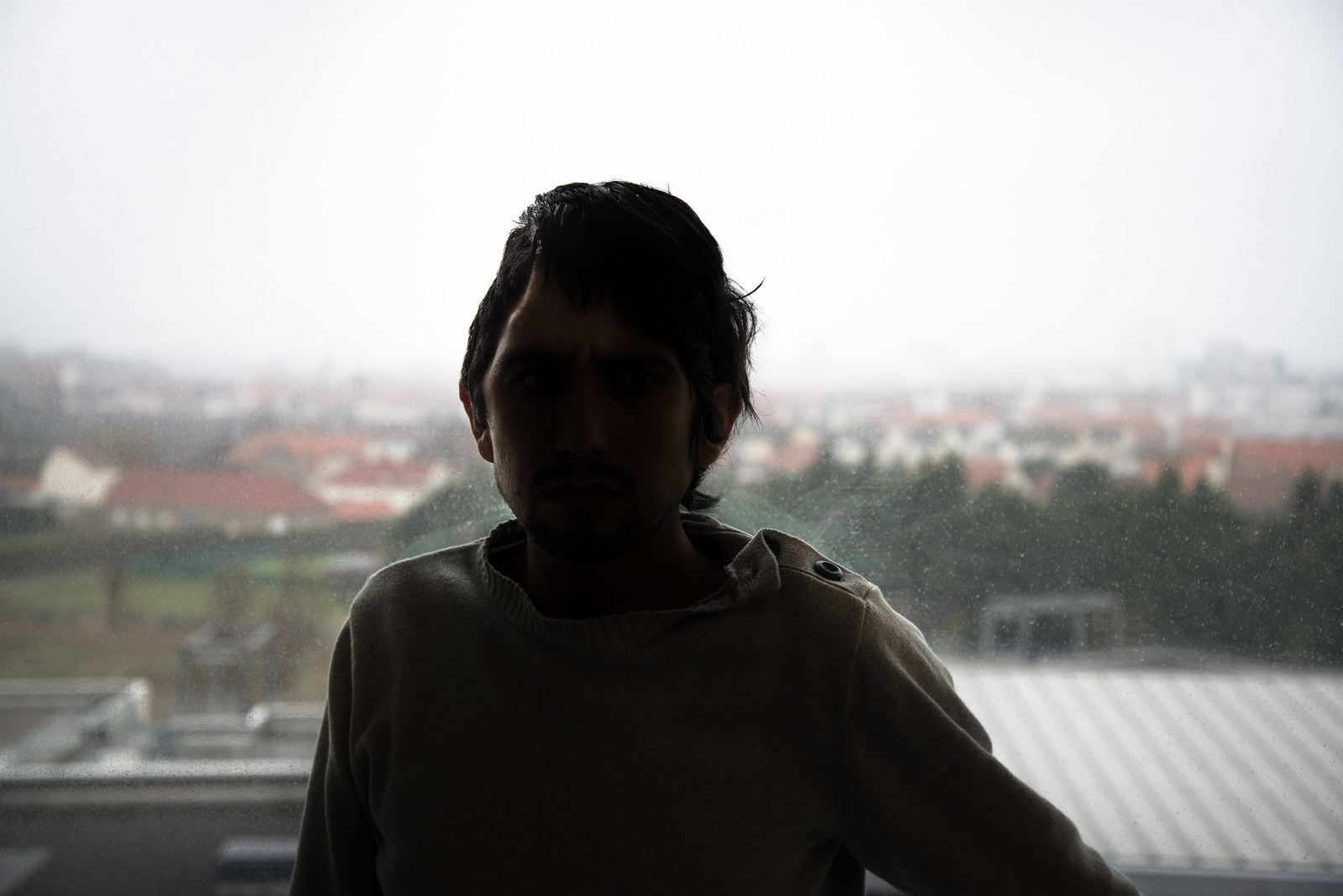 Mujeeb Rahman has to wear a helmet when leaving his hospital bed. The 22-year-old Afghan from Nangarhar province was planning to sneak onto a truck headed to the port when police found him and his brother along the fence near the Jungle and started beating them with batons. The blow to Rahman's head put him in a coma for a month and a half. Besides missing part of his skullcap, Rahman sustained brain damage and suffers from memory loss and delayed cognitive function.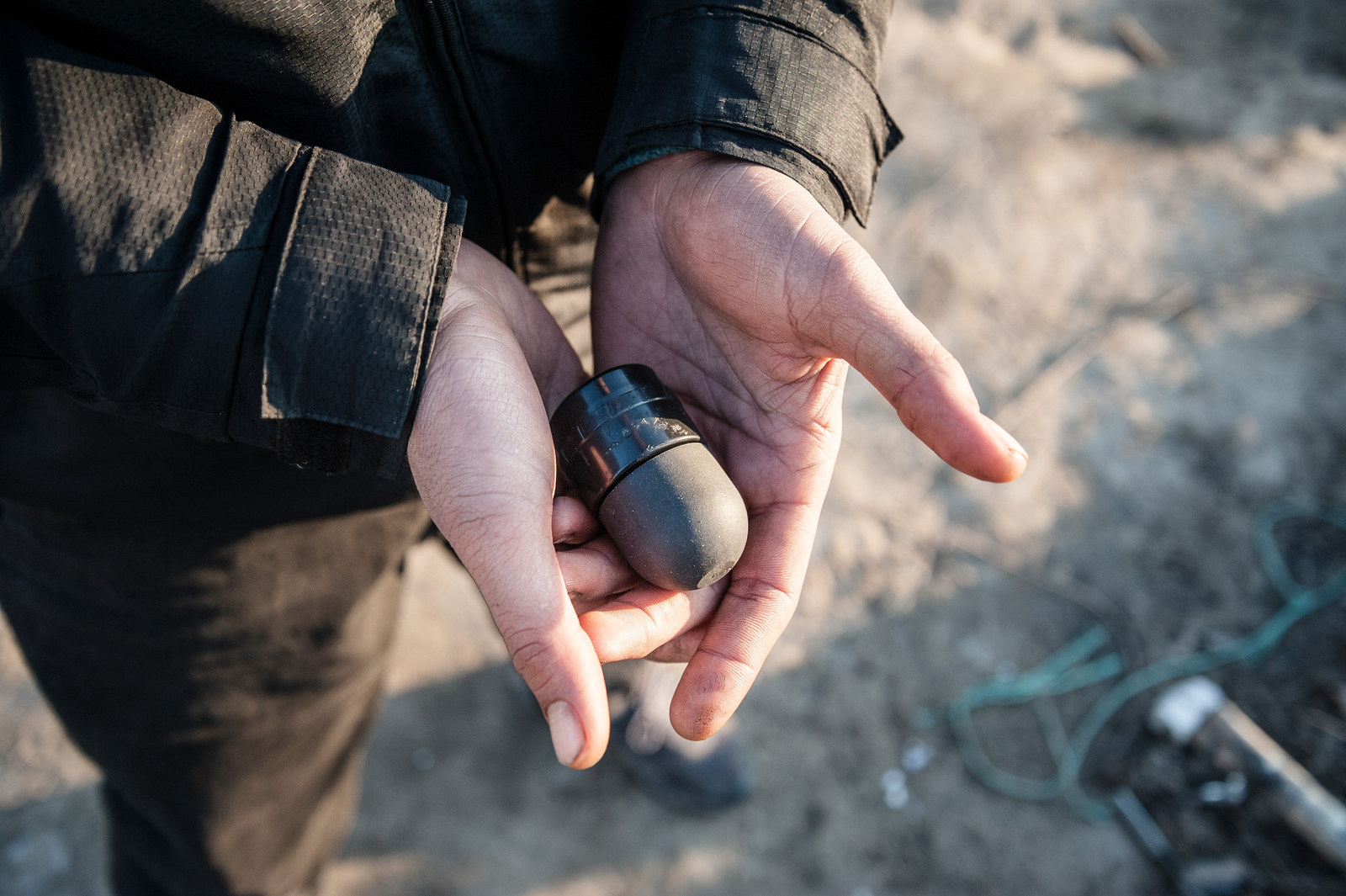 Ahmad Tscha from Afghanistan fled violence plaguing his home in the Kunduz province and arrived in Calais last November. Tscha, 18, says he wasn't involved in any confrontation with the police while sitting near the perimeter of the camp in early January when he turned towards an escalating clash between police and refugees and was shot in the forehead with a rubber bullet. He suffered a laceration and significant bruising. He believes the U.S. and other Western countries are largely to blame for his country's instability.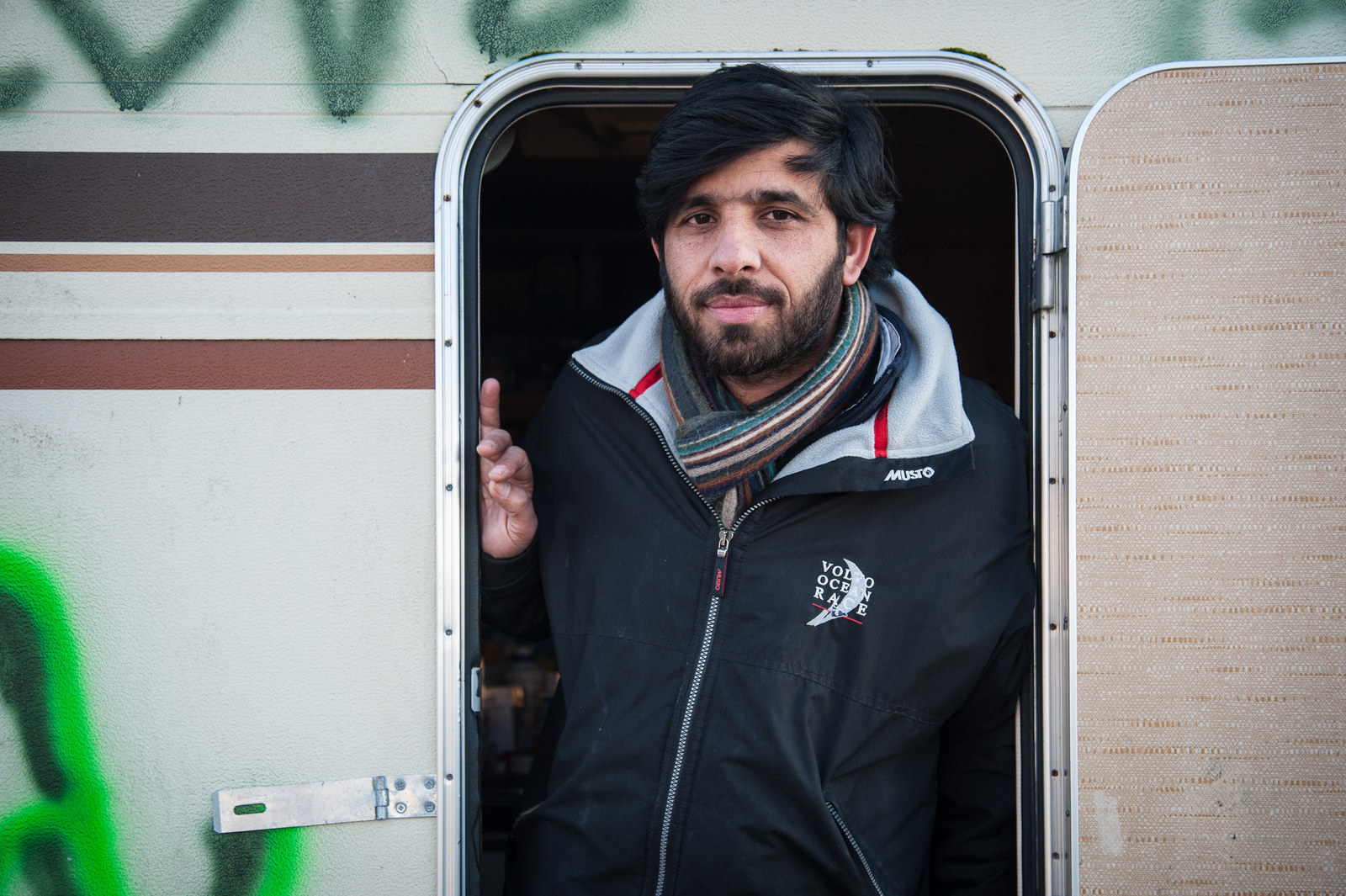 Shakir Jawed, a trained medic from Pakistan, set up a small, independent caravan that quickly became a camp institution as one of the only places offering medical help after 5 p.m. and through the night, when much of the police violence takes place. The night he treated Ahmad Tscha (pictured above), Shakir was shot with a rubber bullet to the chest near his heart.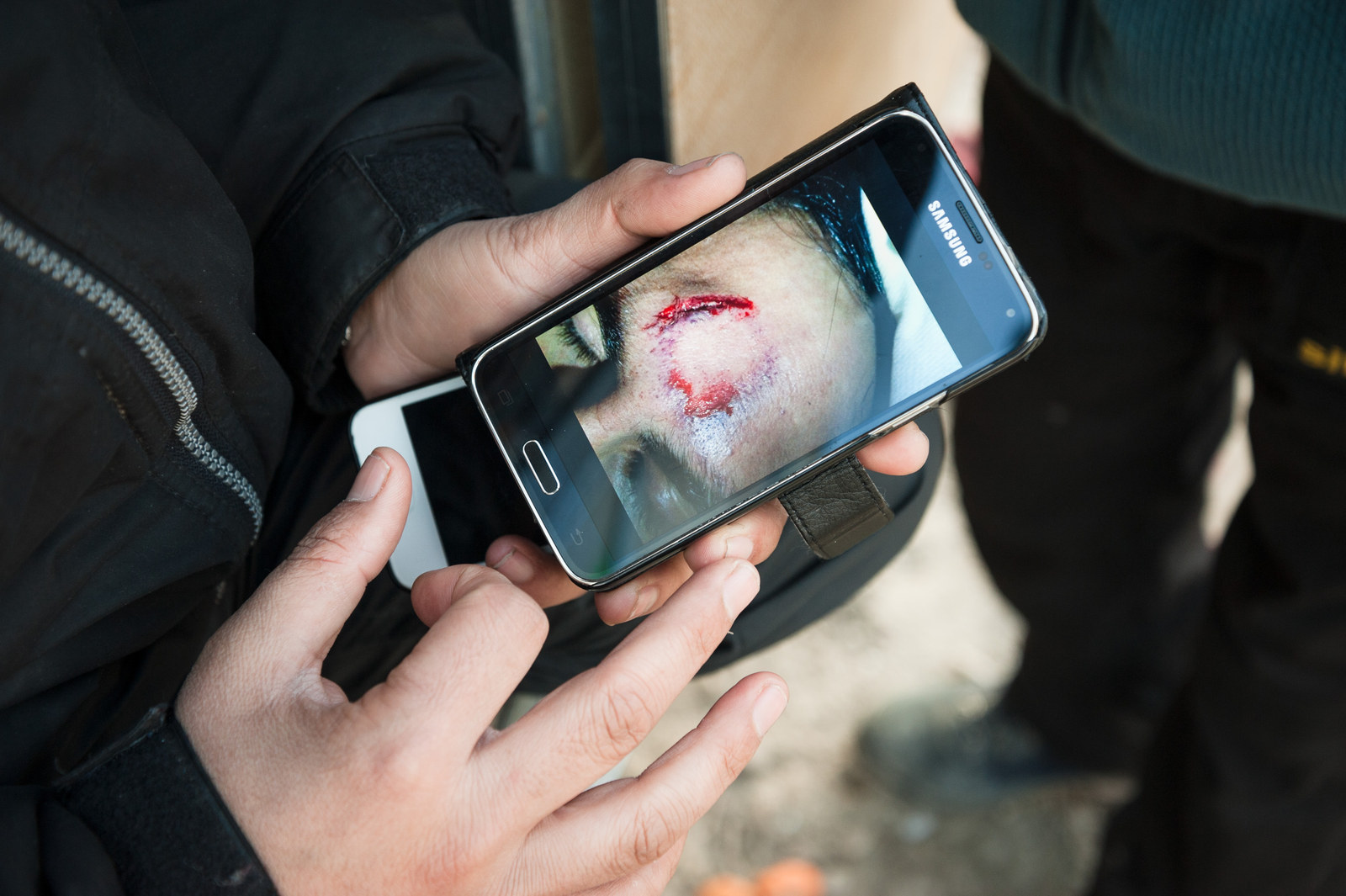 "There is an increasing amount of injuries caused by police," said Dominique Bernard, project coordinator for Doctors Without Borders (aka Médecins Sans Frontières) in Calais. "The use of tear gas and rubber bullets is a big problem, especially inside the camp."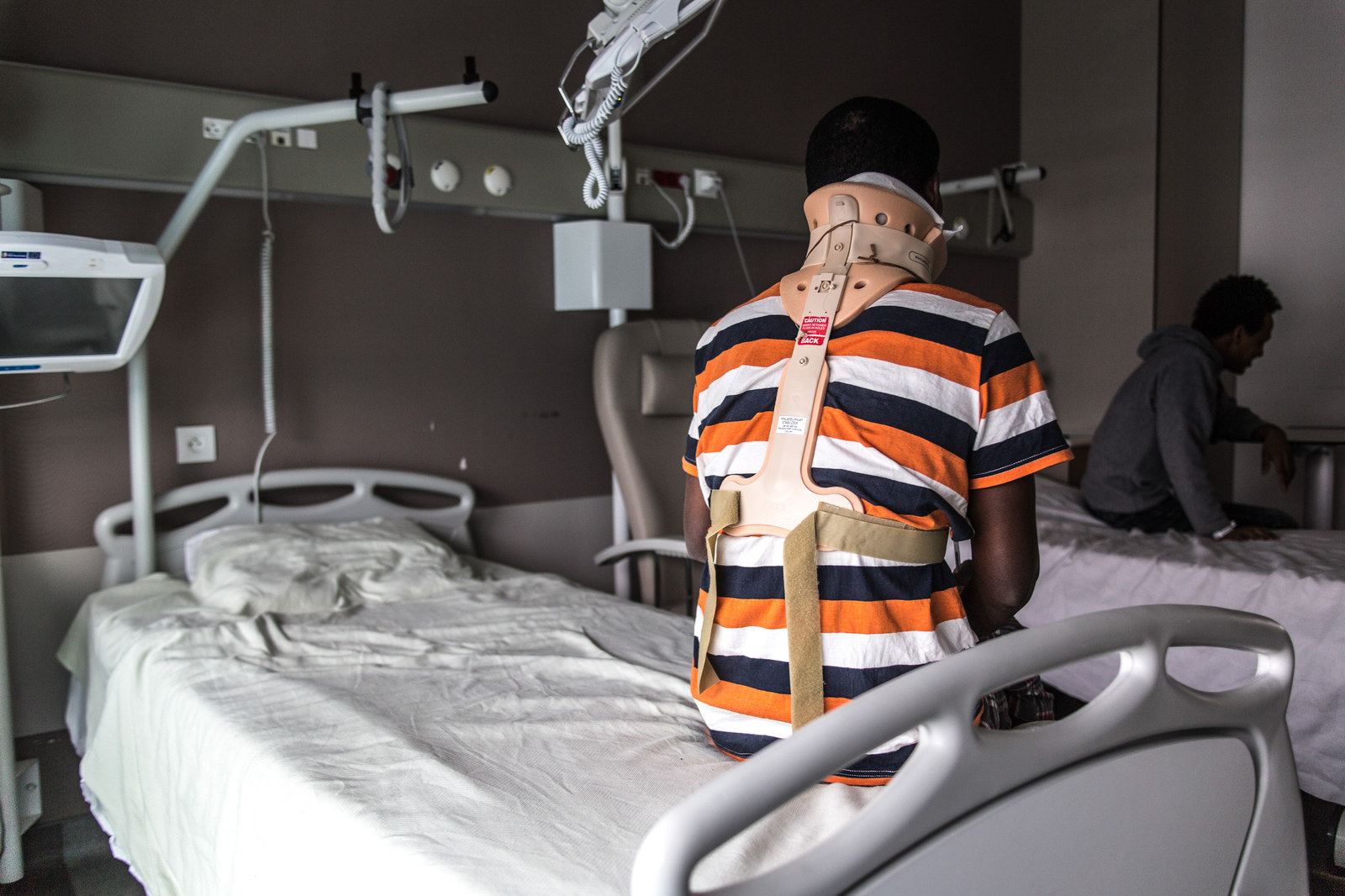 Gereisadke Mandafarra, 29, from Eritrea, broke three discs in his neck after he was hit by a car when he accidentally ran onto the highway after he was pepper-sprayed by the police. Mandafarra said he was shocked and unable to see, so he didn't know where he was going. He now shares a room with another Eritrean refugee, who was hit from close range with a tear gas canister and is recovering from a broken jaw.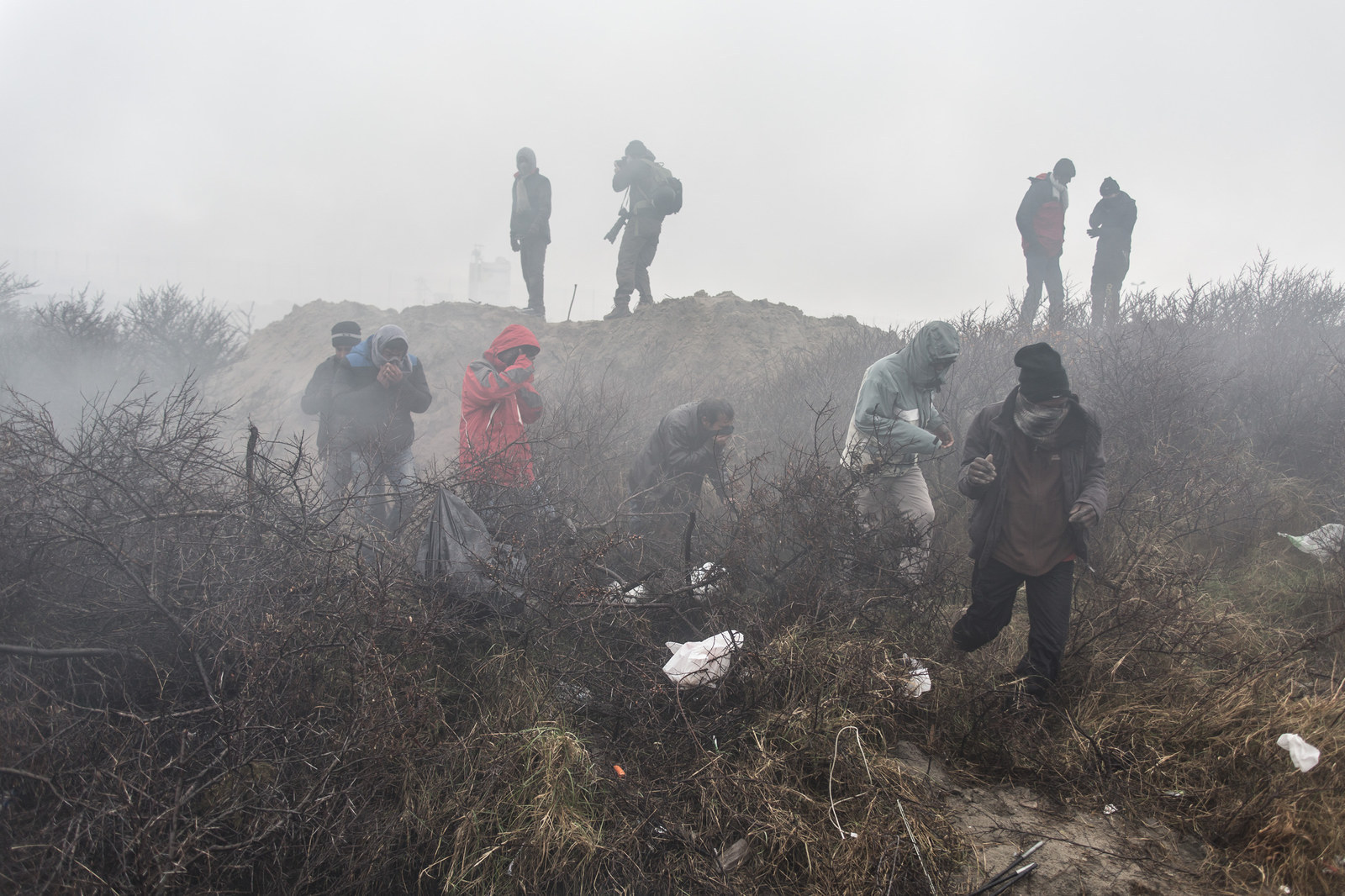 Despite repeated requests from BuzzFeed News, press contacts of the French national police could not be reached and calls to interview officials at the Compagnies Républicaines de Sécurité, the riot control forces of the national police, went unanswered.