Despite reports that Sorority Sisters had been canceled after weeks of backlash, VH1 told BuzzFeed News that no decision has been made about the future of the much maligned series just yet. The network will air the final three episodes on Friday, starting at 9:30 p.m. "Based on the feedback we saw on Twitter after Sorority Sisters: The Dialogue debuted last week, it was clear that the audience wanted to see the stories of the cast play out more fully," a rep for the network said in a statement. "We felt it would be best to run the remaining episodes back to back, bringing the season full circle."
Read the original report below.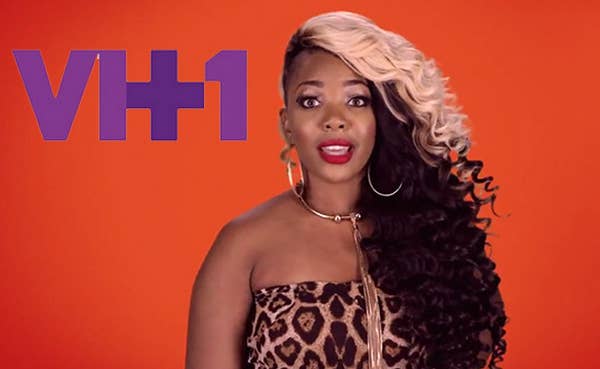 In the first five minutes of Sorority Sisters, yet another reality series on VH1, we see Priyanka Banks sexily stepping up on a stage, dropping it low, rolling around on the stage, tossing her hair back and forth underneath a disco ball.
Technically, she's a burlesque dancer — a point she made clear in her confessional. But the image (though commonplace on other reality TV shows on this particular network) didn't sit well with many on Twitter.
The difference with this particular scene — and Sorority Sisters at large — is that Banks is a member of Delta Sigma Theta, Inc., one of the distinguished black Greek letter organizations. A growing group of petitioners want the show — which many believe is produced by Mona Scott-Young (the woman behind the Love & Hip Hop franchise), who is actually a consultant, according to VH1 — off the air.
About 1.3 million people tuned in for the premiere episode on Dec. 15, making it an early success for VH1. But the online boycott of the 10-episode series started immediately, with viewers tweeting at advertisers to not sponsor the show. So far, 51 companies have pulled their sponsorship dollars, the most recent being the NBA.
In a statement to BuzzFeed News, VH1 said, "We are definitely hearing the conversation around Sorority Sisters and are taking the concerns of our viewers into account. Currently there are no changes planned for the series. The show seems to be connecting with an audience." They also noted that the show's most recent airing was the No. 1 non-sports cable program in its time slot with women between the ages of 18-34.
"Advertisers do not like angry consumers; they loathe negativity," Lawrence Ross, author of The Divine Nine: The History of African American Fraternities and Sororities, told BuzzFeed News. "There's a misnomer that advertisers don't care about bad publicity or that it's just about eyeballs. The NBA knows that its brand is very strong among African Americans. There's no way you're going to risk your brand over a show that's aired twice."
Ross, a member of Alpha Phi Alpha Fraternity, Inc., was the person who created the current strategy to get advertisers to boycott Sorority Sisters. "This is doing real damage. The production is so cheap for all of these shows. It doesn't cost them any more than maybe $3 million to produce a full 10-episode run. So as a result, they can run these things ad nauseam. That's fine when it's an individual. But when someone stands up and says, 'I'm a burlesque dancer' — and she has a right to make whatever choice she wants — but she's doing it while saying she's a Delta Sigma Theta member. That's the big issue," he said.
The major problem, as Ross sees it, is that when producers went about selecting women for this series, they used a formulaic method to have it mirror what audiences have seen with shows like Love & Hip Hop, one that inspires women to go head-to-head with one another and fit into particular stereotypes. The issue with draping this series around the fact that these women are bonded by sororities, is that they are representing entire organizations, many of which are more than 100 years old.
"When they do this particular show and they say they're members of the organization, you bring in everyone else. Fraternities and sororities are a microcosm of society. [Producers] specifically found people to fit their formula ... you're telling the world each and every time for people who have never heard of these fraternities and sororities before, this is who they are. And when you do that, you've insulted all of the organizations and you've reduced them into a caricature," Ross said. "And when you do that, people take it personally. We actively work in the community. When programs like this come on, it does immeasurable damage."
Richelle Ransom, a member of Alpha Kappa Alpha Sorority, Inc., and an avid watcher of Bravo and VH1 reality shows, took to Twitter to express her disdain over Sorority Sisters. She echoed Ross' sentiment that the women on the show are representing entire organizations and doing damage because of it. The sorority-versus-sorority rivalries that have been represented on the series so far aren't entirely accurate, she said. And it reminded her of a scene in Spike Lee's 1988 classic School Daze, where the women battle it out in a hair salon, divided by aesthetic differences and varied hair textures. Ransom watched the premiere episode to see what it was about, but said she will not tune in anymore.
"If you're an individual, you can do what you want. You can act a fool — I don't care. I watch these shows and give commentary on Twitter about the shows. But when you give these falsehoods like AKAs and Deltas can't get along ... these women are 40 years old. Who cares about that anymore? It's perpetuating a stereotype that does not exist in real life," Ransom told BuzzFeed News. "Maybe when you're in college and you're competing in step shows and having parties on the same day, maybe there's a bit of rivalry. But once you've graduated and you're grown and have friends in all organizations ... this is just falsehood that doesn't exist."
The yanking of advertisers is a good start, Ross says, but they're seeking much more. They want Sorority Sisters off the air, removed from all the platforms, and they want VH1 to acknowledge that they should have never put the show on the air to begin with.