T.I. can't help but chuckle and offer a knowing head nod when talking about his character in the new comedy Get Hard.
After serving twice in a county jail for probation violations and after being incarcerated for in 2010 for a highly publicized U.S. federal weapons charge, the rapper-turned-actor is playing Russell, a gang-banger and former convict from Crenshaw Heights who helps prepare a wealthy white businessman for life behind bars.
"I think I served somewhat as a consultant," T.I. said with a smirk in a recent interview with BuzzFeed News about his role both on and off screen. "A consultant to the consultant."
Get Hard centers on James King (Will Ferrell), a wealthy hedge-fund manager who's looking at 10 years in San Quentin for a white collar crime he insists he didn't commit. So, James hires Darnell (Kevin Hart), who runs the car wash service at James' office, as his prison consultant, presuming that, because he's black, odds are good that he's been locked up at some point in his life. And though Darnell has not in fact been to jail, his cousin Russell has.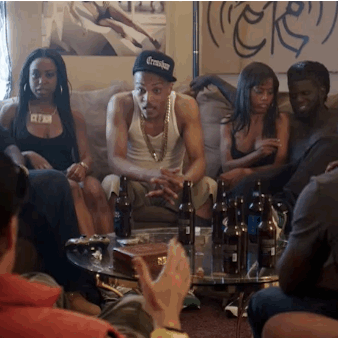 "If you just read a log line of what this is, it's very easy to turn this into a trainwreck," T.I. said of the comedy from director Etan Cohen. "But I feel like when you have the right pieces in place, and your execution is appropriate, then you go from being cliché-ish to being the exception. And I think that we've all worked hard and contributed our efforts and energy to become the exception."
For his part, T.I. added a dose of authenticity to the movie as an actual former inmate and teenaged drug dealer, which has inspired some of his most gripping tracks. His most significant contributions to Get Hard, in theaters March 27, were helping to round out Russell's story and the relationships amidst the ragtag group of criminals he leads.
"[I wanted] Russell's organization being looked at as a real organization, and not just being something that people think it should look like," T.I. said. "The things that people who have lived that life and have cousins or uncles or family members that actually live that lifestyle can look at it and say, 'Yeah, I remember seeing them do that too.' I think that serves to the film's integrity."
And while the long-running, often repeated idea that all black men end up in prison is overwhelmingly obvious in Get Hard, in T.I.'s mind, the movie also challenges stereotypes that black people harbor about white folks, too. "It plays on white peoples' perception of black people, and black peoples' perception of rich white people," he said. "It is definitely hand-in-hand."