Prince: Record Contracts Are "Slavery"
The Purple One surprises 10 attendees at the National Association of Black Journalists with an impromptu sit down chat about streaming services, #BlackLivesMatter, and why he's teaming up with Jay Z. "Record contracts are just like … I'm gonna say the word, slavery."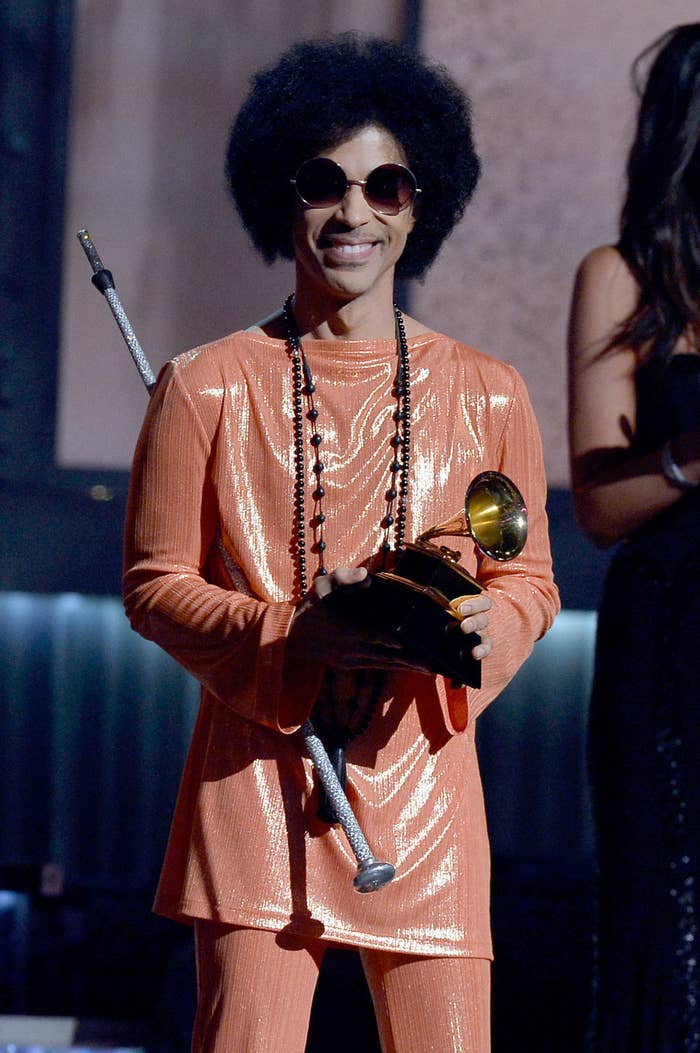 CHANHASSEN, Minnesota — The room was a bit too dark. Prince turned to a member of his staff and said, "Turn up the lights so the doves can see."
This was the beginning of an impromptu, informal, and certainly unexpected late-night conversation between 10 surprised reporters and one of the world's best-known musicians in the studio where he's been making music for more than 30 years. If you're Prince, your studio is going to have a few birdcages containing live doves. And his opinions on the record industry haven't changed much in recent years: "Record contracts are just like … I'm gonna say the word, slavery," he told us. "I would tell any young artist … don't sign."
This whole thing started last Thursday morning when Prince sent out a cryptic tweet, since deleted, that referenced the National Association of Black Journalists. I serve as Arts and Entertainment Task Force chair, and we were in town toasting the organization's 40th year at its annual convention. He invited attendees to a dance party at his studio compound Paisley Park on Saturday night, where they paid $20 a pop, not including food, and had to flash their convention badges in order to get in — no idea why there was a fee or what it went toward. Nearly 900 journalists and lucky plus-ones enjoyed a soul food menu (macaroni and cheese and red beans and rice were among items for sale) and a DJ spun classic R&B and hip-hop hits until the wee hours of the morning.
After arriving at Paisley Park around 11 p.m., I was summoned by our group's outgoing president, and as we lined up to go deeper into the famous location, I assumed it was for a quick meet and greet. Far from it. His team — which included twins Maya and Nandy McClean — led 10 of us down a long hall, through what looked like a photography studio, to Studio A, where Prince was seated behind the console, dressed in a sparkly gold lamé pantsuit, his natural hair picked out Afro style. After shaking my hand, he looked behind me to see that perhaps the studio wasn't big enough to hold us all, and requested that we move to another location on the property, a conference room on another floor.
After we assembled in the new room, the singer came in minutes later and sat at the head of the table. No question was off-limits in the private chat, which included MSNBC's Trymaine Lee, NPR's Eric Deggans and ESPN's Mike Wilbon. We talked with Prince for nearly an hour about a myriad of topics — his religion, #BlackLivesMatter, and institutionalized racism. I don't think anyone in the room was exactly prepared for an interview, and Prince seemed to like that lack of formality. We were not allowed to bring cell phones or cameras to the party, and we weren't allowed to take notes — this is a long-standing caveat for his rare encounters with journalists. The singer said he much preferred having organic conversations like this one, and talked about how he wasn't aware of the event happening until fairly recently.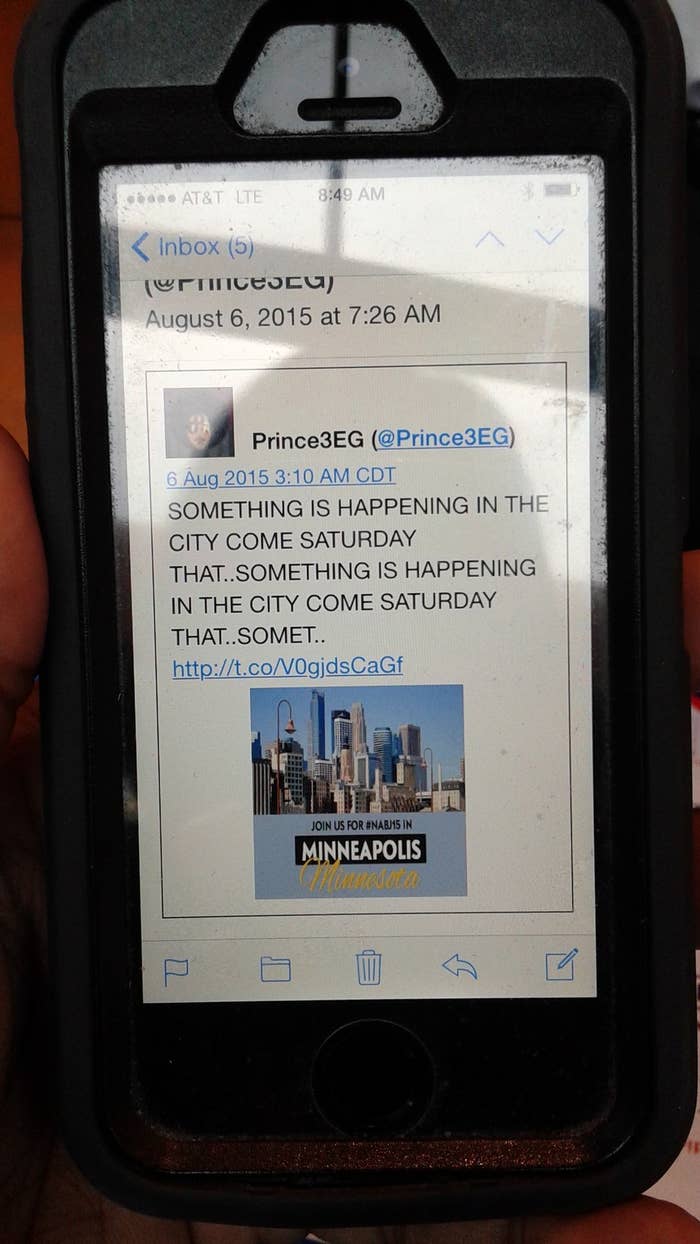 Instead, it was a back-and-forth conversation — sometimes he asked the questions and we answered — about a litany of things. He talked about why he recorded a Baltimore protest song — it was organic and he detests police brutality, he said; why he will never push his personal religion on anyone else — he's a Jehovah's Witness, something musician Larry Graham got him into, he noted, but he believes that everyone should subscribe to some sort of religion; and his love of the black community — it pains him to see the social discourse taking place right now. He asked about the history of the NABJ. Then he launched into what concerns him most: the current battle musicians are waging with streaming services — largely Spotify, Apple, and even YouTube.
The money doesn't make sense, he said. He noted that The Beatles were paid some $400 million for their catalog, and that although he has as many albums, he wasn't offered nearly as much. A journalist asked if he thought it was because of the differences in race; Prince shot him a look and asked what he thought in a knowing voice.
His music industry concerns are nothing new. Last year he returned to his former label Warner Bros. after 18 years and regained ownership of his catalog. Prince had a high-profile split with the company in 1996, changed his name to a symbol, and lashed out against the major label system, referring to himself as a slave. Platinum records and poster-size pictures lined the hallways; the photo of him writing the word "slave" on his cheek is one of the first photos you see once you enter. He's still fond of the metaphor.
Prince hinted that as huge an album as Purple Rain was, he didn't get a fair share of the pie — the label gets money, but not the people who created the music. (According to Billboard, the 2014 deal to return to Warner Bros. was a landmark one, even though financial terms were not disclosed.)
I asked if he'd be open to doing a proper sit-down interview to detail all of his concerns, and he said that he'd rather speak with his actions. The action we should pay attention to next: He's releasing his new album HitNRun Sept. 7 on Jay Z's much-maligned streaming service Tidal, saying that he has given Jay Z the master and it will live on the streaming site for a few years exclusively.
He said that Jay Z sank $100 million into his new service, and that even if they only have 1 million subscribers, that is major. He thought the comparisons to networks like Spotify is unfair — he argued that just because Tidal has a smaller audience now, the deal for musicians is far better than other services, which is why he trusts it. Prince currently has a song on Spotify now and he says he's testing it out to see how well it does.
"Once we have our own resources, we can provide what we need for ourselves," he said of Tidal. "We have to show support for artists who are trying to own things for themselves."
Prince mentioned that he'd met with Jay Z several times about the issue of streaming systems not giving a fair payout to musicians, and said that they believe the artists are getting the short end of the deal when it comes to the new ways to listen to music. He also hinted that the two may be documenting their meetings but wouldn't elaborate.
About an hour into talking, he said we should wrap our chat up and actually enjoy our Saturday night; I replied, "I'm actually fine with how I'm spending my Saturday night right now." (He laughed.) We all talked some more about bad deals and noncompete stipulations — for broadcast journalists and musicians alike. Prince also talked about the change in commercial radio, specifically pointing out Clear Channel and criticizing their dominance.
When we finally wrapped, we were led out — I said a silent goodbye to the doves near the conference room — and matriculated back into the rest of the group. My friends wanted to know every detail but they would get their own peek at him shortly soon enough.
At around 12:45 a.m., Prince briefly addressed the rest of the guests, who took a break from dancing. (Those who thought their $20 was going towards a private Prince show they could someday brag about to their kids went home disappointed.) He used the moment to also ask the NABJ conference attendees to support Jay Z's efforts: "He could really use your help and appreciation because he is trying to do something big."
Then, after a minute or two, he was gone. But his guests remained for hours, dancing the night away.