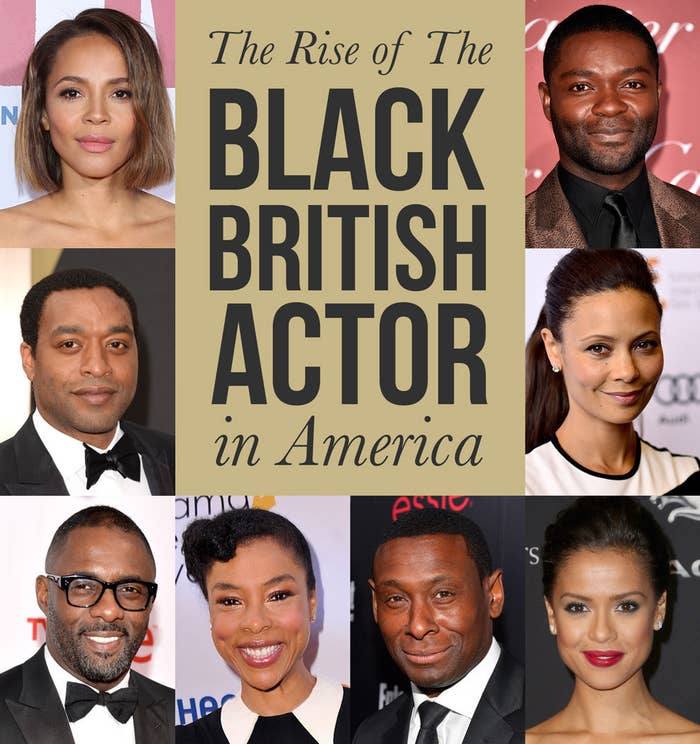 In Britain, David Oyelowo was feeling limited.
A brilliant actor who can melt inside of a role and turn in a performance worthy of high praise from his contemporaries, Oyelowo — who first came of notice as doomed spy Danny Hunter on BBC's Spooks (called MI-5 in the U.S.) — wasn't finding much material that allowed him to push himself to the next level. He'd had minor success doing prestigious work with the Royal Shakespeare Company, but breaking into TV and films proved to be challenging. And he envisioned more for himself when he fancied a performance art career.
So seven years ago, he and his wife Jessica made the decision to head to Los Angeles, with the hope being that he'd find the type of work fitting for his training at the esteemed London Academy of Music and Dramatic Art. He arrived in May of that year and by July — a mere two months after moving in the place where he'd hoped he would find the role of his dreams — the script for a film named Selma was dropped into his lap.
It took another seven years, five directors, and a rewrite before the film would hit the big screen, but now Oyelowo is impressing critics with his arresting portrayal of Martin Luther King Jr. in Selma, the humanitarian who would help to change the lives of millions of Americans before being slain in 1968.
Oyelowo's story isn't so uncommon. It's familiar to that of many black British actors, and in some ways, his role — and his story — is part of a larger trend playing out in Hollywood right now. There's a black British Actor Renaissance of sorts occurring, largely because black Brits aren't finding the type of work in the United Kingdom that allows them to explore the depth they're seeking from their roles. But stateside, these British expatriates are giving life to classic American stories, many gritty and all of them deeply layered and complex.
Part of that may be luck or timing or opportunity. But it's the odyssey of Oyelowo — who as King is playing one of the most recognizable and iconic Americans of all time — that feels as if it were being orchestrated from on high.
"I played a soldier confronting President Lincoln in the film Lincoln, and I say to him, in the winter of 1865, 'When are we going to get the vote?' and then there I am, 100 years later, depicting Dr. King, alongside the very same actor, Colman Domingo — we confronted President Lincoln together — we are now in a jail cell, asking for the vote again, in 1965," Oyelowo said in an interview with BuzzFeed News. "I've played a preacher in The Help, I played a fighter pilot in Red Tails, I played someone who was in a sit in, was a Freedom Rider, was a Black Panther, then goes on to be a senator in The Butler. They're all characters that took me on this journey through what it has been to be a black person for the last 150 years."
Oyelowo stopped, paused, and corrected himself slightly here. In nearly every role he's taken on since he arrived in the United States, he's portrayed the sojourn for what it's like to be a black American for the last 150 years. It's an important distinction that's not taken lightly by the 38-year-old actor.
"I know more about American history than I do either Nigerian or British history at this point," he said, before adding a quick chuckle.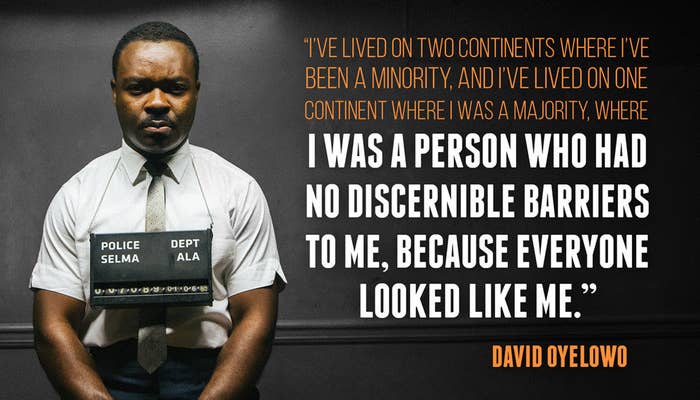 In Selma, we find two of the most well-known and high-profile black Americans of all time getting the big screen treatment. Together, Martin Luther King Jr. and Coretta Scott-King became the poster couple for the civil rights movement, which promoted nonviolent protests in order to get inalienable rights for all Americans. In the film version, directed by Ava DuVernay, both roles are portrayed by black British actors; Carmen Ejogo, who has portrayed Scott-King once before (in an HBO film, Boycott), also is British.
"I'm sorry — they were just really good!" DuVernay mock-wailed in defense of her casting British actors during a recent interview with BuzzFeed News. "David is just an extraordinary artist. He is unlike anything I've come across in terms of his depth of his preparation, the openness of his heart with this part — totally sinking in and a desire to disappear into this, to give his whole self over to it. That level of commitment is the kind of thing you hear when you read Premiere magazine articles about Daniel Day-Lewis preparing. I would see it happen. And know how important it was to him. And to be a partner with him in this performance was just an honor, and at that point, you could be any nationality."
Still, there is something to be said for the technical training that many actors receive in England. Day-Lewis, who won an Academy Award for portraying President Abraham Lincoln in 2012's Lincoln, also is British. And in Selma, DuVernay cast Tim Roth, another Brit, to portray former Alabama Gov. George Wallace.
Although white, Roth said it's easy to see the struggles that black British actors have.
"They're not getting the roles at home," Roth said in an interview with BuzzFeed News. "There's some good stuff being made, but … there's much more of a black component that's happening in your cable world here."
But it's more than just the actors navigating across the Atlantic to find great work. They're winning these roles because many of them are able to utilize their U.K. theater backgrounds and translate them to major Hollywood productions, something that works quite well with the deeply constructed roles many are landing.
"I think there's something about the stage, because they have that stage preparation," DuVernay said. "Their work is really steeped in theater. Our system of creating actors is a lot more commercial. ... there's a depth in the character building that's really wonderful."
There also is a cultural disconnect that allows actors like Oyelowo and Ejogo to strip down iconic figures like the Kings and play them with vulnerability and without falling into, say, the fear (and in some cases, the burden) that American actors steeped in historical traditions may have.
"They had a distance, yes," DuVernay added. "It's that whole idea of the reverence — if you don't have the reverence and you're not putting them up on a pedestal, then you're more apt to get to the truth and the heart of it to explore. You're not wrestling with the fact that his picture was on Grandmama's wall. Because it wasn't. Because you ain't from here. You didn't have to do "I Have a Dream" speeches in school. You don't have all that residue to deal with."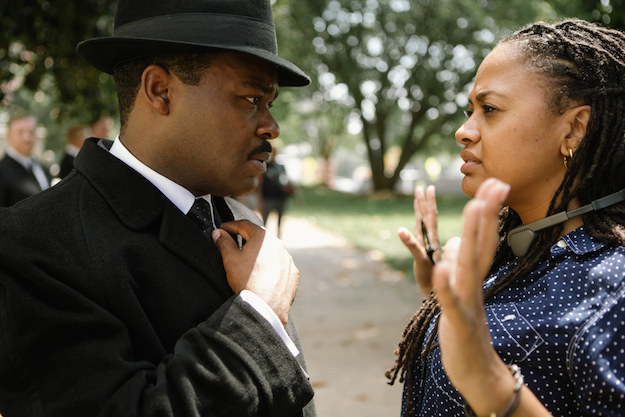 Ejogo said that's what helped her dissect Scott-King. Critically, she gives the first wholly human portrayal of Scott-King, which is especially important here, given that Selma touches briefly on King's much talked about infidelity.
"I've been trying to convince myself that being British has had no bearing on any of this, but actually I think that's where it served me well," Ejogo told BuzzFeed News. "I'm not as entrenched in the history so immediately. I didn't go to school and learn about Coretta, and I have this one idea that was put in history books as to who she is or who she wasn't. And now I'm going to have to reel that back in, and try and find something that doesn't sit well with me in terms of what I was raised in. I didn't know who Coretta was until I played her the first time. And I think I have permission — that's the definition of the artist, in my opinion — to be a little deviant. It wasn't as daunting as it might have been for an American actress. An African-American actress … that might have been a bit more of a challenge."
The same holds true with Oyelowo, who although he's never portrayed King before, sat with his character for years before the first camera rolled on Selma. Already, Oyelowo has been nominated for a Golden Globe for his performance, and talk is strong that he'll hear his name called for an Oscar nomination for helping to bring to life a story that depicted a dark time in American history. In some ways, it feels a lot like last year, when fellow British actor Chiwetel Ejiofor (who also is of Nigerian descent) was riding the award show wave for his inspiring portrayal of Soloman Northrup in 12 Years a Slave, a real-life story about a free black American who is wrongly placed in captivity and forced to live as a slave.
Over the years, we've seen other black British actors head to the States — Idris Elba took on the role as the menacing Stringer Bell in HBO's The Wire, where he played the No. 2 guy in a Baltimore drug cartel, largely culled from real-life stories; Thandie Newton has had roles as Sally Hemmings and former Secretary of State Condoleezza Rice; and Gugu Mbatha-Raw found critical acclaim in 2014 in Belle, portraying a fictional account of the mixed-race daughter of a Royal Navy Admiral and a Caribbean slave, but she previously donned a Yankee accent in the short-lived J.J. Abrams espionage drama Undercovers in 2010.
British actor Naomie Harris (Skyfall), who starred alongside Elba in 2012's Mandela: Long Walk To Freedom, has her own rationale for why so many make the journey. "I think it's quite simple, really, and that's work," she said. "I think there just isn't enough work in England to sustain a career long term, unless you want to do one of the British soaps and stay on that. We have to travel across to the States, because the States has such a much bigger market; it's a much bigger industry over there and therefore there are a lot more roles for us. And that's why actors like Idris … end up going to the States."
Elba isn't alone, of course. There are many more who have found acclaim on American TV and in film, including Marianne Jean-Baptiste, David Harewood, Sophie Okonedo, and Adrian Anthony Lester, just to name a few. That list continues to grow and grow.
"In Britain, they don't know who they are. In Britain, they're like, That's that American actor. I'm like, No, no, no, I was in England and I couldn't get any fucking work and I went over there and now…," actor Thandie Newton, the lead of DirecTV's cop drama Rogue (on which she plays, you guessed it!, an American), said. "I'm sure there are many explanations. The thing that pops into my head is that when you're hungry for something, and you've got a little bit of desperation in there and it serves you well. You know? When you feel like a fish out of water you struggle a bit. That struggle's healthy; it's good for you. And let's face it, America's made up of people from all over the world, as every city is. It's almost like we've just sort of come via England to America. I hope it's seeming that way, anyway. Otherwise we're like a swarm that comes in and infests Hollywood and takes over."
Together, this group makes up a rather small and exclusive fraternity of actors, united in their collective desire for better opportunities, all eyeballing bigger careers and understanding that America was the promise land. And that particular American dream began on those London stages, where many of those actors were educated together and worked together, Oyelowo said.
"Ten years ago, every one of those actors you were talking about, we were either at drama school, or we were treading the boards in theaters in London, getting paid very little money. Every single one of those people you just mentioned," Oyelowo said. "I know them all, I would watch them in plays, in small theaters — Chiwetel and I were at drama school together. We went to conservatoires to train for three years: We did classical theater; we did modern theater. I think that the reason why we're having this moment we're in right now, is because all of that hard work is now butting up against the time whereby a very big discernible appetite. And to be perfectly honest, we've had enough of having our stories be told from a white perspective, being peripheral characters in our own stories."
And again, the training and educational background is essential, according to Harris.
"I think people recognize with British actors that they do a lot of training, and I think people really respect that a lot of them have gone to places like Rose Bruford [College]," said Harris. "I went to the Bristol Old Vic Theatre School and trained for two years. They respect that we generally start off in theater and have a theater background. Film producers really like that."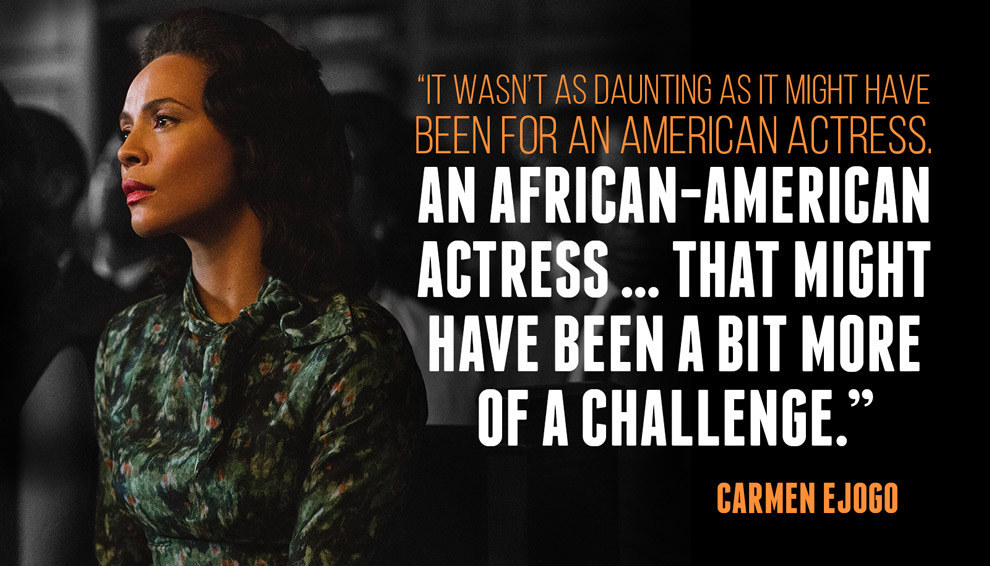 Right now, many are marveling when they see Oyelowo give television interviews in support of Selma; the realization that he's not American is a top interview topic, given the slow, Southern drawl inflected with little bits of a Bostonian accent that he uses in his performance as King.
Oyelowo doesn't hesitate when it comes to talking about racial disparities experienced in the U.S. Though he didn't grow up with the same history as black Americans, he's able to understand and speak to racial irregularity with the fluency of someone born here — and in some cases with a perspective that perhaps serves the roles he takes on better than most.
"I have a very unique bird's-eye view on what it is to be black in the world today, in the sense that I was born in the U.K., and I spent most of my life in Europe — my parents are from Nigeria, and I actually lived there for seven years, from the age of 6 to 13," he said. "And now I've lived in America for nearly eight years now. I've lived on two continents where I've been a minority, and I've lived on one continent where I was a majority, where I was a person who had no discernible barriers to me, because everyone looked like me. I didn't experience inequality or injustice because of the color of my skin.
"And so, when I was dumped back into society where I did feel like there was a different view of me as a human being on the basis of my race, it's a very stark feeling, it's a very discernible jab in the ribs. Even though I'm not an American, I know what inequality feels like, partly because I felt what being equal also feels like."
One of the many virtues of Oyelowo's stirring performance as King is that he brings to life small human nuances about a man who has been canonized for the last five decades. He reached out to Andrew Young, a member of the Southern Christian Leadership Conference who was also part of King's inner circle, for insight.
"I spent a lot of time with Andrew Young who talked to me about his friend, Dr. King, who gave me unseen footage of him at home with his family, eating fried chicken, belching, on planes, traveling around," Oyelowo said. "The Dr. King that we haven't necessarily seen. I steeped myself in this man and this movement, and these people, I met Dr. King's children, and I spoke to them about him. I tried to soak myself in it as much to compensate for anything I didn't know."
The complexity of King's character as it plays out in Selma is in keeping with the type of work Oweloyo was envisioning when landing Stateside less than a decade ago. And that he's portrayed significant turns in history for black Americans may not be so coincidental.
"I gravitate towards films, stories, characters, filmmakers who are interested in those things that are meaningful, those things that actually have something to say," he said. "I am not one of those filmmakers who thinks that we don't have to take responsibility for what we put out into the world. I think that's a lie, I think it's irresponsible, and I think it's downright untrue. I think film is culturally intensely potent and it does — for better or for worse — shape what people think about the world they live in. I try to be part of projects, try to play roles that inform the human experience, in as edifying a way as possible."