The Most Surprising Nerd At Comic-Con
Aisha Tyler has finally found her tribe. "Whoever you are, how you express yourself is OK here," she tells BuzzFeed News.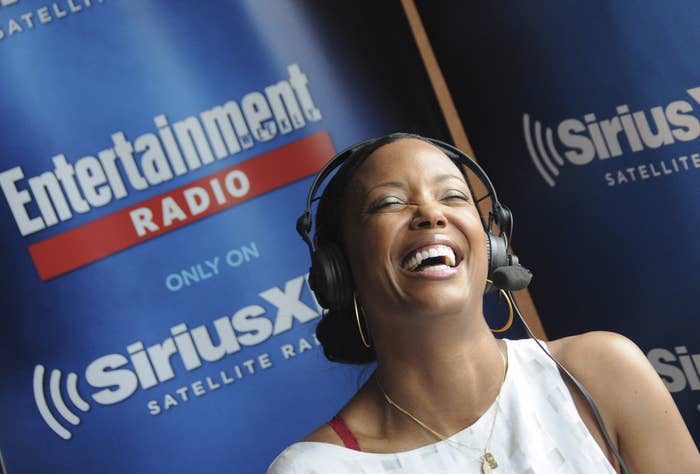 SAN DIEGO — When you think of Comic-Con, you probably think lightsabers, glasses, and cosplay, not a 44-year-old, 6-foot black woman. Yes, Aisha Tyler stands out in the crowded convention center in San Diego, but in her heart, she feels right at home.
"This is my tribe, you know?" she told BuzzFeed News while sitting on a couch at a hotel just a few blocks south of the action. "I think what Comic-Con represents culturally is just broad, unapologetic acceptance of who you are. Whoever you are, how you express yourself is OK here."
That's something that's kept the actor, comedian, and host coming back to Comic-Con for the past six years, but it's something she's been searching for her whole life.
Tyler grew up 500 miles north of her current home away from home in San Francisco, where she kept to herself, her books, and her video games, always living right on the outside of everyone else. "I was a really nerdy kid," she said. "A lot of people want to claim nerdery, but you can't say you were a nerd when you were a kid unless you played alone for a significant portion of your childhood. For a long period of time, there was a lot of imaginary play. I was a crazy reader — and had a reader imagination. You know, just like a loner."
That feeling was even more glaring when Tyler found herself fighting for a place in Hollywood. The brown-skinned, tall, funny woman with a Dartmouth education was so far removed from Hollywood's vision of who a black woman was. "I didn't fit any mold. I wasn't gonna fit into the ingenue romantic lead, and I also didn't fit the Def Comedy Jam stereotypes. People just didn't know what to do with me. And also I was just giant. Giant," she said for emphasis. "There just wasn't anything out there."
While it was a challenge for Tyler to find a place for herself when she came onto the scene in the '90s, but she wasn't willing to sacrifice who she was to get where she wanted to be. "I felt like, I'm never going to make any progress. I'm never going to get any traction. I'm too strange. I'm too weird. I'd have to get up on stage early on in my career and explain why I talked like this," she said. "I came out and people wanted Mo'Nique or they wanted Sommore, and I couldn't be that way. That's just not who I was, and a lot of times that can make you feel inadequate and other and less than. I just wanted to stick to my guns and not be made to feel ashamed of who I was."
And sticking to her guns has served Tyler well: She is currently working on four TV shows — she voices Lana Kane on FX's Archer, co-hosts The Talk, hosts Whose Line Is It Anyway?, and she recently landed a recurring role for Season 11 of Criminal Minds. Her unqiue voice is finally being celebrated.
"That frustration of 'I don't fit anywhere' helped me just say, 'Well, if I can't conform, I might as well stay as far outside of the box as I possibly can and embrace the fact that I'm an outlier,'" she recalled. "Weird kids make iconoclastic adults. I was a really weird kid, and even as an adult from an entertainment perspective, I didn't really fit in. And so I kind of developed an iconoclast because I could. Because I was like, well, if no one really cares what I say, I'm just going to say what I think.'"
Now, plenty of people care. Tyler — again, hard to miss as she walks through the streets of San Diego — easily gets scouted out by fans, who are eager to pile on their love of her career, and embrace her as one of their own. Twenty years into her career, it's hard to believe the same voice that has fans running up to her was rejected in Hollywood for going so far against type.
"I say this to young comics all the time — the concept of if you build it, they will come... Stop trying to look at what's happening and match it. Just do what you do best. And embrace it fully and aggressively. And then your audience will find you," she said. "It may take a lot longer than if you were trying to conform to what sold. But what you want to do is be so unique that you can't be replaced. You don't want them to go get an Aisha Tyler-type. You want them to get Aisha Tyler."
And that's exactly what they're getting.