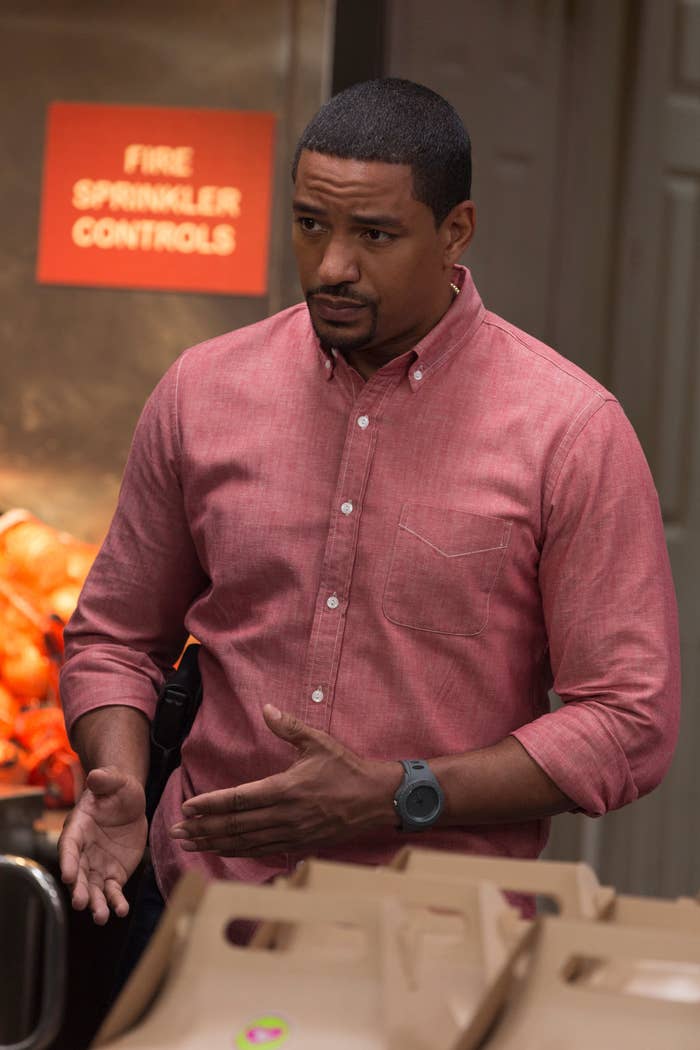 Laz Alonso never saw anyone quite like himself on TV. That changed 15 years ago when he decided to give up a career on Wall Street to become an actor.
Now he's the person other Afro-Latino viewers can see themselves in from their living rooms: Alonso stars on NBC's The Mysteries of Laura as Detective Billy Soto, partner of the titular character (Debra Messing).
Unlike the majority of American black people who largely share a Southern heritage, Alonso's parents immigrated from Cuba. His family is Afro-Cuban — Cuban with West African ancestry — and Alonso grew up in a Spanish-speaking home.
But black Latinos were foreign when he was growing up in Washington, D.C., and Alonso found that those around him didn't quite understand his cultural background.
"I was only a Latin person in my house. Anytime I went outdoors, I was African-American. My entire life, I grew up in D.C. and there were no Latin blacks," he told BuzzFeed News in a phone interview. "You had to play the part. I wasn't white, so naturally, I was black. And that's what it was — totally living those two identities, and living it, not faking it. Identifying as an African-American … and also dealing with everything that comes with that. Nobody said, 'Oh, we'll give you a pass because you speak Spanish.' No. Nobody cared. Anything that anybody else had to deal with, I had to deal with it too. I had to overcome it too, and I had to experience everything — both good and bad. ... And I thank god that I did, because it just gives me such a rich background and experience to draw from when I play characters. Playing them from a very real and authentic place. I'm not faking it — I'm not faking an experience, I'm not faking a reaction, I'm not faking a feeling. I'm actually authentically drawing from some place that I know intimately, from my own life and experience."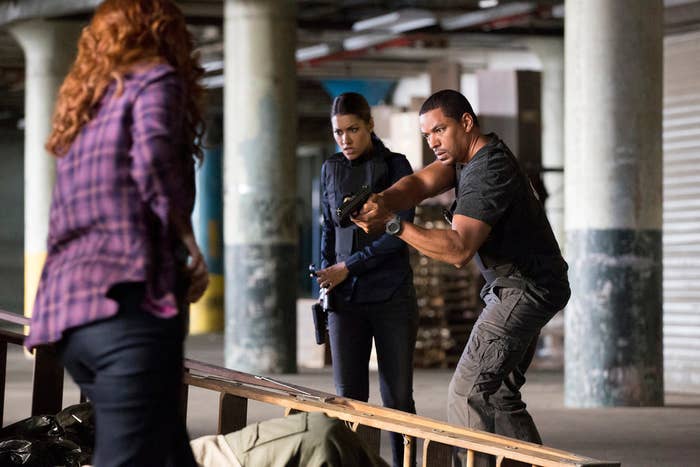 And if Alonso, a Howard University graduate, didn't see his two worlds overlapping in real life, he certainly didn't see it onscreen. Hollywood often represents Latinos as looking like Jennifer Lopez, Sofia Vergara, or George Lopez. But on The Mysteries of Laura, Alonso gets a chance to flex his cultural background — his character will even slip into Spanish when the case he's investigating calls for it. Soto's heritage has yet to be explained or examined on the show — though later in this second season, viewers will meet his mother and dive more into his life. Even more powerful than the fact that this character exists is the fact that there's never been a quizzical reaction moment; there's no "How's a black guy like you speak fluent Spanish?" at all. Soto just is who he is and in the process, he helps represent a more diverse part of New York that we hardly ever see on TV or in film.
"[Hollywood] is becoming aware that these actors exist; they're not just lumping all Latinos into one box," Alonso said, taking a break from shooting The Mysteries of Laura in New York. "Like, 'OK, you have to look like Jennifer Lopez, or you can't possibly be Latino. There's no possible way that you can be Latin.' I think the landscape has changed, and people are becoming a lot more sensitive and aware that there are different kinds of Latin; there are different kinds of black people. I just think it's beautiful to show that diversity within our race. I think we're seeing a lot more of that now."
From the beginning, Soto was conceived as Afro-Latino, specifically by executive producer Jeff Rake, who adapted the show from a Spanish television series of the same name. After Alonso was cast, he and Rake sat down in his office to talk about what Rake envisioned for the character, and Alonso was pleasantly surprised by his desire to push racial and cultural boundaries in this very subtle but significant way.
"It was part of our attempts to create an authentic feel in our New York City precinct. My goal is for people to be able to turn on the show and see themselves represented on the screen," Rake told BuzzFeed News in a phone interview. "For a long time in television, a cop show only had certain archetypes in the ensemble. I think television has made incredible strides in recent decades to better represent what modern society looks like, what modern-day law enforcement looks like, and in our case, what modern-day New York City looks like. We are trying to do our small part to present a cross section of real-life New Yorkers and real-life New York cops."
And though Soto was Afro-Latino from the beginning, Alonso's enthusiasm for the character took it even further. "Because he was an excited, willing participant, that gave us the added luxury of being able to craft the character around Laz, the actor," Rake said. "I was fascinated to learn about his Afro-Cuban background. I thought it made a lot of sense for the show, because New York City is as much a melting pot as anywhere else in the universe."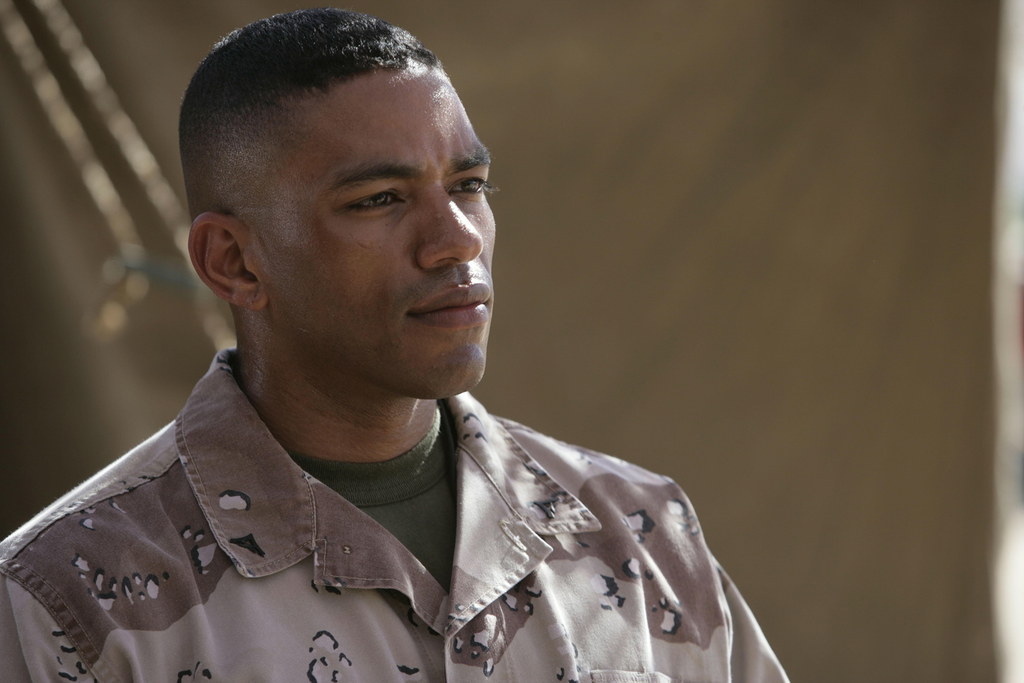 Alonso has never had quite this much input before when it comes to the culture of one of his characters, but he has been able to play characters who have Spanish-sounding surnames, hinting at their cultural backgrounds. And in 2005, he portrayed an Afro-Latino in the military drama Jarhead. Alonso was pleasantly surprised when he read in the script that the film specifically called for an Afro-Cuban.
"When I saw that description, I knew instantly that role was mine. I knew I was going to get it. I knew there wasn't anybody who was going to walk in that audition and take that role from me, because I lived that life. I was about that life," Alonso said of the film, which also starred Jake Gyllenhaal and Jamie Foxx. "I was very lucky that the person who cast that role, Debra Zane, grew up in Miami. She knew the difference between a real, authentic black Cuban and somebody faking and pretending to be black Cuban. The minute I walked in that office, and I walked into character, she was like, 'Oh, yeah. We got the real deal here.' She actually grew up around Cubans and knew our mannerisms and accents and different things that makes it authentic."
Alonso's hopeful that there will be more and more influencers in Hollywood like Jeff Rake and Debra Zane. For him, the endgame is a scenario where roles like the ones he's earned aren't so few and far between.
And Alonso wants to see more wide-ranging diversity, period.
"I think when … you see someone that resembles you and that comes from a background that is very similar to you, that is doing something of substance and representing all of us," he said. "We have made some progress, and although there is more progress to be made, it is pretty significant."
The Mysteries of Laura airs Wednesdays at 8 p.m. ET/7 CT on NBC.