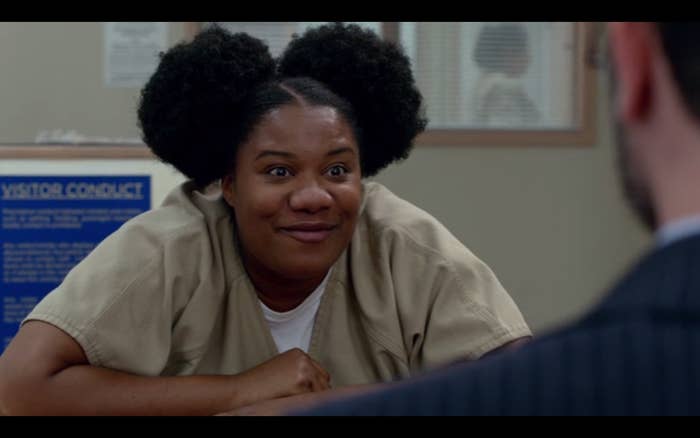 Black Cindy has a way of commanding a scene on Orange Is the New Black.
Sometimes her presence — brown-skinned, full-bodied, usually with a duo of striking Afro puffs — is enough to indicate something good is a-coming. Viewers of Netflix's hit series know immediately that they're in for a treat. Other times it's a simple 'hood anecdote, some twisted words of wisdom, or one of those quick "I wish a bitch would" moments that Adrienne C. Moore — the actor who brings this absorbing character to life — delivers so very well.
During the show's second season, Black Cindy's place became more prominent as her backstory was revealed: She'd worked as a security guard at an airport, stolen some personal property, and had an affinity for ganja — as well as a daughter who only knows her as an older sister. Cindy became more than just the background character who could always deliver a potent punch line. There was depth there.
But with the third season of Orange Is the New Black, which was released on Netflix earlier this month, the character gets even more fleshed out, and undergoes a spiritual awakening as she realizes that she's found her people, very surprisingly, in the Jewish faith.
Any assumptions that this conversion would simply be played for laughs are understandable. Instead, Black Cindy's Season 3 storyline actually takes a more serious route. Several inmates discover that Litchfield, the federal prison where the ladies are being held, allows its inhabitants the option of keeping kosher, serving them frozen meals that are much better than the slop being served to the rest of the women. Black Cindy and her comrades are happy: finally, food fit to eat. But when prison officials catch wind that the Jewish population has seemingly increased dramatically, they clamp down, bringing in a rabbi to sniff out the real Jews. A shift begins as we see Black Cindy take a razor-sharp interest in the religion, wanting to learn more about the foundation of the faith, much to the surprise of those around her. A big moment comes for the character when she sits down with a rabbi, and breaks down in tears while explaining why she is meant to be Jewish.
"The first couple of takes I did had a little bit of her humor to it. More serious, of course, but certainly that touch of humor. And then I literally had this flashback — and this is where it gets personal in my own life … And just this whole idea of even how I, Adrienne, having been raised with this idea of what Christ is and what the Christian church is, and someone with a strong Christian identity, and it took me to my college days when I began to realize my own self and had this 'aha' moment where I was like, so, wherever your faith is — and in this case for Black Cindy, it was Judaism — it is the act of doing it," Moore says of filming her intense scene with the rabbi. "That revelation just brought me to a very emotional place and to a very real place."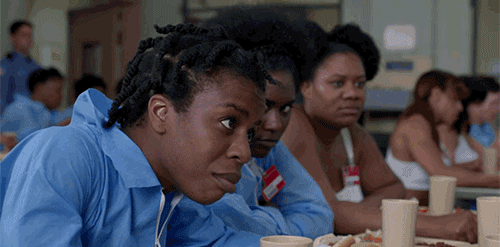 This new storyline resonated in several ways for Moore, who minored in religion at Northwestern University. The actor was already tapped into the idea of commitment, an act even she didn't foresee her character being capable of. But Black Cindy was ready to go there, and Moore was ready to give her character a third dimension as she brought to life one of this season's most talked-about arcs.
"As an actor, I always try to give credence to, or respect to, authentic and real emotions. I was at a place where I was like, 'Ah! This feeling really hits home to me in a real way,'" Moore said. "I got into it. And it unfolded in a very beautiful and real way for her in Season 3."
As comfortable as she was with Black Cindy's religious revelation, Moore also pushed her own personal boundaries this season. The actor was skittish when she learned of one of Black Cindy's Season 3 bathroom scenes, in which the character sprays herself down with disinfectant while wearing nothing but her skivvies.
"I was very nervous about this because we're in a society that promotes a certain type of body image as being beautiful. To be other than that is to be seen as not attractive, or, dare I say, ugly," Moore said. "I have rolls, and I got stretch marks. I don't have TV titties. They say the rule of thumb for TV titties is, if you can put a pencil under your boob, and if the pencil stays, then you should always wear a bra. You definitely don't have TV titties. Well, Adrienne can fit about 12 pencils under her boob."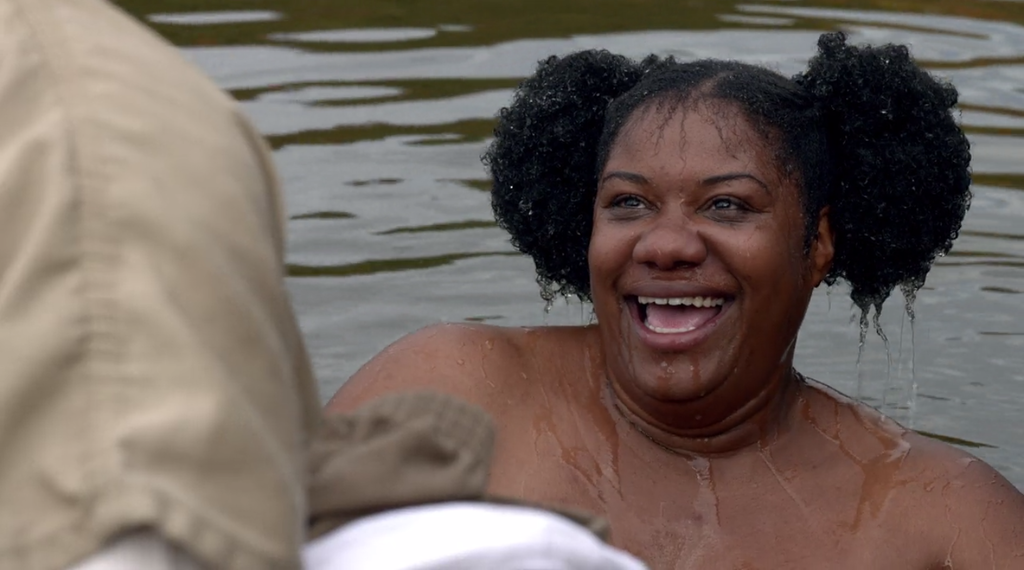 Dealing with those kinds of expectations — especially on a show where nudity is frequent, both in a casual sense and in an intimate, sexual way — can be a jarring task. Moore was unsure about subjecting herself to such scrutiny while she was battling her own body issues.
Instead, Black Cindy forced her to take a closer look at her own health. In a comical moment in Season 2, Black Cindy feels up a man as he's going through airport security. Now that man is her personal trainer.
"Most people in my industry, they'll lose weight to get that sexy role, or get that man. … I just want to be healthy, and I just want to be happy," Moore said of her new outlook. "I want to enjoy working out. I hate going to the gym, and I see all these machines and I don't what to do with them. When I look in the mirror, I look at all my rolls and my stretch marks and my saggy boom-booms. I'm like, 'I love it; I love you.'"
She paused and then giggled at what she's just revealed, readying herself to deliver some wise words that Black Cindy would be proud of. "But I think before change can happen, you have to love yourself for what you are at that moment."
And now, she does.