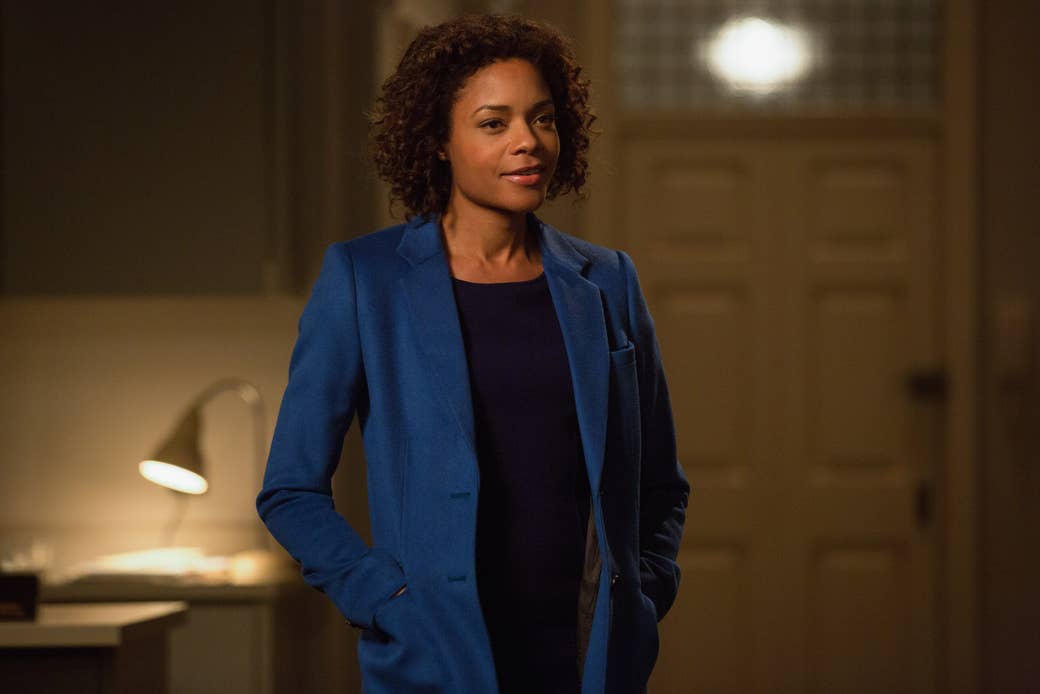 Naomie Harris isn't your mama's Moneypenny.
After viewers discovered at the tail end of Skyfall that she's the new Miss Moneypenny, the British actor reprises her role in Spectre, the latest film in the James Bond series. But who audiences see onscreen is a reimagined version of M's stuck-behind-the-desk assistant who's been pining after James Bond since the first film in the franchise.
In previous Bond movies, the love Moneypenny has for Bond was unrequited; the secret agent sleeps with just about every other female he encounters, save for the trusted assistant.
But that's not the case with Harris's remixed take on the character.
"Sam Mendes — one of the first things he said was, 'We want a real departure with Moneypenny and to make her completely different from Moneypennys of old.' And that's what made me really excited about wanting to play the role," Harris said in a phone interview with BuzzFeed News about her early conversations with the Spectre director. "It was a reinvention of her and making her more badass and making her a woman that modern women can look up to, respect, admire, and want to be like. I love the fact that it's the reinvention of this role into a much better, capable, and stronger equal to Bond. That's what I think is really significant. I think the fact that she's black is really irrelevant. It's about her capability in the field and off the field as well."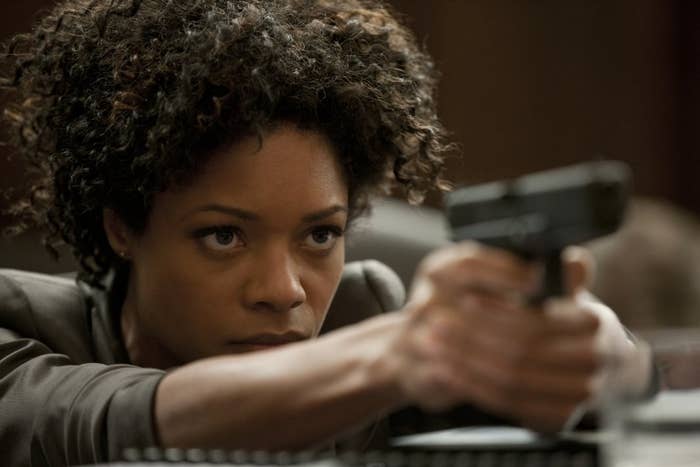 Harris's Moneypenny is more well-rounded than we've seen her before. This Eve Moneypenny is a former field agent who, in Skyfall, was using high-tech guns to get the bad guys right alongside 007. In Spectre, she's the one person Bond seems to trust wholly.
"I think in Skyfall, she was a little bit green in the sense that she was really trying to emulate somebody that she really admired, but it wasn't really her true calling. And I think she discovered that she doesn't really have the stomach for killing. That's not really her thing. She isn't Bond, you know?" Harris said. "In this one, I feel like she's really found her true calling, and that is from working within MI6 and acting as a support — she's not a secretary anymore. She's really the right-hand woman to M, and she has access to all kinds of secure documents. And she's very, very capable, and that's why Bond chooses her as the first person that he reveals his secret to."
Unlike the Moneypennys before her, Harris's character doesn't sit by the phone, waiting, hoping, and wishing that one day Bond will see the light. In one Spectre scene, Bond calls Moneypenny late at night and is taken aback when he discovers that she has a lover in bed with her. The exchange they have as a result is a satisfying moment for any fan of the series who wouldn't mind seeing Bond get a little pushback from a woman who got sick of waiting for him.
"This Moneypenny is not after him. She's got her own life. She's doing her own thing. ... She's very witty and she has this kind of lovely, witty banter with Bond, which I really love," Harris said. "We see that she's got her life together in some respect more than Bond. There he is, kind of with this unbalanced life, chasing out in the field, but really lost in other areas of his life, and underdeveloped in those areas, whereas she's a lot more rounded."