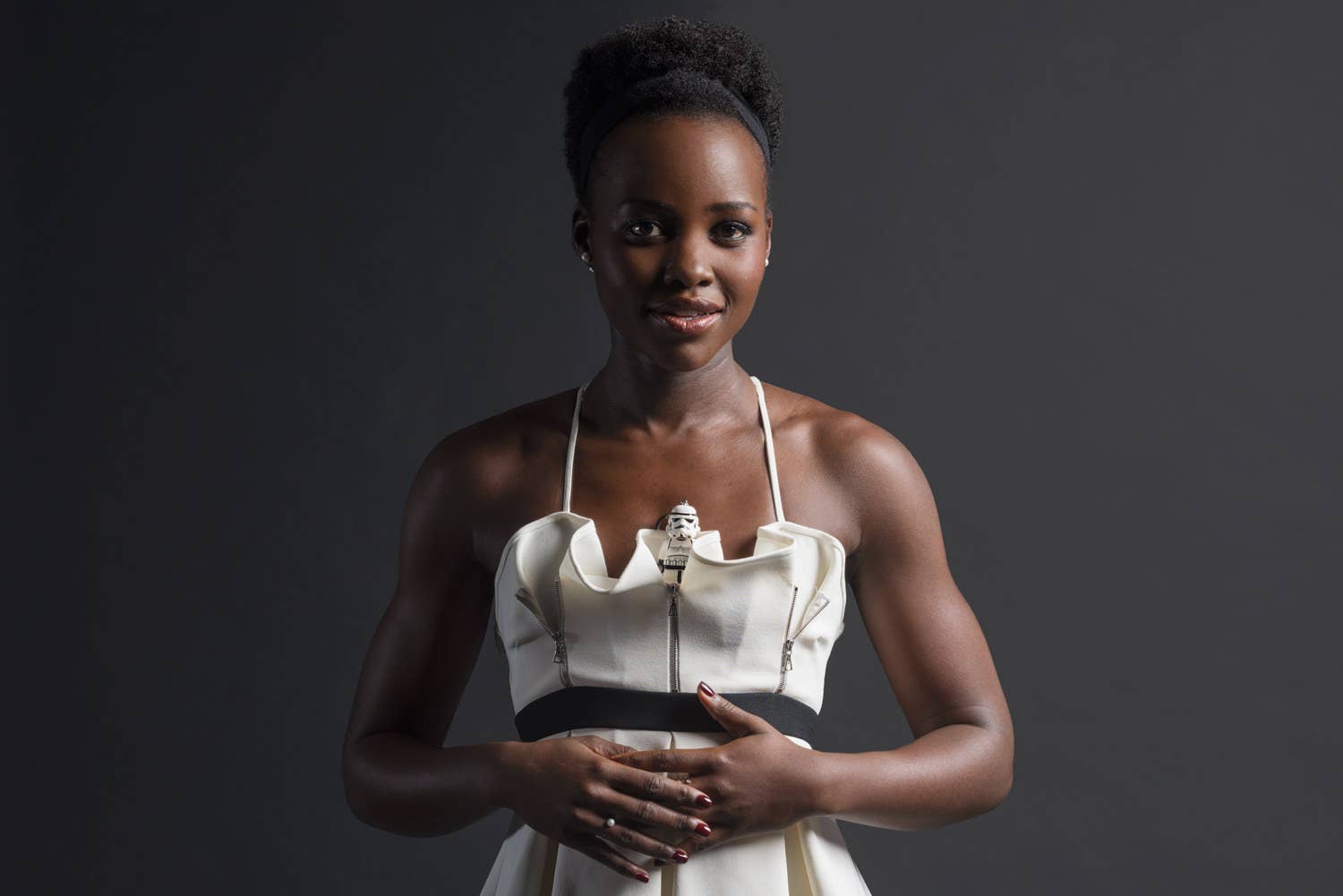 It's impossible to forget the particularly haunting scene in 12 Years a Slave in which a naked Patsey clutches a wooden stake for dear life. Her back is covered in welts, and her bare backside is exposed for the world to see as Edwin Epps (Michael Fassbender) flicks his wrist and mercilessly strikes her again and again with a lash while the rest of the plantation looks on. And that's not all. Over the course of the film, Patsey is also viciously attacked by Epps's jealous wife, Mary (Sarah Paulson), and she is raped by Epps in yet another horrific, graphic scene.
That is how most of the world first met actor Lupita Nyong'o, who would go on to win an Academy Award for her performance as Patsey, an enslaved woman on Epps's plantation and a trusted friend to Solomon Northup (Chiwetel Ejiofor), a free man who has been placed in captivity.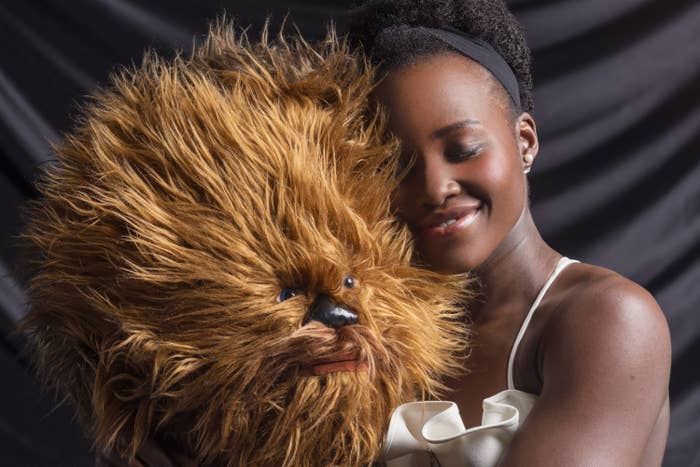 But Patsey couldn't be more different from Nyong'o's latest role in Star Wars: The Force Awakens, the seventh installment of one of the biggest film franchises of all time. Nyong'o's CGI-created character, Maz Kanata, is one that will only allow audience members to listen to the actor's voice, not focus on her body or what's being done to it. Selecting such a role, the first one she chose after 12 Years a Slave, was strategic, Nyong'o confirmed with a head shake while resting for a few beats inside the Los Angeles Convention Center, which had, in part, been transformed into a makeshift Star Wars compound for the day.
"12 Years a Slave was a film that was so much about my body, and Star Wars is not at all. There was a liberation in being able to play in a medium where my body was not the thing in question," Nyong'o told BuzzFeed News. "The acting challenge I was looking for was completely different, a complete departure from 12 Years a Slave."
The imagery in 12 Years a Slave is quite the contrast to how the world saw Nyong'o leading up to Oscars. The newly minted Yale School of Drama graduate shut down every red carpet she graced. At dozens of awards shows and events, the 32-year-old actor was decked in runway-ready frocks or in looks that were created with her in mind by top designers. She topped every best-dressed list and was idolized by women everywhere. So much of the awards season conversation about Nyong'o focused not on her acting, but on her physicality — dark-skinned, hair that isn't chemically altered, and a slim modelesque frame. Her look sparked conversations about the need for diverse representations of beauty in the mainstream, where blonde hair and blue eyes had long been the standard. And her face graced magazine cover after magazine cover, a visual jolt to overwhelmingly white newsstands nationwide.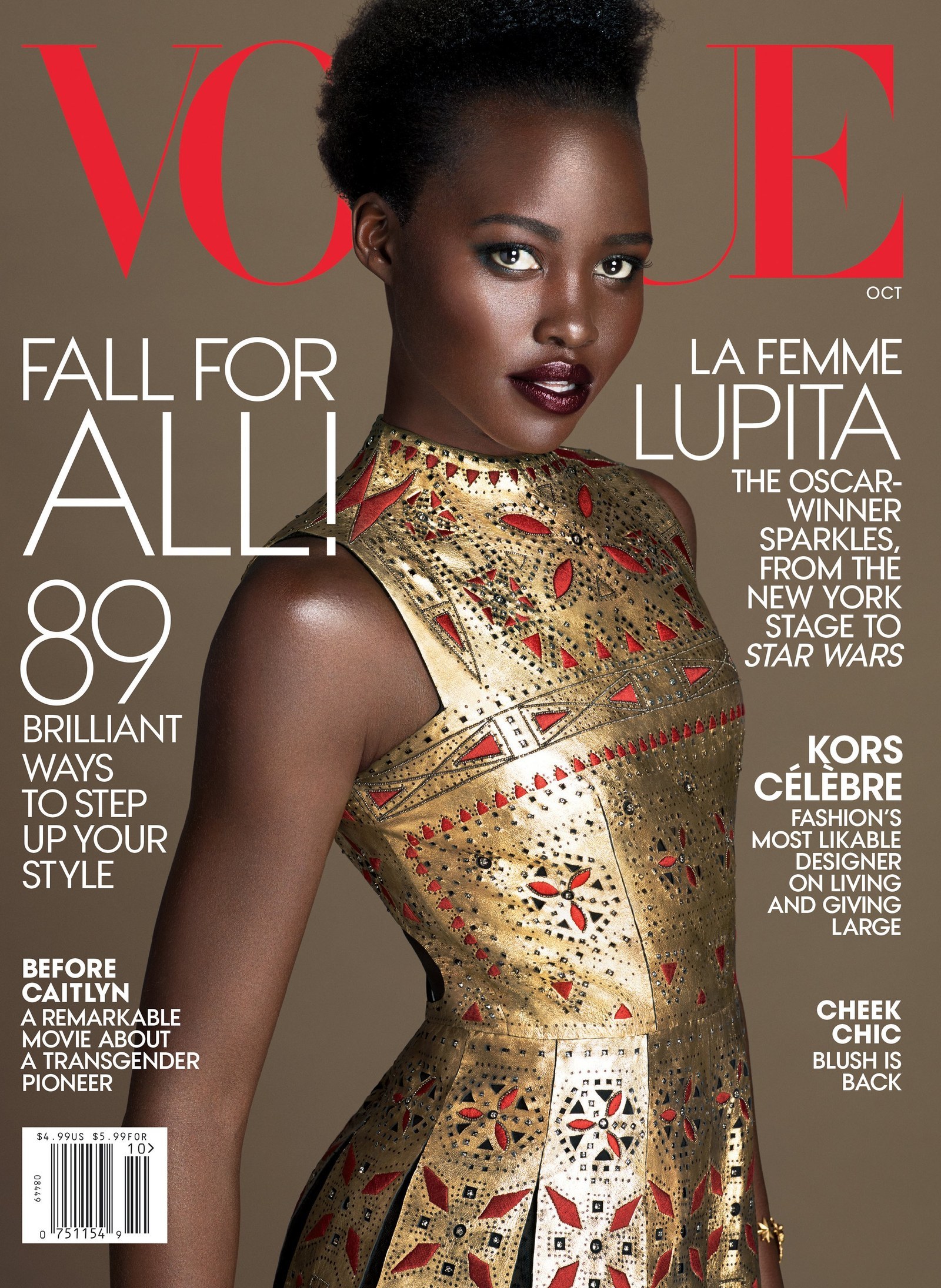 "I think the trick is to ... not end up having that be the thing that I'm pursuing, because I wasn't pursuing that in the first place," Nyong'o said of her meteoric rise to fame. "Those were things that I welcomed and opened myself up to, but I never want to be. I never want my ambition to be on the cover of a magazine. My ambition ... was to be the best actress I can be. I want to be in situations that will challenge me to continue to do that. I enjoy my work, my work is my play, it's my joy. It's always about getting back. It's about silencing many voices. I have to keep the voices I listen to streamlined."
That's saying a great deal from someone who has emerged as one of the most important voices on beauty standards, largely by just existing and watching her aesthetic surprisingly be celebrated in a world as homogeneous as Hollywood. Perhaps bigger than her actual Oscars acceptance speech was the one she delivered a few days before the big award show at the 2014 Essence Black Women in Hollywood event, where she was honored with the Best Breakthrough Performance Award. As she spoke to a room of mostly black women about how she felt unbeautiful as a dark-skinned young girl, how she got teased and taunted for her "night-shaded skin," and how she prayed about wanting light skin, nearly everyone in the audience blotted tears from their eyes, relating to her struggle.

Even though Nyong'o hadn't planned on being front and center in a very important discussion about beauty, she's happy to be in this position — so long as her talent is as admired as much as her face and body are. It's the chief reason why she is forcing those who were so enamored or so connected with her physical appearance throughout the 2014 awards season to focus on the words she's saying in Star Wars: The Force Awakens, rather than what she looks like.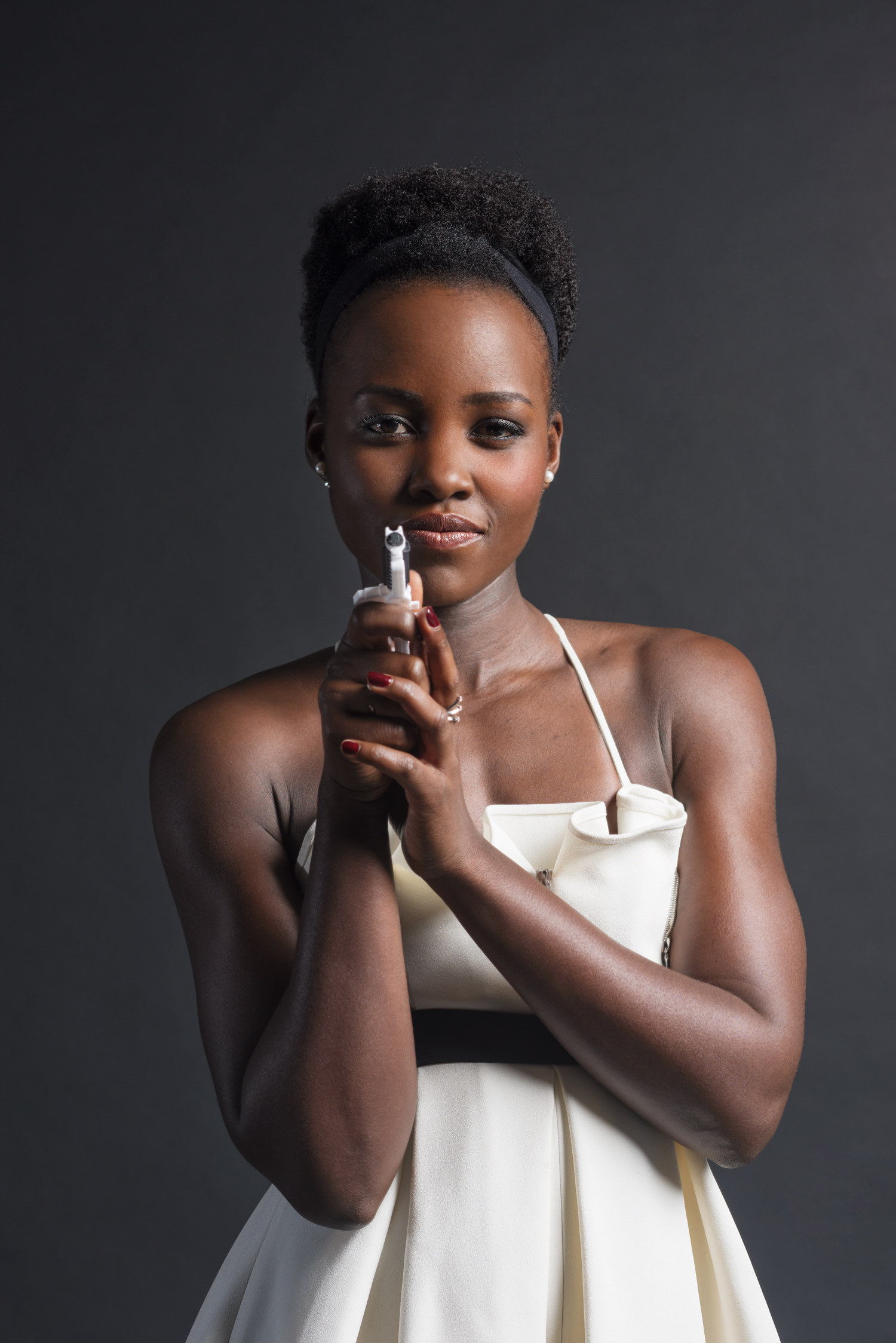 "I continue to check in with myself on what it is I feel my purpose is, and I think part of that purpose is definitely that conversation. I feel very proud of the fact that my image and my persona put some fire under this thing that is what we think of as beautiful. But I know that's not the extent of my purpose — it's part of it," she said. "But I have to keep on with driving the car that is my life. I don't participate in the conversation in any sort of regular way, you know? I think the manner in which I participate is with the choices that I continue to make. And those choices are always fueled by my profession, which is acting."