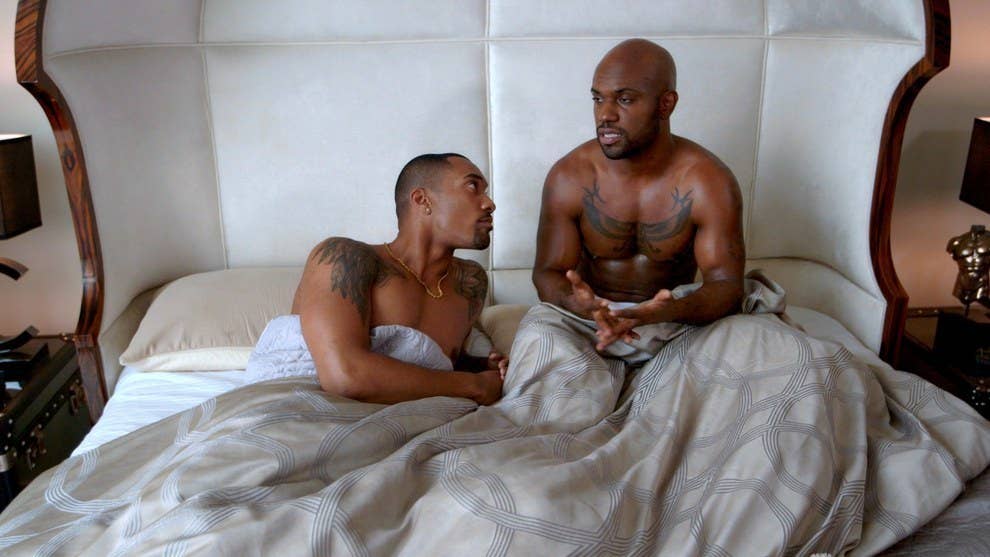 Miles Brock and Milan Christopher have created one of the most authentic storylines reality TV has ever seen.
So often, viewers see that-can't-possibly-be-true twists and turns that reek of faux drama. But on Love & Hip Hop Hollywood, the story of Brock, a closeted rapper who feared what his family and industry would think of him, and Christopher, an openly gay producer growing more and more frustrated that his boyfriend of two years — the man he wants to marry — won't publicly acknowledge his presence, was undoubtedly real.
Monday night's episode saw Brock come out to his former childhood sweetheart, Amber Hunter. Their complicated relationship has been a central part of the series' current second season, and fans have watched Brock grapple with telling her the truth. He worried that she would remove him from her life and he'd lose a longtime friend and a daughter (Hunter has a child from another relationship whom Brock has helped raise as his own).
"It was me figuring out, How do you tell someone who loves you, who's still in love with you … How do you tell them that?" he told BuzzFeed News in a recent phone interview. "Even though we haven't been together, Amber is my best friend, and we are around each other a lot. Even though Amber has been in her relationships and I've been in mine, she has a tight-knit relationship with my family and I have one with hers."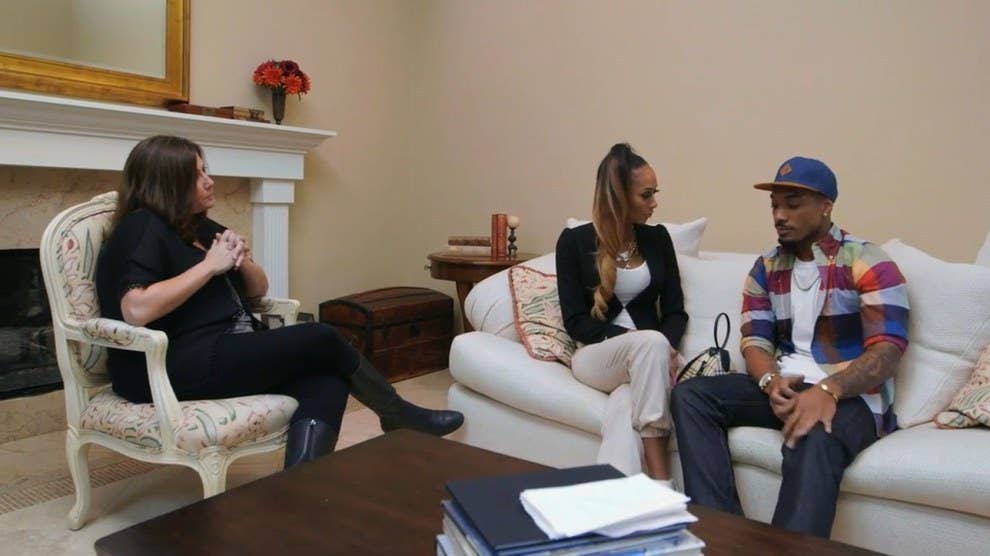 But Brock finally built up the courage to tell her that the man she's been in love with for years and was hoping to romantically reconnect with is in love with another man.
When he actually said the words he'd mustering up for years, Hunter dropped her head to her lap and sobbed uncontrollably while a therapist looked on, trying to counsel them. And when Brock finally couldn't bear breaking the heart of the woman whom he calls his best friend, he jumped up and ran into the bathroom. Then, Hunter ran out of their therapy session and collapsed to the ground, prompting a producer to step in front of the camera and rock her back and forth.
"I'm not about to sugarcoat it. That moment was everything that I imagined it would be. It was my biggest nightmare," Brock said. "It was definitely the hardest thing that I've ever done in my life. Seeing her crumble made me crumble. … There is never a right way to tell a woman who loves you that. There was a lot of sadness that day."
It was a lot to watch and especially a lot to endure, but he wouldn't change one bit of his experience. Had it not been for the show, Brock, who identifies as bisexual, is not sure he would have come out to Hunter — at least, not now. When he signed up for Love & Hip Hop Hollywood, he knew he'd eventually have to. VH1 producers helped him figure out an approach, mapping out various scenarios and figuring out what might be the best — and in some cases most sensitive — course of action.
The world that Hunter, who is also a rapper, and Brock run in is relatively small, and the Angelenos know a lot of the same people. In one sobering moment during Monday's big episode, Hunter told the therapist that she'd like to, at some point, make a phone call to a friend of Brock's named Milan, whom she knows is gay.
Viewers didn't get to what happens with that conversation this week, but Brock said that he and Hunter are still the best of friends. Hunter has yet to speak publicly about the experience — though VH1 said they will make her available to press as her storyline rolls out more. She also didn't participate in the special that aired after Monday's coming-out episode about homophobia in the hip-hop community.
Brock said coming out to Hunter was so hard for him, he had no plans to watch the episode.
But viewers most definitely tuned in to see a male rapper come out on one of Black Twitter's most favorite franchises.
"I really didn't think how monumental having an openly gay person, and a person who is coming out, on reality TV was," Christopher said in a phone interview with BuzzFeed News. "But … there's never been a couple like us. As time progressed, I started to realize, Oh, this is going to be huge. This is going to be huge for the community, this is going to be huge for hip-hop, this is going to be huge for reality TV."
It also would be huge for their relationship, as Christopher anticipated answers to the questions that had long been plaguing him: Was his boyfriend's reluctance to come out because he was involved with someone else? What might he find out once the cameras started rolling and almost nothing could be disputed?
"I had been dating him for so long, and I got to thinking, The reason that you're not coming out and we're not doing this thing, is not because of what society thinks — because you see that I'm successful and you reap all the benefits of my success — is it because you are still in a relationship with Amber where you guys are messing around, or something's going on?" Christopher recalled. "I was like, Aha! This is when I'm going to find out the truth! That part of my relationship I wanted to explore because it was things that I didn't know. And I wanted to be married to this person, and I wanted to bring our relationship to the next level, and I couldn't do that not knowing what was going on with him and Amber."
Christopher gets the answers he was looking for — and he said watching his partner's experience unfold on TV reminded him of his own coming-out story. Brock hopes to get what he was looking for too: to be an example — a chance to give people, especially other closeted men like himself, a courtside view at the beauty of being in love and the pain of keeping such a secret from those closest to you. He hopes that it'll help viewers understand the process of coming out — including the fear of potential fallout with family members and friends — and trying to gain acceptance in an industry that is hardly known for being welcoming to men in same-sex relationships who want to rock the microphone.
"At the end of the day, I hate the label 'gay rapper.' I'm a rapper who happens to be open about who he lays with. I go to the studio, I listen to music, I put the pen to the paper, and I create. I'm an artist. I'm a writer. I'm a rapper. And sometimes, I'm not always telling my story," Brock said. "Snoop or Dre, they may be talking about living in the hood and driving around in a drop-top with hydraulics in 'em, and they haven't done it in years. We're all artists and we write and we create and it is what it is. This is the exact reason why I didn't want to tell, because I opened up one small niche of my life, next thing is they look at me under a microscope."
Brock is determined to figure out how he can continue to be a part of a world that prides itself on being as authentic as…well, his storyline on the reality show, but one that also hasn't been accepting of LGBT people. After all, we've yet to see a male rapper who identifies as gay or bisexual break out in the mainstream.
"You got to be hard. You got to be dank. You got to be good. Or you got to get away. And with me telling who I lay with … [the hip-hop world thinks] you're feminine or you're being soft, or being a punk. They run from that," Brock said. "The backlash has definitely been hurtful. I've definitely had some hard days, but I just put my phone down. I knew it was coming, and now it's here, and I'm just dealing with it a day at a time."
Love & Hip Hop Hollywood airs Monday nights at 8 p.m. ET/ 7 CT on VH1.