Keke Palmer Defends Racial Stereotypes On "Scream Queens"
"I definitely did think about some of the jokes," Palmer told BuzzFeed News. "Ultimately as an actor, you have to try to find a way to not be personal."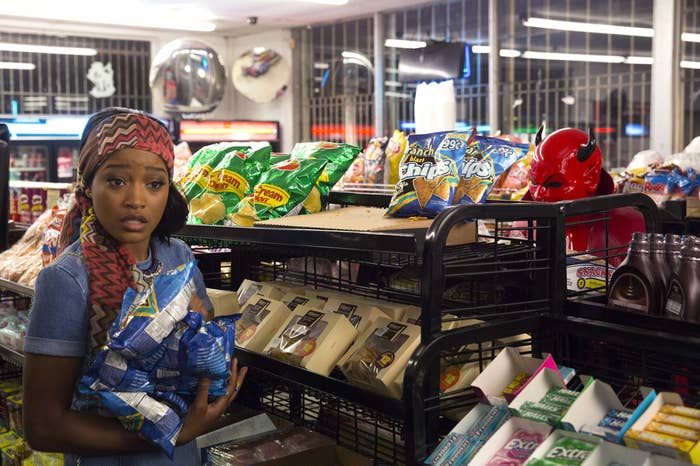 Zayday Williams is Scream Queen's pork rind–loving, Oakland-hailing college freshman, raised by an iron-fist-ruling grandmama who imparted this knowledge to her before she left on scholarship to attend Wallace University: "If I really, really applied myself, I could get out of Oakland and grow up to be the first black woman president."
Yes, the lone black pledge in the Kappa Kappa Tau sorority on the new Fox hit about a serial killer–stricken college campus does exhibit some racial stereotypes, but Keke Palmer, the actor who plays Zayday, wants viewers to know her character is anything but one-note.
"I love that she's from Oakland. I also love that she has attitude, she has kickback. She's smart. She's not a one-note character. Yes, she has funny lines, one-liners, but ultimately, she is the one that can obviously see that something is not right," Palmer told BuzzFeed News over the phone from Scream Queens' New Orleans set. "Being the only African-American female that's part of the sorority, I think as an actor, it's up to me to be honest about what I am comfortable with and what I'm not comfortable with. I get to work with people every day that respect my opinion just as much as they respect everybody else's. That plays a big part in why I was not offended by any of that. I knew it wasn't coming from this place. For me, I hadn't found any moments where I looked at my script and said, 'Whoa! This is not something I want to say.' Because ultimately, it's up to me on how I deliver it as well. As an actor, that's your job, to gauge it. You talk to your director: 'Hey, this line feels a little bit one-note.' And then maybe they'll tell you another way to do it that maybe you hadn't thought of yet."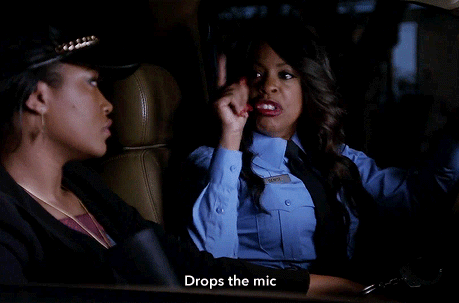 But Zayday is definitely on the receiving end of some of Scream Queens' most gasp-worthy jokes. In the pilot, Chanel Oberlin (Emma Roberts), Kappa Kappa Tau's nightmare of a sorority president, refers to Zayday as a "hoodrat" and references her dark skin by saying, "I'm gonna go to my room for a sec to fetch some white eyeliner so I can write legibly here on Zayday." (Chanel also calls KKT's maid "white mammy" and asks her to quote Butterfly McQueen, Scarlett O'Hara's maid in Gone With the Wind, "because she's essentially a house slave.")
"I definitely did think about some of the jokes. Ultimately as an actor, you have to try to find a way to not be personal, but really look at the artwork for what it is trying to show. Scream Queens is a satire, and it's meant to exaggerate the thoughts and desires of the millennial today, as well as have fun in totality. Sometimes it will pull jabs," 22-year-old Palmer said. "Even Emma Roberts' character. You can look at the character and say, 'Oh, she's supposed to be this stereotypical rich girl.' But as time goes on, you start to see that these characters that you think we stereotypically know are much, much deeper. And I think that stems from Ryan [Murphy, the series' co-creator] having that eye of wanting the underdog to always win. His work always mimics that. No matter what crazy comments or controversial things are said or done, ultimately [you're] always the one rooting for the underdog."
Scream Queens viewers had a lot to say on social media last week about Zayday, who, for protection from an unknown killer, stored a chainsaw under her bed that grandmama sent. In a scene in the same episode, Palmer goes head-to-head with the show's other black castmember, Niecy Nash, who plays the bumbling security guard serving up sass à la Real Housewives of Atlanta. "Why does the one black girl have to talk hood and be illiterate ?? #ScreamQueens smh of course," one tweet read in response to the episode, while another said, "Has Ryan Murphy ever met a black woman or does he just create characters based entirely on stereotypes? #ScreamQueens."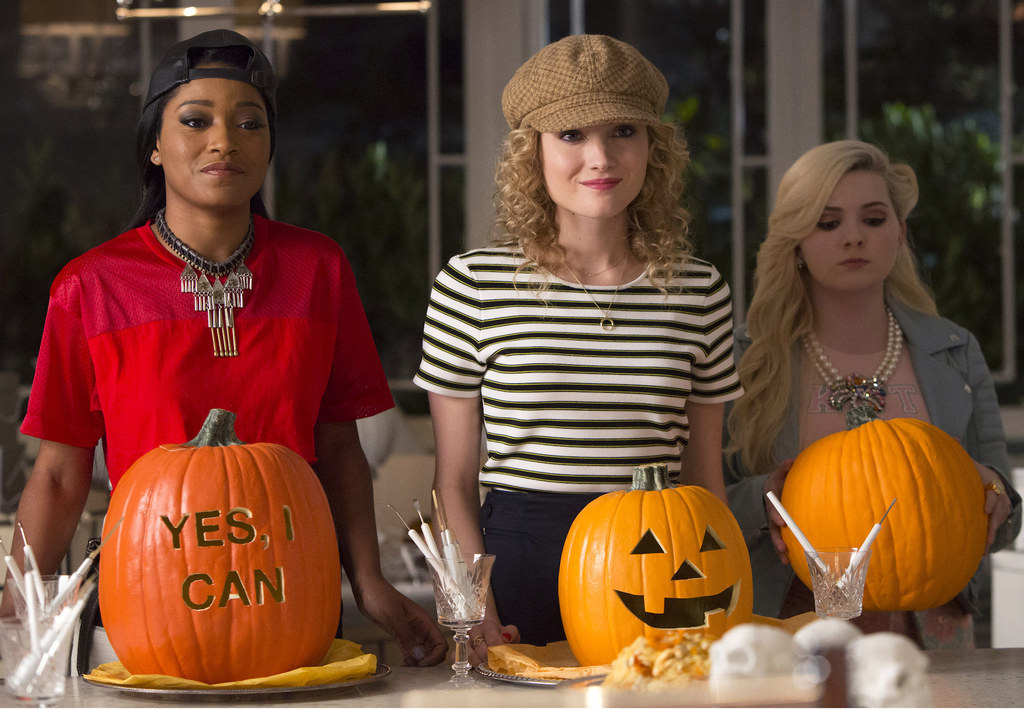 So is Zayday a throwaway black character designed to be stereotypically sassy and snappy and teeter on being offensive? Or is she a character who, handled properly, is less of a caricature and cliché, who could actually have more depth than we've seen from a black female character in a horror narrative?
Palmer hopes viewers eventually see it's the latter, especially since she collaborated with Murphy to help create Zayday.
"We have fun playing on the idea of what you might think those characters might be. We flip it around and make it something else. And that's what I like about my character," she said. "My character was basically inspired by Moesha. On Moesha, I felt like she was someone that was part of my culture, and that was very important to me. When doing the show, it's important that we do add those things — something that I would say, or someone like me would say. I like that we have those real moments."
It remains to be seen how many more moments Zayday will have on Scream Queens since it's long been the thought in horror films that the lone black person dies first (Jada Pinkett Smith and Omar Epps both die in Scream 2 before the opening credits, for example).
Palmer is still filming the series right now, so might she be one of the genre's longest surviving black characters?
Palmer giggles knowingly and then pauses before chirping, "Maybe, maybe. We'll see!"
Scream Queens airs Tuesdays at 9 p.m. ET/8 CT on Fox.