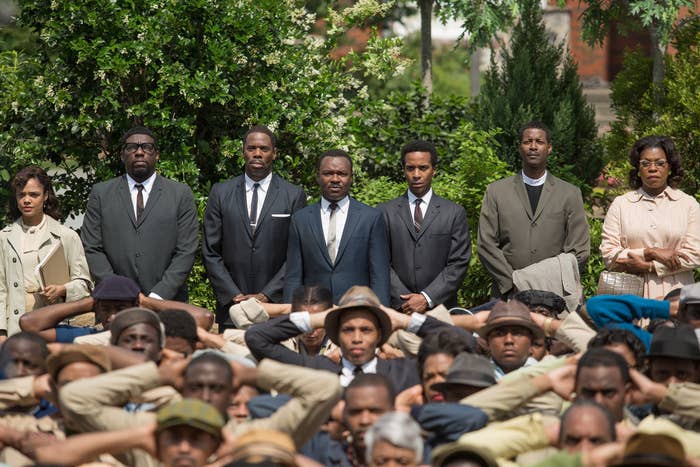 NEW YORK— In mid-December, thousands of men, women, and children marched all over New York City, protesting a grand jury's decision not to indict the officer who put unarmed, asthmatic Staten Island civilian Eric Garner in the chokehold that led to his death. The demonstrating ran all weekend long, from the large scale assembling of 25,000 people (some in business suits, others in "I Can't Breathe" T-shirts) on the West Side, to impromptu jogs throughout the city by college fraternity members, raising their hands in mock surrender.
On this Sunday afternoon, the crowd's chants, including "Hands up, don't shoot!" — referring to another grand jury's decision not to indict the officer who shot unarmed teenager Mike Brown in Ferguson, Missouri, at least six times, resulting in his death — could be heard more than 40 stories above street level. As the protesters — black, white, and otherwise — joined forces to make the statement that "Black lives matter," Selma director Ava DuVernay sat in the echoes of the protesters' cries in the Mandarin Oriental hotel in Columbus Circle.
But that only made talking about her film — which is set 50 years ago during the three marches from Selma, Alabama, to Montgomery, Alabama, in 1965 that led to the passing of the Voting Rights Act — feel contemporary.
"This," DuVernay told BuzzFeed News, after contemplating the uncanny parallel between her Martin Luther King Jr. biopic and the weekend protests for Eric Garner and Mike Brown, "is a present-day movie."
Selma was filmed over the course of a summer on a budget of about $20 million, a bargain in Hollywood. The timing of its release has nearly everyone who worked behind the camera on Selma and in front it taking pause, understanding that the film that chronicles a significant time in the Civil Rights Movement, one that helped to enable the right to vote for black Americans, feels very much like a film America needs right now. It's a chance to do more than entertain — it's a chance to inspire discussions about how much has changed, how much work needs to be done, and how black Americans still feel that they're being treated as second-class citizens.
"I'm in the editing room, cutting a scene on the day that was the first night of Ferguson. We were cutting the night march scene in Selma when Jimmie Lee Jackson is marching with his grandfather and his mother at night," DuVernay said, referring to the civil rights protester (portrayed by Keith Stanfield in Selma) who was shot and killed by an Alabama State Trooper, inspiring the Selma marches to Montgomery. "Literally, we cut that scene until maybe eleven o'clock at night and I went home and I'm watching newsfeeds and it was the same thing. Those parallels continue to keep happening, you know? Eric Garner, his death was caught on tape. [It's] so similar … the world could see the racism."
In designing Selma, the director was meticulous over understanding the role that images play in mass media. "They affect the way we see ourselves, the way that we are seen. The only black folk they know is what they see on TV. Whether you pull the trigger a bit faster, it's because of what you think that black man's going to do because of what you might have seen on TV," she said. "This stuff is serious."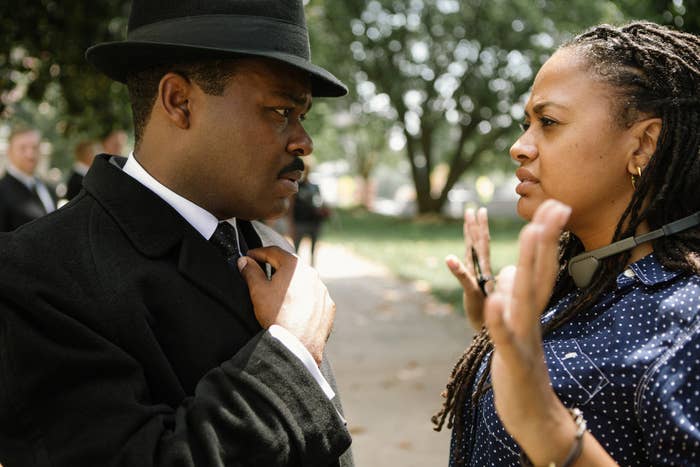 DuVernay realized the weight of Selma from the beginning of her involvement. Originally, in the hands of screenwriter Paul Webb, the movie told the story of President Lyndon B. Johnson, whose hand was forced into pushing the Voting Rights Act of 1965 (because of the aforementioned protests and marches). But the project wasn't coming together. After the fourth director failed to work out, actor David Oyelowo, who had been cast as King and was attached to the project for nearly seven years before it officially got the green light, had an idea as to who could make Selma happen. First, he consulted with Oprah Winfrey, who played his mother in 2013's The Butler, about joining the project as a producer. Then, he suggested they bring in DuVernay, whom he worked with in her first, highly lauded 2012 indie film, Middle of Nowhere.
Essentially, he built a dream team. "I have realized a deep-seated, very real dream within my own lifetime, and not everyone gets that," Oyelowo told BuzzFeed News. "When Ava came onto the project, she rewrote the script. The original script … was about how LBJ, having passed the Civil Rights Act, went on to pass the Voting Rights Act. It didn't fully explore was how he was cajoled and shamed into having to do that."
"I wasn't interested in telling the story of a white savior," DuVernay said. "This story is not about Johnson. This story is about the people of Selma who rose up and who fought. They're freedom fighters. They were led by King and a bunch of other great brothers and sisters. It was important that Coretta Scott King not be relegated to the margins of the story, because she was not. And it was important that a lot of the women were amplified and put in their rightful place. It was important for me that you start the movie and you know what it feels like to live in a terrorist state in the deep south in the '60s. And I thought that if I was going to get the opportunity, and for whatever reason, I was in the position to make this film, then shit, I was going to go for it. I thought I might end up in director's jail. They may never let me make another thing, but I'd just go back to making indies. I didn't care. I can make something for nothing. But if I was going to get the opportunity, then I was just going to make it my way. Oprah made it so that I could make it my way."
The significance of two black women being the muscle behind getting this particular story told certainly was not lost Oyelowo. It was awe-inspiring, he said, to see them monitoring the retelling of the Selma marches behind the cameras, Winfrey as producer and DuVernay as director. "By having these two incredible women come on board of the project and see it through to the finishing line, we could now have a better and more truthful conceptualization of what that story was, and is," he said. "You know, black women were marginalized even within the Civil Rights Movement. There were things around the images that I was seeing that were so beautiful, and then to see them so brilliantly realized … I was happy with what I was seeing. It was also a little surreal, to be perfectly frank."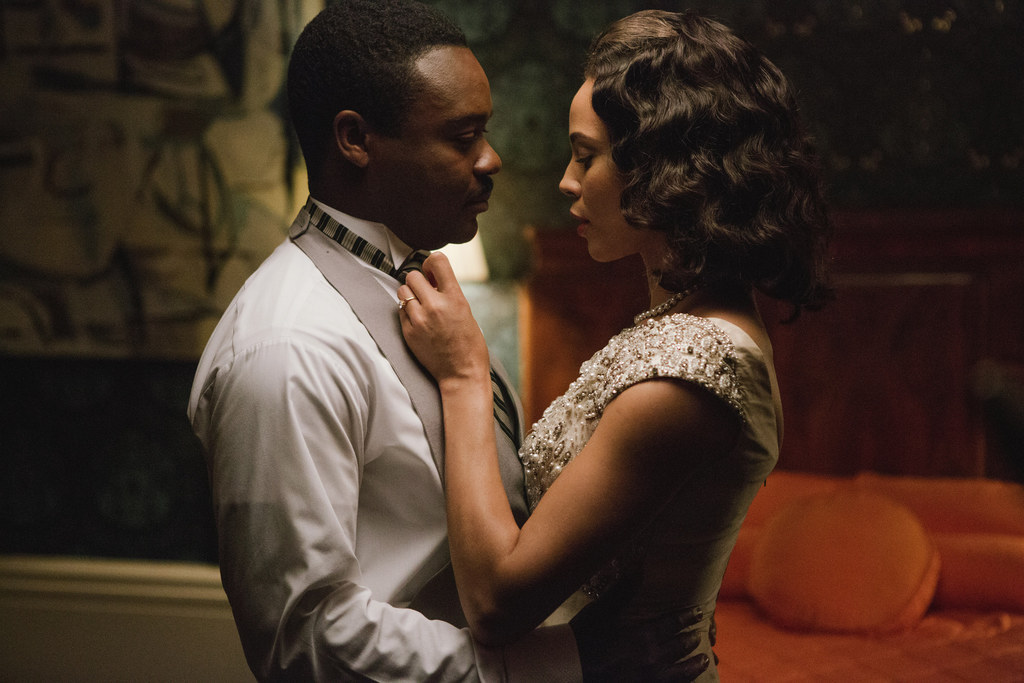 With DuVernay directing, everything began to fall into place. The former Hollywood film publicist who worked behind the scenes promoting films like The Help, Invictus, and Dreamgirls learned much of what she knows about making movies from hanging out on those sets.
"I think the big thing for me was, as much as I was on those sets and learned and caught a bug about filmmaking, on those sets, I also saw what I didn't want to do," she said. "I saw bad behavior. I saw crew members not being treated well. I was a crew member. I was a unit publicist. I decided that when I made mine, I wanted my set to feel warm, to feel familial, people to feel nourished and nurtured. I wanted them to feel like they were walking into my home and I was setting the table for a party and everyone could have a great conversation, what you do when you're comfortable."
And that she did. Carmen Ejogo, who played Scott-King in the 2001 HBO movie, Boycott, signed on to play the woman beside MLK again because she was impressed with DuVernay's rewrite of her character in particular. It's an honest portrayal of the wife of the Civil Rights leader, one that we don't get to see play out too often on screen. Instead of the often larger-than-life, angelic depiction that is nowhere close to reality, in Selma, Scott-King has a monologue that addresses King's infidelity.
"I knew that monologue in the center of the film where she asks, 'Do you love me?' was golden," Ejogo told BuzzFeed News. "It's not that I had big expectations for the film, necessarily, in terms of its resonance. I was like, Am I really going to be the one that's going to show that she's maybe in a shitty marriage?"
It's a subject that many Civil Rights historians would prefer not be dealt with on a larger scale; the fear, of course, is not wanting to take away from the good work done by rumors of one man's unfaithfulness.
"I think non-black directors in the past that were working on the material either had too much reverence, or too much of an attitude that they wanted to take him down," DuVernay said. "There's never a middle place of trying to stay in just a complex, true, quiet dignity. Sometimes, a man of faith was unfaithful. In a script that I'd read previously, it's either, Wow! This is so saintly, I've fallen asleep, or it's told through the lens of a white character. Or it's just a takedown to try to be gritty and all, when half of it's not true. But I think for me, I just know brothers. We know black men. We are from black men, we know black people. Dealing with the reported infidelities and how that would be dealt with, my mind originally went with, What'd the brother do when he walked home and there was a black woman looking at him like," DuVernay paused to offer an I-know-you-didn't look.
Selma manages to treat both King and Scott-King's legacies with respect, but even mentioning the infidelity is an important moment and one audiences haven't seen on screen before with respect to the Kings. It's also a moment that helps to make Selma the first authentic King story we've seen, even though it largely tells the story of his fight to be heard on Voting Rights Act and doesn't get into his rise.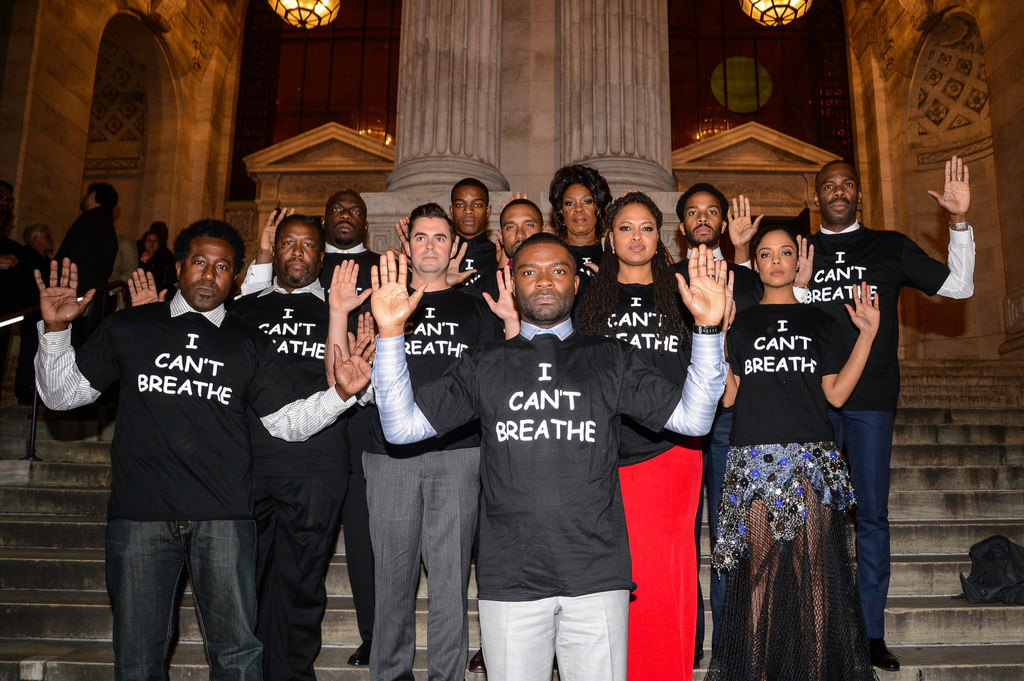 But as much as Selma is King's story, at this particular moment, it's something bigger. People are using the movie to highlight the news of the day, something DuVernay clearly couldn't have known when she signed on to direct a year ago. But now that this thought-provoking coincidence is in place, she's hoping that the film can do more than she might ever have imagined.
"I don't want them to forget the film. I don't want to ever make disposable entertainment. I'm trying to make something that sticks to your ribs, something that you think about the next day when you're washing dishes or you're talking with friends," DuVernay said. "I just hope that for people who love movies that it will be one that they remember, and I hope for people who don't love movies in the same way that — [that they] just go see it as a bit of entertainment — that it might spark an idea, give them just more insight into this time, the beauty of black life in general … We've got this hashtag, #BlackLivesMatter. And these images are important."