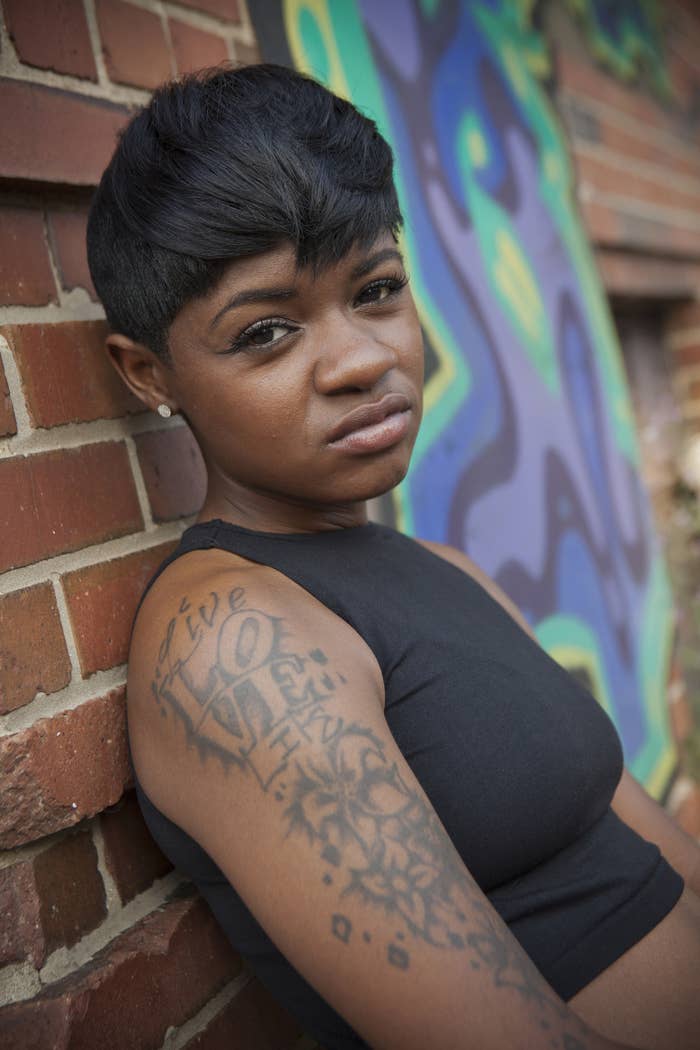 After the considerable, unprecedented success of Empire's debut season in early 2015, the pressure was on for Season 2. And the seedlings for the storyline that would help carry the show through its sophomore season were established in a small scene in the premiere, featuring what would become a very pivotal character: Freda Gatz.
The young rapper was in prison visiting her father, Frank (Chris Rock), the drug lord whom Lucious (Terrence Howard) and Cookie Lyon (Taraji P. Henson) once worked for, when she caught the eye of the Lyon patriarch. And since then, Lucious — and the series — haven't been the same.
Freda is a hold-no-punches (and in some cases, guns) type of rapper, who's portrayed by real-life emcee Bre-Z (born Calesha Murray). The whole arc surrounding Freda has been ripe for the over-the-top drama Empire famously delivers: Lucious had her father killed in prison (she is unaware he made the hit), and even though her dad warned her about how shady the hip-hop impresario is, she eventually caved into his aggressive pursuit to get her on his label. Ever since, she's been Gutter Life Records' pride and joy, pitted against Hakeem Lyon (Bryshere Y. Gray), who's been working with Cookie at Lyon Dynasty.
Freda's rhymes are brash and bold, and if what she spits feels authentic, then that's by design.
For years, Bre-Z has been trying to make it as a rapper; the 28-year-old Philadelphia native wanted a shot at being able to build and develop an audience and a way to get her music to the masses. Of course, she never thought her that would come by way of a TV series, but she'll take this path (and all that comes with it), thank you very much.
"This definitely became part of the plan," Bre-Z said of Empire with a laugh during a phone interview with BuzzFeed News. "I'm able to portray a character, and at the same time, still be a musician. That's the best of the situation, being able to do the music makes the work environment that much more comfortable."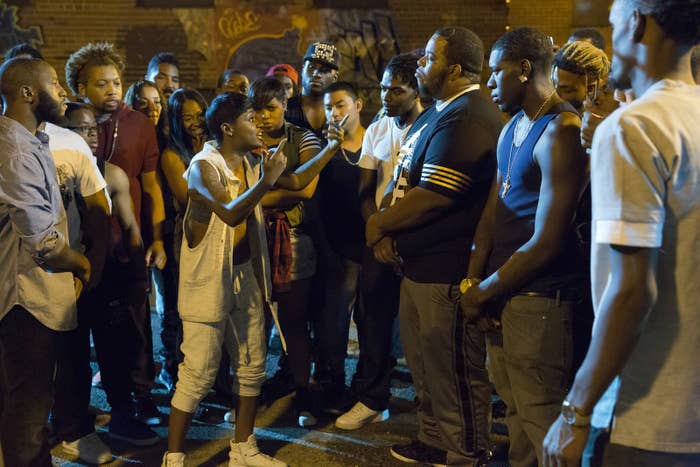 There are many parallels to Bre-Z and Freda, so morphing into the fictional Brooklyn battle rapper was fairly easy for the untrained actor.
"Her life on TV and my real life has been very similar. It's almost reliving something I've already been through. In urban communities, [we're] just trying to make a way for ourselves. Finding a road to take, but getting bumps and bruises along the way," Bre-Z said. "I was separated from my father for quite some time, so I'm not sure what would be worse: losing someone or just not knowing, never knowing. I feel like it equaled out to me. There was still some hurt there, there was still some confusion, and a lack of understanding of what's going on or why something happened. Of course I've grown, and I feel like I could now teach. And she will grow as well."
Bre-Z herself is growing in ways she couldn't have possibly imagined. She spends most of her scenes going back and forth with Howard ("He's amazing. We definitely balance each other out. He's a great man, a great father, a great husband, a great role model. Very inspiring, always"), and because the songs on Empire are just as popular as the primetime soap's storylines, she finally has the chance to get her music heard. On Nov. 20, the Empire soundtrack will be released (she'll have one track, "Boom Boom Boom Boom" with Howard, on it) and in the Nov. 18 episode, she'll premiere three new songs as her battle with Hakeem comes to a head.
It's a long way from where Bre-Z first started — she moved to Atlanta in 2008 and joined the family business by becoming a barber, cutting the hair of famous rappers like Ludacris, who had a cameo on Empire earlier this season.
Business was good, but Bre-Z stepped out on faith once again and headed for Los Angeles to give music a go one more time. She said a friend suggested she audition for Empire, despite not having any acting experience.
"I'm a very spiritual person. I love God. I know that nothing that I'm thinking right now would have transpired without him. I'm just following suit, honestly. Whatever is put in front of me, I feel like he puts it there, so I have been given the wisdom, through him, through my peers, my family, to know the difference between good and bad," she said. "So when I see something, and I feel like it's for me, I can feel it. And at that point, I move forward, and if I feel like it's not for me, then I'll step aside."
Not that she's planning on stepping aside anytime soon. She's hoping to next get some original music out there and start making a name for Bre-Z the rapper, now that Bre-Z the actor is generating some noise.
"I never felt like giving up," she said. "And I can't wait for people to see what more I have in store."
Empire airs Wednesdays at 9 p.m. ET/8 CT on Fox.