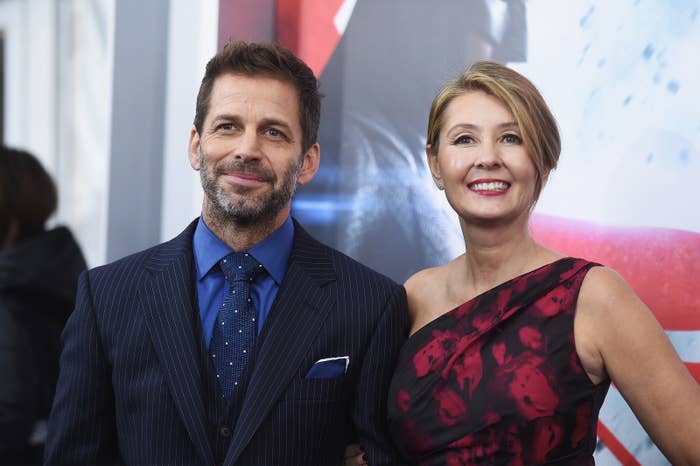 Zack Snyder, one of the foremost directors in the DC Cinematic Universe, announced on Monday that he will be stepping down from directing Justice League in an interview with The Hollywood Reporter. He'll be taking time away from the project to deal with the death of his 20-year-old daughter, Autumn, who killed herself this past March. Snyder's wife, Deborah Snyder, will also be stepping down from her role as producer on the film. Joss Whedon — acclaimed director of Marvel's The Avengers and The Avengers: Age of Ultron, and of DC's upcoming film adaptation of Batgirl — will take over Justice League's post-production and the shooting of additional scenes.
After Autumn's death, production on Justice League was put on a two-week hiatus for the Snyders to deal with the tragedy. "In my mind, I thought it was a cathartic thing to go back to work, to just bury myself and see if that was way through it," Snyder told THR. But due to the "all-consuming" nature of his job, Snyder, who has seven other children, "decided to take a step back from the movie to be with my family, be with my kids, who really need me. They are all having a hard time. I'm having a hard time."
He originally planned to shoot the additional Justice League scenes, which are scheduled to film in England, but ultimately decided against leaving home at this time. "I never planned to make this public," Snyder told THR of his daughter's death. "I thought it would just be in the family, a private matter, our private sorrow that we would deal with. When it became obvious that I need to take break, I knew there would be narratives created on the internet. They'll do what they do. The truth it…I'm past caring about that kind of thing now."
Autumn was attending Sarah Lawrence College at the time of her death. Deborah Snyder told THR that Autumn had recently finished a manuscript for a sci-fi fantasy novel; the Snyders would like to one day publish it and give the proceeds to charity. "In the end, she didn't make it, but her character does and I think there would be something cathartic for people," said Snyder.
As for Justice League, Snyder told THR: "I know the fans are going to be worried about the movie but there are seven other kids that need me ... In the end, it's just a movie. It's a great movie. But it's just a movie."
BuzzFeed News has reached out to Whedon and Warner Bros. for further information, but according to THR, Justice League is still set to maintain its original release date, Nov. 17, 2017.