Two years ago, all of Kelly Marie Tran's dreams came true: She got the career break of a lifetime and landed the new lead role of Rose Tico in Star Wars: The Last Jedi, she moved to London and got to work with some of her personal heroes (Lucasfilm President Kathleen Kennedy and actor Laura Dern, for starters), and she finally paid off her student loans. And then, once filming wrapped, she ran away.
"I think anytime you go into anything that's different and new, there's a bit of fear," the 28-year-old Vietnamese-American actor said on a sunny October morning, fanny pack bouncing as she hiked Griffith Park in Los Angeles. She glanced down quickly at her Pikachu watch.
"That's just natural. It's a human, natural instinct," she said. "But I also spent a year traveling and a year trying to figure myself out and reminding myself why I got into this."
Originating a Star Wars lead character is the stuff of dreams for actors. It all but guarantees immediate global stardom (The Force Awakens breakout stars Daisy Ridley and John Boyega are currently starring in big-budget studio films outside of Star Wars), and also offers the possibility of long-term employment (Harrison Ford has been playing Han Solo since 1977, and he's still not entirely sure if he's finished). Even in the face of rapid and continued expansion — Disney recently announced that Last Jedi writer and director Rian Johnson will helm a new film trilogy — Star Wars remains one of the most surefire celebrity-making machines in show business.
"I just remember growing up and not seeing anyone that looked like me in movies."
But becoming a Star Wars star is also a huge responsibility. It's a central juggernaut in the geek-culture landscape, and the fandom is so longstanding and voracious, a prominent role in a Star Wars film can guide, and often define, an actor's entire career — especially a newcomer with hardly any mainstream projects under their belt. And for Tran, there's an added element of both privilege and pressure: Rose Tico is the franchise's first major character to be played by an Asian-American woman.
The movie isn't even out yet, but Tran is already making history with the role. By posing as Rose on the front of Vanity Fair in May, arms crossed and a coy smile on her face, Tran became the first Asian-American woman to appear on the magazine's cover. And she clearly understands how important that representation is to fans — it's not something she takes lightly.
"It's something that I think about a lot," she said. "I just remember growing up and not seeing anyone that looked like me in movies."
Tran's no stranger to the geeky realm. She nicknamed one of the steepest trails in Griffith Park "the road to Mordor," and has been unsuccessfully trying to convince eight friends to dress up as the Fellowship of the Ring with her since high school. She's super nervous for Daenerys to see Viserion on Game of Thrones next season ("That's such a Kylo situation, right? Seeing your child who's on the other side now? I'm serious"). She's a Harry Potter superfan, and even though she's a Ravenclaw per the Pottermore Sorting Hat, she's a Gryffindor by choice: "I feel like the Sorting Hat would have been like, 'You should pick.' And I would have picked Gryffindor."
But Tran's also no stranger to the lack of diversity in nerdy fare. For example, she always went to midnight Harry Potter screenings dressed as Cho Chang, the only prominent female Asian character in the films, even though she adored Luna Lovegood. And now that Tran's about to experience the other side of fandom and become one of those rare characters of color herself, she admits there's no lack of pressure.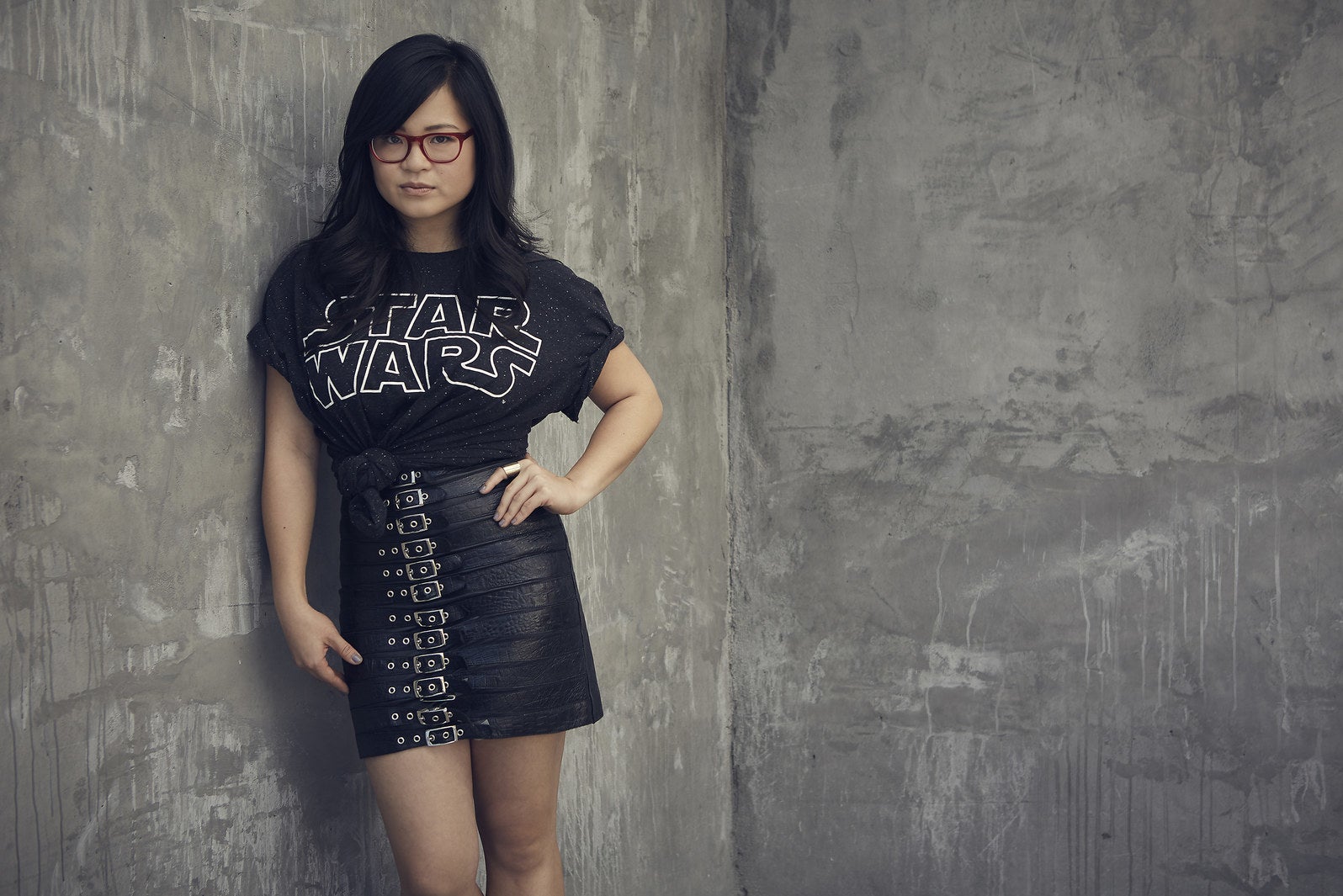 "It feels like a lot of expectation, and you just wanna do it right," she said, pumping her bright green dinosaur leggings up the road to Mordor.
That expectation, that pressure, is part of the reason why Tran spent the year after filming wrapped traveling in total anonymity.
"I ran away!" she laughed. "I wanted to center myself and remember who I was. My life had just changed so much, and I needed that time to reflect."
First, she went to South Africa and worked on an endangered wildlife reserve (no internet, no electricity, no running water). She shared a room with a dozen people and told everyone she worked as an office temp. (She didn't start getting inquisitive emails until the new Rose Tico toys started coming out.)
Next, Tran went to Vietnam, first to work with orphans, and then to revisit her roots. Her parents fled to the United States during the Vietnam War, so she brought them back to their home country for the first time in 40 years.
"I have very huge cultural ties to where I'm from and where my family's from," she said.
"I very much have felt this whole time that I've been living for multiple generations of life."
Her time in Vietnam was, according to the actor, an "overwhelming experience." She and her family biked to her dad's village together, and he showed her where he used to sleep.
"My dad was a street kid for seven years — he was homeless," Tran said. She met her cousins, the children of relatives who tried to escape during the war but were pulled back by the Vietnamese government.

"I could have had this life," Tran said, holding out one hand, "and now I have this one, and it's purely because my parents dropped everything and moved to a country where they didn't know the language [and] didn't have any opportunities. I very much have felt this whole time that I've been living for multiple generations of life."
That year of travel and soul-searching seemed to help Tran achieve what she had set out to: She remembered why she became an actor.
"My parents didn't get to have a dream," she said. "Their dream was to live in a country where their kids would have choice." And despite any hesitance on her parents' part regarding her risky career choice, Tran always saw it differently.
"I truly did feel that I owed it to my parents, my grandparents, to do whatever it was that I wanted, because if I wasn't happy, if I wasn't being true to myself, then I wasn't living fully," she said. "They had given up so much so that I could live at the level that so many people are just automatically born into."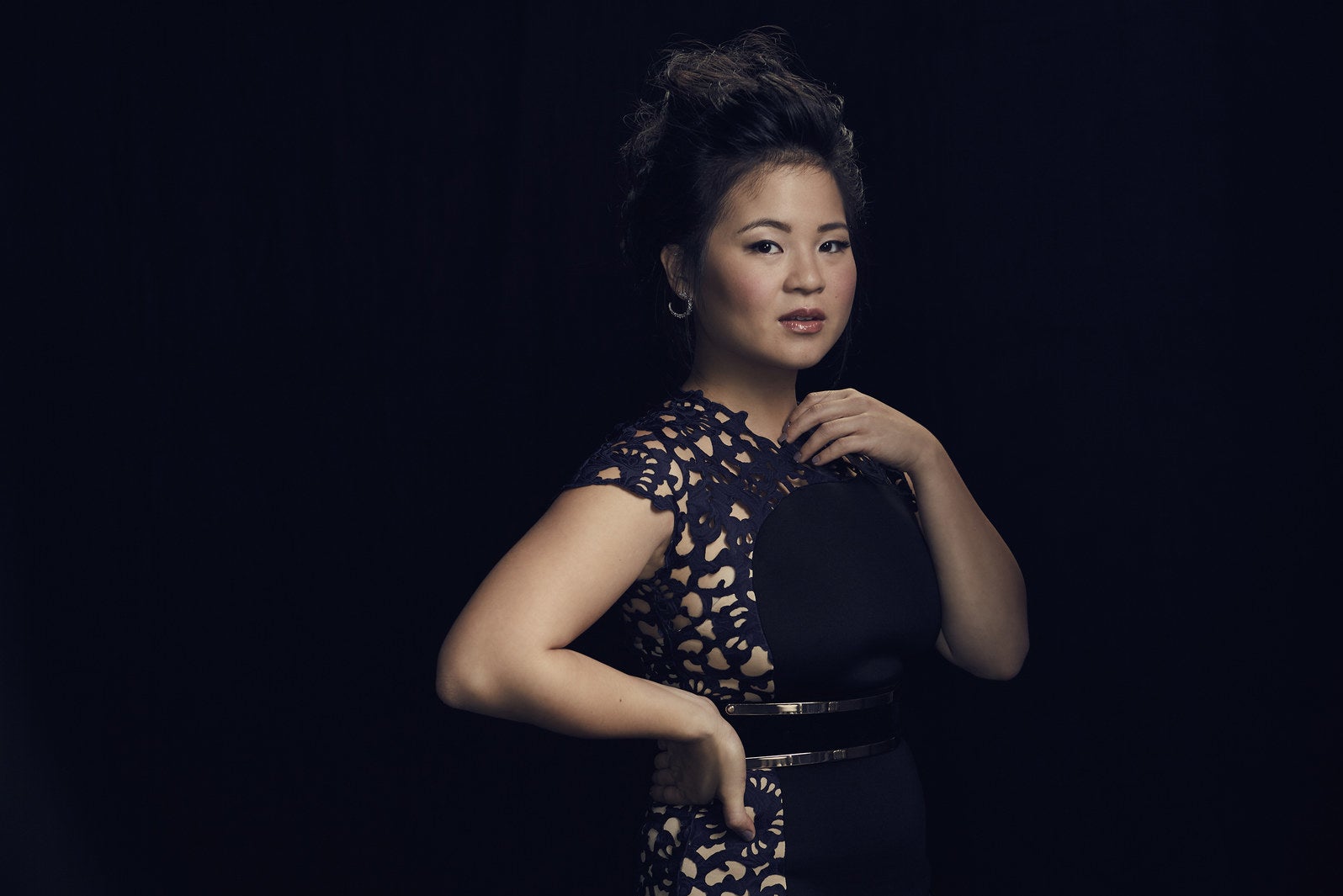 But just two short years ago, Tran's acting career looked very different. In 2015, she was working full-time as an assistant at a creative recruiting firm in Century City to pay off her student loans and make ends meet. She'd wake up at 5 a.m., answer phones and grab coffee, leave for two or three auditions in the afternoon, then come back to the office and stay until 8 or 9 at night.
It took Tran years just to get an agent. She started sending inquiry letters to agencies when she was a high schooler back in San Diego. She worked at a yogurt shop and saved up all her money for headshots, only to receive a slew of rejection letters. "There's no rule book, nobody tells you how to do it," Tran sighed. "It was sort of the preparation for the next 10 years. I still have a bunch of rejection letters from agencies that did not want me." She's strongly considering framing them.
Tran finally landed a commercial agent in 2011, and a theatrical agent two years later. Her commercial agent suggested she try an improv class to give her resumé some extra shine, so she enrolled at the Upright Citizens Brigade Training Center in Los Angeles — and fell in love.
"Acting seems like solo work, but it's not. This is not a one-person journey, at all."
"I love the ideals of improv: supporting each other and never being sort of judgmental of other people's ideas," she said. "I think they're great rules for life: You get a piece of information, you're like, 'OK, how do I work with that and how do I add to that?'"
Her creative circle flourished, and she cultivated a tight-knit group of writing partners and performers, including her all-female Asian improv group, Number One Son.
"I've always been very much a team person," Tran said. "Acting seems like solo work, but it's not. This is not a one-person journey, at all." But as much artistic fulfillment as she was finding, her resumé still consisted largely of CollegeHumor videos and small TV roles. She couldn't even get an audition for a movie.
When she turned 25, Tran resigned herself to a fate of personal fulfillment without mainstream success. "I remember making a conscious decision," she said. "I never thought that I would accomplish my dreams. I believed in myself, but when I turned 25, I just thought, Oh, I'll just be working my day job and auditioning and struggling financially, but I'll be living my dream for the next two or three decades."
Then, as all great success stories go, she got the audition notice. The Untitled Rian Johnson Project was supposed to be a secret, but everyone knew it was for Star Wars. (Johnson had already been announced as both writer and director of the next installment.) But Tran, a self-proclaimed nerd on many subjects, had never seen a single Star Wars movie.
"In 10th grade, my teacher was obsessed with [Star Wars] and played it in the background, but I was reading Harry Potter so I wasn't listening to it," Tran laughed.
She didn't watch any of the movies before that first audition — she never thought she'd make it beyond that — a move she believes helped her in the long run.
"I didn't have this expectation of what I thought this person should be like; I wasn't trying to model her after someone I'd seen in a movie," she said.
Tran recalled that the initial character breakdown for Rose Tico was vague — "Something like, 'Any ethnicity, character-y!'" — so she walked into the first audition wearing a sweater vest and her lucky Ravenclaw tie.
"All these other girls were in tight black and I was like, 'Oh no! I've done this wrong! I've done this wrooong!'" she laughed.
By the first callback — Tran wore her lucky tie again, it had gotten her that far — Johnson was already in the room.
She auditioned five times between the summer and fall of 2015, a torturous month spanning between each. After each audition, Tran tried to forget about the possibility of another. She stayed busy writing with friends, and she started journaling for the first time in her life. The final audition took place in London, with full hair, makeup, and costuming.
"And this is why, I'm telling you," Tran cackled, "the fact that I hadn't grown up with Star Wars really helped me. I think I would have fallen over."
But she didn't fall over. In fact, Tran did the opposite: She stayed unfathomably grounded. "I remember the day of that audition, I just wanted to be present," she recalled. "I just wanted to have fun, because there was nothing I could do at that point to control getting it or not. I remember having the most freeing feeling, and I had the best time." Then she went home and tried to forget about it.
Three weeks later, in November 2015, Johnson emailed Tran's agent and asked to meet with Tran before she went home for Thanksgiving. "I remember every moment," she said through a grin. "Walking up the stairs, there's a little bit of small talk, and then Rian says, 'I want to offer you this role.'" Tran didn't react; she froze. "What happens when everything you've ever wanted comes true?" She hid her face behind her hands at the memory. "I didn't say a word. I was terrified. It was such an overwhelming shock." Johnson waited, and then asked, "Umm, do you want this?" Yes, she did.
Tran went home for the holidays, but couldn't tell anyone she'd just landed the role of a lifetime — all aspects of the movie were being kept top secret. She lied and told her mom, dad, and two sisters that she'd booked an indie film in Canada. She casually suggested the family go see The Force Awakens, but her dad objected. "He goes, 'Ughhh, I hate movies like that. I don't know why people go see sci-fi movies,'" Tran laughed. "And I was like, 'Welp.'"
In January 2016, Tran moved to London to begin filming, and her life changed overnight.
"Someone mistakenly gave me the keys to the kingdom," she said, her eyes still wide with disbelief even now.
"The best thing about Carrie that I witnessed was that she was just purely honest. No matter how messy that was, or how complicated that was."
She spent her days on set watching the likes of Benicio del Toro, Andy Serkis, Adam Driver, Oscar Isaac, and Laura Dern ("I can't believe she knows who I am, ahhh!") in what she described as "ultimate acting school." Tran went to set every day, even if she wasn't filming.
She hung out in the creatures department and learned a lot — she even dressed in a makeshift Porg costume for Halloween this year. She spent weekends watching movies with Mark Hamill and his family. She shared a trainer with Daisy Ridley, and eventually learned how to push a car. ("I'm serious! Little ol' me.")
But Tran found herself worrying; this was her first big gig and she was treading very carefully, often worried she might offend someone. Then she met Carrie Fisher.
"What a woman," Tran nodded pointedly. "The best thing about Carrie that I witnessed was that she was just purely honest. No matter how messy that was, or how complicated that was."
While Tran agonized over adhering to her trainer's fitness regimen, Fisher showed up and walked the treadmill, sipping a Coke and smoking a cigarette.
"I don't know how to explain it — without even protecting me, she was. Just by being herself," Tran said.
But there was one caveat to all of her dreams seemingly coming true: Tran wasn't used to living without her established support system.
"I was scared, I was alone, I couldn't tell anyone what I was doing," she said. "I remember crying because I wanted my friends to experience it."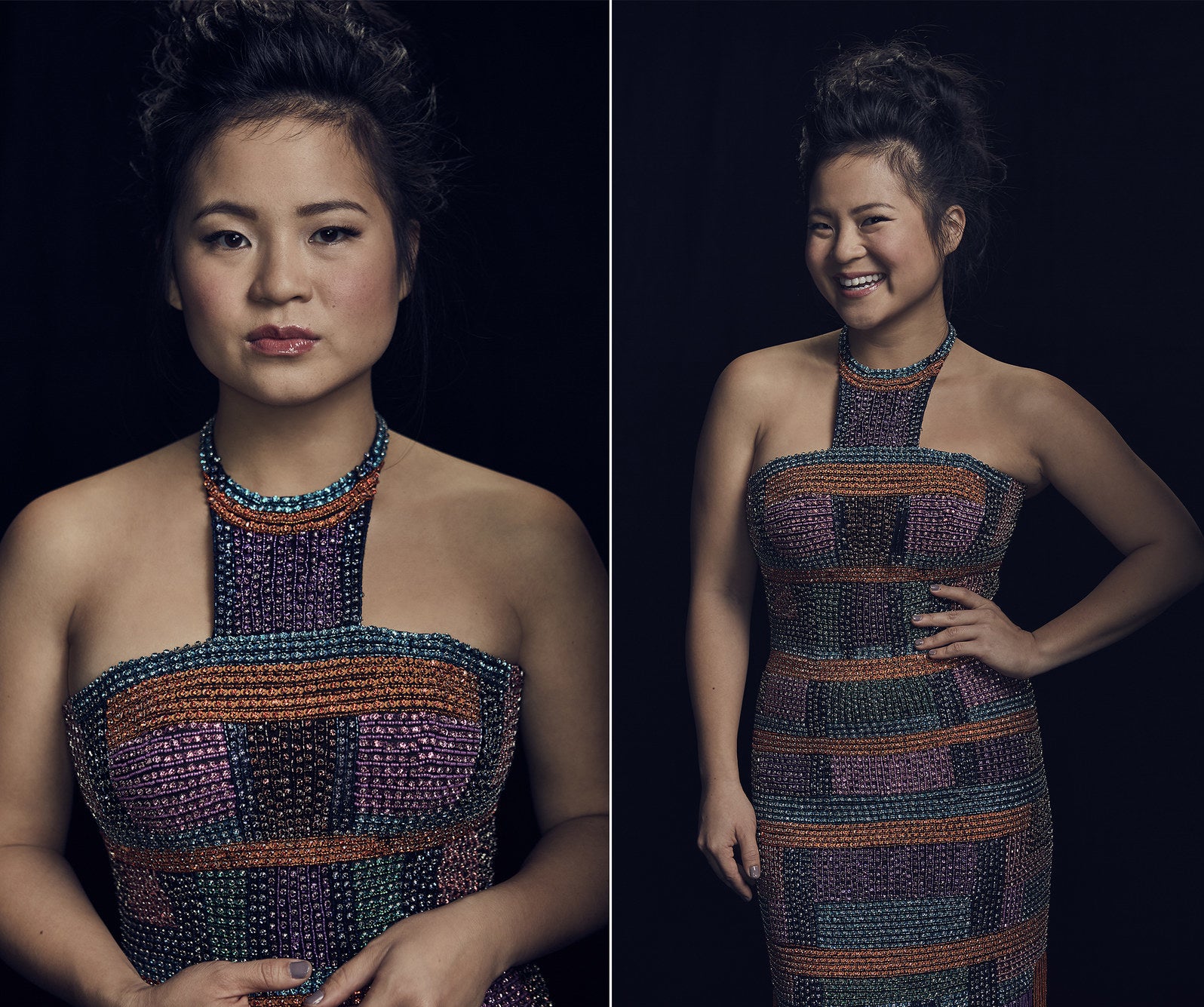 To combat the isolation, she joined an improv class in London, kept journaling ("I have 25 journals now that's just me and my feelings on paper"), and leaned heavily on her castmates, especially John Boyega — the actor she'll likely be sharing the most screentime with in The Last Jedi.
Her close association with Boyega's character, Finn, is one of the few facts we know about Rose Tico so far. We also know she's a low-ranking mechanic in the Resistance, and her sister Paige (played by Vietnamese actor Veronica Ngo) is a gunner in the Resistance.
"John is someone who I feel like I immediately was able to mesh with," Tran said of working with the actor. "We connect on different levels because our parents are immigrants, we're both people of color, nerds, and he's just hilarious."

Tran, of course, knows everything about Rose, but all she'll coyly add is that the character "has an interesting relationship with war" — a relationship Tran's family knows all too well.
"I dug into that with my parents, and their relationship with war because of the Vietnam War," she said. She also listened to podcasts and read books on engineers and how they think, and infused much of her own personality into the character's.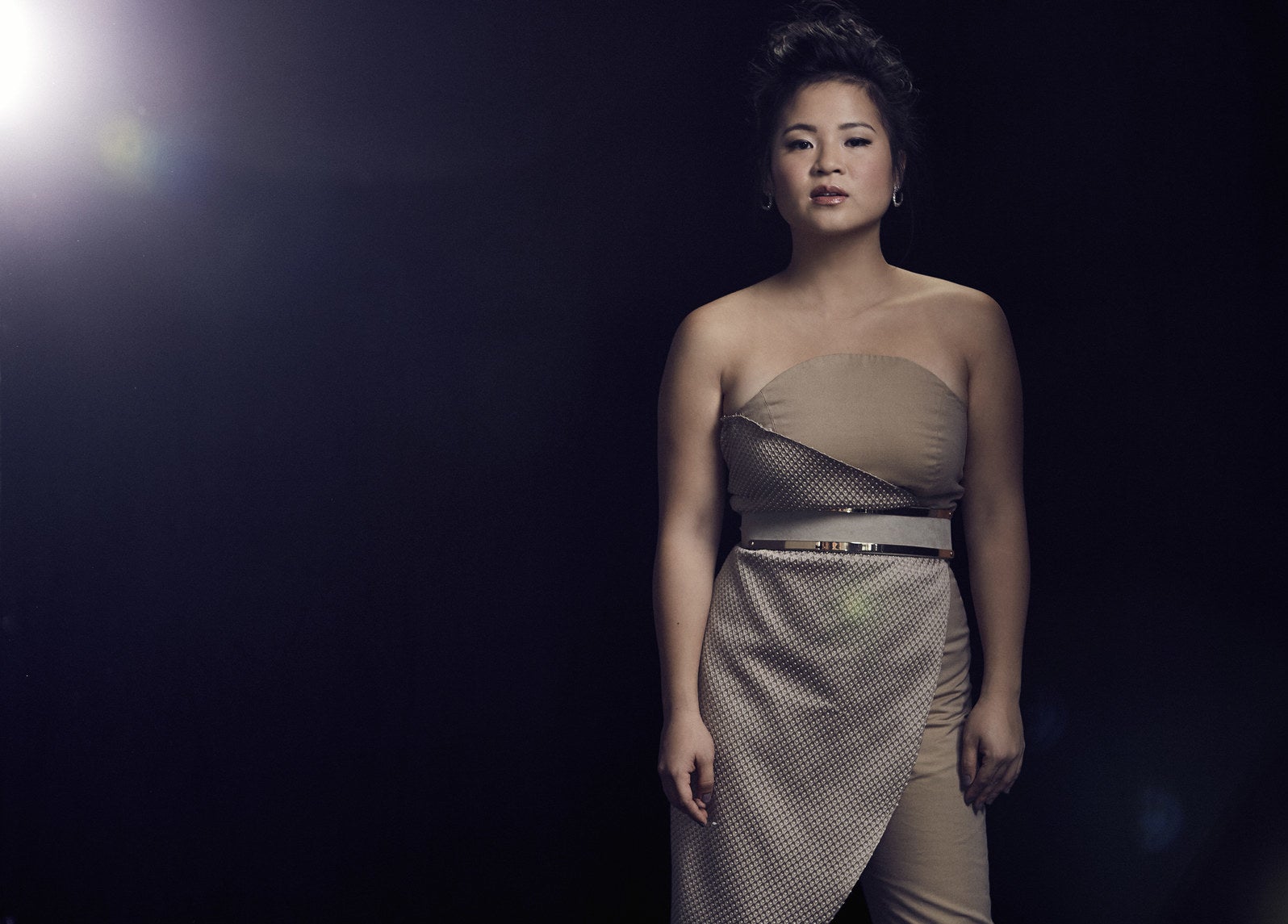 "Sometimes I think Kelly informed Rose, and sometimes I think Rose informed me," Tran said. "It's such a messy, tangled relationship, which I think is kind of beautiful. She's always going to be part of me and I'm always going to be part of her, right?"
And as for Rose's future in the Star Wars universe, Tran is as curious as the rest of us. "I don't know," she said earnestly, convincingly, like a true Gryffindor.
Since filming wrapped, Tran's co-stars moved on to new projects — "They're all working on a bunch of movies everywhere in the world. I'm the only who's like, 'Yooo, come over, let's watch a movie!'" — and she's been living in a strange bubble, treading water between anonymity and the global stardom that Star Wars all but guarantees.
"Everything feels very emotional right now, because it feels like the first or the last time," Tran said slowly, measuring her words. "I don't know what that other life is gonna be like, but I also don't want to let go of being this anonymous person who gets to live in both lands."
There's no way to know what her life will look like after The Last Jedi premieres, but Kelly Marie Tran is finally ready to stop running away from the inevitable spotlight.
"The only thing I can do is be honest and be myself, and if people hate that, they're gonna hate that, and I can't control that. It has nothing to do with me," she said, half-sighing. "I'm saying this now, and it sounds really easy, but it took me a year. I just feel like I don't wanna hide anymore." ●