One night in May, a bear snuck onto the set of Better Things and flipped over a dumpster in search of food. In the morning, her cubs were hanging out on the tennis court next to the house where the FX show was wrapping up its sophomore season. During their lunch break, the cast and crew shared cell phone videos they got of the cubs earlier that day.
"Remember, this is a wild animal," a producer announced. "She has new babies that she's trying to protect, so give her space and don't get too close. Make sure she doesn't feel threatened."
There was a chuckle from the back. "All the same rules apply for Pamela, right?" actor Greg Cromer joked.
Pamela Adlon — co-creator, executive producer, and star — was crouching in the back. Without missing a beat, she silently shot her hand up and flipped him the bird.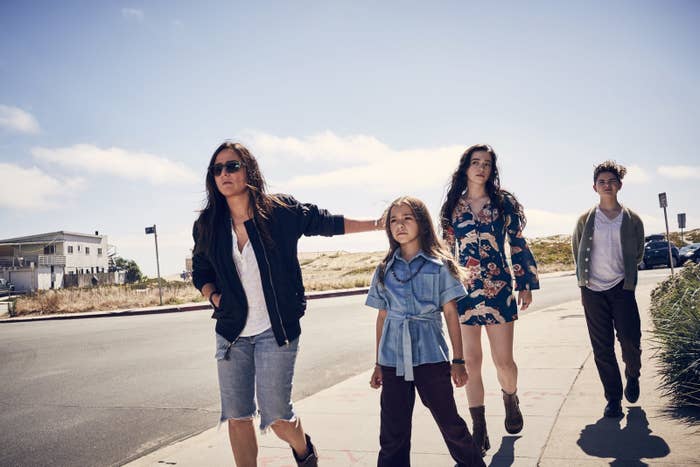 Cromer's comparison was not entirely wrong. Better Things is a show about a single mom, Sam Fox (Adlon), raising her daughters Max (Mikey Madison), Frankie (Hannah Alligood), and Duke (Olivia Edward). Sam balances her role as mother alongside her full-time acting career and, occasionally, a low-key dating life. The show is based on Adlon's own experiences; she even dedicated the Season 1 finale to her three daughters.
"My show is very handmade," Adlon told BuzzFeed News as she arrived on the Los Angeles set, pre–bear warning, in sweatpants and a T-shirt with a hole in the side. You hear her before you see her, scream-laughing "my buddy!" at someone near the front door (everyone is "buddy" or "pal"). "I've been doing this my whole life," she said, leaning up against the staircase bannister. Well, 35 years, to be exact. One of Adlon's first big roles was in 1982's Grease 2, and she's sustained a varied and successful career, primarily in TV and voiceover work, ever since. "I'm very observational, and I've also been a documentarian. I've documented and recorded everything."
Her already deep voice was a little scratchier than usual — she'd caught a nasty cold on the plane ride home from the 2017 Peabody Awards ceremony, where Better Things was honored for its first season. "My ears haven't popped from my flight yet, but I brought home the gold!" she cackled and then abruptly coughed. She left the Peabody upstairs in one of the bedrooms so everyone could stop by and "take a damn selfie."

"There isn't a fucking chain of emails that has to happen before a decision is made."
The set, a two-floor stucco house nestled at the end of a cul-de-sac in a twisty Altadena neighborhood, feels less like a set and more like, well, a home — genuinely lived in, like you just walked into someone's afternoon barbecue or graduation party. Someone was plunking out "Twinkle, Twinkle, Little Star" on the piano, and Alligood and Edward were chasing each other up and down the stairs. Lincoln, the three-legged dog who plays family pet Chewie, ran up and greeted newcomers at the front door. ("Pamela doesn't like anything too theatrical," said actor Celia Imrie, who plays Phyllis, Sam's over-the-top English mother.)
Every surface in the home is covered in jewel-toned carpets and throw pillows and, maybe most importantly, art. "These are my grandmother's paintings," Adlon said, walking up the staircase and running her hands over the framed prints, "and I can touch these because they're fake." She brought her real paintings from home last season, but found them unceremoniously stacked on top of one another on the last day of filming. "This is a reproduction of my own David Choe. Marilyn Manson, who's a friend of mine, he did that."
"Grandmother, grandmother, grandmother," she rattled off as she pointed at three different paintings. "My mother, and this is Slutface, my friend. Oh!" she squawked and turned like she'd suddenly remembered she left the gas on. "And this is where I almost accidentally killed Lenny Kravitz last season!" she laughed, offering no further explanation.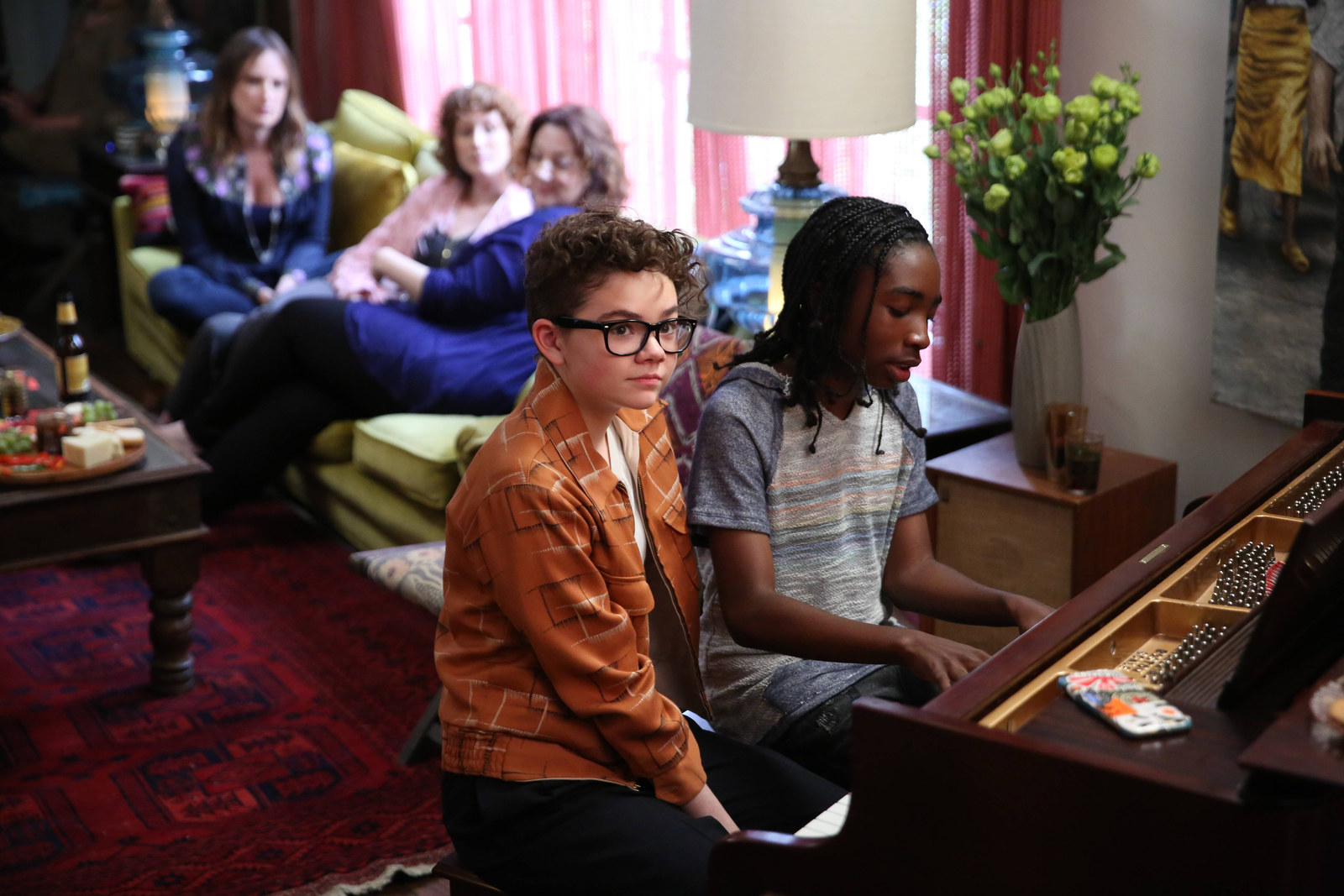 "Leave the paintings at home" is just one of many lessons Adlon learned from the first season of her show. Last season she directed two episodes; before that, she had never directed television at all. For Season 2, which starts Sept. 14, she's directing all 10 episodes. "Directing wasn't part of my ambition," Adlon yelled through the slightly ajar bathroom door upstairs as she changed into Sam's wardrobe, her holey T-shirt flying out onto the floor.
Adlon's transition to directing was more pragmatic than desired. "It's not fucking fun, and it's not easy. I know how to cut the fat off, because I've been an actor for so long. I see how much time and money gets wasted, and there's no reason for it. There isn't a fucking chain of emails that has to happen before a decision is made; it just all flows through one fun, small lady."
Her Better Things co-creator, co-writer, and and longtime collaborator Louis C.K. — the two first met when C.K. cast her in HBO's Lucky Louie back in 2006 — is the first one who got her thinking about directing. "Because of how long she's been in television and movies, she has an amazing vocabulary for getting ideas across," C.K. said in August. "She's one of these people who takes your phone and makes a beautiful image, so I always thought she had potential as a director."
Translating that potential has been a challenge for Adlon, considering she's a self-proclaimed pleaser. "I'm a mommy and I take care of my crew and my cast and my people," she explained, now fully in costume, sitting cross-legged on the upstairs bedroom floor next to the discarded holey T-shirt. All three of her onscreen daughters, in separate interviews, described her as maternal in some capacity (Alligood: "She really is my second mom"; Madison: "Everyone's mom"; Edward: "My mom, pretty much"). But, as Adlon said, "I also know that it's not a popularity contest, and I've gotta get what I need to get."
And she's good at getting what she needs to get.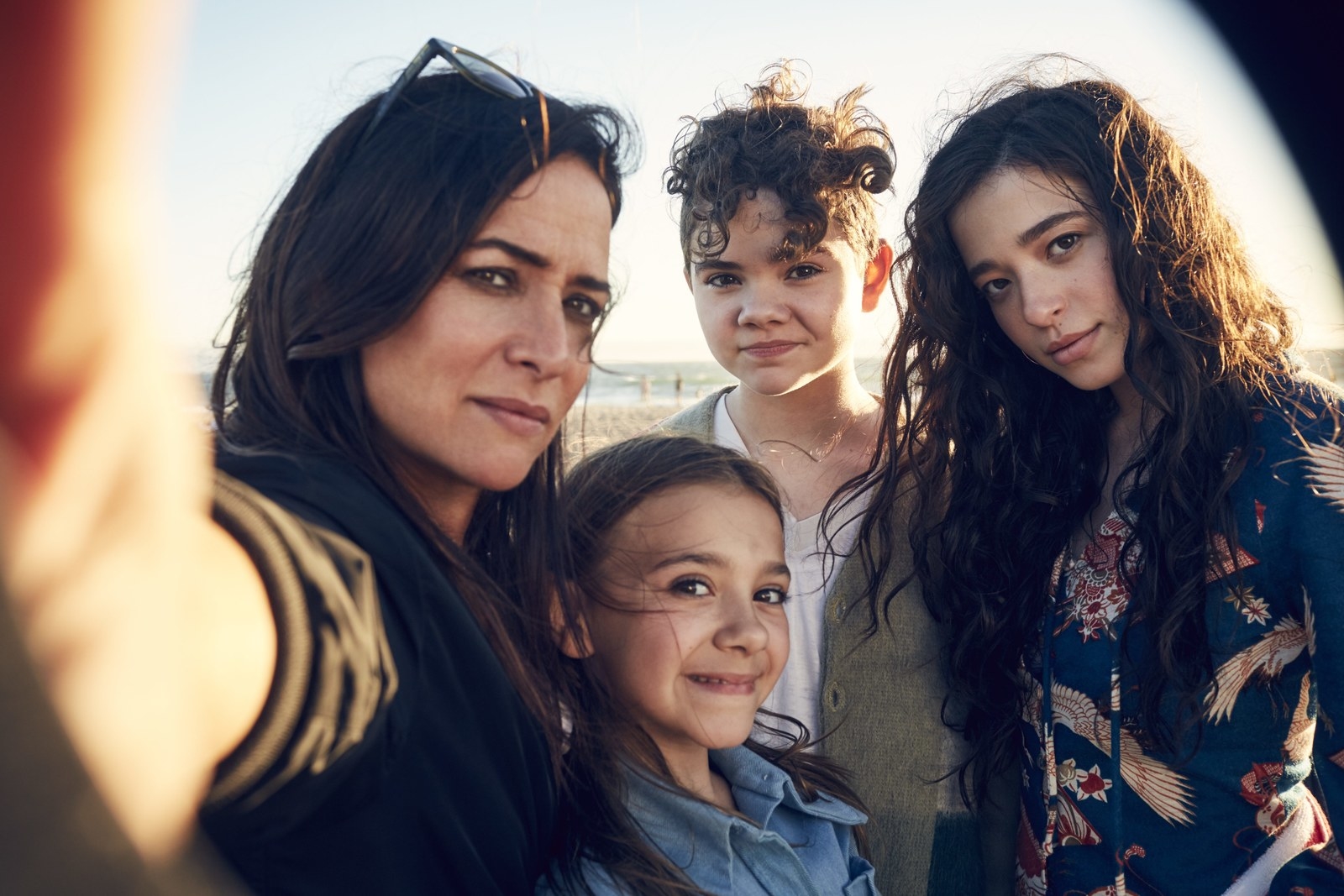 Later in the day, downstairs, the crew was setting up an outdoor scene in the road. Time was a little tight, and the director of photography was debating the best angle to shoot from. "Are you a betting man?" Adlon asked, and didn't wait for him to answer. "Ten bucks. If I see a fucking piece of anything in the shot, you owe me ten bucks," she smiled; he smiled back, and she walked away to finish blocking the scene.
Adlon rarely stands still on set. That's partly because she's extremely deft at keeping the energy levels up — she only pauses when no one's looking, rubbing her temples and giving in to the head cold for a few seconds — and partly because the production can't really afford to.
She took Edward, her youngest onscreen daughter, by the hand and walked her through the scene. She made a quick note to tweak a line in the script. "I don't know how she does all this stuff," Cromer, who plays Jeff (Sam's best friend's ex-husband), whispered right before the cameras started rolling. "I stare in wonder." Adlon didn't hear him then, but she's certainly heard that before.
"Everybody goes, How do you do it? How do you do it?" she said later, back upstairs. "It's because I've been a single mom raising three girls by myself for the past decade. There is nothing harder or more gnarly than that. This is a fucking vacation."