Area of Expertise is a column on niche interests, personal passions, and other things we might know or care a little too much about.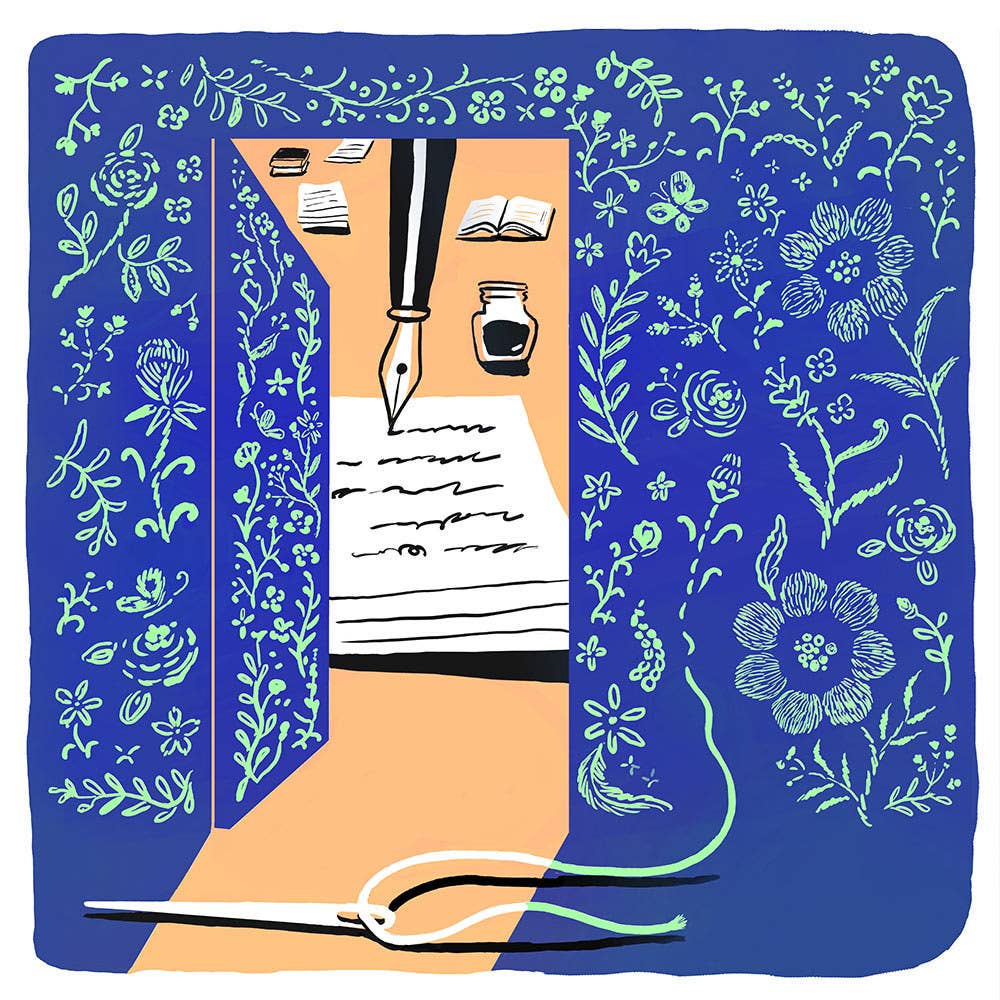 My grandmother warned me not to learn to darn. Because, she reasoned, people will expect you to do it. (On that basis, we would never learn anything, of course.) She was not one for giving advice; her only other admonition was "never wake a sleeping baby" — she had six of them, so I can see where she was coming from with that one. Did I heed her advice on darning? No, I did not (nor on babies, it has to be said), and as a result, I am now the only person I know who can darn, not that anyone ever asks me to — why would they when you can just go out and buy something that doesn't have holes in it?
My love affair with the needle began when I was 7 while enduring a long convalescence after a bad case of measles. I had read my small collection of books many times over when my mother, rather than seeing fit to go to the library for me, decided to teach me how to chain stitch instead. All on my own I managed to sew a wobbly circle with maroon thread onto a piece cut from an old green flannelette sheet. This was then made up — very badly — by me, into a dress for my teddy bear, or Ted, as he's known. (I failed at marriage, twice, but I stuck with Ted.) He was a boy, still is, but was a cross-dresser from the get-go, always wearing dresses and very nice little cardigans my mother knitted for him.
I could probably have circled the world in chain stitch. It took me years to escape the chains.

That ham-fisted attempt at Ted couture revealed something to me — the deep pleasure of creation, of taking disparate ingredients and transforming them into something else, something better. And something beautiful (in the eye of the beholder, anyway). From an early age I adhered to William Morris's dictum that a thing should be either useful or beautiful. And if it can be both, well — job done.
That dress signaled an addiction to the needle. Some go for heroin, I went for a skein of Anchor and a spool of Coats. Daisy stitch, so much daisy stitch, and many, many further adventures in chain stitch; I could probably have circled the world in chain stitch. It took me years to escape the chains.
I taught myself — French knots, satin, stem, and couching stitches. Whipped backstitch! It doesn't get more exciting than that. Tray cloths, table mats, runners — I was your girl, an endless supply of unwanted gifts made by my clumsy child's hands. And I learned early, too, the inverse relationship between the amount of time it takes to make something and the amount of gratitude it garners. Usually the best you can expect is, "Did you make that, dear?"
When I started secondary school, one of our tasks in the first term of needlework was to make our cookery aprons for the second term. We're talking about the '60s, when a girls grammar school expected you to do Latin as well as something called "housecraft." Go to university and know how to run a house. Those were the days. We had to embroider our names across the bib in my old friend, chain stitch. I have a long name — Katherine Atkinson — the final "n" only just made it onto the apron. I envied my friend Lynn Bell. I still have the apron. I'm a keeper.
We went on to learn everything possible in needlework — buttonholes, zips, collars, endless plackets. We were slaves to the sewing machine. Mini dresses, maxi skirts, ruffled Victorian blouses, the ridiculously named leg-of-mutton sleeves. Hard to believe now how much time teenage girls spent making their own clothes.
I had a needlework crush at university on a girl called Sarah. She sewed by the light of an oil lamp and managed to make tartan kilts look chic. That was the '70s for you. I bought oil lamps, I embroidered. I even wore tartan kilts.
I spent hours by the inadequate oil-lamp light peering over a hoop that held a cushion cover that I was making for my then-boyfriend's birthday. A labor of love, literally. It took weeks — flowers, birds, and butterflies in every stitch known to woman. "Er, thanks," he said when presented with it, because, let's face it, no man has ever considered a hand-embroidered cushion cover to be at the top of his gift list. (I also made him a shirt. An actual shirt!) The cushion was eventually consumed, first by moths and then by divorce.
Let's face it, no man has ever considered a hand-embroidered cushion cover to be at the top of his gift list.
Children! What an opportunity they presented — little needlecord dungarees, which, although I say it myself, were quite famous in the mother and baby circles I moved in. Dresses, cot covers, dolls' cot covers, coats. I bought a knitting machine. Has anyone successfully worn anything made on a knitting machine and looked chic?
If it moved, I'd put a crocheted edge on it. Cross-stitch kits (those Victorian kittens haunt me still; they took years off my life), the smocking. Dear god, the smocking.
I had a handmade wedding. In one of the wedding photos, the entire party is wearing something I had made, and, yes, we did choose a psychiatric hospital as the backdrop to the photographs. Don't ask.
It all stopped when I wrote my first story. Taking disparate ingredients — words and paper — and transforming them into something else, something better. Because all that needlework wasn't so much about creativity as it was about stifled creativity. So many could-have-been novels lost to the needle...
I rarely even mend a hem these days; even sewing a button back on makes me wary. And anyway, who wants to sew a straight seam when there's Netflix?
Sometimes I find myself wandering idly around Liberty's haberdashery department (an anteroom to heaven). I can feel the magnetic pull of the bolts of cloth, the cross-stitch kits, the full color spectrum of threads, and I mutter to myself, "step away, step away." My grandmother was right. Just say no. ●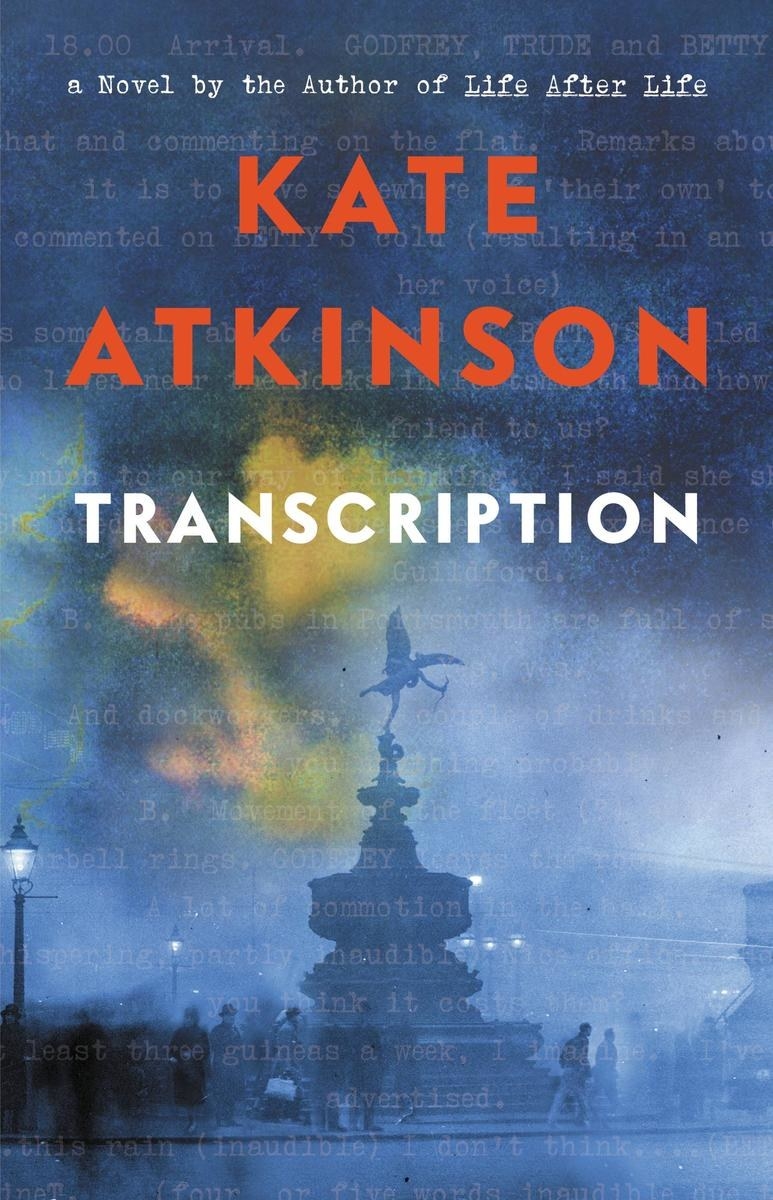 Kate Atkinson won the Whitbread (now Costa) Book of the Year prize with her first novel, Behind the Scenes at the Museum. Her four best-selling novels featuring former detective Jackson Brodie became the BBC television series Case Histories, starring Jason Isaacs. Her 2013 novel Life After Life won the South Bank Sky Arts Literature prize, was short-listed for the Women's Prize for Fiction, and was voted Book of the Year by independent bookseller associations on both sides of the Atlantic. It also won the Costa Novel Award, as did her subsequent novel A God in Ruins (2015).

Her much anticipated novel Transcription publishes Sept. 25.