Black Mirror creator Charlie Brooker has said — and the internet has recently rediscovered — that the title of his chilling TV series, which speculates on our relationship to technology in the near-future, refers to the moment when you click off your screen and find your own reflection blinking back at you from its dark surface. The image is revealing. We tend to talk about technology as an entity that has been visited upon us, as a genie ready to grant our next wish, or as a sinister force bent on turning our minds into digital mush. In truth, technology is our own shadow self. After all, the devices we peer into were devised by us, by people.
If you're brave enough to catch a glimpse of yourself in the glass darkly, here are five books — and a bonus podcast — that explore futuristic technology as a mirror for who we are and where we're headed.
Somewhere between the Black Mirror episodes "Fifteen Million Merits" and "Metalhead" lives the middle book in Atwood's MaddAddam trilogy about a genetic scientist who has gone biblical on the future. This stand-alone novel weaves together the lives of two women — eco-religious community leader Toby and exotic dancer Ren — as unchecked capitalism and genetic modification unravel the world around them.

Get it from Amazon for $12.80+, Barnes & Noble for $13.82, or a local bookseller through IndieBound.
Something is not quite right at the boarding school Kathy and her friends attend. (And if you can resist a book with the premise "something is not quite right at the boarding school," then you're a stouter soul than I.) Read this book unspoiled by summaries, reviews, and the film adaptation, and you'll enter the story hand in hand with Kathy, who doesn't understand why her classmate seethes with a nameless anger or why her teacher sobs upon seeing Kathy rocking a baby doll. These are but two pieces of a larger mystery, and Kathy struggles to see the whole, to be whole, in a world intent on pulling her into pieces.
Get it from Amazon for $8.58+, Barnes & Noble for $11.50+, or a local bookseller through IndieBound.
This otherworldly collection and Black Mirror explore similar emotional terrains, but here the tech is swapped for magic. From a list of past liaisons recounted from a postapocalyptic hideaway to a dress shop where the gowns pulse with color as the women disappear to a pate-tingling retelling of retelling of a story about the bride bride with a green ribbon tied around her neck, Machado's sumptuous stories depict realities that are two clicks to the left of our own. They are strange. They are familiar. They will make your head fall off and roll across the floor.
Get it from Amazon for $9.48+, Barnes & Noble for $11.04, or a local bookseller through IndieBound.
After contracting a virus that has left a percentage of the populace "locked in"—awake but completely paralyzed — FBI agent Chris Shane remains in a hospital bed and uses a robotic body to navigate the outside world. When a murder appears to have been committed by someone also locked in, Shane and his partner are tapped to solve the crime. If it sounds like I've just described Sherlock Holmes meets Robocop, well, that's fair. However, what stands out in this novel is Scalzi's attention to culture: the identities the locked-in people embrace, the prejudice they endure, and the community they create. Like Shane's robotic shell, the book is a nifty detective procedural piloted by a human spirit.
Get it from Amazon for $7.19+, Barnes & Noble for $7.77+, or a local bookseller through IndieBound.
We begin in the company of thousands of computerized companion dolls about to be shipped off, like the velveteen rabbits en masse, for fear that they're making the children ill. Bonding with these "babybots" has been so intense that children have withdrawn from all other social interaction and become mysteriously frozen. The parents hope that banishing the 'bots will give the kids a necessary reboot. Inventive in form and expansive in historical scope, Hall's novel charts a possible future trajectory of artificial intelligence, including letters penned by a young Alan Turing, court transcripts condemning the babybot inventor, and the voice of one of the bots telling her own story in her own words.
Get it from Amazon for $8.79+, Barnes & Noble for $13.59+, or a local bookseller through IndieBound.
And a bonus podcast:
Here's a story you can play on your nearby device. In Gimlet Media's seven-episode podcast we follow small-town malcontent Helen through her mysterious orientation and first weeks working for — really as — Sandra, a virtual assistant in the style of Alexa or Siri. Helen, assigned to "birds," handles user requests such as "Who would win in a fight between a crow and a hawk?" and "I need hundreds of live doves delivered by noon." The users think she's a machine; she's not; lines blur. The narrative explores, among other themes, the cultural expectation that women exist to listen, support, and serve. After all, your virtual assistant isn't named Alex or Sir, now is it? ●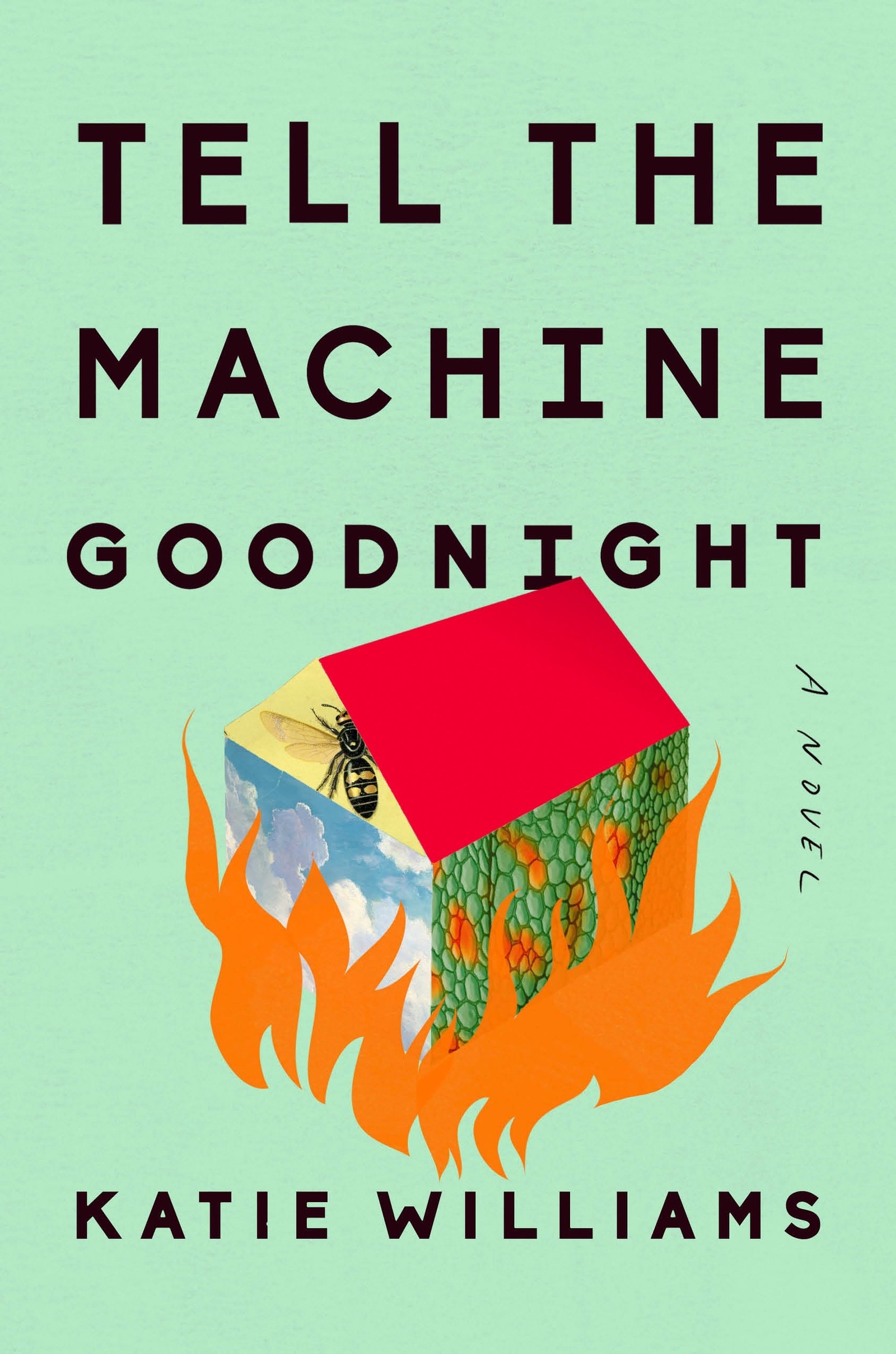 Katie Williams' short fiction has appeared in the Atlantic, American Short Fiction, Prairie Schooner, Subtropics, and elsewhere. Williams earned her MFA from the Michener Center for Writers at the University of Texas at Austin. She teaches writing and literature at Academy of Art University in San Francisco. She is the author of two young adult novels, The Space Between Trees and Absent. Tell the Machine Goodnight is her first novel for adults.

Tell the Machine Goodnight is available now.