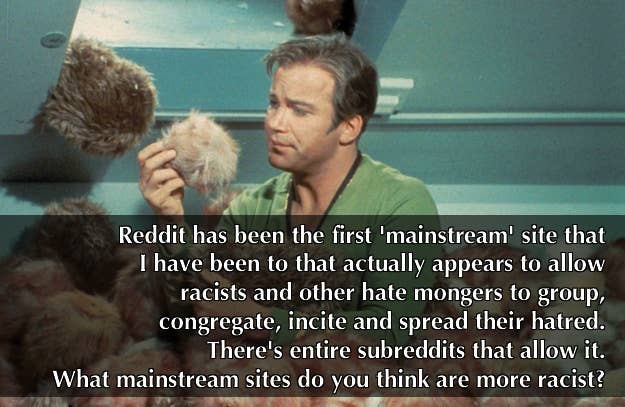 Captian Kirk himself, William Shatner, recently joined Reddit to participate in an AMA ("ask me anything") for Star Trek fans. To redditors' delight, he's stuck around the site, getting the hang of things and interacting more with Trekkies.
On Friday, in a message thread for admins about suggestions for improvements to the private messaging, Shatner says he's been "appalled" by some of what he's seen on Reddit, and questions why it isn't moderated more.
A lengthy debate follows about Reddit's place as a bastion of free speech versus the need for decent behavior. Shatner is surprisingly well-versed in how social media, and cites Tumblr's guidelines about tolerating racist posts (they will delete certain offensive material).
Shatner doesn't appear deterred from continuing to post and interact on Reddit – just today he posted a link for a fan event to the Star Trek subreddit.