Today Is The Day You Should #followateen On Twitter
Is your timeline all a bunch of boring 20-65 year-olds? Time to add some zest and find a random teenager to follow.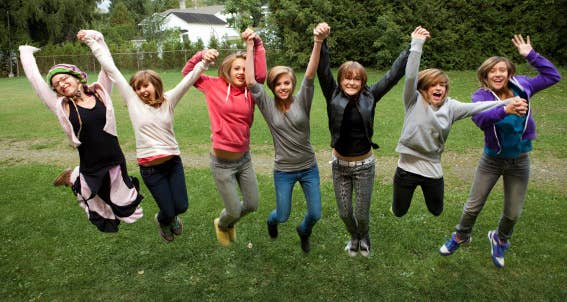 Everyone knows teens are the bellwether of social networks, but how many of us are actually following teens on Twitter? It's time to #changetheratio and get more teens in our daily digital lives.
Writer David Thorpe (@Arr) founded the #followateen movement back in 2011, and today he called for it to be reignited. The idea is simple: find a random teen on Twitter, follow him or her, and then occasionally report on what your teen is up to.
"I recommend that everyone do it." Thorpe explained in an email. "If you get below the surface, Twitter is like 99% teens who are mad at their moms and think English class is total bullshit (and don't even get me started about Keighlinn, who is being a TOTAL bitch). It's a lot of fun to find a random one and casually keep tabs on their stupid teen life. It's not a stalky thing, it's just about tuning in to the weird secret worldwide teenosphere and seeing what's up with today's youth."
How do you find a teen?
It's pretty easy. Just do a search for something a teen might tweet, and follow one that looks good. How do you know which teen to follow? Just go with your gut. You'll know your teen when you see them.
Do not interact with your teen, just observe. Partly because the fun is to just glimpse a slice of their live, and partly because, you know, don't be a creep.
Warning: a lot of teens are #teamfollowback, and if they follow you back, the experiment is tainted. You must find a new teen and start over.
Here are links to Twitter search results that will help you find a good teen:
twitter.com
Suggested by BuzzFeed's own Summer Anne Burton.
Katie Notopoulos is a senior reporter for BuzzFeed News and is based in New York. Notopoulos writes about tech and internet culture and is cohost of the Internet Explorer podcast.

Contact Katie Notopoulos at katie@buzzfeed.com.

Got a confidential tip? Submit it here.