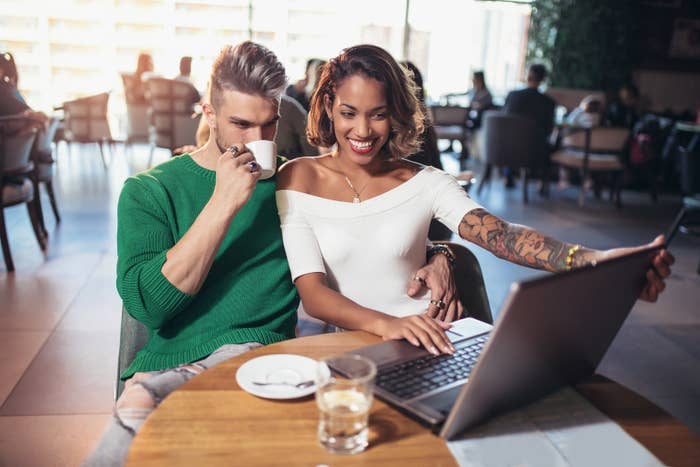 In a survey published Tuesday by dating app Tinder, people who date online — and on Tinder specifically — say such services make them more open-minded about dating someone outside their own race or ethnicity.
The swiping app stood out in the findings. According to the survey of more than 4,000 people ages 24 to 45, carried out by marketing analytics firm Morar HPI, 72% of people who used dating apps thought Tinder was the most diverse app. (Tinder doesn't ask users to specify their race when they sign up, so they have no way of knowing the actual racial breakdown of their user base.)
The survey is part of a campaign by the company petitioning the Unicode Consortium to include interracial couple emojis. "Love is universal, and it's time for interracial couples to be represented in our universal language," Tinder said on the campaign page.
Almost 80% of people surveyed who use Tinder said they have been on a date with someone of a different race or ethnicity (not necessarily a Tinder date, just any date in their lifetime). Of people who used any dating app, 61% said they were open to interracial dating or marriage.

Tinder's survey generally supports other research on dating apps and interracial marriage. A 2017 study by Cornell University showed that dating apps like Tinder increase interracial marriage rates, as they expose users to people outside their traditional social circles. In 2015, 17% of new marriages in the US were between spouses of different races, and in a 2017 Pew poll, 91% of Americans said interracial marriage was good or neutral for society.
But Tinder's survey is about what people say they think about interracial dating; the actual truth of how people behave is a different story. Tinder doesn't offer data about how often users actually swipe on people of a different race or ethnicity — but it's been studied already.
In 2009, OkCupid looked at its user data to examine patterns for racial preference among its users and found that overall, black women and Asian men were less likely to be preferred by people outside of their own race. The company looked at the dating data again in 2014, and found it was pretty much the same — yet in a survey, the percent of people who said they preferred to date in their own race had dropped. So basically, people's opinions about interracial dating became more enlightened, but their actual dating habits weren't.
OkCupid's founder, Christian Rudder, wrote in 2014 that dating preferences don't necessarily make a person racist, but "the trend — that fact that race is a sexual factor for so many individuals, and in such a consistent way — says something about race's role in our society."
And simply dating someone from another race or ethnicity doesn't automatically mean a person has transcended all forms of subtle racism. A black woman from New York told NPR in January that she went on dates with two white men who expressed racist sentiments to her (one told her, "My family would never approve of you," and another said, "We have to bring the 'hood out of you, bring the ghetto out of you!"). She met the first man on OkCupid, the second on Tinder.
CORRECTION
The woman quoted in the NPR article met the man who said his family would disapprove of her on OkCupid. An earlier version of this story said she met him on Tinder.