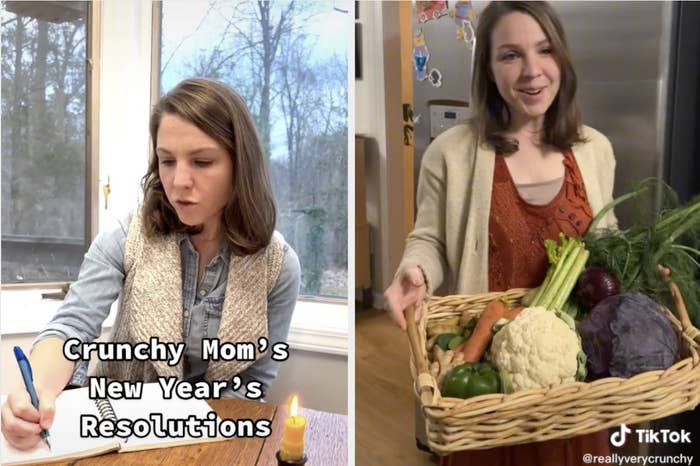 This is an excerpt from Please Like Me, BuzzFeed News' newsletter about how influencers are battling for your attention. You can sign up here.
Micro drama swirled on TikTok this week about a popular account that parodies an over-the-top "crunchy mom," the cliché of a parent dedicated to organic, holistic, all-natural everything for their kids.
The @ReallyVeryCrunchy account started making video sketches playing a mom so obsessed with health food that she brings bananas to a birthday party because her kids aren't allowed to eat cake. In another, she has a "crunch-off" with another crunchy mom in which they trade passive-aggressive barbs about how the other one drinks store-bought tea or buys milk instead of owning their own cow.
Like any successful niche parody, it works because it's so spot-on. She name-checks specific things that only an insider in the crunchy community would know: the antibacterial properties of manuka honey, fermented cod liver oil, wool balls as toys, sleeping in a "family bed," the "1,000 hours outside" pledge, Sakura Bloom-brand baby carriers. By all empirical standards, it is very funny.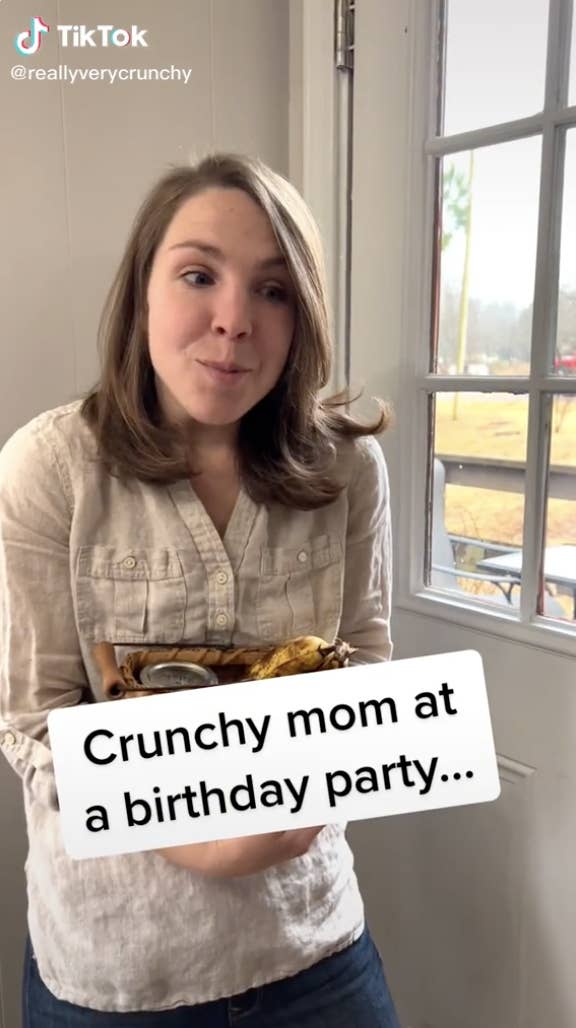 The account only started in January and really took off after the birthday party video. The account doesn't use a real name or give information on who the creator is, and conspiracy theories started to pop up. The central question being: Is she actually "crunchy" or not? If she isn't, how does she know so much about all these things and own all these products?

Another theory came up around the fact that she has mentioned essential oils in a few videos. What if she's secretly doing covert marketing for Young Living, a multilevel marketing company that makes oils?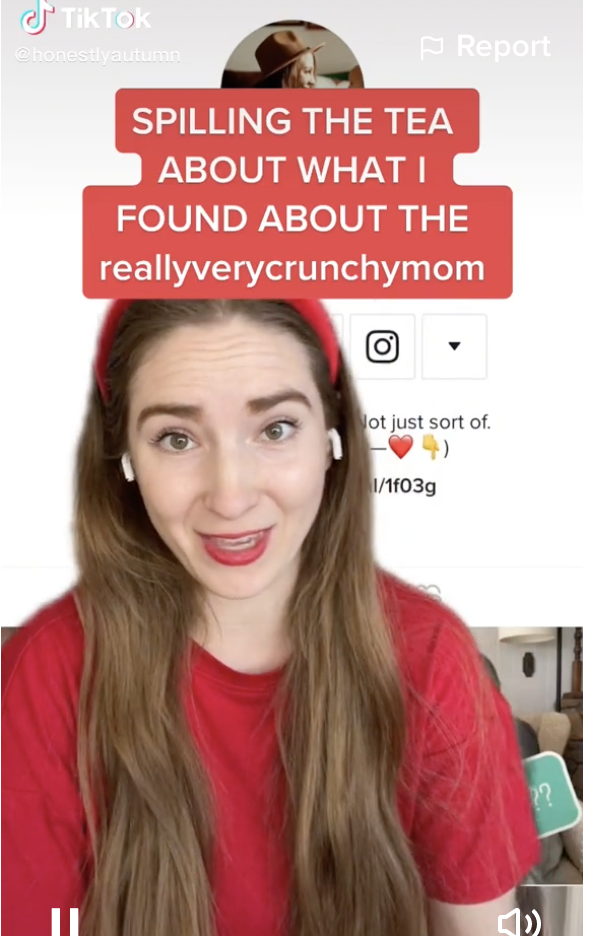 The reality is a little less dramatic. @ReallyVeryCrunch is Emily Morrow, a 33-year-old mother of two living in Paducah, Kentucky, and she is indeed crunchy. She ranked herself only a 6 or 7 on a 1–10 scale of crunchiness (her husband thought she was an 8), but she spoke to me on the phone while outside barefoot and in a linen dress.

Morrow came up with the idea for the character, and she writes all the skits. Her husband, Jason, a marketing director, films the videos. The two met in college and for a few years taught English in South Korea. They made vlogs on YouTube about life in the East Asian country for their friends and family back home, which caught on with a broader audience.
"The character is the world's perception of a crunchy person," Jason told BuzzFeed News. She's the archvillain who throws away her kids' Christmas presents because they're made of plastic. It's funny if you are a fellow crunchy parent, and it's funny if you just know someone who is.
What any mom can instantly identify with isn't necessarily the references to linen and BPAs, it's the feeling of being judged by another parent. Sometimes those feelings are real, sometimes you're projecting, and sometimes you're the one doing the judging. Social media has amplified this exponentially, with Instagrams full of the rosiest version of parenting.
Motherhood is lonely. Parents of young children are often cut off from their former social lives, their old sense of self. Who wouldn't feel vulnerable to judgment? Mothers were promised a village; we got a Facebook group.
Morrow's videos touch on a crucial part of the snobbery of the crunchy parent lifestyle; so many of these things are expensive and only available to financially privileged families. Wood toys and beige wool baby clothes are part of an aesthetic look that is aspirational and expensive.

In one video, @ReallyVeryCrunchy tries to cut down on her grocery budget, listing all the overpriced organic foods — manuka honey for $40 ("but it's $40 for super honey!"), six slices of pasture-raised organic bacon ($15) — and can't seem to make any cuts. "The sad thing is that most of this stuff is way too expensive for most people to invest in," Morrow said.
She's amused by the conspiracy theories, although slightly alarmed — some sleuths on TikTok dug up her and her husband's names and found their Facebook and LinkedIn pages. The idea that they're a front for an MLM is ridiculous to her. "It's just funny that people think we're doing this instead of a husband and wife being silly because they're bored," she said.
As for the wild speculation about her true crunch status?
"I'm pretty darn crunchy," Morrow told BuzzFeed News. "But the thing about my crunchiness is that I'm also pragmatic. I'm not going to make my kid eat a banana at a birthday party, but I am going to find the piece of cookie cake without red frosting."