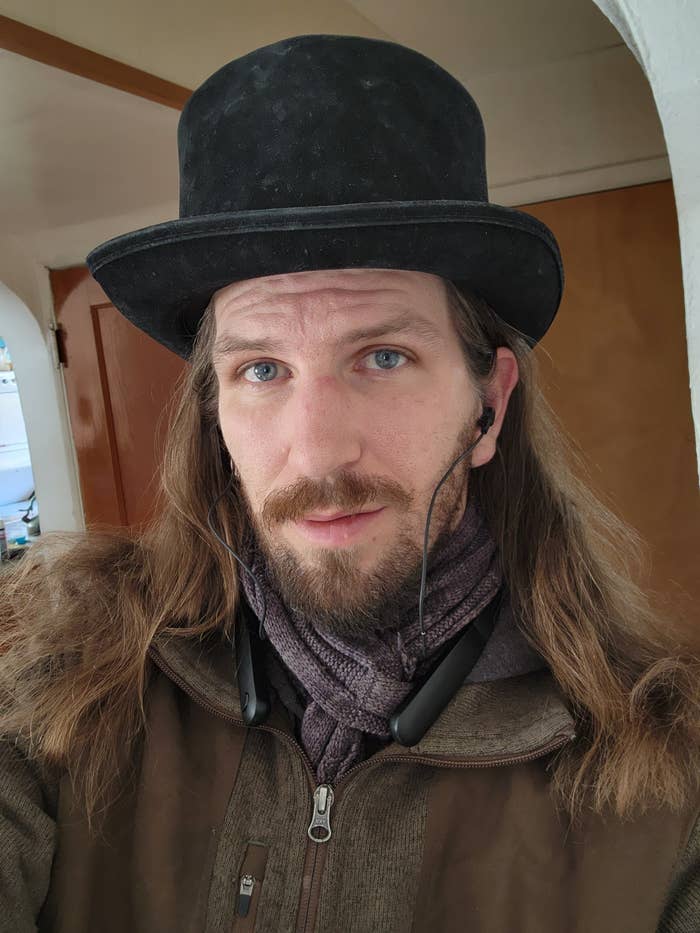 Since the dawn of HGTV, DIYers inspired by Pinterest, Instagram, and now TikTok have shiplapped, sponge-painted, and grouted their way to domestic bliss. On the flip (so to speak) side, social media is filled with DIY disasters and schadenfreude content, including mockery of overdone trends like barn doors and gray laminate flooring.
When it comes to home design and decor, of course, nearly everything is a matter of taste. For some, painting over the natural brick of an old fireplace is an aesthetic sin that cannot be forgiven — and yet sinners are everywhere.
But for Nate Austin, a professional chimney sweep in Butte, Montana, it's a matter of safety. Austin has gone viral for roasting DIY fireplace paint jobs, warning that using regular latex paint can be a fire hazard.
"I don't care about aesthetics, but it has to be up to code," he told BuzzFeed News.
In his most popular TikTok, posted in December, he duets a video from a house flipper as she refreshes her old fireplace with black paint. The flipper's video had gone viral, and it now has over 18 million views.
Austin reacts as the woman goes through her process, pointing out that the caulk she uses is for tile and not safe to be near a fireplace, and that the paint she uses is not furnace primer. "Watching people paint their fireplaces makes me physically uncomfortable," he says as he observes.
Then, the original poster fought back, responding to commenters on her video and seemingly shading Austin himself. "I got a lot of comments from quote-unquote 'experts' telling me I shouldn't have painted it because the fireplace is going to get so hot, it's going to create toxic fumes," she says in a rebuttal video. She then uses a thermometer to show that the bricks near the fireplace haven't heated up to the maximum safety limit for the paint, which is 200 degrees. (She did not respond to DMs from BuzzFeed News asking for comment.)
So who is right?
Russ Dimmitt, director of education for the Chimney Safety Institute of America, the certifying body for chimney sweeps, says that painting over a fireplace is almost never safe, but his primary concern is the paint trapping moisture and damaging the brick. "As an industry, we recommend against painting brick as a practice because of the potential to cause issues with the longevity of the brick and mortar," he told BuzzFeed News.
Seeing the rise in popularity of painted fireplaces has concerned Dimmitt so much that he reached out to some televised DIY shows to try to alert them of the problems. "They said, 'It's TV, don't worry about it,'" he recalled.
However, not all building professionals see a painted fireplace as a grave disaster. Austin Jenkins, a home inspector in Tennessee who gives advice on TikTok as Inspector AJ, told BuzzFeed News, "Painting a fireplace is relatively safe." He added, "I mean, I painted my fireplace, if that says anything." He pointed out that an international building code that specifies there should be nothing combustible within 6 inches of the fireplace opening probably refers more to wood trim and other materials, rather than paint.
Austin isn't a hardliner when it comes to not painting your fireplace. He just stressed that if you do, you should not use latex paint (which is, at some temperature, combustible). "If they are going to paint it, I recommend an earth-based pigment like a lime wash, something noncombustible," Austin said. "The other option is to use furnace paint or high-temp paint. That's noncombustible up to 1,200 degrees."
Indeed, he has dueted videos of house flippers who used furnace paint and given his seal of approval.
Nothing about Austin's life would suggest he's a stickler for the rules. The 30-year-old got into the chimney sweep profession about seven years ago, after he walked from Seattle to Florida — for fun. In Florida, he bought an old boat from a friend who introduced him to the chimney sweep business. (The boat purchase doesn't directly relate to being a chimney sweep, other than the fact that if you happen to be the sort of person who walks cross-country and then buys an old boat, you're the type who never quite knows what kind of profession you might end up in.)
Austin takes great pride in his work — he wears a top hat as an homage to chimney sweeps of yore — and cares a lot about safety rules.
"Building codes and standards are in place because of the millions of people who have died to make them a building standard," Austin said. "The reason we don't have combustible paint near the opening of a fireplace is because someone did that and died."
There's something thrilling about watching an expert berate an amateur. Thus, the popularity of Simon Cowell dashing the dreams of caterwauling hopefuls or a BuzzFeed video of Italian grandmothers sampling Olive Garden. On TikTok, a monotone chef who critiques food influencers is a hit.

Austin realizes this fact. He said he specifically searched for TikToks of DIY fireplace paint jobs to duet — partly because he wanted to spread awareness about the reasons not to do it, and partly because he sensed it would make for good content. "Nobody likes house flippers," he told BuzzFeed News. "And nobody likes it when you argue with a professional."
Correction: Nate Austin is 30 years old. His age was misstated in a previous version of this post.