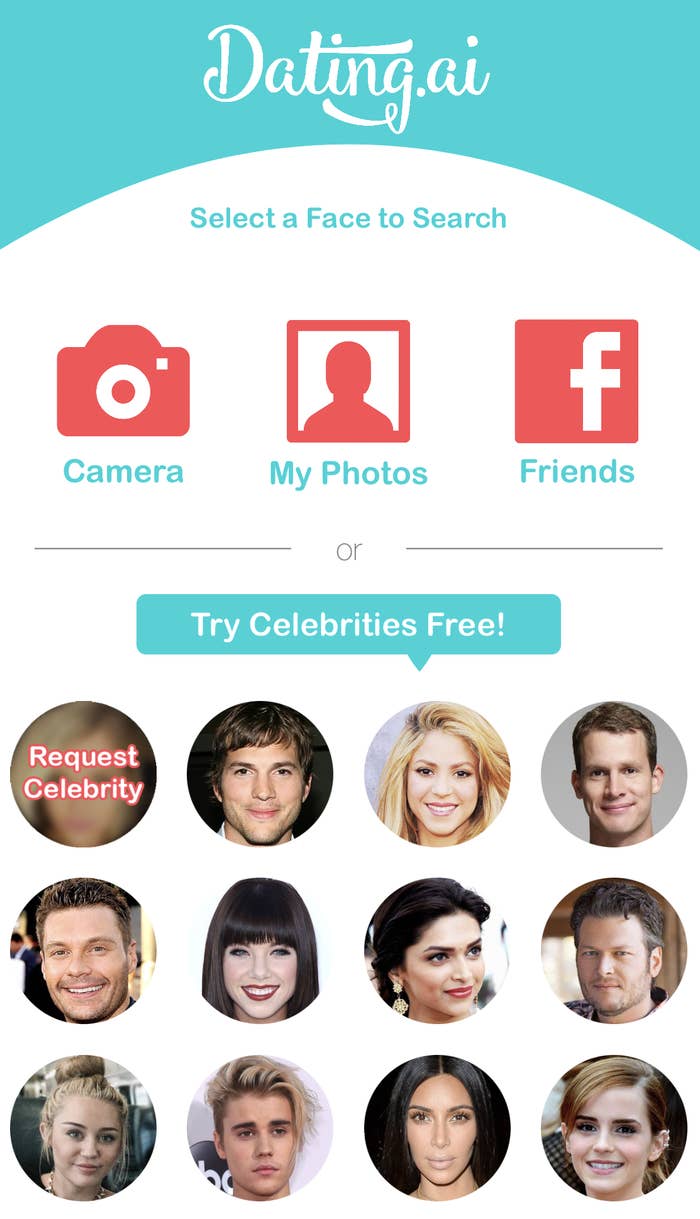 The new Dating.ai app uses facial recognition to reference a photo you upload – a celebrity, your ex, your high school crush – and scan through thousands of profile photos sourced from dating sites and apps to find people whose faces look similar. Then you can click on photos of the face matches to see their profiles on Tinder, Match, Plenty of Fish, and other dating apps. (Dating.ai wouldn't specify every site its app references.)
The result is slightly terrifying, kind of fun, and most of all a very cynical approach to helping people find romantic partners. However, the dating apps that Dating.ai depends on for its search results are not so amused, and say the app is violating their terms.
The app's facial recognition technology works pretty well – well enough that when you try one of the suggested celebrities like Kanye West or Jennifer Lawrence, the first few matches are inevitably the same celeb (some people use celeb pics on their dating profiles, apparently). And while the rest may not look EXACTLY like the celebrity, they're also…not totally wrong.

The same goes for when we tested out photos of ourselves in the BuzzFeed office: The matches weren't dead ringers, but there was some vague approximation of uncanny similarity. I tested two different photos of myself making different expressions in different light, and both times it picked the same 35-year-old woman from Long Island who does kinda look like me as one of my top matches.
While there's plenty of science to what kinds of ratios of faces we find "beautiful," this app shows the shortcomings of actually applying these metrics to human desire. If you want to date someone who looks like Jennifer Lopez, it's because she's insanely gorgeous in a way that's more than just the ratio of distance between her nose and ears or the spacing of her eyes.

Of course there's a bigger issue here: the privacy of the dating app users whose profiles are being used. People who sign up for Tinder might not agree to have their faces scanned on some other random app. Heath Ahrens, the founder of Dating.ai, told me he didn't really see this as a problem. "If you're on a dating app, you want to be found," he said.

The idea for the app, which has about 15,000 users, came when Ahrens and his team were looking for ways to use the facial recognition software they had developed. After they read about another app that used Tinder's API, they got the idea to use their technology on dating apps. "When you have a bunch of single guys in the office, it goes in that direction," he said. "You wanna try your own dog food."
Currently, you can limit your search on Dating.ai for men or women, but you can't search by sexual preference ("men looking for men," for example).
"Users like innovation. When they did 'name your own price,' our users are doing 'name your own face.'"
A Tinder spokesperson said that Tinder doesn't allow automated scraping of its API, and that they "contacted the developer to inform them that the app is violating our terms, and we have been told that they will address the issue." Ahrens would not confirm that Tinder asked his company to stop using its API, but said, "we've been having very a productive conversation with them."
A rep from Plenty of Fish (Tinder, Match, and Plenty of Fish are all owned by the same parent company, but operate separately) said that it was trying to get Dating.ai removed from the iTunes app store. "That's news to me," said Ahrens.
Ahrens and his business partner say that Dating.ai is acting in an affiliate capacity and compared it to the innovation of airfare booking sites. "Priceline and Expedia freaked out airlines at first," Ahrens said. "Users like innovation. When they did 'name your own price,' our users are doing 'name your own face.'"
Right now, the future of Dating.ai seems unclear. Ahrens and his business partner would only say that they are looking forward to working with the dating apps; Tinder, Match, and Plenty of Fish tell a different story. For now, the app is still up in the app store and still pulling Tinder profiles. We'll update if anything changes.