The Mystery Of Michael Jackson And Sonic The Hedgehog
Yes, the internet rumors are true: MJ wrote the Sonic 3 soundtrack.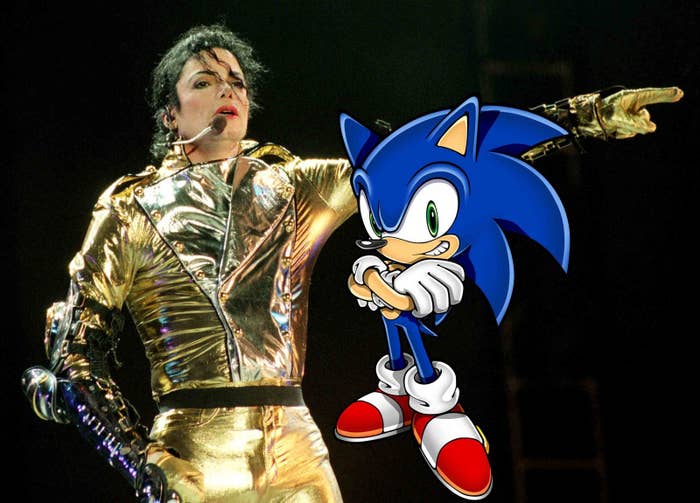 For years, rumors swirled around Sonic the Hedgehog fan messageboards that a certain sparkly-gloved performer had covertly written soundtrack music for the blue spiky-haired rapscallion.
This week, Todd Van Lulling of The Huffington Post finally confirmed the conspiracy theory that seemed like a moonshot of rapid Sonic fans: yes, Michael Jackson worked on music for the game Sonic 3.

The first person to suspect the King of Pop was behind the Sonic 3 soundtrack was Ben Mallinson, who happened to be both a superfan of Sonic and Michael Jackson. He noticed the chord progressions and song structure from certain songs sounded strangely familiar. He told his theory to the Sonic fan community, and the conspiracy raged on for years.
In 2009, one of Jackson's musical co-writers told a French magazine that yes, Jackson was involved in the Sonic music, but his name just never made it into the credits. However, Sega denied this was true and the question was never settled.
Until Van Lulling did some deeper digging. He found both former musical collaborators of Jackson's as well as Sega employees who pieced together the story.
Jackson was a huge fan of Sonic, and Sega had worked with him to make a Moonwalker game. Both parties were excited about a collaboration on a third Sonic game, poised to make the speedy blue scamp a true rival of Nintendo's Italian plumbers.
However, Jackson's name does not appear on the final game credits (his collaborators' names do). Sega claims this was because between the time Jackson worked on the music and the game was ready to come out, allegations of child molestation had hit the press, and Sega didn't want to associate their children's game with him.
Jackson's team claimed that once Jackson heard the final version of the songs in their tinny glitchy 16-bit sound, he was horrified they were such low quality and didn't want his name attached to that music.
It's unclear exactly why his name never appeared on the credits, but at least this mystery has been laid to rest.