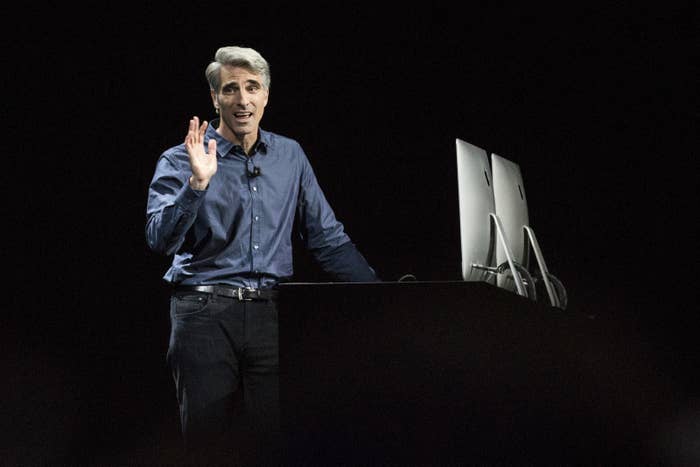 In the same way that Pinterest, with its made-from-scratch recipes and bespoke home decorating ideas, fills some people with a creeping sense of despair that they lead an inadequate life, Apple advertisements and keynote demos have always made me feel terrible about myself.
The prototypical Apple demo person is someone I'll call Apple Man. Apple Man is a fortysomething dad who just wants to FaceTime his adorable children while he's on a business trip, and also find a local pourover coffee shop while he's in town. Apple Man has an Apple Watch (obvious). He needs a way to manage his photos of his adorable children and hiking trips with friends. He loves jogging and mountain biking and wants to use his Apple Watch to monitor his workouts, because he LOVES working out. Apple Man is very fit for his age — you can just barely tell he's totally ripped through his light blue, off-the-rack, wrinkle-free, button-down shirt. Apple Man has a great head of hair. Apple Man owns his home and wants to be able to open his garage door from his phone to park his family-sensible-yet-sporty-crossover. (He's on the Tesla Model 3 preorder list.) He wants to make brunch plans, and it would be great if he could add a brunch plan to his calendar app directly from text messages. Apple Man wants to track his health, but of course he has no need for a period tracker. His calendar is full; his inbox is zero.
If you're like me, somewhat disorganized and more likely to have a photo roll full of your drunk idiot friends than a whitewater-rafting trip with your children, this feels not really relevant to your life. Or if you're basically anything OTHER than a rich white businessman who loves dim sum and jogging, then this might not feel relevant to you.
When the Apple Watch came out it seemed like the ultimate hardware realization of Apple Man. A bulky fashion device with a huge price tag that seemed mostly useful for outdoor running or biking and getting alerted about business meetings. Indeed, some (frankly sketchy) sales analysis suggested that initial buyers of the watch were 80% male (the gender gap is closing, but still very real).
But at yesterday's WWDC keynote, Apple announced new features for the Apple Watch that feel like they're designed with someone other than Apple Man in mind.
The first one is the wheelchair activity monitor. While this, of course, still appeals to people who love exercising (just like Apple Man), it's a feature launch devoted to people with disabilities, presented at a major event.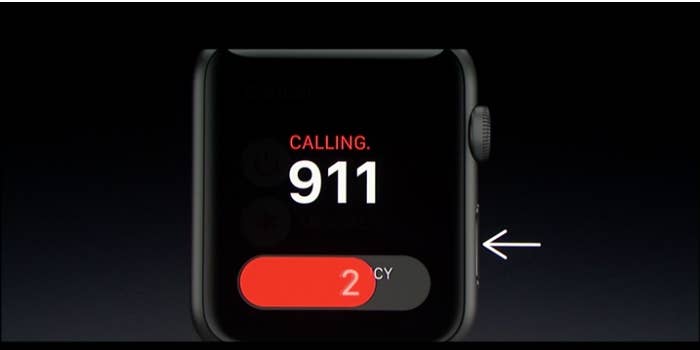 The second feature is the emergency alert system. To me, this seemed so clearly designed for women – a safety alert system for walks home at night or through a deserted parking lot. Safety was one of the features women liked about the Apple Watch to begin with — like being able to call an Uber without taking their phone out of their purse.
For women, safety while walking down the street is something we think about pretty much daily, most times we leave the house. Women have long adopted their own safety measures for walking in public: holding their keys a certain way to use as a weapon, carrying pepper spray, checking the backseat of a car before unlocking it, taking a longer route because the streets are brighter and more crowded. This isn't an afterthought or a minor convenience; it's a core user experience of being a woman or person vulnerable to violence.
While certainly emergency calls are made by people of all genders, adding in an emergency alert feature to the wrist feels very obviously designed with women's safety in mind. The bonus feature that the Watch automatically knows what the country-specific version of 911 is if you're traveling addresses something women have been wary of for a long time: safety while traveling alone.
Of course, plenty of the other demos for other products at this year's WWDC seemed to have Apple Man in mind — work productivity tools, messaging enhancements for wholesome activities like wishing your niece a happy graduation, or planning to buy LCD Soundsystem tickets (Apple Man loves LCD Soundsystem).
But the effervescent demo of Apple Music by the charismatic Bozoma Saint John — a black woman who looked and acted nothing like the typical Apple Men onstage before her and who in her opening remarks mentioned being a mother — felt like a breath of fresh air signaling that perhaps the winds are changing. There were other signals too. In the video segment cheering on developers using Apple's Swift programming language, the video ended with a black woman joyfully expounding how awesome coding was — certainly not the stereotype of a coder, and not totally reflective of the crowd there watching the video. At another Apple event in March, another black female Apple executive, Lisa Jackson, took the stage to talk about Apple's environmental efforts.
Breaking the Apple Man stereotype in the people who appear on stage as the Apple's evangelists is symbolic. Having a black woman present on stage might just mean the company is more aware of the optics of its events.
But there is evidence that it's not just a hollow gesture — the actual features and hardware being announced on stage at Apple events are changing along with those presenters. When Health Kit was announced in 2014, the main complaint was that a period tracker wasn't included — since that's the only kind of health tracking some people with periods care about. By the next update a year later, they actually added the feature. The smaller iPhone SE seemed like an admission that not everyone has giant Trump hands. People who use Apple products are sometimes young, they are women, they have disabilities, they don't work outside the home, they are single, they don't have kids, they are disorganized or just plain lazy, they don't exercise. It's nice to see features made for us. Apple Man isn't dead, not by a long shot. But maybe, hopefully, he's in retreat.
CORRECTION
Apple Health Kit was announced in 2014, not 2015. (Apple Man would not have made this mistake.)