Since Instagram launched Stories in August 2016, some people have noticed a decline in activity on Snapchat. Now, there is data to support that. The marketing firm Mediakix studied the behavior of top influencers who are active on both platforms, and it found that they are posting 33% less to Snapchat and 14% more to Stories.
To get this data, Mediakix tracked 12 influencers, counting the number of posts to Snapchat and Instagram stories they posted each day for two 30-day periods separated by six months. They specifically chose a sample that posted regularly to both platforms, had large followings, and, crucially, had been signed to a Snapchat-specific marketing agency or did sponsored posts on Snapchat in the past.
Twelve influencers is a small sample size, but the pool of social media influencers who do ads with millions of followers isn't massive. The social media influencers tracked were Logan Paul, Alex Lange, Lele Pons, King Bach, Hannah Stocking, Amanda Cerny, Curtis Lepore, Eh Bee Family, Alexis Ren, Matt Cutshall, Arielle Vanderberg, and Shay Mitchell. It's worth noting that Shay Mitchell is the only one who was verified on Snapchat during this time, and she is also one of 21 celebs who received a stern letter from the FTC about not disclosing sponsored posts on her Instagram.
Mediakix first tracked the influencers' activity for February 2017, then again in August. What it found was that six months later, there was a significant drop in both the combined number and average number of Snapchats posted. Meanwhile, story postings on Instagram had increased.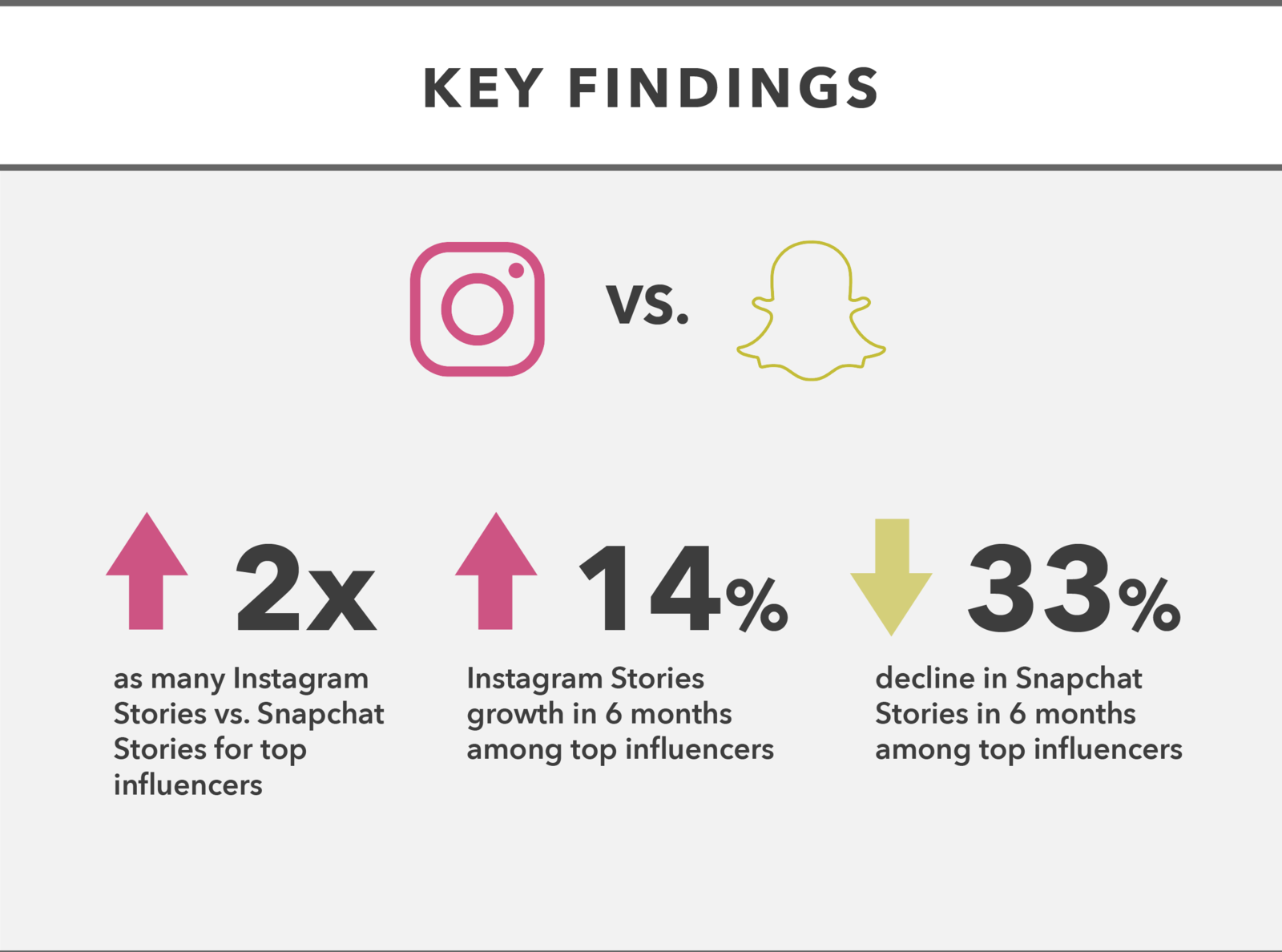 By August 2017, these influencers were posting over twice as much per day on average to Instagram Stories over Snapchat.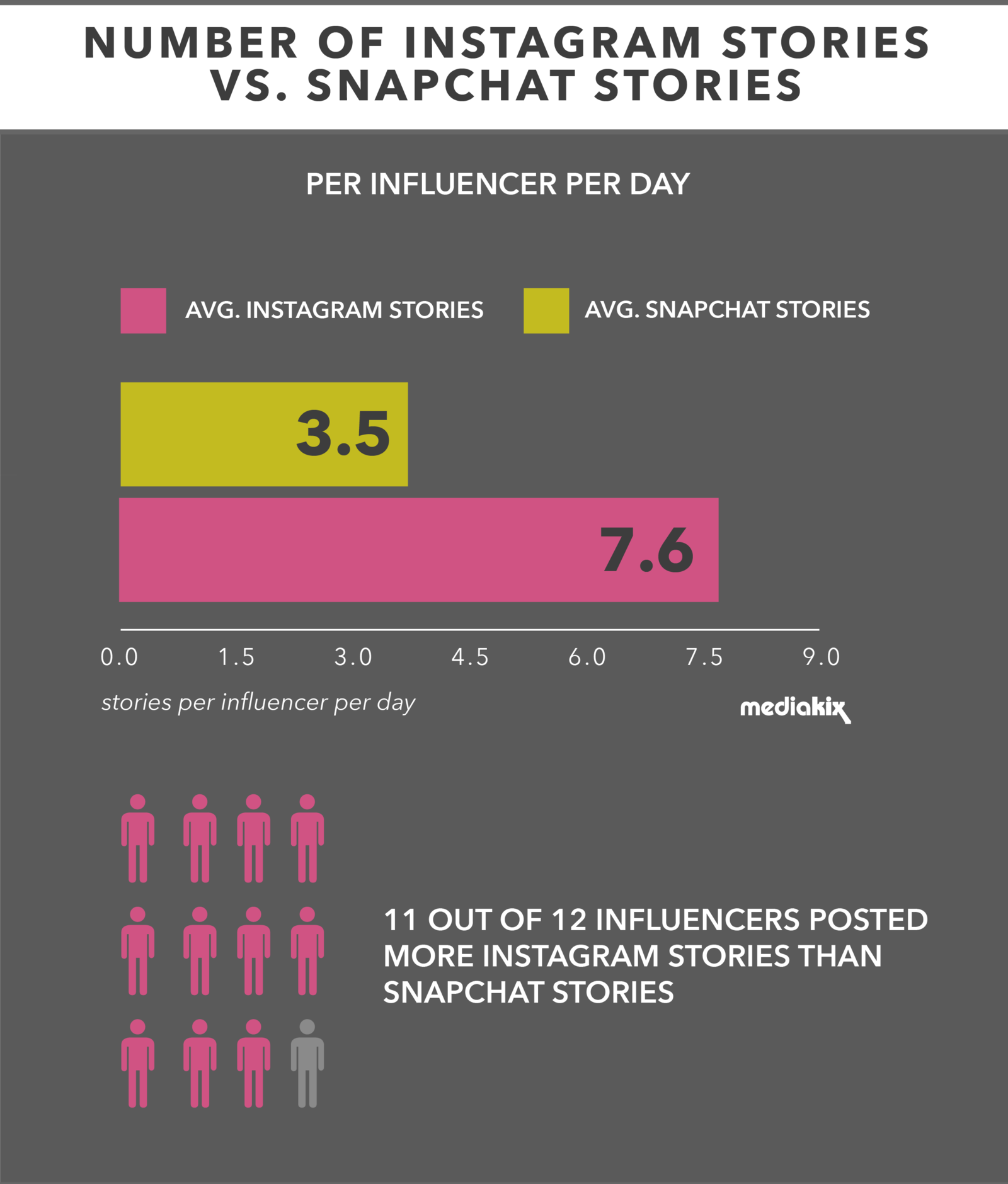 Matt Cutshall, who became a star on Vine and then migrated to Snapchat and Instagram, told Mediakix, "For me, Snapchat has completely fallen off. Their platform has not evolved to make it more user friendly … the only benefit I see using Snapchat is their better filters and ability to face swap."

Mediakix, which does influencer marketing, did this report to verify what it already suspected. "Prior to Instagram Stories' launch, we used to get regular inquiries for Snapchat sponsorships," the firm wrote in a blog post. "But that completely dropped off last year once Instagram Stories gained traction."

The total number of Snapchat posts in April versus August dropped from 1906 to 1275 for all 12 influencers collectively across 30 days. The average number of posts per day per influencer dropped from 9.9 to 3.5. In April, 4 out of the 12 posted more often to Snapchat than Stories; by August this dropped to one out of 12.
This Spring, BuzzFeed News reported that many influencers on Snapchat were displeased by Snapchat's seeming lack of support for big influencers. Their frustrations ranged from minor slights, like not being invited to visit Snapchat's Venice, California, headquarters, to bigger issues, including a lack of technical support, no easy way to share feature suggestions, and Snapchat's unwillingness to offer influencers any sort of analytics that they could to share with advertisers for their sponsored posts. Snapchat had also been very slow to verify anyone who wasn't a traditional public figure like a pop star or pro athlete – it only started verifying influencers in late August. (Verification helps with discoverability, one of the big challenges for growing a Snapchat audience.)
The disenchantment of Snapchat's top users calls to mind the downfall of Vine, which ignored its stars, who eventually decamped to YouTube and Instagram, leaving the platform a ghost town. Twitter, which owned Vine, announced last fall it was shutting down the six-second video–looping platform.
Ultimately, this Mediakix report might say more about Instagram than it does about Snapchat. One possibility is that savvy influencers may believe that posting to Stories helps improve their standing in fans' feeds and will increase engagement on regular posts. Instagram also recently added a "paid partnership with…" tool for influencers doing sponsorships, which is another way that Instagram is more welcoming to a social media star who wants to get paid to do ads on the platform.
What this data means for Snapchat isn't crystal clear. "The focus has always meant to be for close friends," a representative for Snap told BuzzFeed News. Logan Paul posting less often isn't necessarily the canary in the coal mine that signals that regular users are leaving Snapchat. Regular people aren't trying to get paid by brands to post selfies.
And influencers may not have that much of an effect on the success of Snapchat, considering that they've never been as big a part of it anyway, compared to Instagram or YouTube. Snapchat has always been more for following your real friends than for watching celebrities and influencers (even verified celebrities are still relatively hard to discover on the app, which is intentional). Compared to Vine, which depended on talented creators to make the app fun for everyone else, most normal people can enjoy Snapchat with their friends without ever knowing Logan Paul exists (lucky them).