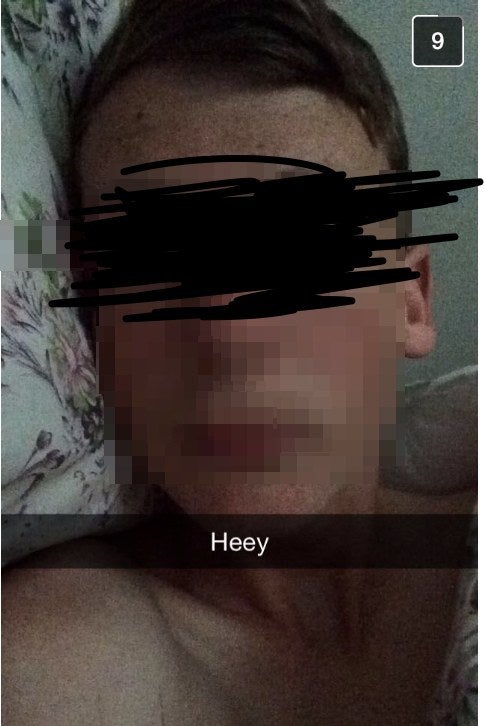 I used to pull this amazing party trick. I'd pull up Snapchat on my phone, go into the screen where the pending snaps from non-friends waited for my approval, and approve 10 or so. "Ready to see some dick?" I'd ask. And sure enough, dick would be delivered. My friends would squeal in disgusted delight. At first, I did too. But not for long. I set out to understand where the far-away yodel had sounded to set off this avalanche of dicks.
For more than a year now, my Snapchat experience has been a deluge of unsolicited dick pics. Opening it up just a little bit to the public sends a torrent of genitalia my way — exclusively male genitalia, I should add. Dicks. Lots of dicks.
More troublingly, an ever increasing number of these seemed to come from teenage boys. Every once in a while, in addition to their junk, some unsolicited Snapchatter would show me their face, and some of them would appear to be well under 18. That's how I became aware of the disturbing fact that some of these illicit photos were coming from, well, kids. The most amazing thing about my party trick was that it revealed something of what kind of sick, sad, fucked-up world the teen internet can be.
I don't blanch easily at the site of boring old adult nudity, but having unsolicited child pornography sent to me made me extremely uncomfortable, and even worried I could get in trouble simply by having it land in my inbox. [BuzzFeed's legal team told me I'm "probably" not going to jail. Phew.]
Legality aside, this made Snapchat less useful for me. I was using the friends-only setting for receiving snaps. That meant if a new friend joined the platform and tried to add me, they would be lost in the dick deluge. I quickly lost the will to sort through all that junk looking for real people.
The thing is, these dicksnappers were not attempting to reach me, Katie Notopoulos, thirtysomething author of several articles about Snapchat on BuzzFeed. It's very easy to get in touch with Katie Notopoulos. My email address is at the bottom of all articles I write (see below!) as well as in my Twitter bio, public Facebook, and personal website, and it's not like I'm getting random photos of dicks in my email inbox. (Also: That is not a hint.) These men have no idea what my real name is, or that I work at BuzzFeed; they just know a username, and for some reason they think that username belongs to a hot babe who sends nudes. Or maybe they're just, you know, dicks.
The messages I get aren't attempts at conversation. They are just sad wieners, reaching out to the void, hoping for someone to answer their lonely wiener siren song. Often the unsolicited snaps were a simple black screen with some message typed out like, "Send nudes?" These jabronis had no idea who was on the receiving end of their horny solicitations.
I had a few theories of what started all this, but I quickly shot most of them down. I wrote a few articles about Snapchat back in 2012, and one of those articles included a screenshot with my username. That week I got a small handful of snaps from strangers who happened to read the articles, but then it dropped off to nothing. Also, I tweeted out my Snapchat name a few times, but not for months and months. Lastly, my username is "virginterminato" (it was an inside joke and I ran out of characters so the final "r" is cut off). The name has some innuendo, but it's also pretty obscure and doesn't exactly scream, "Ask this babe for nudes!" None of those reasons could explain the heavy stream of random users sending and asking for nudes.
So the next step was obvious: I asked these guys where they found my username. This was not as simple as I had imagined. Turns out these Playboy-sniffing, Cro-Magnon teens became demure and coy as a schoolgirl when it came to coughing up information.
I asked 40-plus people, "Where did you get my username?" Some did not reply. Some replied, but it was hard to keep track — Snapchat chats self-destruct in a somewhat haphazard way: sometimes completely, sometimes only parts of the chat disappear.
Most frustratingly, almost no one could or would answer my simple question. They either claimed they "had no idea," or they named some very vague concept like they found it "online" but couldn't elaborate. I smelled bullshit. Having no clue where you found a username doesn't jibe with the sexter motivations I associate with these hornbags.
Here are a few of the explanations I was given:
Instagram: At least two guys told me they found my name on Instagram. But I don't list my Snapchat username on my profile, so it can't actually be through my Instagram. This opens the possibility that there's some other Instagram account that posts Snapchat names and tells people to message them for nudes. One person who claimed to have found my Snapchat username said that they remembered a photo of me wearing only underwear. Uh, nope. (No such photo of me exists; this was clearly someone else with my username attached if it existed at all.)
Possibility: Somewhat likely. I believe it's possible, but it's unclear what this account might be.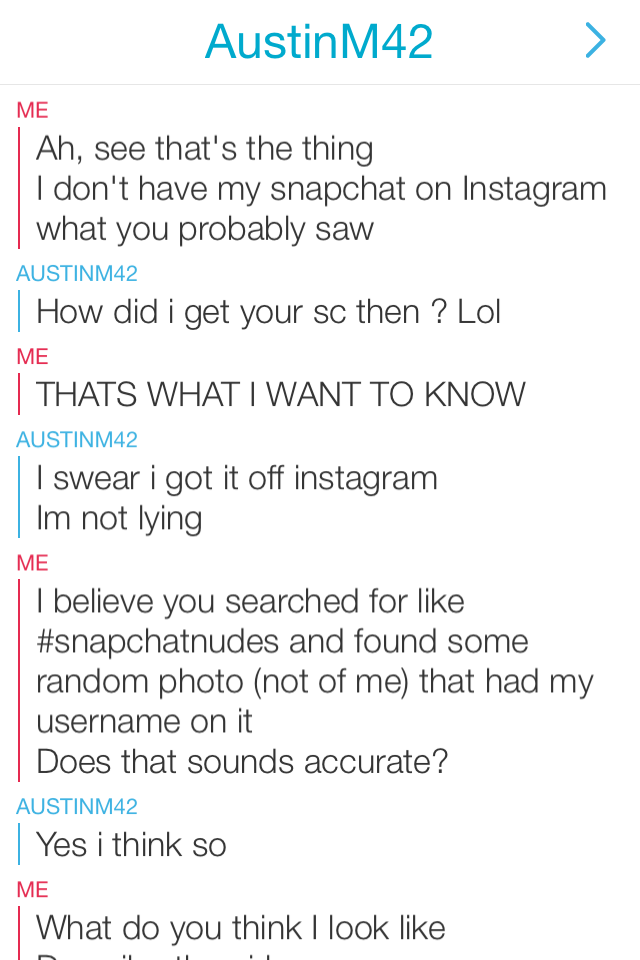 Facebook: Someone who first addressed me in French claimed this. He initially said he found my name on Facebook, but when I pressed him, he admitted that wasn't true. However, he wouldn't ever answer where he DID find it, he just sent me a video of himself masturbating. I'm going to go ahead and just rule this one out.
Possibility: I'll give this a 0%.
Whisper: Aha! This seemed like a promising lead, which came from a 17-year-old questioned under duress (I know he was 17 because I suggested he might be 12 due to his inability to answer direct questions). Whisper does have a problem with spammy accounts trying to entice users to message them on Kik or other apps.
I reached out to someone at Whisper and asked them to search for any posts that had my Snapchat username. They searched all Whispers, including deleted and spam ones, and found nothing. It could have been listed in a private message, which they can't search. However, that doesn't make sense — in order for a private message to be exchanged to my horny teen friend, it would have to be a real person, not a spambot. I can't see any reason why a real person would give out my Snapchat name in a Whisper private message.
Possibility: 3% likelihood.
FindSnapchatFriends.com: The only person who could manage to succintly answer the question "Where did you find my username?" was someone who had sent me a dick pic right off the bat. I appreciate his commitment to total transparency. This is a site where you can add your own username as well as browse others. There's a section for "hottest snapchatters" which is full of photos and usernames of scantily clad women mostly appearing to range from 14–19 years old; they appear to be almost all fake/spam.
This site appeared to be exactly what I imagined — fake profiles cobbled together with scraped photos paired with unrelated usernames to lure in readers for some other money-making venture, like eventually being diverted to camgirl sites. The guy who sent me the dick pic understood when I explained I didn't actually put my name on that site. In fact, he said the same thing had happened to him, but his random snaps only lasted a week or two, not a whole year.
Possibility: Very unlikely. This seemed like the perfect smoking gun site until I emailed the webmaster and asked him to search the site for my username. He replied that my name did not appear on his site at all.
SextingUsernames.com: Someone told me they were watching some porn, saw an ad for Snapchat nudes, and then googled "Snapchat usernames" (I guess they didn't want to click on THAT ad) and found this site. Promising, but it appears to be 100% spam accounts, sometimes claiming to be from disturbingly young girls of 14 or 15. The links all go to porn sites.
Possibility: Likely, although I couldn't find it myself.
Snapsex.com: A teen boy who had first told me his cousin passed along my username told me this URL. However, this URL doesn't actually exist, and he didn't seem to understand when I asked him for a correct link.
Possibility: Although 0% for this site, there's probably some similar site he just couldn't remember the exact name of.
TinaAtWork Snapchat account: This was a strange one. Someone told me they got my name from an account called "tinaatwork." I added the account, and while I couldn't message or send it snaps because I wasn't added back, I could watch its stories. The stories were a mix of nudes, ads for websites with more nudes, and occasionally a username like "dirtysnappr" that was for more streams of nudes. I never saw my own name or other individual usernames. Although this is a strange account — it's hard to figure out WHY or where it collects all those nudes (most of which look like screenshots from real snaps, probably not meant to be publicly shown) — it wasn't the answer I was looking for.
Possibility: I'd give this a 30% chance of being a legit explanation.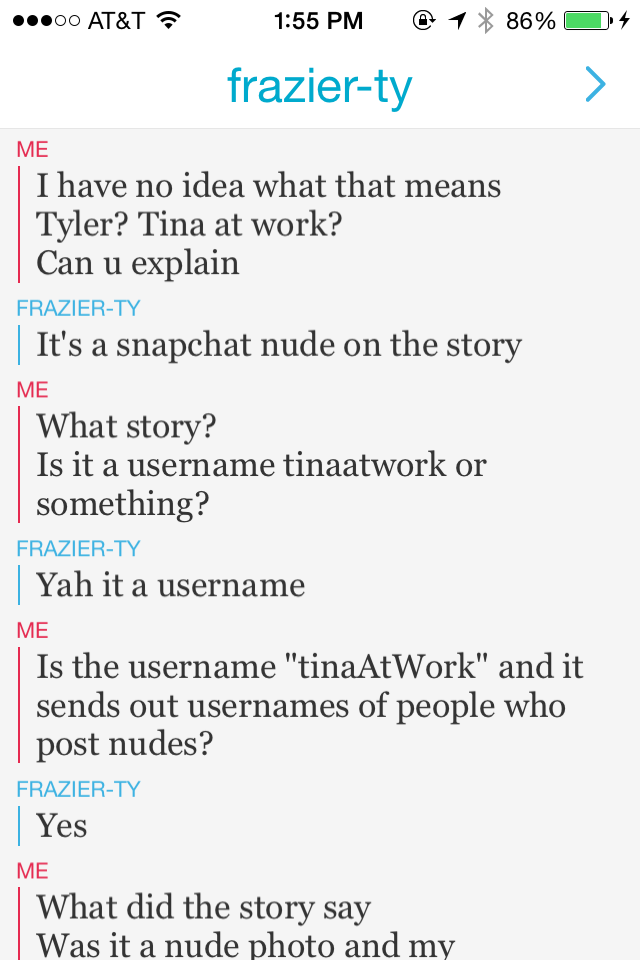 Tumblr: This seems plausible, but it was not possible to get a concrete answer of which Tumblr it actually was. A search for my username yields nothing, but Tumblr's search isn't super detailed, and it's likely that the name would be part of an image, making it unsearchable.
Possibility: Highly likely. If you search Tumblr for "Snapchat," you'll see a stream of nudes, some of them probably from spammy accounts.

BuzzFeed: Twice, people showed me the screenshot of my user profile (weirdly always from google.fr). I suspect they reverse engineer this — they googled my username once I asked where they found it and cited that image. I do not really believe that people are reading these old articles and sending me snaps so frequently.
Possibility: Extremely low.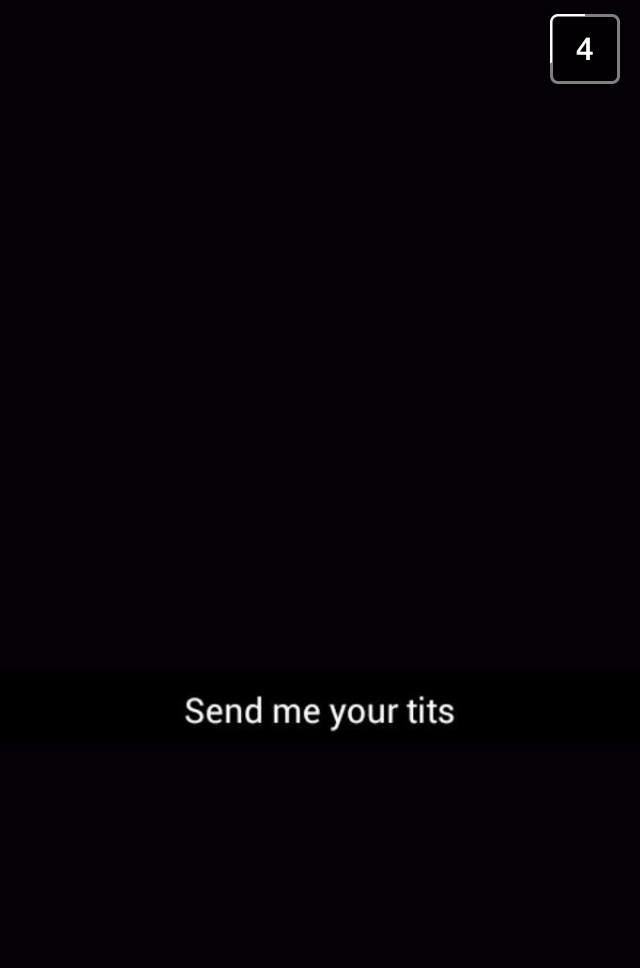 These black-screen requests for nudes or to engage in chat were even more common that the actual dick pics.
After messaging with quite a lot of people, I was frustrated, annoyed, and I knew very little more than I knew when I began. I still believe there's some spammy list out there, I just can't pinpoint it.
Here's my best theory: A horny dumb teen dreams of sexting with hot babes, and getting hot babes to send him nudes. In a fever state of hormones and Mountain Dew, he searches for something like "Snapchat sexting usernames" and finds one of several sites that claim to have lists of the usernames of Real Live Girls Who Want To Sext. He wants to increase his chances, so he blasts out a message to not one, but dozens of names from the list. If he's bold, he'll start right off with a dick pic. If he wants to be more coy, he starts with a black screen and just a message: "Nudes?"
I've also learned that the psychology of people who blast out dick pics or messages asking for nudes is about as brain-dead as you might expect. They are often unable to answer simple questions in the form of a sentence. The ones who ask for my nudes right off the bat are willfully ignorant of the economy of nudes (dick pics are abundant and low value; asking for a woman to send a nude first is like offering to trade a 1997 Honda Civic for a Rolls-Royce). I assume they're often a little ashamed of what they're doing, which is why they're evasive about the source of their usernames (although not so bashful that they don't want to show me their penises).
So while my investigation has been unsuccessful in finding the how, I have learned something about the why. I've learned of the unflagging determination of the D. The D does not listen to those voices in your head that say "I'm tired" or "maybe this is a bad idea" or "you're not worthy of strangers' attention." The D demands visibility. The D doesn't quit. The D has tenacity and grit. The D will lead a teen boy to spend hours entering batches of semi-random usernames into Snapchat and messaging them, even though it knows the chances of any reply at all are slim. The D is hopeful. The D takes risks for big payoffs. The D wants to be accepted and be with other nudes. Sure, there are plenty of easier ways to see photos of naked ladies — readily available with just a few clicks, even — but the D doesn't mind rolling up its sleeves and putting in a little elbow grease and legwork to acquire new nudes. The D is living the American dream. And for that, I respect it.
It is in the spirit of this indefatigable desire of some teen boys to get feedback on their penises that one 16-year-old who sent me an unsolicited photo kept trying to send me more even after I had warned him not to. That what he was doing was dangerous and illegal, and that I was much much older and not interested: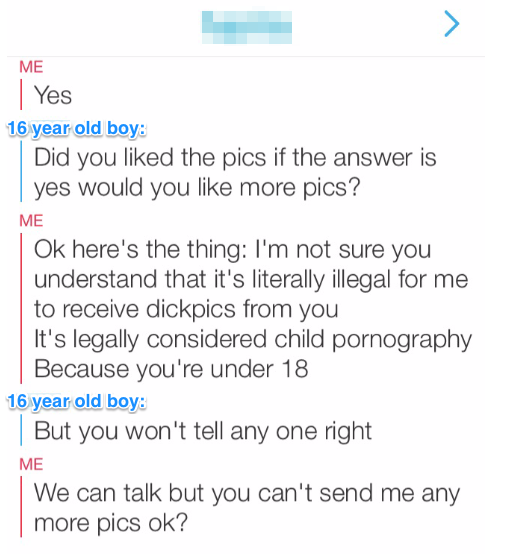 When this conversation happened, I realized that there was no way I could win against the tide of teen D. There was no way of rationally stopping this; sending random snaps and dick pics to strangers is not a rational act in the first place. The ones who send dick pics right off the bat are irrational exhibitionists. The ones who start out by requesting nudes are just on a blind fishing expedition and trying to play the numbers.
As a wisened old person, I know when to admit defeat. I lost at Snapchat. The teens won. I'm changing my username. You'll never guess what it is.