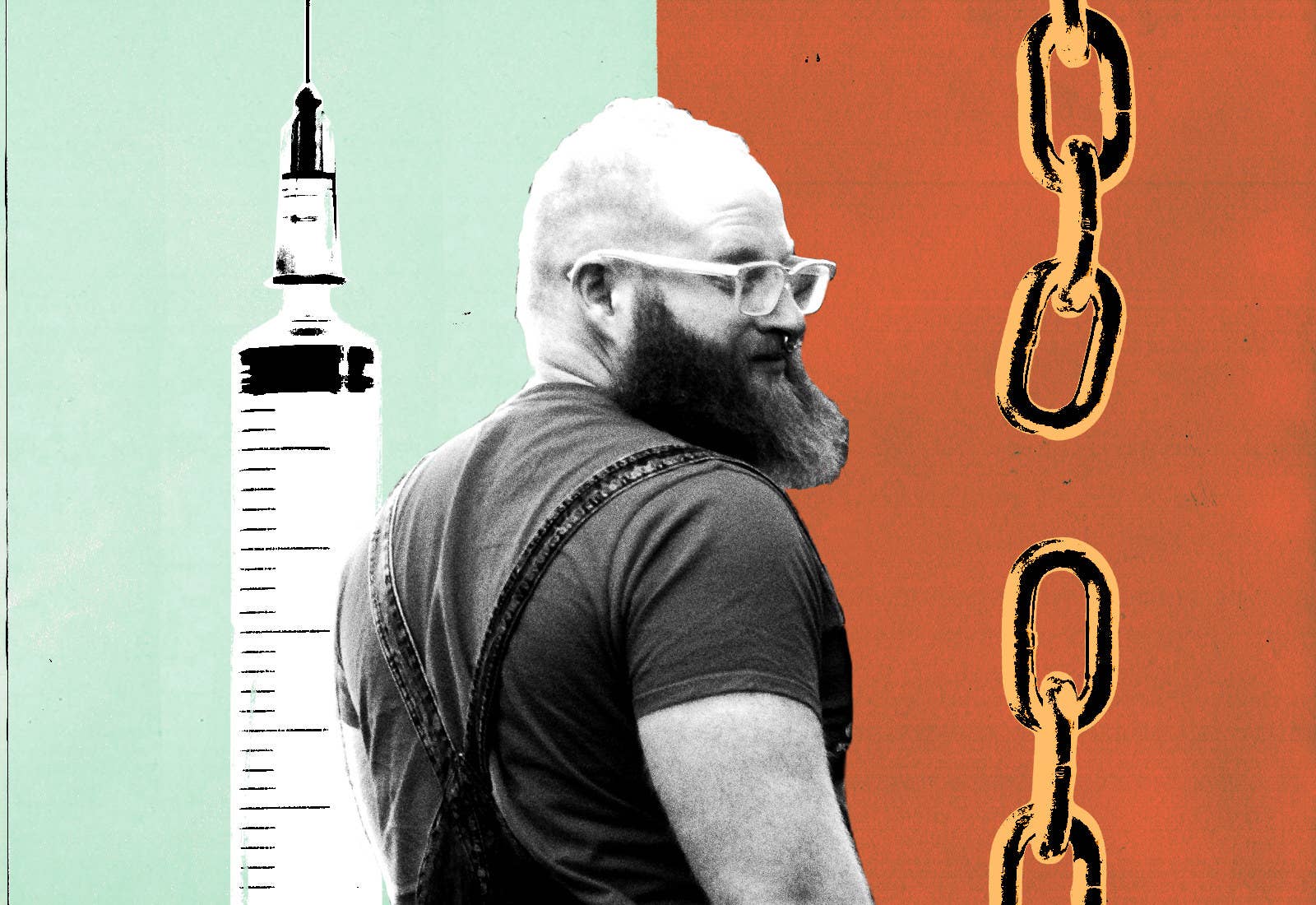 Jack Chapman made a lot of big changes during his relationship with his romantically dominant boyfriend. He changed his name, his country, his friends. He also changed his body, bulking up his chubby frame to Marvel-superhero breadth. Then he dramatically changed the size of his genitals. It killed him.
Australia-born Chapman legally changed his name to Tank Hafertepen about six years after striking up a submissive relationship with Dylan Hafertepen, a heavily tattooed and beefily muscular dom. Over the course of their seven-year relationship, the pair became minor social media personalities among gay bears (husky, hairy gay men) enamored of their size — particularly the apparent size of Tank's genitals.
During his time with Dylan, and with his online fans' encouragement, Tank had been enlarging his scrotum and penis with silicone injections, a body modification both dangerous and illegal. The fetish is typically associated with a "gainer" mentality — a consuming desire to enlarge your body, to put on as much weight as possible. Some gainers want muscle, others fat. For Tank, a self-described gainer, silicone injections to his genitals (link NSFW) drew immediate praise and encouragement on social media. As one fan said of a picture he posted to Tumblr, "that underwear bulge * SWOON * what a handsome minotaur man you are :smile:." Wrote another, "That junk down south looks AMAZING. Bet your master lays on that bulge like a pillow every night."
On Oct. 9, Tank was admitted to the hospital with trouble breathing. He died six days later from lung problems caused by a silicone embolism.
Tank's death and the circumstances around it raise questions about the sometimes blurry line between extreme dom/sub relationships and abuse, and — in the niche world of radical body modification in which he lived — suspicions around just who is to blame for his death. Tank's friend "Aphyr" wrote in a lengthy rumination on his death, "I don't know how long Jack was in the hospital, and I don't know what his experience was like there — but I know that Dylan isolated him and kept his death from his friends, and that makes me deeply uncomfortable."
Dylan told BuzzFeed News, "I'm sad about all the speculation." He chalked up the chatter following Tank's death to mere "misinformation" and "conspiracy theories."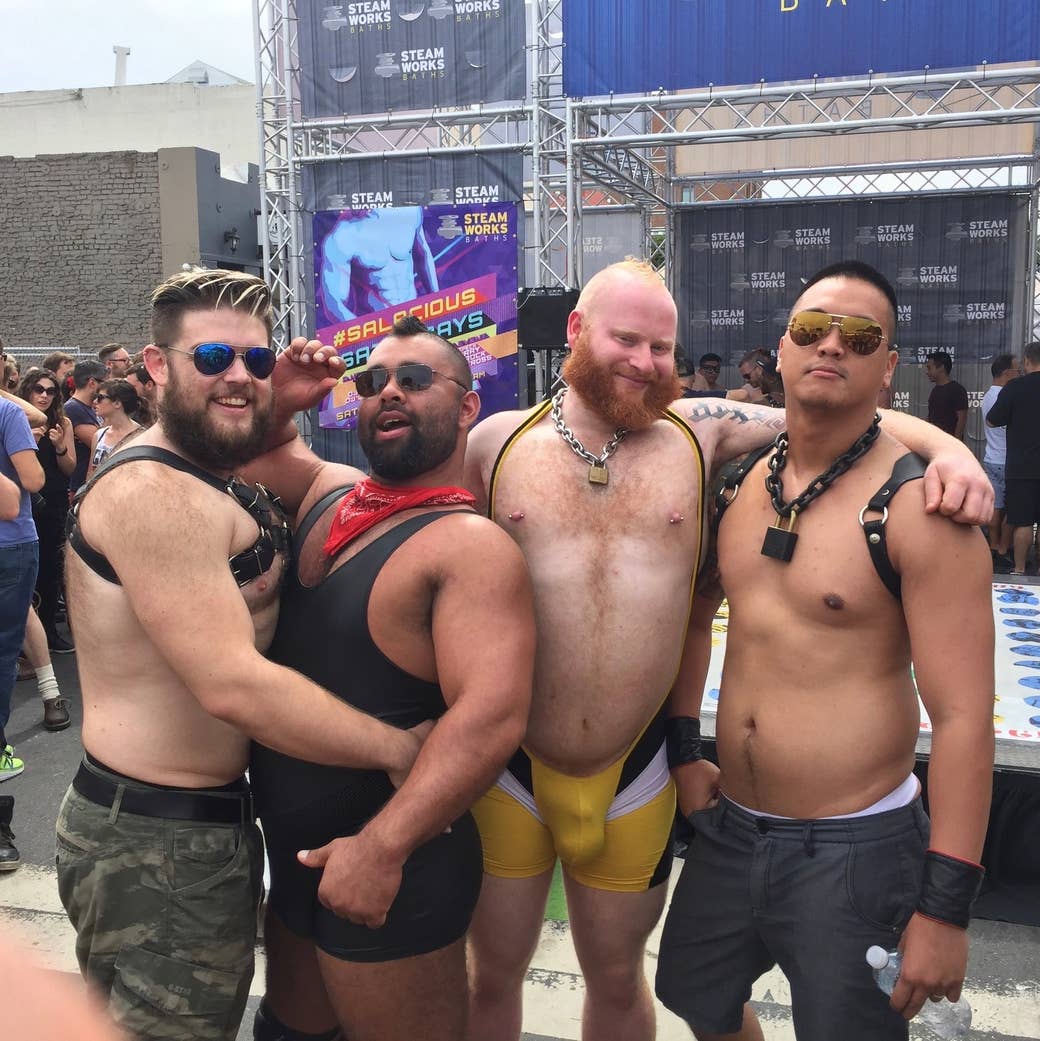 "You could tell he was a little bit lost"
As a young gay man in Melbourne, Australia, Tank (his family and some friends still call him Jack; in this story we use Tank as he legally changed his name) was drawn to the city's vibrant bear scene. At 22, he entered a local bear pageant, and while he didn't win, friends described him as a fan favorite. In 2008, Tank began hosting a podcast called The Cubby House that quickly developed a following in the international bear community. But according to his mother, he felt stuck in Melbourne in a dead-end job, and when he won a visa lottery to go to the States to be with his long-distance boyfriend, Dylan, he leaped at the chance.
Friends remember Tank as a warm, friendly guy with a big personality and endless curiosity. "He was a big goofball. Always had a smile," said Kyle, a friend who asked that his last name not be used here. Arman Ellis, a friend from Seattle, where Tank lived at the time of his death, told similar stories. "We bonded together over video games, pop culture, photography," Ellis said. "Everything I was game to do — visit waterfalls, ride on boats and wear sailor hats even if people thought we were idiots — he was game to do it too." In Seattle, Tank worked for an organization that provided meals to people with HIV, and wanted to pursue a career in public health. A woman he'd helped through his work recalled "Uncle Tankie" giving her infant son Christmas presents.
But Tank's friend Aaron Cluka said, "You could tell he was a little bit lost. … [He] was a bit unlucky in love. He was always kind of looking for his place." He thought he had found it on the internet.
Through his radio show and his Tumblr, Tank connected with a larger community of bears in the US. He started talking to Dylan, who was Tumblr-famous thanks to his blog, Noodles and Beef. In it, Dylan regaled readers with stories of BDSM circuit parties and polyamorous relationships with a rotating cast of men he referred to as his "pups." He had an impressive, muscular physique and a handsome face, which he showed off in provocative pictures in the blog and associated newsletter.
Tank and Dylan began a long-distance relationship around 2010, when the former was still in Australia, friends said. Dylan "collared" Tank — initiating him into romantic servitude with a chain and lock around his neck — in 2012, according to Tank's blog. Three years later, Tank obtained a visa to go to the US and moved in with Dylan and his other pups — "Alpha," "Carne," and "Biff" — in San Francisco and later in Seattle (another red-headed pup, "Angus," was added during a short breakup in 2016 when Tank moved out). The family would often appear at popular gay clubs and events like the Folsom Street Fair to show off in jockstraps or bedazzled football pads. They reveled in the attention. On a 2016 trip to Australia, Dylan and Tank "played a round of naked pool to the delight of the evening crowd" at a sex club. In March 2016, Tank tattooed Dylan's astrological sign, Taurus, on his chest. Dylan described Tank as having "earn[ed his] brand."
Their relationship, which they closely documented online, was based around a dominant–submissive power exchange in which Dylan was the "Master" and Tank was his "pup." It orbited around several scenes: polyamory, BDSM, leather, pup play, bears, gainers, and body modification. It's 2018 — plenty of people incorporate these scenes into a happy, healthy sex life, but some of Tank's friends found his relationship with Dylan worrisome. Kevin Reader, who cohosted Tank's Cubby House podcast, described their relationship as toxic, and a former partner of Dylan's, Raymond Smith, said Dylan was manipulative.
Tank posted a list of "Rules and Responsibilities" online which stipulated that he would follow his Master's "body goals," specific measurements Tank had to meet "regarding [the pup's] weight, their muscle mass, and their proportions." It also mandated that Tank would "submit to all orders for body modifications, including piercings, tattoos, scrotal saline inflation as well as body growth supplements including steroids and HGH - in accordance to the wishes of the Master." Dylan previously said in an interview with International Pup Play that Tank wanted to be a powerlifter: "And so I pushed him with the power exchange to achieve those goals. To pursue certain hobbies, to reach certain caloric needs, to do what he needed to become a gold medalist."
In a statement to BuzzFeed News, Dylan said the list circulating online was "a piece of erotic fiction written by Tank, featuring some of his submissive fantasies."
"Master will decide when enough is enough."
Still, Tank posted to his Tumblr about signing a "contract" with Dylan. And in a photo on Facebook, a tattoo is partially visible on Tank's lower back: "Property of Master Dylan," a mark stipulated in the list, which states, "This brand will be in two parts, the first will be the shield motif with text reading 'Property of Master', the second part, when the pup has earned the privilege of revealing his Master's identity, will read the Master's first name." Tank also said in an interview with a blog about gay BDSM relationships that he had drawn up a contract that gave Dylan significant control of Tank's life — his finances, his phone, his time, and his friends. (Dylan responded he and Tank kept their finances separate.)
Dylan and the four pups who lived with Tank in Seattle until his death initially did not answer multiple requests for comment via emails, calls, and texts. When a BuzzFeed News reporter attempted to reach them in person, they called the police. That reporter was arrested and jailed. The following week, Dylan and a pup, Daniel Balderas Hafertepen, filed restraining orders against the same reporter. A week later, Dylan responded to an email from BuzzFeed News, answering a series of questions.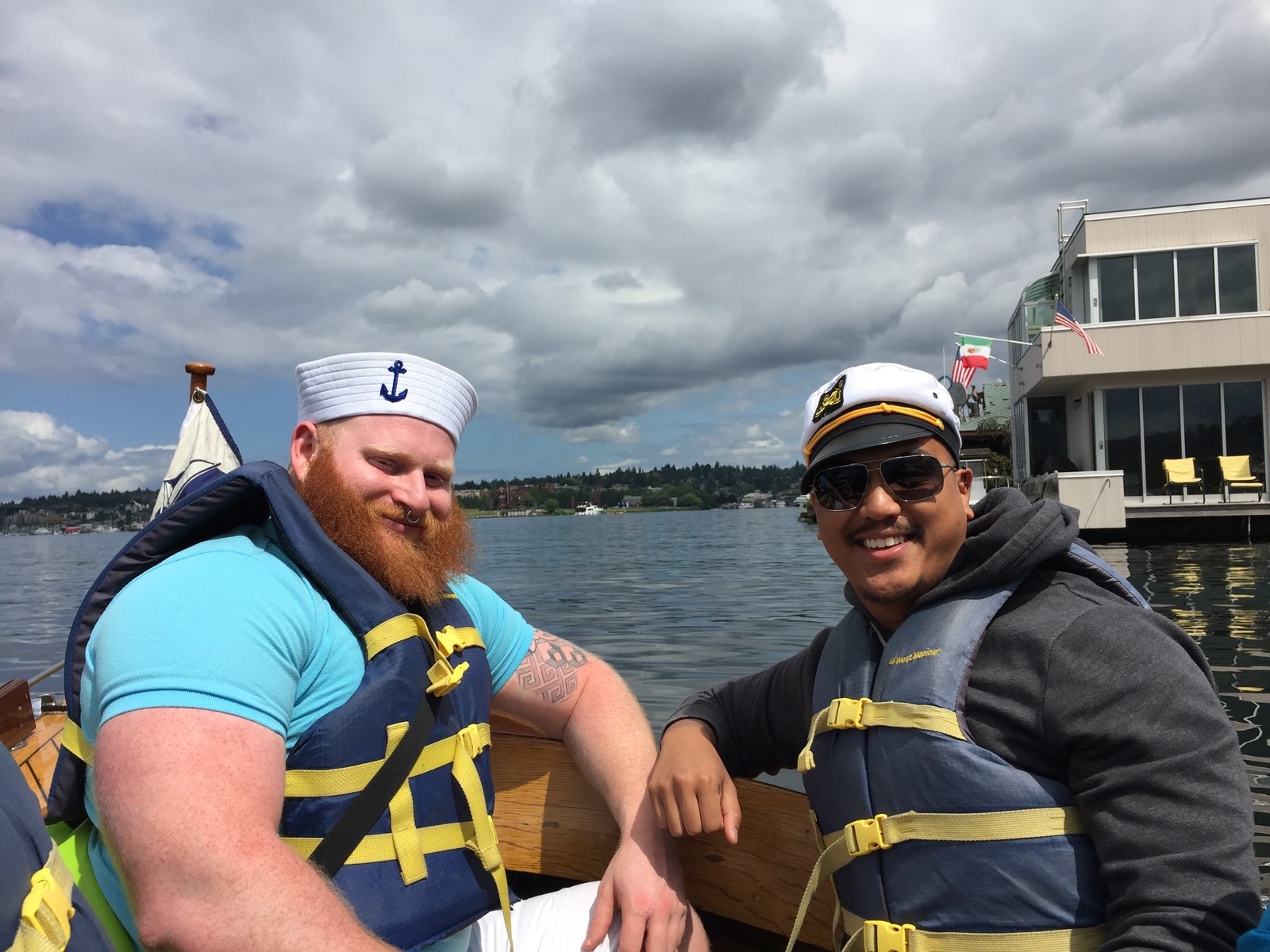 "It's terrifying"
Both Tank and Dylan publicly acknowledged the dangers of injecting silicone on their own blogs. Dylan said he'd seen friends die in pursuit of the fetish. Tank wrote that the procedure "can have major health risks if done incorrectly" and refused to offer instructions for how to do it or where to obtain medical-grade silicone. But he kept posting pictures of his size gains. Dylan told BuzzFeed News they sometimes manipulated the photos "to make his genitals and body appear larger."
Tumblr said in a statement to BuzzFeed News that it does not comment on specific accounts, but its policy does not ban posts about body modification or body dysmorphia, as long as they do not promote self-harm.
In February 2016, when an anonymous reader asked just how big he intended to go, Tank answered, "Master will decide when enough is enough."
For Dylan, bigger was better. In a 2016 ABC News segment about "bigorexia" — an obsession with gaining muscle — Dylan discussed his journey from a 140-pound teen to a 265-pound colossus, hinting a bit at an obsession. "I was so caught up in that lifestyle, so obsessed with the ever-moving goalpost of getting bigger, bigger, bigger that I never really considered this a problem," he said.
Dylan denied forcing Tank to get injections. "This was his fetish," he said. "I did not make him inject silicone. On the contrary, I helped him get some removed." He said Tank got silicone injections by himself in Mexico in 2014, and again in Sacramento during a period when they were broken up in 2016. Dylan said this showed Tank's "strong personal motivation to pursue silicone," and called him a "proud exhibitionist." In May 2018, Dylan said he brought Tank to a plastic surgeon who removed some silicone.
Because silicone injections to the penis and scrotum are illegal and dangerous, silicone enhancement of male genitalia is uncommon. However, there's a small scene of mostly gay men interested in it. On Xtube, a popular site for amateur porn, there are a handful of men with silicone-enhanced genitals posting video clips, including one in which a man self-injects using a thin needle, some rubber tubing, and a plunger of silicone. The most popular video has amassed about 30,000 views.
"We don't know how often this happens, but there are more people out there doing it than we think," said Dr. Mark Wurfel, a professor of pulmonary care at the University of Washington School of Medicine. "Most of the cases reported in the literature are people injecting themselves or going to a clandestine site to get it done."
"This is avoidable. We shouldn't even be having this conversation; this guy should be alive."
Doctors are generally aghast at the procedure, which poses significant danger to those who undergo it. Free-floating silicone often causes severe inflammation. It can enter the bloodstream, usually at the time of the injection, or migrate later into the lymphatic system. Bigger globules block blood vessels and kill tissue or clog the machinery of the lungs and brain, depriving a person of oxygen and causing permanent damage or death.
"Once it gets into the tissues, it's like jello in a sponge. It sets. You have to remove the silicone by removing the tissues. That's the problem." said Dr. Sophie Bartsich, an assistant professor of plastic surgery at the Weill Cornell Medical College. Medical-grade injectable silicone, Bartsich said, is usually only available in very small quantities for specific eye surgeries, about an eyedropper's worth, so for illicit injections people often use other, more hazardous substances like industrial lubricant.
Wired with hundreds of tiny blood vessels, the penis and testicles provide ample opportunity for mistakes. But still people seek out the injections.
"There's a 1-in-3,000 risk of death with an injection of your own fat into your buttocks. Imagine injecting an area with a ton of dilated veins with a foreign material. Consider the injection techniques of somebody without medical training. It's a recipe for disaster," said Dr. Alex Sobel, president of the American Board of Cosmetic Surgery. "This is avoidable. We shouldn't even be having this conversation; this guy should be alive."
The night Tank was hospitalized, Dylan said, "he warned me he was feeling sick and had trouble breathing, even asking to borrow my asthma inhaler."
"IsNoodlesAndBeefInJail"
Tank's death this October caused immediate uproar on Tumblr — both outpourings of mourning for a community member and rage against Dylan. It also raised some questions. In a eulogy to Tank on his blog, Dylan had claimed his pup died from an undiagnosed lung condition, but some of Tank's friends and fans were suspicious. They feared Dylan had pushed him too far, and they began to scour their email archives, text messages, and the web for evidence of abuse.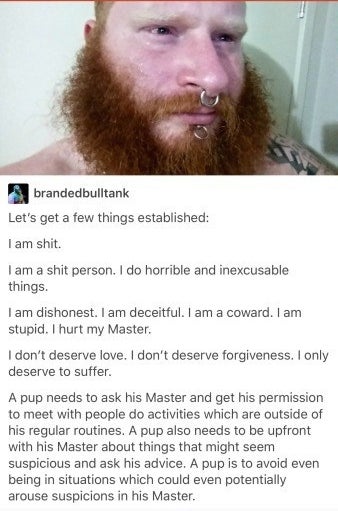 Back in 2016, Tank posted to his Tumblr a photo of his tear-streaked face with a long apology to Dylan, writing that he was "shit" for disappointing his Master. He'd gone in a friend's hot tub without Dylan's permission.
"I don't deserve love. I don't deserve forgiveness. I only deserve to suffer," Tank wrote. "A pup needs to ask his Master and get his permission to meet with people and do activities which are outside of his regular routines. ... A pup is to avoid even being in situations which could even potentially arouse suspicions in his Master."
Tank's friends, many of whom were well-versed in dominant/submissive relationships and roleplay, found the tone and severity of the forced contrition alarming. Tank's fans did as well. "Tumblr turned on [Dylan] after the hot tub incident," Kyle told BuzzFeed News.
A few months later, Tank messaged Kyle. "Keep it to yourself, but for my own sake I need to develop an exit strategy." Tank and Dylan split for a time, but by summer 2017, they were back together. A year later, Tank was dead.
Posts accusing Dylan of covering up Tank's death began to go viral on Tumblr: He explicitly told some friends Tank was still alive when it was no longer so. In a newsletter published shortly after Tank's death, he included a photo of them both wearing air masks and discussed air quality in Seattle. He made no mention of his partner's passing or hospitalization. He wrote, "Arrived home to Angus, Biff, Tank…and Seattle shrouded in wild fire smoke."
"If I read the things being said about me online and didn't know the truth, I would think I was guilty of something too."
"I regret this," Dylan told BuzzFeed News, explaining he was dismayed that rumors of Tank's death had begun circulating so quickly. "In my grief, I was furious and denied anything was wrong while aimlessly trying to find out the source," he said. "It was a mistake and I apologize to those I misled."
But outrage over Dylan's handling of the news continued to build online. Dylan soon shuttered all his social media accounts, replacing the relationship ruminations he featured on his personal blog, Noodles and Beef, with actual recipes for noodles and beef dishes. There are now a number of Tumblrs devoted to investigating the details of Tank's demise — IsNoodlesAndBeefInJail, NoodlesAndBeefUncovered, DylanNoodlesAndBeef, NoodlesAndBeefLeftovers, and an anti-Dylan blog called NoodlesAndReceipts, whose stated purpose is "to call out the abuser and the fans who love him."
Fans obsessed over every detail of the saga for weeks. They dissected an Australian TV news report about Tank's death and a reported article in a Seattle alt-weekly, the Stranger. On a 75-page-long message-board thread on the internet drama hub Kiwi Farms, would-be sleuths dug up the court filings made by Hafertepen against the BuzzFeed News reporter, and even tracked down what they believe was a 911 call to the Hafertepen building on the date listed on Tank's death certificate as the accident date. They went as far as connecting Dylan to a man named Peter Dovak, who died of a pulmonary embolism in November 2017, which Dovak's longtime partner said arose from genital silicone injections.
Dylan dismisses the flurry of activity as "a lot of misinformation." "Some misinterpreted facts, conspiracy theories, and not nearly enough celebrating the wonderful man that he was," he said. "Continued speculation has not allowed me to remain silent."
As for the outrage on social media, he's aware of it. "If I read the things being said about me online and didn't know the truth, I would think I was guilty of something too," he said. "Tank was very loved and I understand the urge to blame someone for his death." Dylan says he plans on launching a memorial site for Tank at TankHafertepen.com.
"Oh you poor thing, you lost your partner"

Linda Chapman only learned about her son's online fame and the reason for it after he died. She blames Tank's death on Dylan and his interest in silicone injections. Dylan, she told BuzzFeed News, is "a narcissistic bastard" and a "disgusting pile of shit."
"At first I was sympathetic to Dylan. Oh you poor thing, you lost your partner," Linda explained. She had met Dylan before; he'd even spent a Christmas at her home, but now, she's incensed. "I want to blow this wide open to help people in abusive situations, and to let the dangers of silicone injections be known."
There are other concerns as well. Three weeks before his death, Tank drew up a will, a copy of which was reviewed by BuzzFeed News, that left everything he owned, including $200,000 held in an investment account from his late father, to Dylan. But Chapman maintains her son had long pledged to leave that money to his autistic brother. Chapman thinks Dylan had something to do with Tank breaking that promise, and she's retained Seattle lawyer Catherine Clark to contest the will.
She and Chapman may challenge the will's validity in court and also attempt to hold Dylan liable for his partner's death. Dylan insists the will is legit. He showed BuzzFeed News a photo of Tank signing the will in front of a notary and witnesses; the witnesses were two of the other "pups," as was the executor Tank named.
Asked about his intentions for the money, Dylan told BuzzFeed News Tank had already used some of the $200,000 to move to the US and for other expenses. The rest, he said, will go to Tank's brother after paying Tank's medical and legal bills. "Tank had wanted the money (roughly AUS$150,000) to go towards our home together, but without Tank it's a reminder of what I've lost," he said in an email.
Linda hopes the Seattle Police Department will investigate Dylan for his alleged role in Tank's death, but that's unlikely. An SPD officer familiar with the case told BuzzFeed News it's not viewed as a crime, describing it as akin to an illegal drug overdose. If someone's boyfriend introduces them to heroin, encourages them to shoot it, and they die as a result, police typically won't bring charges against the boyfriend.
Meanwhile, Dylan and Tank's community of adoring fans are still struggling to come to terms with Tank's death — and its implications. As one commenter on an anti-Dylan blog said, "We all watched them play with the size of their balls for years and didn't say anything, so we're probably all complicit to some level and we should all be ashamed." ●