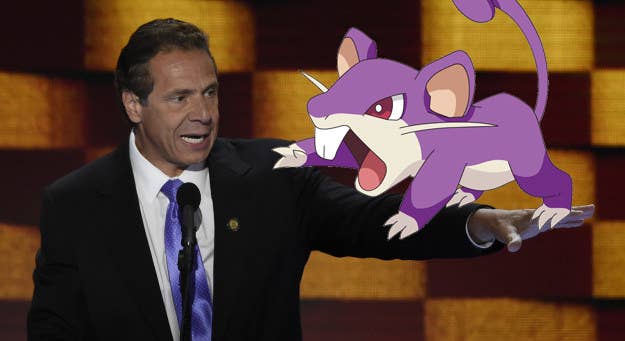 New York Gov. Andrew Cuomo just banned registered sex offenders from playing Pokémon Go. Today, he directed the Department of Corrections, which deals with sex offenders on parole, to issue the ban, which goes into effect immediately. The ban will apply to all paroled sex offenders, not just ones whose crimes are related to children — about 3,000 people in New York state.
According to the governor's office's announcement of the ban, "these actions were spurred by a recent report by Senators Jeffrey D. Klein and Diane Savino demonstrating that children playing this popular augmented reality game have unknowingly been steered to locations in close proximity to, or even at, sex offender residences."
The ban on Pokémon won't be a new law; the game is merely being added to a list of existing banned online services. As New York's attorney general in 2008, Cuomo introduced laws called "e-STOP" that allow the state to bar sex offenders from using social media sites like Facebook or games like Minecraft or even Words With Friends. Back in 2008, the New York Civil Liberties Union opposed e-STOP, saying it was too broad and vague.
"Pokémon Go is using emerging technology that wasn't envisioned just then," a spokesperson for the governor's office told BuzzFeed News. "It's a game where you can lure things."
Pokémon Go doesn't actually let you interact or play with other players, which means that a predator couldn't use it to talk to children online. But because part of gameplay is walking around in the real world to seek out designated spots — PokéStops and gyms — which are somewhat randomly assigned by the game, the danger is that children may be drawn by the game to go hang out near where a sex offender happens to be in real life.
One of the features of the game are its "lures," where you can set up a temporary hot spot to catch more Pokémon, and other players can benefit from your lure. So let's say a sex offender goes to a public PokéStop like a statue or mural, and sets up a lure. This might attract child players nearby who see the lure to come to that spot to catch more Pokémon.
According to a press release by state Sens. Jeffrey D. Klein of Westchester/The Bronx and Diane Savino of Staten Island/Brooklyn, charmingly titled "Pokémon NO!," they are working on drafting legislation that would "require game developers to regularly scour the Department of Criminal Justice website to obtain sex offender addresses and remove all in-game objectives within 100 feet of their residencies."
In their report on Pokémon Go in New York City, they found:
· Pokémon materialized in front of Level 2 or 3 sex offenders' homes 57% of the time.

· Pokéstops or Gyms were located within a half-block of convicted pedophiles' residences 59% of the time.

· A Pokémon-related item appeared near a high-level sex offenders' residences 73% of the time.
The Pokémon Go ban will be added as a new special condition of parole. Starting immediately, parole officers will be notifying sex offenders of the new rule, and if they are caught playing the game in the future, it will be a parole violation — something that could possibly send someone to prison.
Cuomo also sent a letter to Niantic, the company that makes Pokémon Go, asking it to cooperate in banning sex offenders from using the app. This is roughly the same as how New York deals with companies like Google or Facebook as part of the e-STOP laws — the state gives Facebook a list of email addresses or other information for its registered sex offenders, and Facebook agrees to try to block them from creating accounts. According to a spokesperson for the governor's office, Niantic has not yet replied.

BuzzFeed News has reached out to Niantic to ask if it plans to comply and will update if we have more information.