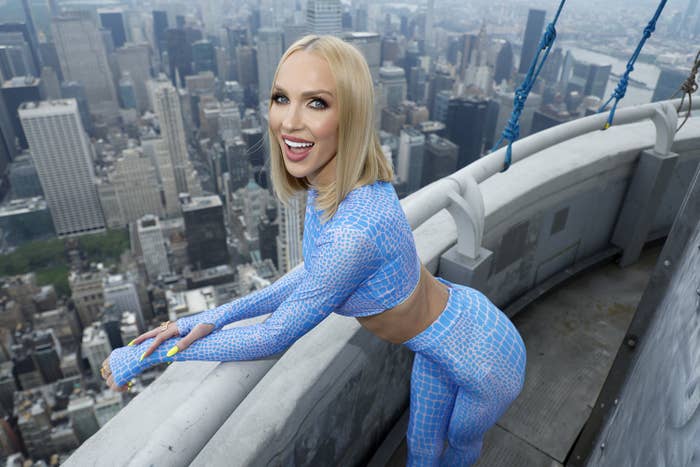 If there is one undeniable and universally accepted truth in the year 2022, it's that celebrities love crypto — scammy, legit, and all the shades in between. Matt Damon does TV ads for it, Jimmy Fallon and Paris Hilton have gabbed about their NFTs on The Tonight Show (and perhaps conveniently boosted the price of their investments), Gwyneth Paltrow and Reese Witherspoon are part of an all-women group chat about it, and Hilton named her dogs Crypto and Ether. And now, one of the stars of the Netflix reality show Selling Sunset is getting into the game.
That's right: Christine Quinn, the breakout star and sassy villain of the show, is going all in on crypto. But the company she's founded isn't an ugly NFT or shitcoin pump-and-dump scam. Instead, Real Open, cofounded with her husband Christian Dumontet, makes it easier for crypto whales to buy a house with their dogecoin through a mix of old-fashioned real estate brokering and technology. The new company launched this month and has exclusive listings across the country, including in LA, New York, and Miami.
Fans of the show might be wondering: What about her role as Moschino-clad head troll of the Oppenheim Group, the luxury real estate brokerage the show centers on? In an interview with BuzzFeed News, Quinn confirmed that she has left the O Group, but it's to focus on bringing crypto to real estate, not because of the plentiful office drama.
Quinn got the idea for Real Open while she was still working at the Oppenheim Group, she said. "Buyers and sellers were coming to me and saying, 'Hey, I have crypto, can you streamline this?'" Quinn told BuzzFeed News.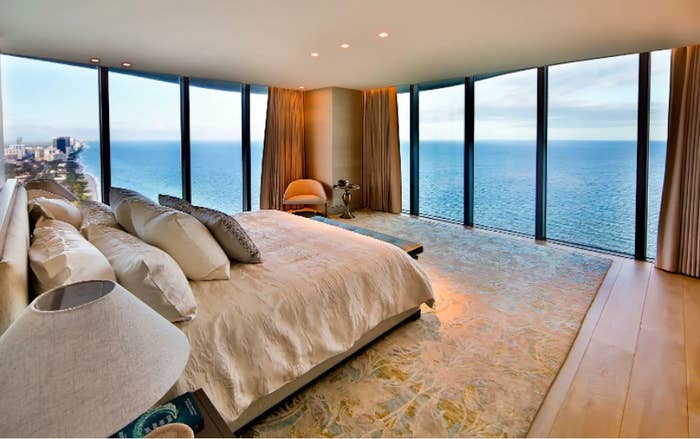 When she asked Jason Oppenheim, the co-owner of the brokerage, about helping clients with crypto, he was uninterested. But there was also plenty of drama going on in the background: For those who followed the soapy show's latest drama (spoilers ahead), Oppenheim was at the time dating Quinn's coworker and archnemesis, Chrishell Stause. The season ends on a cliffhanger where Oppenheim mulls over Quinn's fate in the brokerage as various other agents come to him to complain about her.
"I was surrounded by people who weren't forward thinkers," Quinn told BuzzFeed News about Oppenheim's reluctance to enter the crypto space. "I had to make a really tough decision. I had to go out on my own because I knew this was going to be really huge."
This isn't the first startup for Quinn's cofounder and husband Dumontet, who previously sold a food delivery startup, Foodler, to GrubHub for $51 million in cash. As early as 2013, he had been interested in crypto and offered it as a payment option on Foodler. "It was a technical curiosity. I found it fascinating from that point of view," Dumontet told BuzzFeed News.
"Crypto volatility motivates real estate purchases."
Real estate transactions are complicated, and adding in crypto makes them more so. In order to put an offer in when your money is tied up in crypto, you need to be able to prove you have the actual US dollars, not just three Bored Apes in your wallet. Then, it can take weeks between when you make an offer and the deal closes. During that time, the deal could fall through for any number of reasons, and you'd have cashed out for no good reason. Real Open helps with all these problems by securely verifying your proof of funds in your crypto wallet, and when the deal closes, transferring it to cash on a private exchange with advantageous rates.
Notably, Real Open has a crypto volatility contingency option. This means that if you place your offer when you had $1 million in bitcoin, but a week later the market craters and your crypto loses 50% of its value, you can get out of the deal.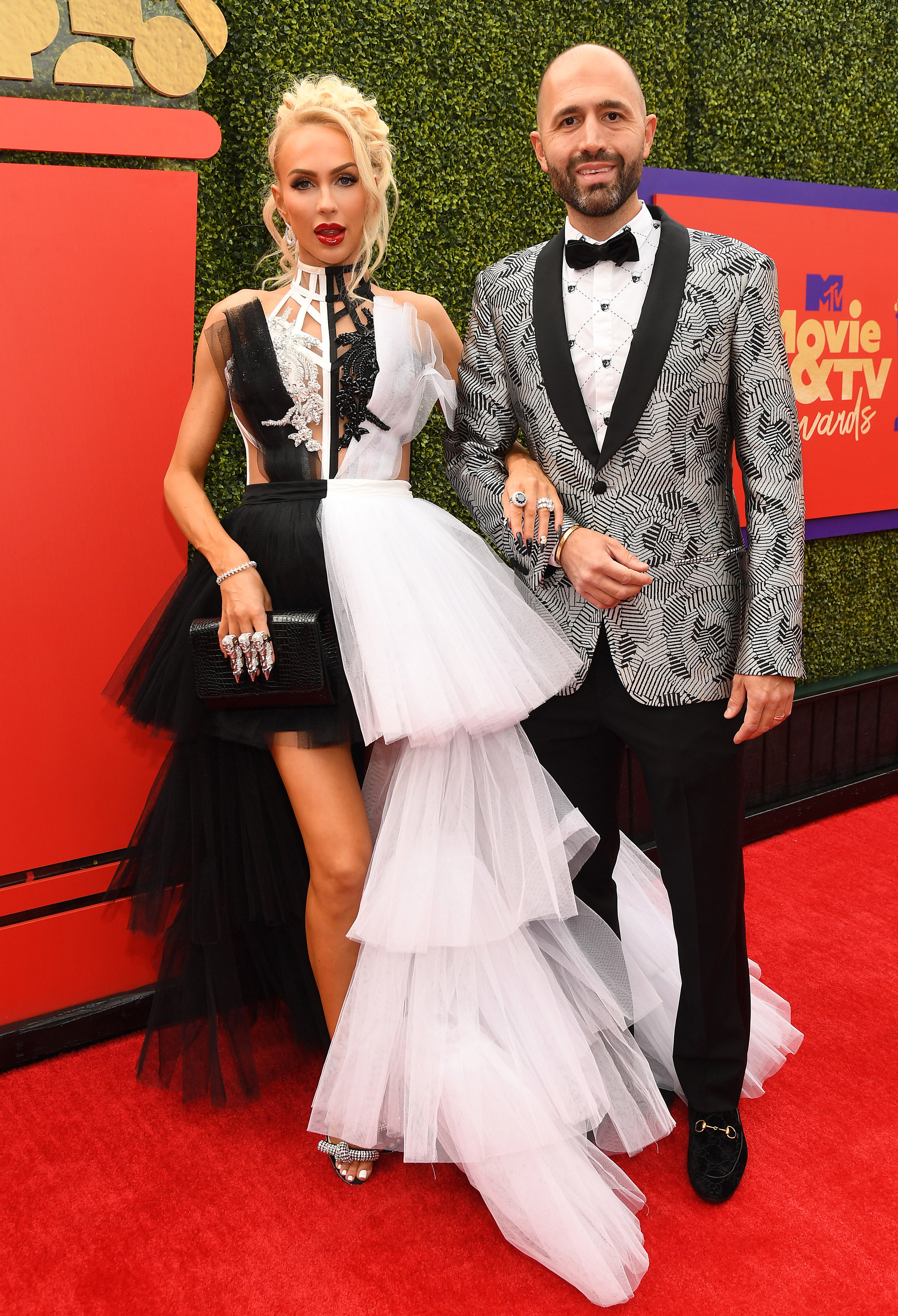 According to Quinn, the recent crash in crypto is good for her business. "Crypto volatility motivates real estate purchases," she explained. "Most clients have opted into our volatility hedge product, and are therefore not exposed [to getting in over their heads with the crash]."
Real Open isn't the only company bringing crypto to real estate. Hoseki is a startup that offers a proof-of-funds letter, and other new companies like Ledn and Milo have mortgage offerings that will put up cash when you have crypto as collateral.
But these competitors will have to go up against Quinn, who knows that her celebrity status as the villain of Selling Sunset is an asset to the company. After all, as Dumontet points out, if his famous wife wasn't involved in the business, "It would cost $10 million to get the marketing out." (This is certainly true — I wouldn't be writing this article if the most compelling villain in reality television wasn't a cofounder.) "This isn't something that my husband made and I'm just promoting," Quinn said. "This is something that we've been working on feverishly for a year and a half."
Over a Zoom interview, Quinn appears differently than the larger-than-life character she plays on TV. Dressed down without makeup or extensions and in a hoodie (OK, a Balenciaga hoodie), she is a lot more knowledgeable about the history of bitcoin than you'd expect from a reality star. She joked about how the early bitcoin exchange Mt. Gox was from "the wizard game," referring to Magic: the Gathering. She had gone through a phase of being interested in NFTs, but "you can't live in an NFT," Quinn said.
Fans of Selling Sunset can rest easy: Quinn told BuzzFeed News that although she's quit the Oppenheim Group, she isn't quitting the show, and will appear on Season 6 — she's just no longer promoting her old boss. "It'll be an interesting new season!" she told BuzzFeed News.
"It's so nice to be in an environment where I'm in control of the people I'm working with, and there's no noise in the background," Quinn said. "Everyone who calls me, they're enthused about crypto — it's such a great thing to have people so excited."