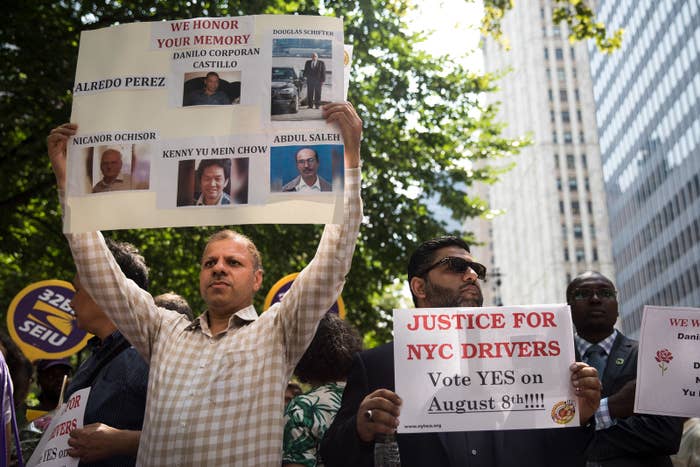 On Wednesday, the New York City Council voted in favor of capping new Uber, Lyft, and other ride-hailing cars on the streets, as well as several other measures that will help financially burdened taxi drivers.

The cap means that no new Uber and Lyft cars can hit the streets for one year while the city does a study of the effects of ride-hail apps like Uber and Lyft. (The cap has two exceptions: Wheelchair-accessible cars can be added, and if the city determines at any point that certain neighborhoods are being underserved, the companies can add more cars.) The city council also voted to set a minimum pay rate for drivers.
The New York Taxi Workers Alliance, which represents both yellow cab drivers as well as Uber and Lyft drivers, was in favor of the cap. In the past few years, the value of taxi medallions — the license drivers can own, lease, or share to run a yellow taxi — has plummeted. Once considered a lifetime investment worth as much as $1 million in 2013, the taxi medallion fell in value to under $200,000 this year.

The impact of these new apps on the local transportation economy has recently come under heightened scrutiny. Since November, there have been six suicides by taxi drivers, including one who shot himself in front of City Hall after describing in a Facebook post the economic hardships drivers are facing due to more cars on the streets.

"These sweeping cuts to transportation will bring New Yorkers back to an era of struggling to get a ride, particularly for communities of color and in the outer boroughs," said Lyft VP of Public Policy Joseph Okpaku.

Uber did not immediately comment on the vote.
"We are long overdue for regulation of the for-hire vehicle industry; today's vote allows us to examine how best to ensure equitable pay for all drivers, tackle ever-worsening congestion, and keep up with the changing landscape so that riders throughout the city have access to transportation options," said council member Stephen Levin, one of the officials who introduced the bill.

Today, five separate proposals were up for a vote with the New York City Council:
Conducting a study on the impact of ride-hail services like Uber and Lyft on the city. During the time of the study, there would be a one-year freeze on adding any new licenses.

Waiving licensing fees for wheelchair-accessible cars for both taxis and ride-hail services.

Creating a new license for "high-volume" taxi services that dispatch more than 10,000 trips per day.

Making minimum payments to drivers for these high-volume dispatch services.

Reducing the penalties for breaking certain rules, such as asking a passenger where they're going before agreeing to take them, or livery drivers picking up street hails or illegal airport pickups. These currently have penalties up to $10,000; the new proposal would cap the fines at $400.

All five proposals were accepted by the city council. The new rules will go into effect within 30 days.