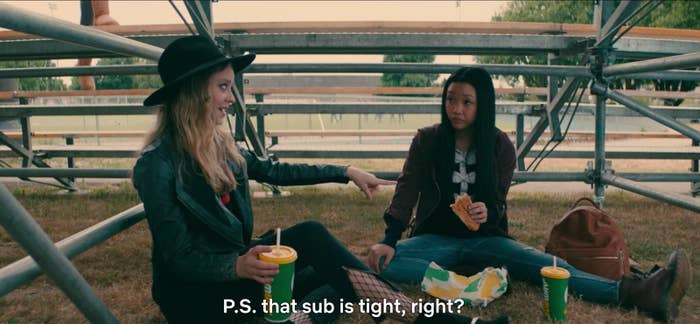 Two new Netflix movie releases,To All the Boys I've Loved Before and Like Father, both contain some preeeeeetty suspiciously maybe kinda definitely advertisements.
Product placement in movies is not a new thing, but it can work in different ways. Reebok paid Jerry Maguire $1.5 million to feature its products, but then sued the film studio over the ending of the movie (which was supposed to show Reebok positively). General Motors gifted a million dollars' worth of cars to use for the filming of the Transformers movie. But in two movies with very obvious product placement, Harold & Kumar Go to White Castle and Cast Away (which prominently referenced FedEx), no payment was involved, just permission to use the brands in the movies.
Both To All the Boys I've Loved Before and Like Father are traditional movies in genre and substance, but Netflix is a streaming site that blurs the lines between movies and TV and the internet (BuzzFeed News has a show called Follow This on Netflix right now, full disclosure). This is probably why some people are wondering, "Hey, did I just watch a giant secret ad for a cruise line?"
THE CASE:
Like Father stars Kelsey Grammer and Kristen Bell as an estranged father and daughter who go on her honeymoon cruise together after her fiancé leaves her at the altar. They bond! And most of the movie happens aboard the Royal Caribbean ship Harmony of the Seas.
I would strongly NOT recommend this movie, which you keep thinking is going to be a comedy, but the jokes never happen. The plot sounds like the kind of high-concept comedy that would poke fun at cruise ships, and yet it treats the cruise aspect as completely fun. Grammer and Bell enjoy the company of their assigned dinner companions, they have a great time participating in a live game show during the evening entertainment, and they love the food and drinks! This is what made people wonder if Royal Caribbean paid for all this publicity.
To All the Boys I've Loved Before is a teen rom-com about a girl in a complicated love triangle with a popular jock and her sister's ex-boyfriend. It's utterly delightful, and all the teens love it too.
More than one scene prominently features Subway sandwiches. In one, Lara Jean, the protagonist, has a text message conversation with her wacky best friend about the friend's craving for Subway. Later they meet up under the bleachers to eat sandwiches and drinks with Subway's bright green and yellow cups. Subway also serves as a plot device: The reason Lara Jean's best friend can't have lunch with her in the cafeteria one day is because she felt the call of Subway, setting in motion a chain of events leading to…love.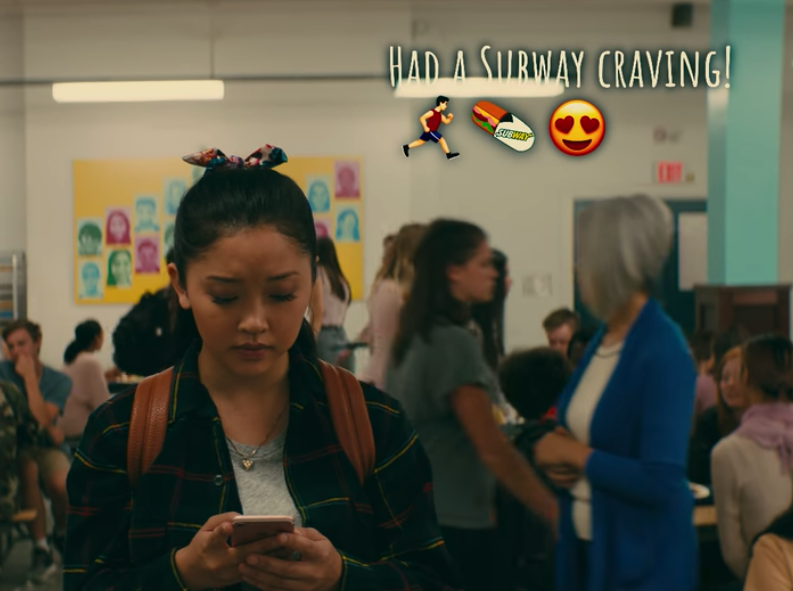 One thing to note is that Subway is NOT mentioned in the book that To All the Boys I've Loved Before is based on — the brand is only mentioned by name in the movie. Suspicious!

Fans…noticed.

Is this heavy-handed product placement by Subway, or is it just part of the world-building where real teens talk about ironically loving garbage food like Chipotle?
THE NOT-SO-SHOCKING CONCLUSION
They're both product placement. Well, sort of. Depends on exactly how you define "product placement," and if you define product placement as an "ad."
Royal Caribbean told BuzzFeed News that it provided the filming location for Like Father for free. However, they did not pay Netflix any cash beyond free use of the ship. Having a completely free filming location for most of the movie's scenes is certainly a nice savings for a film's budget.
Is giving away a free filming location an "ad"? Netflix got something for free, and in exchange gave the ship publicity. If this was Instagram and the movie was a travel blogger who got a free cruise, they would be required to hashtag this as an #ad, per the Federal Trade Commission guidelines. But product placement in movies isn't tightly regulated in the way FTC oversees social media ads, and it's also not the same as the TV ads the Federal Communications Commission regulates.
What's even more complicated is that Royal Caribbean told BuzzFeed News that Like Father's production crew sailed with the ship ahead of filming to scout out the ship and its activities to include in the movie's script. For example, the scene where the characters participate in a live game show? That was something that screenwriters added to the film after testing out the cruise's entertainment events. So the movie was tailored to the cruise line.
Subway confirmed to Business Insider that yes, it had some promotional consideration in To All the Boys I've Loved Before. Subway has aggressively courted movie and TV product placement in the past, so this isn't a total surprise.
But it was unclear exactly what these terms actually meant, so I asked Subway for more details. A rep for Subway confirmed to BuzzFeed News that the company gave permission to the movie to use its logo and brand, but it did not pay any cash to appear in the movie. Also, Subway didn't even give the production free sandwiches! Netflix had to buy them from the local Subway. In fact, To All the Boys I've Loved Before's producers reached out to Subway asking for permission for the brand to appear in two scenes. Subway didn't set up this deal.
So in both movies, the brands gave permission to feature their products and services. But neither paid money to appear in the movies, which is what we usually think of as the definition of "product placement" in movies.
Netflix has done product placement like this before. Ad Age reported back in 2015 that House of Cards had an agreement with Anheuser-Busch InBev to have Stella Artois and Budweiser beer appear in the show. However, just like with To All the Boys I've Loved Before, no money changed hands — the beer company simply sent free products to the production. Since Netflix has a completely different business model than traditional television, its marketers considered the deal a success. Netflix declined to comment on the record for this story.