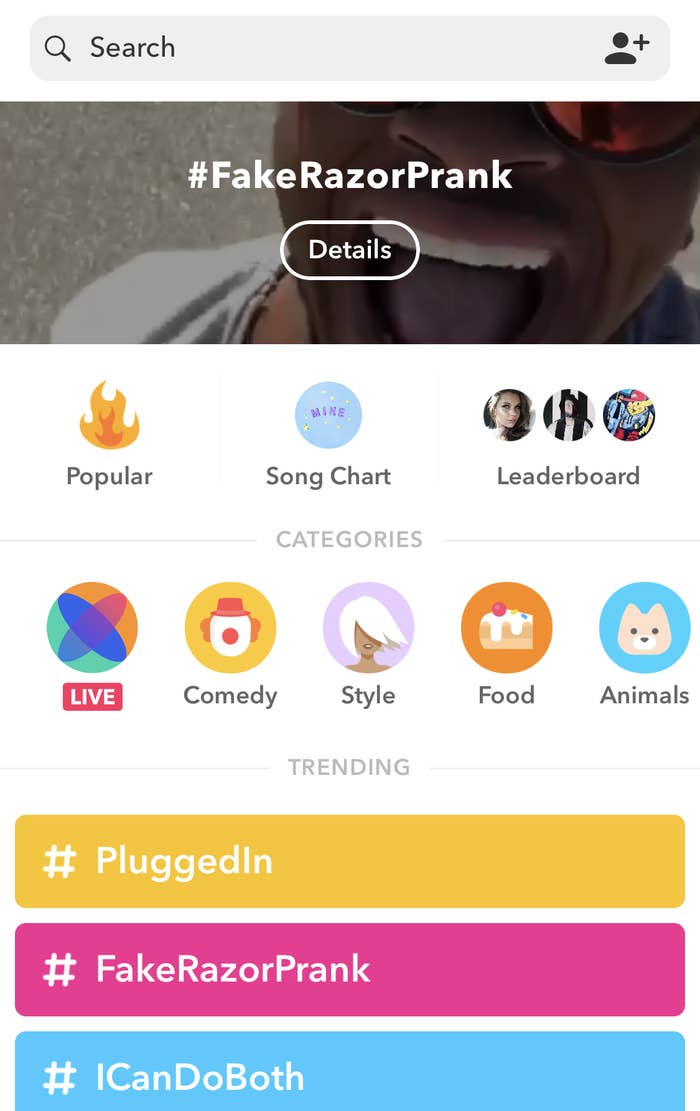 Musical.ly, the lip-synching app that is wildly popular with younger users, is struggling to catch up to other teen-friendly social apps like Instagram or Tumblr in how it moderates and filters certain types of dangerous content. After people criticized the app this week for allowing users to search for hashtags related to self-harm or eating disorders, like #cutting or #proana, Musical.ly blocked some of these search terms.
The app first launched as a lip-synching platform where young people do their best covers of popular tunes. Musical.ly has several homegrown stars, and social media influencers from YouTube and Instagram also use the platform. More recently, it's expanded beyond just lip-synching to include comedy videos, pranks, and other short-form video genres reminiscent of Vine.
This week, a scathing Medium post titled "Porn is not the worst thing on Musical.ly" went viral. A writer named Anastasia Basil screened the app to see if it would be suitable for her 10-year-old daughter, but she was shocked by what she saw. Other parents were also concerned.
Musical.ly is for ages 13-plus, and its rating in the app stores for both iPhone and Android is 12-plus, which means it requires parental controls to download. At sign-up, it asks your birthdate to make sure you're eligible (the app doesn't store user age data). But it's clear that the app is popular with children younger than the age limit.
Basil's post was a broad, alarmist take on the dangers of the internet, but it pointed out a specific issue: On Musical.ly, it was easy to search for hashtags like #proana, #cutting, #selfhate, and others.
There were more than 1,300 results when I searched the app on Wednesday afternoon for the tag #proana, and more than 1,500 for #mutilation.
After BuzzFeed News reached out to Musical.ly for comment, it blocked the ability to search those keywords on Friday morning. Musical.ly confirmed to BuzzFeed News it had just recently blocked the terms #proana and #mutilation, as well as several others mentioned in the Medium article. It said its process for banning terms from search is always evolving.
But for an app that is primarily aimed at children, moderating conversations about #proana or #cutting seems obvious. The app launched in 2014 and has 60 million monthly active users. Other teen-friendly apps like Instagram and Tumblr have been scrutinized for these same issues, and those apps started dealing with it from an engineering perspective long ago. Tumblr began banning content that promoted eating disorders in 2012, and Instagram rolled out its policy on the topic 11 days after Facebook bought it. If you search "self-harm" or "eating disorder" tags on Instagram, you get a pop-up with a warning steering you to support resources. On Tumblr, the search doesn't work at all.
Instagram uses a pop-up with a warning and link to support resources if you search for tags related to eating disorders or self-harm.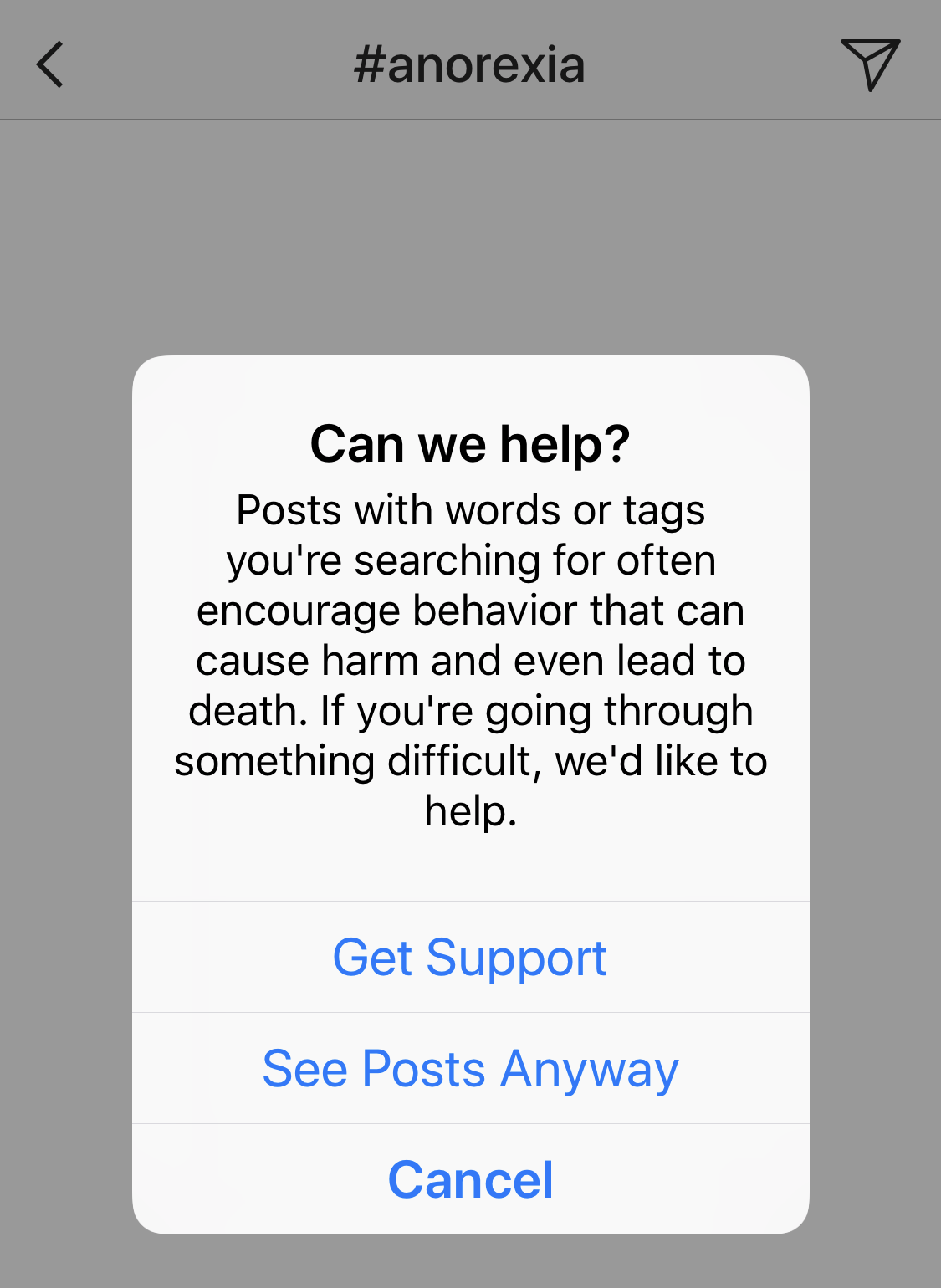 For Tumblr and Instagram, dealing with this has never been as simple as just banning search terms. For one, as soon as obvious terms like #proana or #thinspo are banned, an endless stream of slightly tweaked variations pop up. Also, people looking for help and support with eating disorders use these terms to find a positive community. Eating disorder recovery communities are very active on social platforms, and they can help people looking to talk to peers. And simply talking about harmful things isn't the same as advocating for them.
As of Friday afternoon, the tag #anorexia is still searchable on Musical.ly. Many search results for the term are about recovery and support, rather than promoting eating disorders. Several were lip syncs of spoken word recordings from poet Blythe Baird, who talks about overcoming an eating disorder. These can be empowering, a way for young people to express something about themselves using someone else's words.
Currently, Musical.ly hasn't fully blocked search for those terms, only removed them from the search bar feature. For example, if you search #depression, which isn't blocked, and look through a handful of results, you'll find posts that are also tagged with terms like #selfharm or #suicide. By clicking on the #selfharm tag from one of these posts — or a post that someone you follow posted — you'll be shown all the other posts with the tag.
Looking through some of the videos in the tags that were tagged #ihatemyself, #selfharm, or even #suicide, they seemed to be mostly teens lip-synching to sad music. It's hard to say whether this is promotion of self-harm, or just providing an outlet for teens by letting them sing along to sad songs.
Musical.ly told BuzzFeed News it is exploring the option of adding a feature like the Instagram pop-up warning for self-harm content sometime later this year.