Last summer, Facebook CEO Mark Zuckerberg was photographed surfing in Hawaii with, uh, a lot of sunscreen.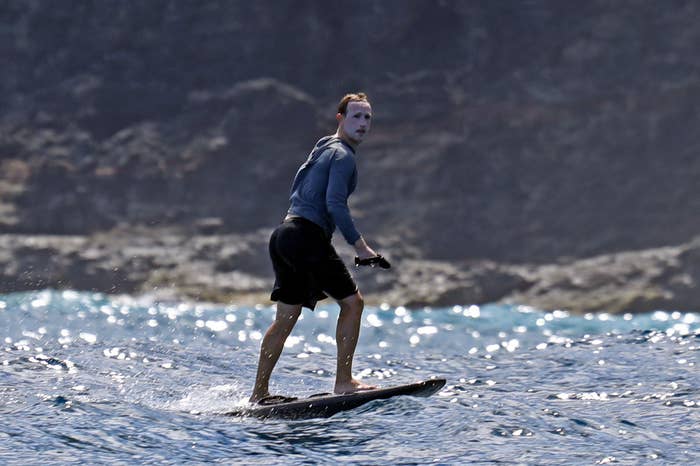 He may have avoided a sunburn, but he got very roasted for this.
Today in an Instagram Live chat with Instagram head Adam Mosseri, Zuckerberg addressed the sunblock incident, in which he was photographed in 2020 wearing a huge amount of sunscreen on his face while riding an eFoil surfboard.
He said that as a pale-skinned person, he likes to wear lots of sunblock to keep his skin healthy while swimming or doing water sports. Great! Everyone appreciates sunblock — sunblock (especially reef-safe kinds) is great. In the photo, it appears he's wearing a mineral-based sunscreen, which tends to leave a white cast.
But then he revealed another reason for the extraordinary quantity on his face.
He saw that he was being followed by a photographer as he was surfing, so he thought he could disguise himself with extra sunscreen.
The photo was taken by the paparazzi agency Mega, who followed him as he engaged in a form of surfing-esque watersports with professional surfer Kai Lenny.
Zuckerberg admitted his ploy didn't work. "The delta between how cool you think you look and the worst photo a paparazzi can take is pretty funny," he said.
But the Facebook founder has no hard feelings. "If someone wants to post a sunscreen meme, it's cool. I'm happy to give the internet some laughs," he said.

This isn't the first time Zuckerberg has addressed the sunscreen photo. At a companywide meeting reported by BuzzFeed News and the Verge, he said, "I'm not going to apologize for wearing too much sunscreen. I think that sunscreen is good, and I stand behind that."
Correction: Kai Lenny's name was misstated in an earlier version of this story.