Lulu Just Transformed From A Dating App Into A Cyberbullying App
The man-rating app released a new feature where men can sign up and see their own ratings, which is decidedly not cool.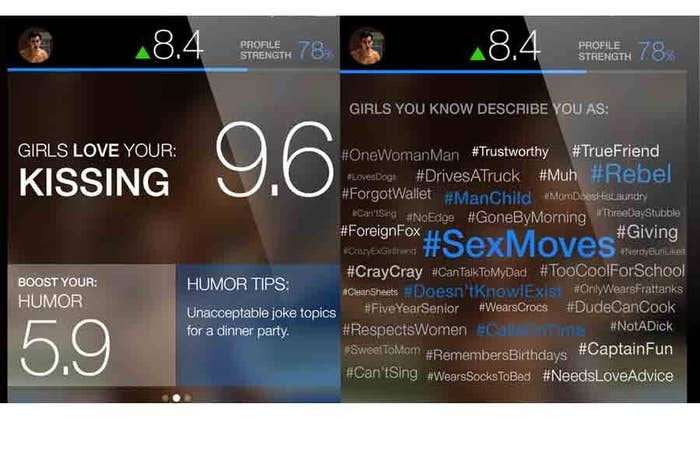 Let's all agree—just for the sake of argument—that men are a lesser, subspecies of human, possessing below-average abilities in nearly all areas of life unrelated to bench-pressing or competitive eating. Agreed? OK, great.
The outsized recognition given their inferior intelligence has led them to believe, foolishly, that they are in fact the superior sex: more rational, better at explaining things, cleverer, and in possession of inherently correct opinions. It's delightful, somewhat twisted amusement to watch them confronted with a little peek or window into their true position in the world; to cut down a man's ego is like watching a dog try to open a door, or kicking up the dirt of an anthill and watching the ants scurry about, disoriented and scared.
That vague male fear is what made the app Lulu seem fun at first. Men were not allowed to use the app; if they tried to log on (which the app does through Facebook), they'd be coldly denied. Lulu was an app for women, and it allowed them to rate their male Facebook friends based on a variety of personality traits, physical feats, and sex skills, all, ostensibly, in service of warning fellow women about prospective dates' red flags, and cheering on the good guys. Lulu was like writing "For a good time, call …" on the ladies' room wall. It felt like wink-y, good old-fashioned misandry; while not especially effective in righting institutional and cultural wrongs, it let us saddle dudes with weird little negs like "OnlyWearsFratTanks" and cackle about it with each other. It was funny and seemingly lighthearted.
Today, that fun ended. The latest update to the app will now allow men to see an overview of their rating, the number of women who have rated him, and a summary of the hashtags used to describe him. The update may have been intended to improve transparency, but instead it shifts what seemed like harmless, insider fun to more overt cyberbullying.
If there's nearly nothing good in rating each other on a numerical system (and with hashtags), there's even less in being able to see how we're rated. Though, as Maureen O'Connor of The Cut noticed, most ratings tend to be high and rather positive, Lulu ratings must necessarily include some cons: the app forces a female rater to pick at least one from a selection of pre-selected negative hashtags.
Men who log into Lulu and see their rating summary are likely to be presented with a few pieces of confusing and probably misleading information. The overall ranking men see could be artificially inflated (or deflated, for that matter), because there's no way for them to know whether it's comprised of one woman's opinion, or ten. And while women who use the app know the hashtags are picked from a limited, simplistic list, rather than independently written, men likely won't. Women know it's a final step, often a throwaway joke on top of a more honest review, but men might see tags like "#WearsEdHardy," or "NapoleonComplex," or, simply, "Boring" and think these labels were written specifically FOR them. It's not that it wasn't mean before, but now it's meaner.
Lulu's only saving grace, prior to this update, was its exclusivity — its CEO marketed it as an almost educational tool, meant not to hurt men but to protect women. It was always a thin, pat motive; it's hard to believe there were ever women using the app as a genuine resource for vetting a date. But Lulu was, at first, somewhat excusable as a digital version of dishing about guys with friends at a girl's night. It was stupid, but it was at least contained.
Gone from the "male-friendly" version is that private, girl-gossip feel; what remains is merely a lazy and passive way to shame, hurt, or exact revenge on people who can log in and see it. An app that allows you to see what your Facebook friends are anonymously saying about you is not a force for good, or misandry. It's just mean.
A previous update to Lulu made it so that guys can't be reviewed unless they have signed up for the app. They can also delete their profile.