Age-Insights is a new and horrifying Chrome extension that estimates peoples' ages and displays them on their LinkedIn profile page.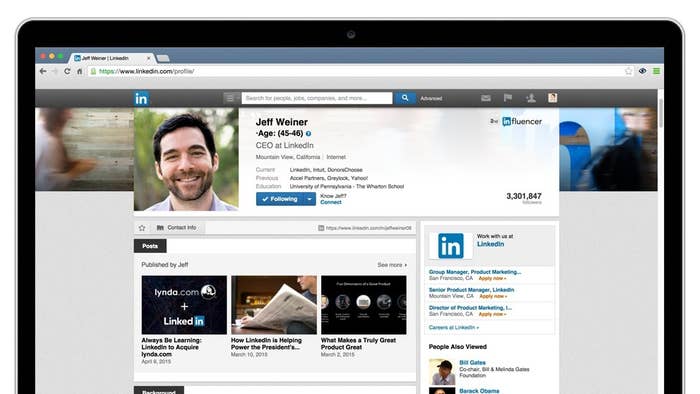 This was correct for me (I'm 34).

The extension works by analyzing data points on the public profile, such as the year you graduated college and the dates of your work experience, and gives an estimated age range. When I tested it on myself and a handful of colleagues of varying ages, it is indeed pretty accurate, as long as you had your graduation year on there.
But LinkedIn is not pleased.
"LinkedIn's legal team is delivering Age-Insight a cease and desist letter as this extension violates our terms of service," a representative for LinkedIn told BuzzFeed News. "LinkedIn members who downloaded Age-Insight should uninstall it immediately. We advise LinkedIn members to protect themselves and to use caution before downloading any third-party extension or app."
Juan J. Ramirez (age: 26) is the creator of Age-Insight, and he says it was a project for fun and not for profit. "I just like to browse the profiles of other people who have similar backgrounds and experience as me, and just use the age benchmark to see how well I'm doing and to evaluate where I want to be when I'm 30, 35, 40, etc..., " he told BuzzFeed News in an email.
Age is a federally protected class, like race or gender, in cases of employment discrimination. Since LinkedIn is a site about, you know, employment, the idea of scrutinizing ages is alarming at best, illegal at worst, depending how it's used. Plus, it's not always accurate – an employer who (illegally) doesn't want an older person might dismiss someone whose age was miscalculated. On one colleague, it suggested he was 5-6 years older than he actually was.
Ramirez was aware of the possibility of the tool being used for age discrimination, but he thought the benefits outweighed the dangers. "I started to see multiple positive use cases for this. For example, a salesperson can use this as an insight to enhance their approach with a prospect, or someone who needs to do a background check could use this to verify an age."
If Ramirez uses other people's ages to compare his professional benchmarks, he should feel good that at only age 26 he got something banned from LinkedIn.
UPDATE
Juan Ramirez, creator of the extension, has decided to shut it down. He posted on the site:In October 16th, "Age-Insight" was featured on Product Hunt. After some hours of being featured many people started to address an issue with this tool.
"Age-Insight" could be easily abused and used by unscrupulous people to discriminate others.
I share those concerns and I certainly didn't develop this tool to encourage such a blameworthy behavior. For this reason I have decided to SHUT DOWN AND STOP GIVING ANY KIND OF SUPPORT for "Age-Insight".