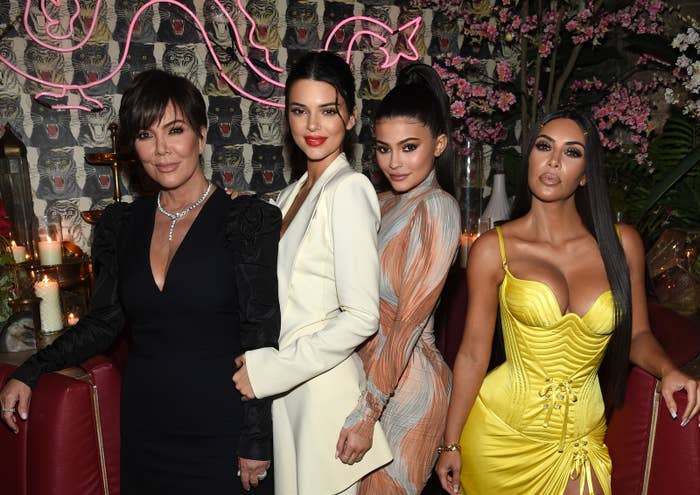 Kardashian superfans may find themselves with $2.99 more a month in their pockets, since the sisters announced they will stop adding new content to their subscription apps at the end of the year.
In a statement posted Wednesday on her blog, Kim Kardashian West wrote, "We've had an incredible experience connecting with all of you through our apps these past few years but have made the difficult decision to no longer continue updating in 2019. We truly hope you've enjoyed this journey as much as we have, and we look forward to what's ahead."
In September 2015, the Kardashian/Jenner sisters partnered with Whalerock Industries, a company that creates digital apps for entertainment partners like Tyler the Creator or the NFL, to create a paid subscription app for each sister. (Kourtney's app was slightly delayed a few months.) Each app had its own content, mostly a mix of exclusive photos of each sister and some editorial bits. Kylie had music recommendations; Kourtney gave questionable detox diet advice; Kim posted outfit mood boards and the occasional blog entry. Whalerock did not respond to a request for comment.
Each app cost $2.99 per month, which means a true stan who subscribed to all five apps would be paying $179.40 a year.
The apps, along with Kim's lucrative video game, Kim Kardashian Hollywood, and her "Kimoji" keyboard, created a full-fledged Kardashian digital media empire. But Kim Kardashian Hollywood isn't as profitable as it once was. When it debuted in 2014, Glu Mobile, the gaming company that makes it, reported the game earned $43.4 million in a quarter. By 2018, that was down to $8.1 million a quarter.
There's been other bad news in the Kardashian business. Keeping Up With the Kardashians ratings have slumped this season, despite a drama-filled year with three sisters pregnant and Khloé and boyfriend Tristan Thompson's cheating ordeal. In April, the family announced its chain of Dash stores would shut down. There was also that whole Kanye–Trump thing.
Still, the Kardashians are doing just fine. Kendall Jenner, who shut down her app last year, was the top-earning model of 2018, according to Forbes. And Kylie Jenner, whose Kylie Cosmetics brand is worth nearly $800 million, has an estimated personal fortune of nearly $900 million, making her one of the richest "self-made women" in the world. Kim Kardashian West's KKW Beauty, which she launched in 2017, was instantly and massively profitable, selling around $15 million in product within hours of its launch. And of course, there's always their very profitable Instagram #sponsored content.
It would seem the Kardashians and Jenners have figured out something I would've been happy to tell them myself: Content is not the easiest way to make a buck.